Luminosity Beach Festival dropped its completed lineup for 2018 and it's absolutely stacked!
---
If you saw Luminosity Beach Festival's 20th Anniversary lineup, it would be fair to think it would be difficult to top. Last year's lineup featured massive names to celebrate 20 years of trance on the beach and pulled out all the stops. However, after a string of phase announcements this year, the Luminosity Beach Festival 2018 lineup surpassed all expectations and absolutely blew trance fans away!
After seeing the names and number of special sets, to say the lineup is stacked feels like a gross understatement. There are rare acts such as Thomas Bronzewaer and Mike Foyle, specialty sets like the Markus Schulz sunrise set, Andy Moor Classic Vinyl set, and Perry O'Neil Progressive Classic sets; and numerous three-hour sets. Honestly, almost every genre of trance is well represented except for psytrance, so fans have a healthy dose of variety. Fans have the opportunity to bounce around from genre to genre or simply stick with their favorite because, at Luminosity, the trance world is truly your oyster.
This year's four-day event will take place from June 28 – July 1 at the beautiful Bloemendaal Beach. Headliners include artists such as Paul van Dyk, Markus Schulz, Ferry Corsten, Purple Haze, and John O'Callaghan, with the rest of the lineup full of big and influential names as well. Check out the full lineup below!
Tickets for Luminosity 2018 are close to selling out! If you haven't bought yours yet, definitely scoop them up soon via Luminosity-events.com!
Check out the Luminosity Beach Festival 2018 Lineup Trailer via YouTube:
---
Luminosity Beach Festival 2018 Day-by-Day Lineup: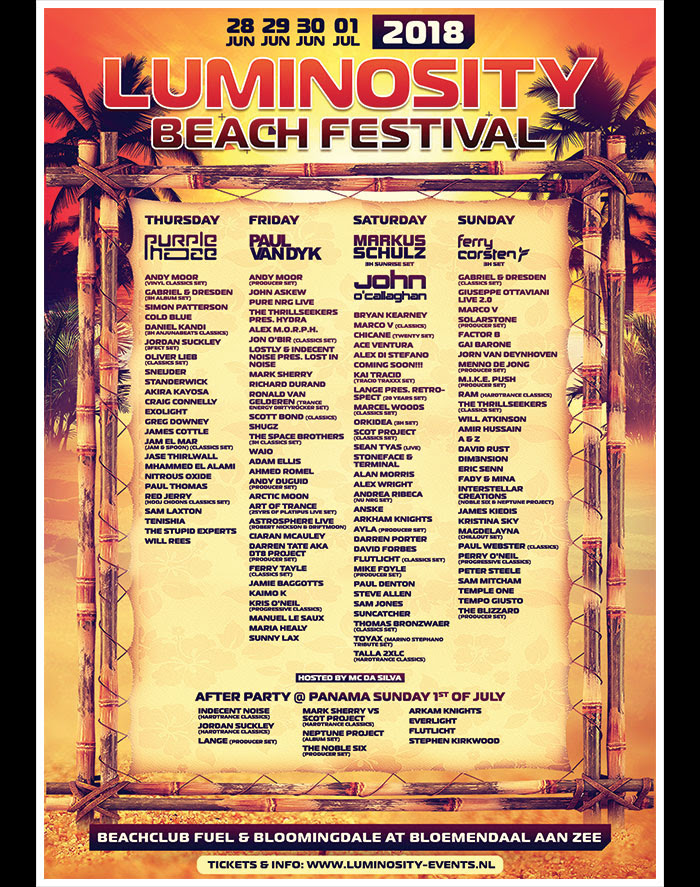 ---
Luminosity Beach Festival 2018 Lineup by Day:
Thursday, June 28
Friday, June 29
Satuday, June 30
Sunday, July 1
Hosted by MC Da Silva
---
Connect with Luminosity Events on Social Media: