When one sets out to create an artist album, they take up the creative endeavor of pouring their soul into a work that represents them, at that given time, to the world.  When a person creates their debut artist album, after establishing quality tune time and again, they struggle through the mire of writer's block to create something that's lasting.  Driftmoon, today a solo project of Juraj Klička from Slovakia, struggled mightily with his music and embarked on the quest for musical solitude by honing his creativity into a debut album. Let's dive into an evolution of sound which utilized a 70 piece symphony orchestra, a 20 piece mixed choir, 10 instrumentalists, 7 singers, and 1 ultimate goal… (R)Evolution.
From the onset, one will notice a shift in style – gone are the electronic beats, and in are strings, brass, and woodwind instruments.  What's happening here exactly?
Driftmoon shrugs off the shackles of modern dance music and erupts into the cacophony of music production in a wider sense.  "Natural Expansion" represents the statement – here, we expand the sound!  This is the evolution of producers into new spheres.  In fact, this sort of production has shattered expectations recently with artists like BT releasing Electronic OPUS, Pete Tong combining forces with the orchestra in Classic House, and Roger Shah teaming up with Nick Murray to release the soundtrack supporting Singularity.  The resurrection of the producer is upon us, and instrumentation is expanding again.
"The Ark" perfectly represents the film lore that we just spoke of.
Epic bass intertwines with uplifting themes, while furious drums and choral stabs bring a sense of uneasiness and darkness to the track.  There's palpable tension throughout the track – which juxtaposes with the linear notes of Driftmoon's personal creative struggles.  What is here though is incredibly beautiful, and moving when listened with an open mind.  Perhaps, most exquisitely, the track highlights and shuffles through a number of movements throughout its length – giving it the mood of a story unfolding in just sound.  Truly astounding.
"Felix," a track with Laurie Ann Haus, has a haunting beauty to it – given the slower tempo and the airy vocals.  There are arpeggios that seem strangely familiar to Juraj's dance music roots, but there are not focused on dance floor dynamics.  "Stay," which features vocalist Kim Kiona, starts with soft strings and a melancholic mood, but gives way to strong vocals which evoke the video game series of Final Fantasy more than dance music.  There's a regal beauty to the track – and a mythic lore – that underpins a strength through struggle.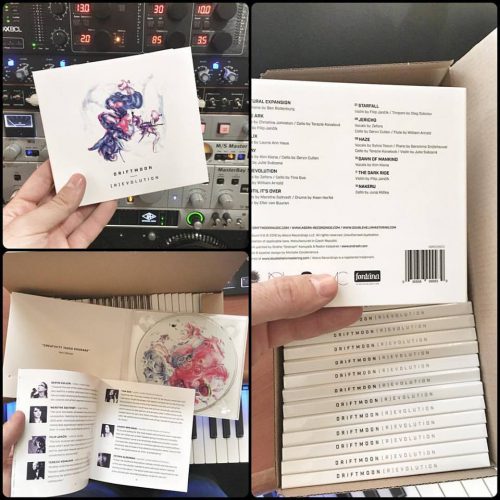 The title track, "(R)Evolution", features Tina Guo and Zefora, and is a thing of beauty.
This sort of production is what I would expect in a real anthem – for an event such as Sensation, where theater meets music festival.  Subtle piano playing, plucked strings, strong drum lines, an electric guitar performance, and an ever-present energy stimulate the ears in serene bliss.  The evolution is at hand… and it is stunning.
Following the energy of the title track is "Until It's Over" – a reflective piece featuring a vocal performance by Merethe Soltvedt.  The soft first half gives way to a Pop influenced back half, and the chorus line, "Losing what we gain, until it's over," really hits the heart to reflect about loss.
"Starfall" intertwines motifs I'd find in a film like Independence Day, showcasing a flight amongst the stars, or the crashing of dreams into the sea of possibility.  There's a definitive mood of taking flight and soaring amongst the heavens produced – and the violin interlude heightens the desire for more.  Sadly – the crescendo leaves a little to be desired… as the track is a bit repetitive.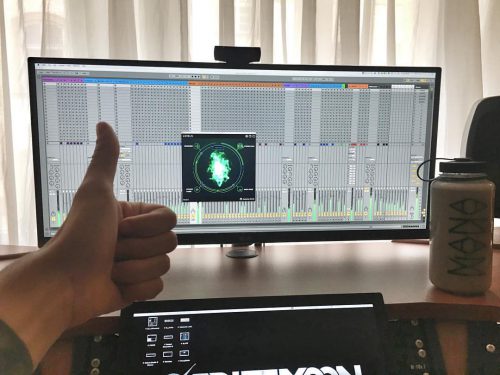 Resurrecting a peaceful mood is "Jericho" – and Zefora returns to provide wonderful support as a vocalist.
However, the track also has its dark moments.  There's a sublime beauty in it, though – and it resonates with depth.  In particular, the strings orchestration and arrangement is stunning in this piece.
"Haze" recalls Holiday music to me in its simple beauty and stunning vocal delivery from Slyvia Tosun.  Geronimo contributes the stunning piano work, and overall the final product is absolutely gorgeous.  If you wanted musical complexity, you might be let down on this track.  If you want emotional fortitude, this song excels.  It's simply beautiful.
Closing the album is a trio of musical pieces completed by Driftmoon on his own – "Dawn of Mankind," "The Dark Ride," and "Nakeru." "Dawn of Mankind" offer a string driven soundscape that feels perfectly cinematic.  It would work as an opener, and as a stunning interlude in sets that want that cinematic motif.  "The Dark Ride" offers a different experience – colliding crashing percussion with a rainy atmosphere and guitar riffs to drive tension.  It lives up well to its title.  Finally, "Nakeru" (which means "to be moved to tears" in Japanese) winds the album to its closure.  Notably more electronic than anything that precedes it, the track offers a meditative moment of reflection.  The roots of the synthesizer meet choral chants and all of it together sounds seamlessly simple.
Driftmoon took a very different approach to his debut album – blending film score and classical orchestration with his knowledge of musical production.  The linear notes to the album even reflect this challenge: "Henri Matisse, a French artist who lived in the 20th century once said a beautiful and painfully truthful quote – 'Creativity takes courage'."  This creative work is courageous – and while it won't shatter sales records in the dance music world, it does offer a refreshing twist on a genre sometimes criticized for lack of production know-how.  Clearly, this album pushes those concerns aside – and grabs listeners for a very different ride.
Stream Driftmoon – (R)Evolution on Spotify:
Driftmoon's (R)Evolution, released by Abora Recordings, is out now at all major outlets.  Pick up your copy today and support creativity in the artists you love!
Abora Recordings Physical CD | Beatport | iTunes
---
MyStro's Top 5 Tracks:
Haze
The Ark
Jericho
(R)Evolution
Dawn Of Mankind
---
Would you like a copy of the album? You're in luck!
We have three signed copies to give away courtesy of Driftmoon himself!  The contest is open worldwide, so don't worry about where you are located!
Driftmoon – (R)Evolution Autographed Album Giveaway

---
Connect with Driftmoon on Social Media:
Facebook | Twitter | Instagram | SoundCloud