Giuseppe Ottaviani has been on fire recently with his new track "Doctor Who" causing some major buzz in the trance scene! And let's not forget about his collaboration with trance guru Orkidea on "North Star" the extended mix. Another track that was well received and instantly adored. These are just 2 examples of what Giuseppe has been up to as of late and that does't even scratch the surface. On the tour circuit he is one of the hardest working men in the industry and always stays true to the trance genre with his incredible performances. Just this past year he even made history with his Live 2.0 debut. Giuseppe is one to keep your ears and eyes firmly planted upon. I got the chance to ask this trance superstar some of the questions that I am sure are on everyone's minds. Picking the brain of this trance master to find out what his inspirations are and what has driven him in his productions were the focal point of our dialogue and if you ever wanted to get to know the man behind the music, well here it is!
Stream Giuseppe Ottaviani's Epic 4 Hour #EOYC 2016 Mix on SoundCloud:
---
The beautiful and powerful genre that we call trance has certainly made its comeback as of late and in fact has stolen the spotlight from other major genres in the electronic dance music scene. What do you feel has impacted this growth and how have you been personally affected by its explosion in popularity?
Well I think a comeback of a music genre is not a new thing and not a surprise. Music, like many other things moves in circle and there's always a point when it goes more in the background and when it comes back again. I've been around for a while and I had the pleasure of experiencing the growing of Trance music since the late 90's till its extreme popularity up to 2010-ish, then the going down and the coming back again since last year. What I noticed is that compared to other cool genres that appear to go all the way up in few months and all the way down after just few years, Trance tends to stand up for a very long period. The reason is that Trance is not a fashion, it's not the cool thing to listen and to dance for just a couple of years till it gets boring, Trance is music with a soul and it's able to carry huge emotions linking millions of people. It's something that never goes up to the mainstream as well as never goes down to the very underground. It's consistent thru the years, though it changes its dresses every once in a while.
That said, the US market is obviously playing a big role in making this huge comeback and personally I think that 'Dreamstate' was the best thing that happen to Trance lately as the new generation needs to know how Trance sounds like at a festival compared to what they have been listening to for the past few years believing that was Trance.
How I have been affected by this? Well, nothing changed for me honestly, I just kept doing what I did for the past 15 years following my passion and making and playing the music I like the most without thinking too much of what's popular because music should be the free expression of an artist and not a limit that tells an artist how to sound like.
I see a bright future.
You were one of many talented trance artists to grace the stage at the inaugural Dreamstate event in San Bernardino, California last year. What did it feel like to play for such a dedicated crowd of trance enthusiasts and do you feel that this festival helped to show the world that trance is alive and well in the U.S. circuit?
I felt honored to be able to play at the very first Dreamstate edition and that's also why I decided to test my new Live 2.0 setup there for the very first time till its official launch at EDC Mexico in back February. As I said before I think Dreamstate is a huge help to spread the "word" around and not only in the US, this is definitely a global thing.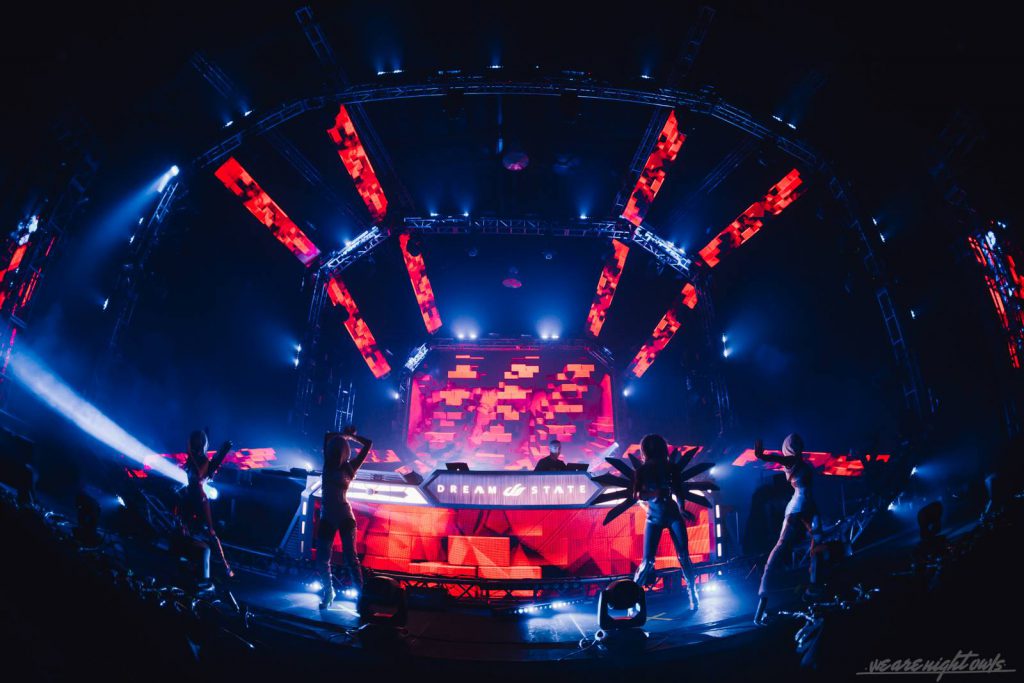 Since we are on the topic of Dreamstate, can you talk about the birth of "Musica"? Under your test run of your Live 2.0 ,"Musica" was born. What was going through your mind when in real time, you stunned fans with your production genius to create such a well received track?
I didn't plan to actually do much with the new setup there, I just wanted to see if technically was working fine since it was the very first time I used it in the real world…which is totally different to just power it up and play in my studio. Test did go very well indeed and I was feeling comfortable so I just started to play with my tools like I was in my studio but with the feeling of a real crowd in front of me. Is that unique feeling that lead me to come up with the main melody of Musica. I simply played it and people loved it so I decided to make a single out of it. This will not be the first and the last time to happen, I can tell you I already have another melody created during my EDC Mexico show which has made it into my upcoming new artist album! Stay tuned they say.
For those who don't know, can you give us the inside scoop as to what 'Live 2.0' is and what your goals are since setting this project in motion?
Trying to make it simple, I've never been a DJ but I always created my music and played it live on stage with my keyboards and a bunch of other electronics to make it sounding more like an electronic music concert rather than just a DJ set. You can feel the "live core" of it with all the mistakes and improvisations that a live performance can deliver. The way I did so far was by making music in studio and performing it during my shows but with the Live 2.0 there's one step above it. I don't only perform the music I have created in studio but I create brand new tunes live on stage. In fact the new setup allows me to quickly build a new track from scratch in less than a couple of minutes and perform it straight away.
Most of my inspirations come from my live shows, I usually get lots of ideas when I'm back from a tour for example, so I thought what if instead of waiting to go back in studio I actually record what I have in mind while I'm still there on the stage in front of my crowd? And then test it straight away? That would be the most inspiring thing ever…… The new Live 2.0 was born 
Check out this short video for a better idea.
Let's continue to talk tracks. "Doctor Who" pays homage to the incredibly popular British TV series. How did the theme song inspire you to create such a brilliant piece of work? Have you always been a fan of the show?
Ha, well this is something that people tend to confuse with me. Actually I never watched a single episode of Doctor Who, so can't say if I would be a fan or not of the show but I'm definitely in love with its theme melody. First time I discovered it was around 2003 when I've heard the Orbital version of Doctor Who and that melody immediately caught my attention, it's addictive and beautiful and it's been stuck in my head since then. I always wanted to make my own mix but never had the proper inspiration till now that the triplet kind of Psytrance seems to be quite common with Trance productions so I finally found the right way to do it. Indeed the original melody is in triplet so the matching was pretty obvious.
Luckily and unexpectedly when we try to ask for the rights to release it they immediately said yes and allowed me to release it as a cover, that's why it's called Giuseppe Ottaviani – Doctor Who.
It's definitely something different with a quite unique melody from what you can hear around these days, that's why I like it. It's, as well, something not for everyone, it's not that "easy" new fantastic tune that people like it straight away or the next summer hit, it's something that grows in you (if you give it a chance to), yet not for every kid.
"North Star" was another big release this past year and teaming up with Orkidea certainly seemed to be destined in the stars. Expanding on the original to reveal a rework that had trance addicts buzzing all over the world. What was it like to work with Orkidea and can we expect more collaborations from the 2 of you in the future? What are some other producers that you would like to work with if offered the opportunity?
It was a very good experience, different sounds, different kind of structures and chords changing, surely some "fresh air" for me. Like most of the collaborations we do these days we work throughout internet file sharing which is cool but quite not the same if two people work in pair in studio, but hey we need to deal with all the production and touring commitments. More collaborations with Orkidea? Who knows, but not for now since I'll be focusing on the release of my new album and this will keep me busy for quite some time.
Other producers? Well I've got the new Gai Barone album "Towards" and it's deep, very deep and brilliant. I would definitely walk away from my kind of "peak time" productions for once and do something completely different and he would be a good one.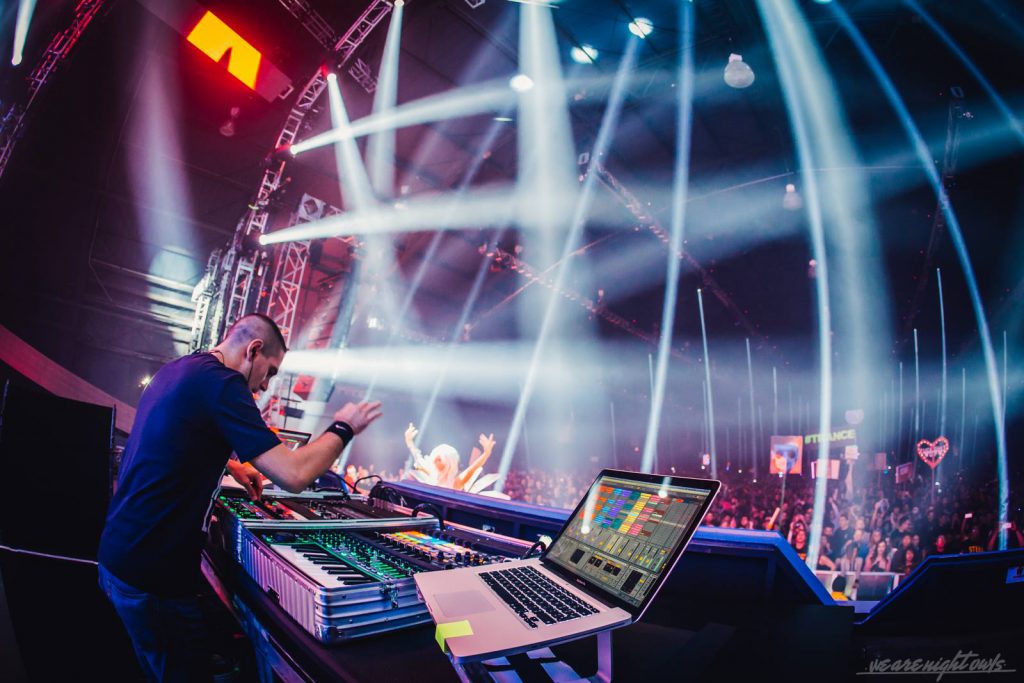 Speaking of collaboration, lets take some time to talk about PureNRG. Your partnership with one of the trance scenes most beloved artists, Solarstone is nothing short of spectacular. Pure NRG is set to hit the stage at FSOE 450 at the Hollywood Palladium. For those who have never seen a Pure NRG set, what can they expect? What makes a Pure NRG set different from a Giuseppe Ottaviani set?
PureNRG has it's own identity and it doesn't sound like Solartsone or Giuseppe Ottaviani but it definitely sound like both of us together. We found the perfect balance where we both put our signature sounds in it creating that PureNRG sound that differs from the singles. A part from that as PureNRG we create music exclusively for the project and this means you will not be able to hear a PureNRG track on Rich or Giuseppe sets (unless it's officially released) because we want to keep the project identity intact. So all the music we do will be exclusive for our shows.
The great thing about PureNRG is that we both feel completely free to do whatever comes to our minds, and I mean anything. We do covers, remixes, crazy mashups and of course our own productions. But not all the music gets released, we don't release much indeed, we focus on the live show so that if people want to experience PureNRG they must come and see us.
Can't wait for FSOE 450 by the way :)!
Fans want to know if there are there any big projects in the works for this coming year as the season goes into full swing? Have you been working on any major upcoming releases that you can let us in on?
A big remix is just out. I had the pleasure of remixing Gareth Emery's new single "I Could Be Stronger" and it's a very good one. Check it out if you didn't. I also have another big remix which is just waiting to be announced but above all, as I already mentioned before, I have my new artist album coming up soon. We are making plans as we speak.
Last but not least, watch out for something called "Slow eMotion"!
Now for a question that is on everyone mind. What does Giuseppe Ottaviani do on his downtime? What are some of your hobbies and favorite things to do outside of the studio?
I have a wife and two kids that keep me pretty busy in my "no free time" :). Music is my hobby, I don't have others.
Keeping the trance momentum going in the U.S. is extremely important, now more than ever. How do you plan on helping to nurture its growth and do you think that its popularity will continue to blossom even as music is constantly evolving in the scene?
Well, I won't move to EDM…that's already a big help isn't it? Hahaha just kidding.
I will keep doing what I do and keep spreading to the world this fantastic genre that is Trance, though I won't be boring by delivering the exact same thing over and over again as this is what kills a music genre. Just like I did till now I will move around experimenting different things but within the "limits" of Trance music identity.
Changing your dress it doesn't mean it changes the person you are, but it will make you looking interesting and fresh every time. This is what I'm trying to do to my music.
Bonus question! What is your favorite trance track of all time and why is it so special to you?
"William Orbit – Adagio For Strings" brought me here.
---
Connect with Giuseppe Ottaviani on Social Media:
Website | Facebook | Twitter | Instagram | SoundCloud | YouTube