For those new to the scene as well as the souls yearning to forge lasting bonds, we have compiled the best tips for creating special connections at festivals!
---
Festivals are a great way to create special, long-lasting new connections with people. I know I have made numerous special connections with people I have met at the countless festivals I've been to over the last five years.
So, to help both the newcomer and the veteran alike, I have created a list of five tips to help you hone in on the one of a kind connections that you can develop at the events that run rampant with social interaction.
Read on below and put these tips into action at your next festival excursion! Your future friends are waiting!
---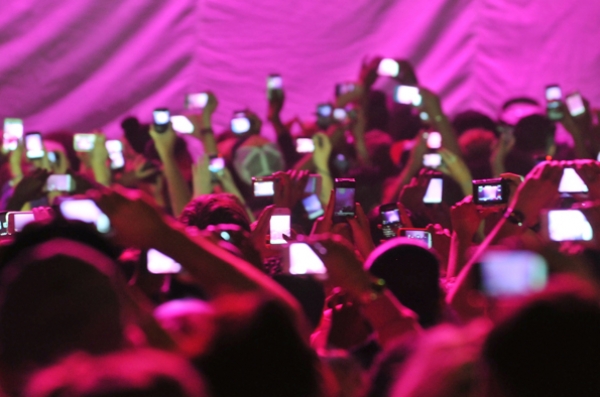 #1: Live in the moment and put down your phone!
I can't tell you how many times people lose out on special moments because their face is plastered to the phone screen. Cell phones are both a blessing and a curse. They provide a plethora of information right at your fingertips, allow you to connect with friends (both new and old), and let you capture your special moments through photos or videos.
However, the constant need to feel connected to others through the electronic device is a plague. It is a vibe killer and a pet peeve of mine if someone is constantly on their phone during a festival. I personally call it my electronic leash because of this.
When I attend festivals, I usually try to use my phone as little as possible. Usually, I will just use it for photos and to check the festival application, if there is one offered. I love when I attend a festival and there is absolutely no cellular service. This is a blessing in disguise because I can truly get lost in all of the live sensory wonders and, in addition, it almost forces you to meet new people and make real connections.
If it's hard to put down your phone because of having to stay connected to your friends inside the festival, it might be useful to keep an eye on the upcoming wearable called festiie. It's an RFID wristband that helps you find your friends without the need for wifi or a cellular connection and even works if your phone battery is dead. My friends, this is truly a game changer as soon we will never have to stress about trying to find our rave family in the sea of glorious chaos!
---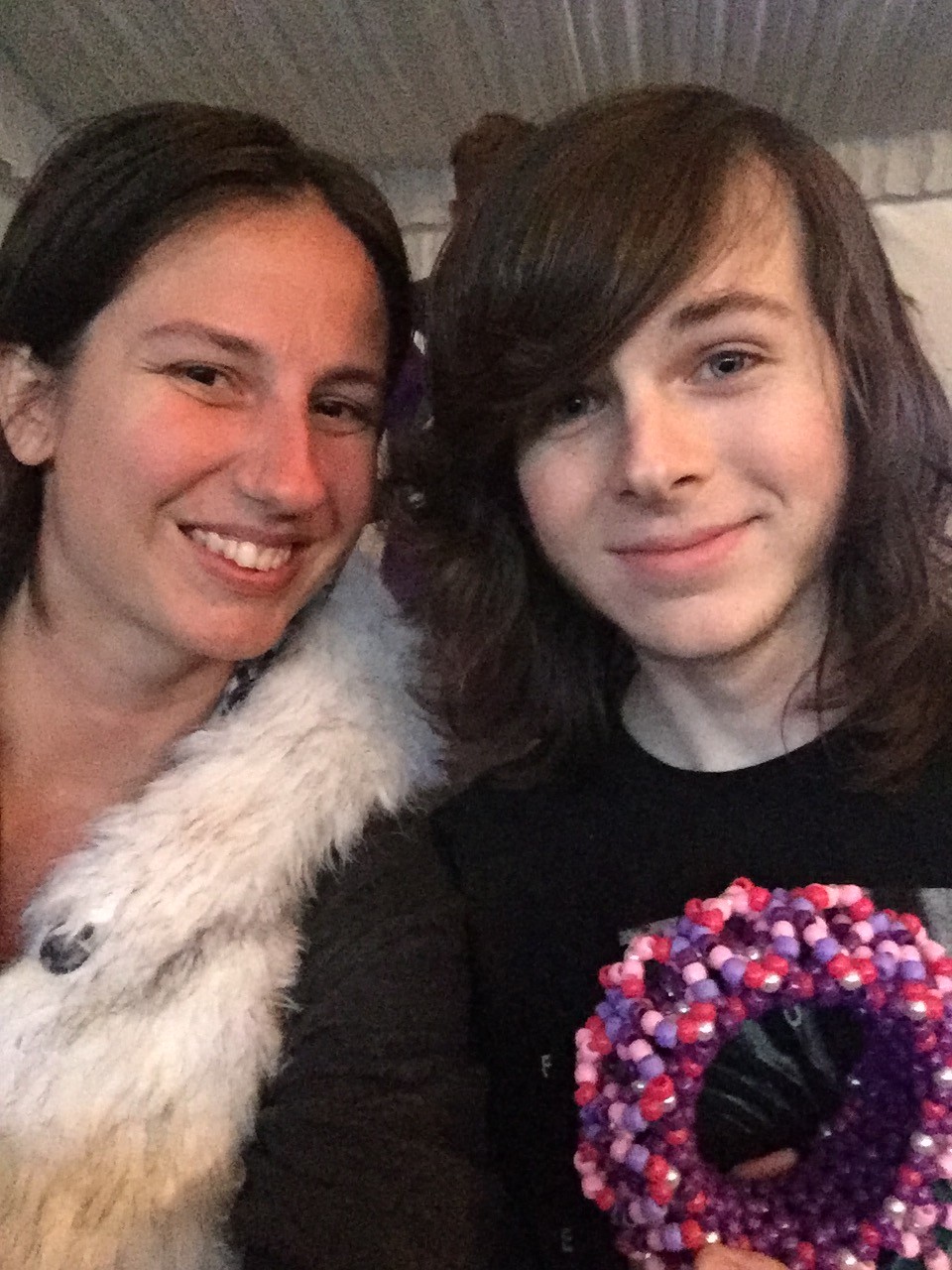 #2: Create and trade kandi or special keepsakes
Trading kandi is a great way to break the ice and is also a great way to help enhance your experience and create lasting connections. I have met so many incredible people through the simple act of trading kandi. In fact, I am still in contact with many of them to this day! Be sure to check out my Kandi Etiquette guide for newbies who have never traded before!
One perfect example of how Kandi can create lasting bonds happened to me at the Inaugural Okeechobee Music & Arts Festival back in 2016. I was hanging out in VIP and saw Chandler Riggs, who plays Carl on the hit AMC show The Walking Dead, with his girlfriend just relaxing before ODESZA was set to perform.
I approached them by introducing myself and asked what they thought about the festival. This simple question opened up into Chandler talking about his favorite festivals. I had a light-up kandi cuff that I wanted to give him and asked if he wanted to trade. He was a little apprehensive at first because he felt bad that he didn't have something to trade back. I asked if it was his first time trading and he told me yes. I responded, "Since this is your first piece, that's a good trade for me!" It's small moments like these that create memories that last a lifetime!
Even if you don't have any desire to make kandi, try sharing a piece of gum or some water from your hydration pack to someone in need.
---
#3: Talk to a stranger and make new friends
Step outside of your comfort zone and talk to someone new that isn't within your personal circle. Since I'm already an independent personality, I have no problem talking to new people. However, I understand that this is relatively hard for some.
When I traveled to TomorrowWorld in 2014, I took the Magical Bus Voyage up to Atlanta. I was traveling solo and didn't know anyone on the bus. A young man came up to me and asked, "Is anyone sitting here?" I replied to him, "No, not at the moment." He then responded, "Well now I am. I'm Daniel and we are friends now." To this day, I'm still friends with him. You never know who you will meet when you step out of your comfort zone and take a chance! Do something unexpected. I promise it will pay off!
While you're at the event, don't be afraid to strike up a conversation. As I said before, festivals and raves can be sensory overload, meaning that if you feel that you made a fool of yourself, chances are that someone who you don't connect with probably won't remember it. Inside events, find the chill zone or a relaxing area that will promote conversation, or just smile and dance with someone respectfully to encourage them to dance even more.
---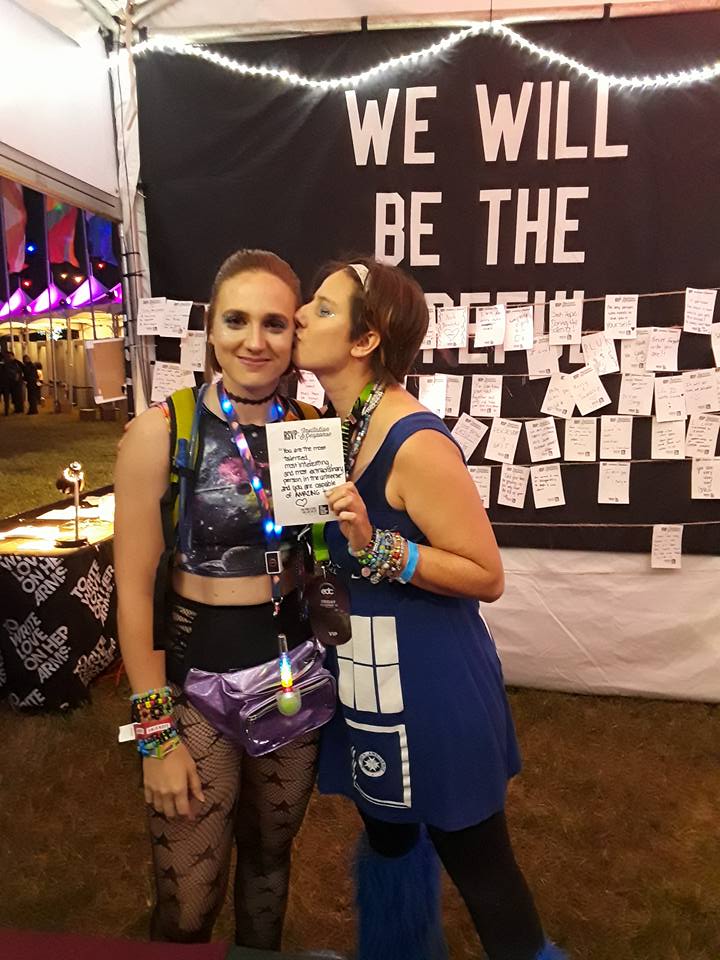 #4: Create unique individual or group costumes and outfits

One of my favorite things to do is to create new unique costumes when I go to different festivals. This is a great way to meet new people and it has actually helped me become more comfortable in my own skin because of all the pictures people have asked to take with me. One of my favorite outfits that I love to wear, where ever I go, is my BBC Doctor Who-inspired deadmau5 costume dubbed "tardi5mau5", as shown above. The protagonist is a humanoid alien who travels through time and space in a blue police box called the Tardis and he helps save different planets and people.
I find myself constantly creating new connections with this costume! One of my favorite connections was from EDC Orlando 2017. I was walking between the Art Car stage and Neon Garden, when I heard a voice from behind me exclaim, "OH MY GOD IT'S THE TARDIS!" I turn around to find two girls behind me, who continued to tell me how much they loved my costume.
One of those girls, in particular, was named Ina. She was the one who called out to me about my costume. Since I didn't have anywhere to go, and they were walking in the direction I was heading, I decided to join them. We started talking about our favorite Doctors and Companions. When we arrived at the neonGARDEN, we traded kandi. I found out through this that our birthdays are only three days apart and that all three of us were former military: Navy, Marines, and Army!
When we were walking between stages and exploring the grounds, we walked into the "To Write Love on Her Arms" tent. This is where you can leave words of encouragement to others. I didn't know that Ina had visited the tent earlier and left a message. I was looking at the countless pieces of paper. One specifically stuck out to me and it read, "You are the most talented, most interesting, and most extraordinary person in the universe. You are capable of amazing things."
I pulled this piece of paper and turn around and I see Ina crying. I asked, "What's wrong sweetheart?" She wiped the tears from her eyes and responded, "You chose mine." At this point, I was at a loss for words. I just give her the biggest hug and told her, "The Universe has strange ways of bringing people into our lives, and this is one of those moments." I ended up hanging out with these two ladies for the rest of the night and it's a memory that I will treasure forever. Since then, we have remained in contact and even spent our birthdays together this year.
---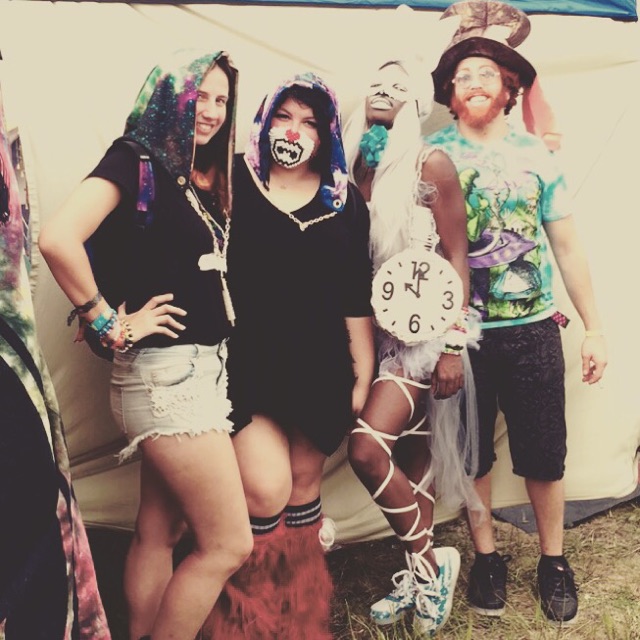 #5: Explore your surroundings
I personally love this tip, especially if you're attending a camping festival. Being able to walk around the festival grounds is so much fun! Each festival is different and has countless additional offerings other than the music. I love to check out the different art installations, especially at EDC and Electric Forest, and often this leads to conversations surrounding the beauty of each unique installation.
At camping festivals, you should wander the campground and check out different sound camps. You may even be able to meet some up and coming artists who haven't been discovered yet. Artists and producers who are just trying to get their name out there generally will love to talk to you about their craft. You may even randomly run into your favorite DJs and celebrities who are walking around as they head to the stage, a connection that you will never forget.
Taking part in the festival activities that are offered is another great way to get to know others as well. Many camping festivals even have morning offerings, such as yoga or meditation. They are a great way to relax and meet new people away from the intensity of the dance floor. For example, Dirtybird Campout East 2018 had a ton of games and activities like tug-of-war tournaments, fortune telling, and a talent show.
And finally, getting to know your neighbors at a camping festival is an indispensable part of making festival connections. At Electric Forest 2016, I got to know some of our neighbors and found out that one set of neighbors lived right down the road from my friend that was attending the festival with me! These neighbors also helped us out when we were in a bind for food. At the end of the day, we are one big rave family who is always willing to help each other out when the need arises.
---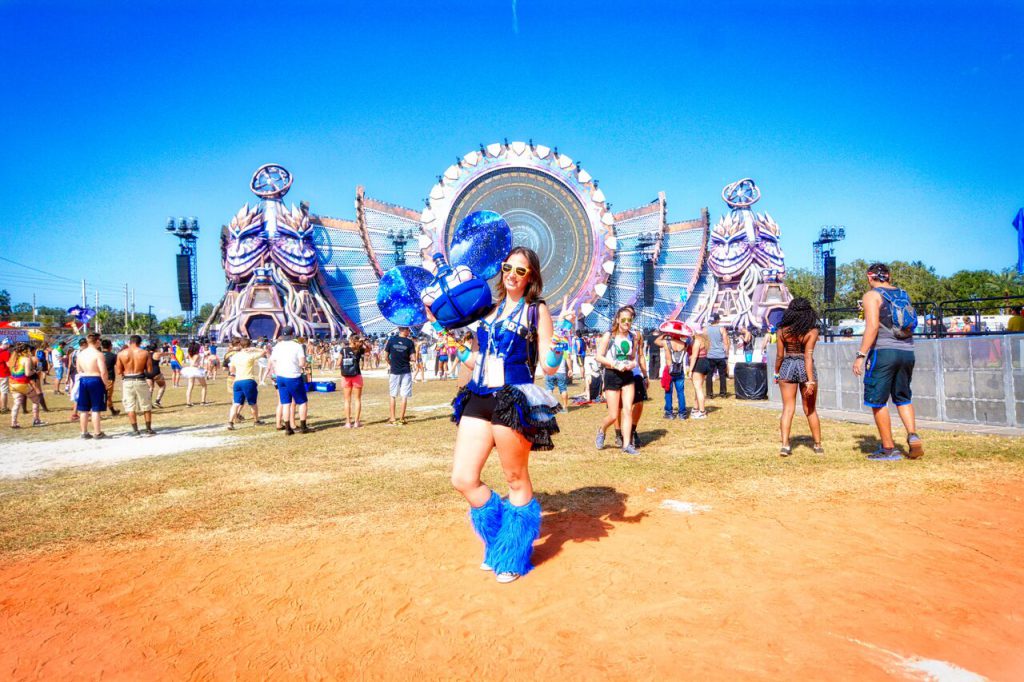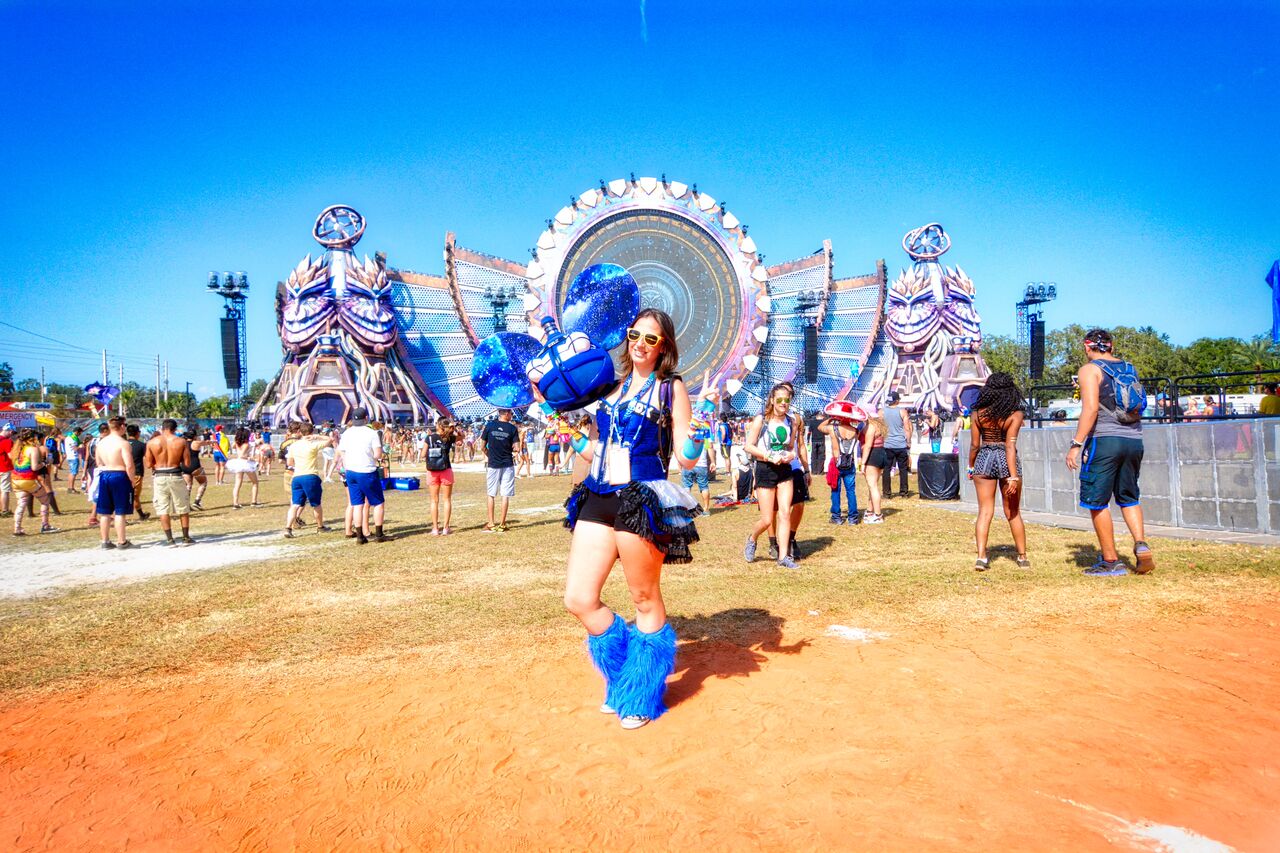 Bonus Tip: Don't be afraid to go to a festival solo
I love attending events solo all the time because it allows me to explore and meet new people. Branch out and experience new music and get to know the people who are connected with each beautiful and unique genre. When you attend a festival solo, there will come a beautiful feeling of freedom that inspires you to follow your own path. You are on no one's schedule but your own, so see who you want to see without having to make compromises and make long-lasting bonds in the process. You do you, boo!
Don't forget: if you make a connection, trade social media details. With the rise of social media such as Instagram, Facebook, and Snapchat, this is probably the easiest way to stay in contact. However, only give your information out if you are comfortable in doing so. And remember, if you do go to a festival solo, just be sure you let someone know where you are going before you leave. Always play it safe.
For an even more unique experience, try some Facebook groups, like your local Trance Family or Anjuna Family. You'll be able to take part in meetups that happen at many events where you'll find others who are in your same situation looking to meet new friends with shared interests!
---
Now that you have heard my tips, I want to hear your ideas for making long lasting festival connections–let us know in the comments!