With the new year on the horizon it's time once again to take a stroll down memory lane with the EDM Identity team's favorite moments of 2021!
---
When the pandemic began to rage back in the early months of 2020, it's understandable that the music scene would ultimately come to a screeching halt. For the most passionate, this was like a dagger to the gut. We all hung onto the news, waiting for a glimmer of hope that live events would be coming back around while we made the best of our time in our living rooms watching livestreams on Twitch. This year, the wait finally ended with the re-establishment of festivals and the re-opening of clubs.
Now, things haven't been perfect by any sense of the word, with weather disasters plaguing fall festivals and the Omicron variant urging cancelations for the winter months. But, we're taking it all in stride and holding onto the incredible memories that many of us were able to make this year, even if only fleeting.
The return of EDC Vegas was easily one for the history books, Beyond Wonderland left attendees breathless at their beautiful new location at The Gorge, and the trance fam united as one and left their hearts on the dancefloor at Dreamstate SoCal. Further, the counter-culture got to jam out at Suwannee Hulaween for its return, while other festivals such as Infrasound and ARC Music Festival captivated crowds as well.
As you can see, there are always silver linings in even the most tragic of times, and we must always hold onto the moments that lift us from the trenches and inspire us to dance. For us at EDM Identity, some specific moments will stay locked in our memory bank for the rest of our lives. So, join us as we relive a handful of our favorite moments from 2021, and be sure to fill us in with your own in the comments!
EDM Identity's Favorite Moments of 2021
---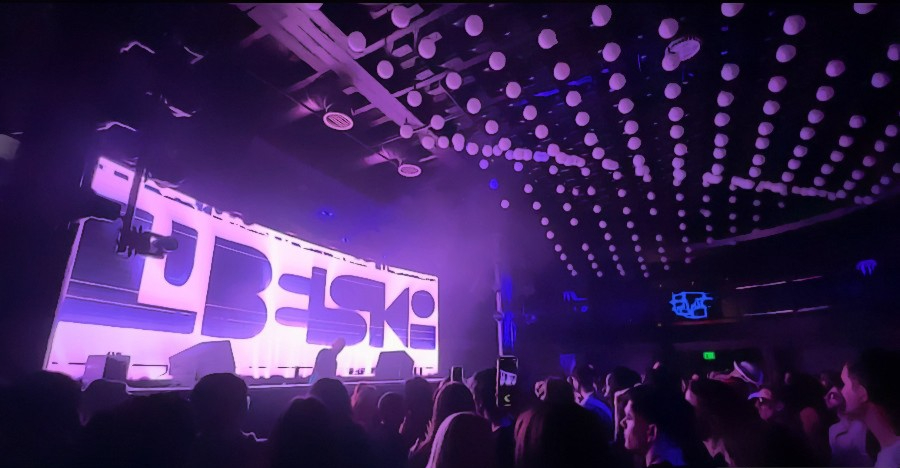 Maria's Moment – Lubelski Replacing Claude VonStroke at District Atlanta
If there was ever a night that I felt like I'd been abducted by aliens and taken straight to the mother ship, November 20 was that night. But, before I get into that, let me first set the stage. A week prior, Lubelski had just released his outstanding experimental album, Happy Accidents, via Dirtybird Records. I was through the moon excited to see him open for label head Claude VonStroke before receiving word that Claude had to pull out due to personal reasons. This meant that Lubelski would now become the headliner with an extended set. I was curious to see where he would take us with such a buzz surrounding his name recently.
Well, Lubelski decided that he would pull out all the stops and take us on a wild ride full of mind-boggling twists and turns, always staying one step ahead of our musical needs like he was reading our minds from the stage. He started with some tunes that would normally be a smidge too downtempo for my taste, yet his selections were filled with sounds so fascinating that I instantly became obsessed with the vibe. After about 20 minutes of this simmering progression, he brought out the big guns and hit us with some wild tech house heaters that would ultimately weave in and out of sassy bass house party pumpers.
There were so many different modular layers to his sound that it was impossible to become bored at any point during the night. Soon, he would introduce some extra special galactic soundwaves that brought my imagination face to face with entities from outer space. I remember hooting and hollering in jubilation as I let my body bop and groove to the insanity that was unfolding around me. It's moments like this that make me feel so incredibly blessed to be part of such a colorful and creative industry, and I can't wait for the opportunity to see Lubelski again in the future. He's a musical genius that will one day rule at the top.
---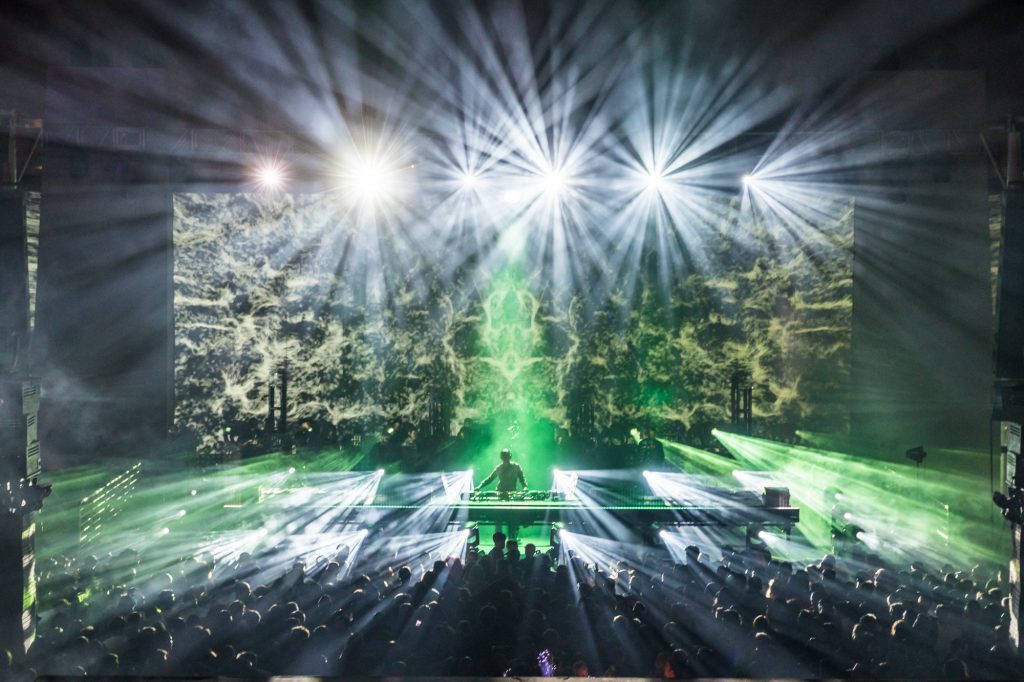 Jared's Moment – Dixon's Extended Set at Cityfox Transcend
As the world began to exhale a very slow and intentional breath that had been held for the previous year and a half, NYC dipped its toe back into the live event waters. Late summer was terrific, with lots of outdoor events, and the pinnacle for me was Cityfox Transcend. Like previous Cityfox events, this took place at the sprawling Avant Gardner complex which is home to the open-air Brooklyn Mirage.
Transcend was billed as the first official season closing party for Mirage, and it was a superb tentpole event. Unlike previous multi-stage events by Cityfox, this one seemed to have the right scale, meaning that there was an energetic crowd and room to migrate between stages. I saw so many friends for the first time since lockdown that night. The kicker and absolute best moment of 2021 was Dixon's extended set through (and well past) the sunrise the following day. Just glorious!
---
James' Moment – Alexander Lewis at Brownies & Lemonade Throwbacks Event
I have always wanted to attend an event thrown by the illustrious Brownies & Lemonade. For years, I would see recap videos from their events and yearn for the day I could experience that energy live and in person. In August of this year, I finally got my chance with their Brownies & Lemonade Throwbacks event, which featured a surprise lineup of artists from the 2017 SoundCloud era.
Fittingly, the event took place at CatchOne in Los Angeles, which has hidden afterparty basement vibes. The entire night was filled with remixes, bootlegs, and original tracks from a time in dance music that I thoroughly enjoy and reminisce about. Artists like Sweater Beats, Lido, Hex Cougar, and Luca Lush took the stage and provided incredible sets. However, the real star of the show was Alexander Lewis.
This was my first time catching the incredibly talented producer, and he graced us with his insane trombone skills. One part of his set that stood out to me was when he gave a live rendition of his remix of Chargé by Kaaris. He brought out his trombone to play along with the huge horns section within the drop, and it was both energetic and awe-inspiring. Truly a night I won't forget!
---
Ashley N.'s Moment – The Return of Second Sky Music Festival
Returning to festivals with Second Sky was a breath of fresh air and recharge I'd needed after not being able to for a year and a half. We had so much fun dancing and singing, surrounded by good, positive energy. To go with my sister, have chance run-ins with friends, all the while listening to some amazing sets was invaluable.
The lineup was so diverse, but every set was captivating. Some of my favorite moments of Second Sky were meeting Porter Robinson's dad and talking to him about his son's creativity, interviewing Madeon, and of course, the music. It was such a great way to get back into festivals.
---
Ali's Moment – Moving to Colorado and Seeing CharlestheFirst at The Untz
There were many moments of 2021 that I will remember for the rest of my life, especially when I visited Colorado for the first time and went to a bunch of epic shows. This included the Sub.Mish show at the Mishawaka Amphitheater, which is one of the most gorgeous venues I have ever been to, where I saw Dalek One, Pushloop, The Widdler, and Ternion Sound. That same trip, I also went to my first Black Box show the night before and saw Trevor Kelly, Pushloop, and even a b2b with Pushloop and Aric from Ternion Sound.
In November, I started a new chapter in my life and moved into my dear friend Tiffany's house in Colorado – something I've been dreaming and talking about doing for years. Since moving here, I've been blessed with shows almost every weekend, including the Noisia farewell tour, my first Red Rocks show (Saturday + Sunday of Wobble Rocks), and MYTHM's debut at The Black Box. But, the one memory I will hold tight and never forget was seeing CharlestheFirst and his side project, hawk. at The Untz back in June.
CharlestheFirst is, and will always be, my favorite artist. His music has made me feel things no other artist or person has and connected me with so many beautiful, like-minded humans. Finally seeing a hawk. set, while also seeing him headline that magical festival is now, probably my favorite memory from the summer and 2021 as a whole. I would give anything to go back to that moment, and I'm so grateful I was able to experience his magic one last time. This year has been a year full of ups, downs, and new beginnings, and I'm thankful for everyone that's been a part of the journey.
---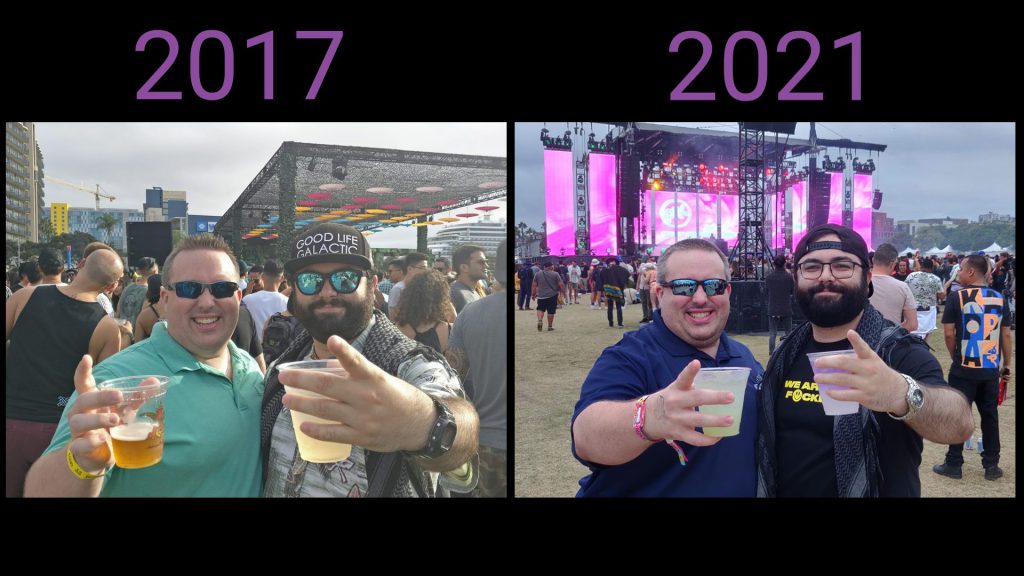 MyStro's Moment – Recreating an Iconic Friendship Moment
This year continued the odd trends of 2020 for me. I kept my head down at the day job, grinding away from home early in the year to returning to the office full time in July. While the year had many awesome memories – playing back-to-back with gardenstate at our local trance night here in San Diego being one of the biggest of my DJ career [Listen on Mixcloud] – none rises above to remaking the iconic photo above.
A bit of context – the 2017 shot was a random capture – Grant and I turned to our friend who snapped it during the whimsy of a house-filled set at The Palms. For me – this was before my "iconic" look of a branded purple polo and before I was full-steam ahead in helping EDM Identity be what it is today, supporting Grant and the staff the best I can. This photo, I look back on more than any, shows the bonds we'd grow.
In 2021, I had to recreate the moment for a few reasons. First, I was not planning on initially popping into CRSSD Festival Fall as I had other financial commitments at the time. When the doors opened, and I was able to attend, I was joined by my DJ buddy Josh Taylor – the other half of the Serial Serenity project. It was his first CRSSD Festival and his first after surviving a stroke. His stroke reminded me of the short window we share with others. Second, the photo actually bonded me to someone on a dating service – WHO KNEW?! Third, it was an excuse to snap a photo with my buddy during the entertaining set that only Paul Kalkbrenner can bring! We swapped stages to the other end of the festival at Ocean View – so it is not a 1-to-1 remake, but hey, you have to remix sometimes, right?
Looking ahead – I'm happy to continue the friendships and bonds in 2022 – not with artists alone – but with all the people in this immense industry and fan base that make the music thrive.
---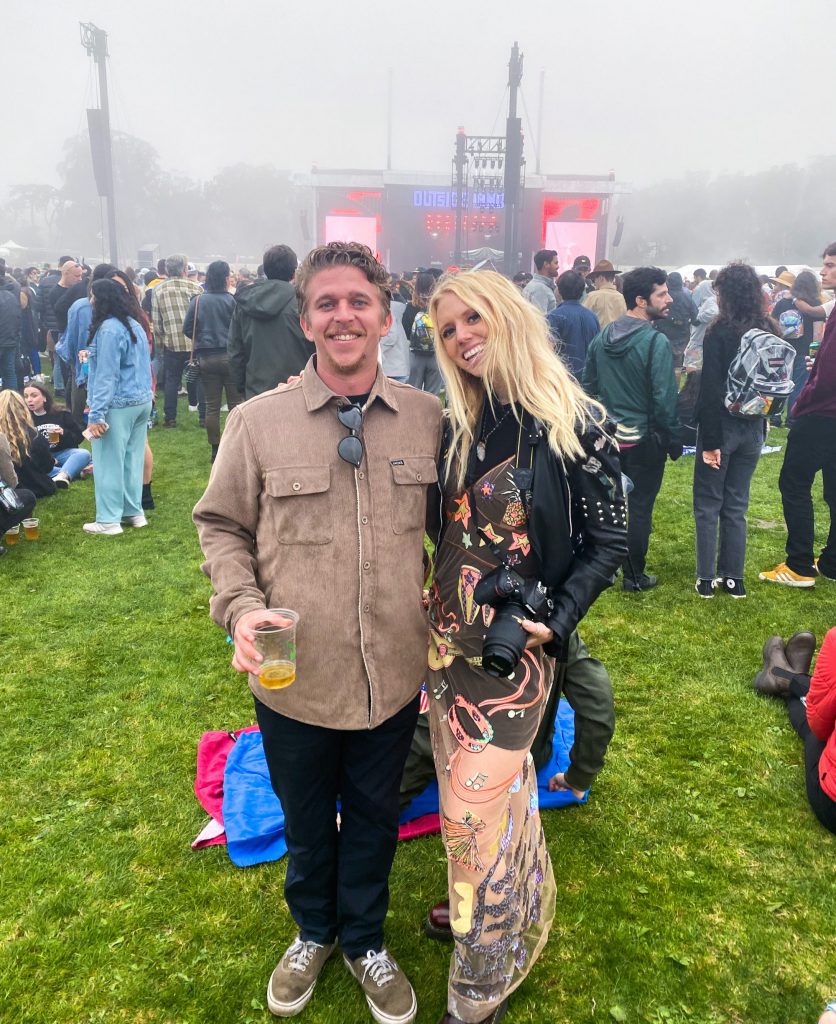 Ashley L.'s Moment – Getting Back to Live Music and Refining What I Love
This year, for many of us, was still in the unknown. The only difference was hope and love for the pandemic to wane from its previous ways. Most of us didn't know what to do with the time we still had left for lockdown. When my Grandmother passed away at the end of January, I dedicated my love for her through the music of Anjunadeep – which also kept my adrenaline pumping to cross that finish line for my first full marathon. 
As the pandemic shifted, I dove into the depth of myself, and I discovered intrinsic listening habits by closing my eyes to Found In The Wild, Eli & Fur's debut album, as well as a celebration of my favorite artists in the house and techno scene. As spring turned into summer, the excitement brewed for live shows to return. After joining the EDM Identity team last December, it was finally time to experience Jamie Jones in my favorite city for Paradise In The Park. I remember feeling the beats vibrate up into the skyscrapers and clouds; it was incredible.
As the leaves faded this fall, metaphorically speaking, if you follow the call of the disco ball, it will always illuminate what sets your passion on fire. My passion for writing led me to a new career in media and an opportunity to shoot photos at Outside Lands Music and Arts Festival, which wouldn't have been possible without the love of music and the fabulous outfits people wear! 
As far as concerts go, I attended my first Sin City Desert Hearts in Las Vegas and saw Tiesto for the first time on Labor Day Weekend with a group of friends. As the year comes to a close, it deems appropriate to celebrate another solo return, and New Year's Eve will lead me to see Eli & Fur in San Diego. Cheers to ringing in a new love for music in 2022 and refining everything you love into a passion!
---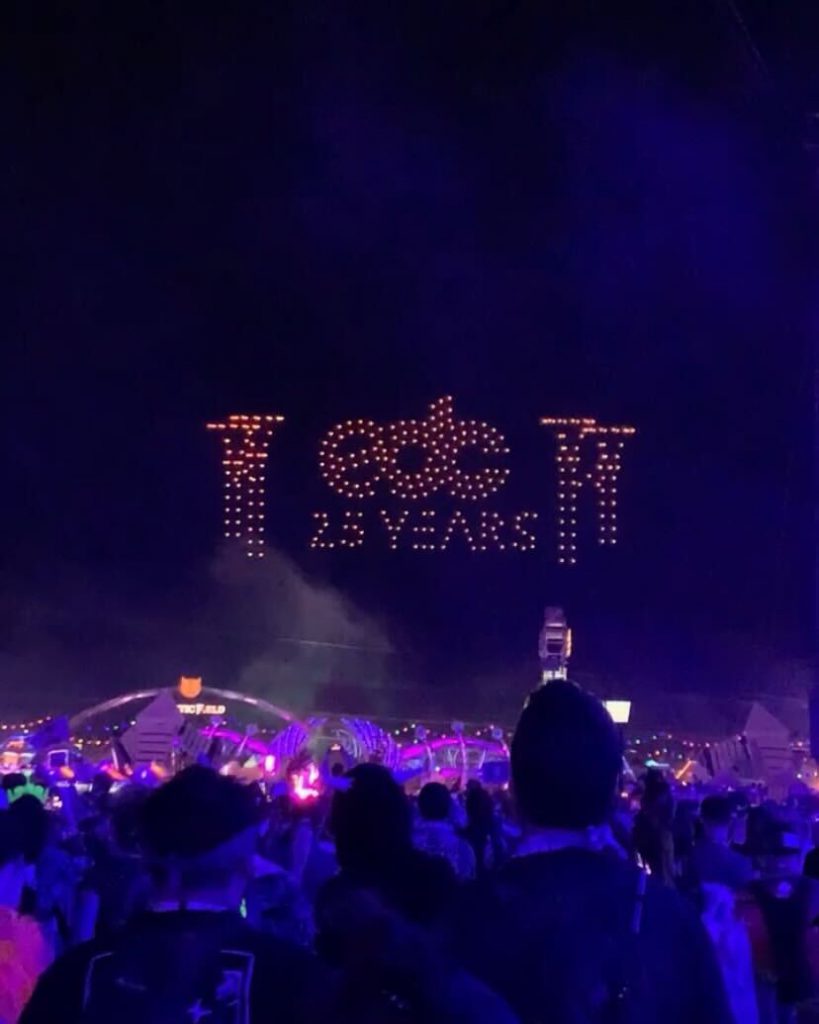 Hannah's Moment – Eric Prydz's EDC Las Vegas Set During an Epic Drone and Fireworks Show
My favorite festival moment from this year would have to come from Eric Prydz's EDC Las Vegas set. In fact, his set was probably the best I've seen from him — I don't know how much better he could get from opening with "Pjanoo" and closing with "Opus," two of his best works!
During the lengthy buildup for "Opus," so much was going on that came together so beautifully. A drone show began in the sky behind my group and me as the song started, creating awe-inspiring patterns and graphics. "Opus" slowly but surely picked up speed, with its enchanting notes captivating us all. Finally, the drones counted down "3", "2", "1" in the sky, and the coveted EDC fireworks show went off right next to my group's spot in the VIP area at circuitGROUNDS.
At this exact moment, Eric Prydz dropped "Opus" into its gorgeous chorus, and my jaw hit the floor. I couldn't believe all the beautiful things occurring around me. From the stunning and colorful fireworks to his legendary visuals and lights brightening every square inch of circuitGROUNDS' panels, all while his euphoric melodies boomed through the speakers, I couldn't help but smile and hug my friends around me.
It was truly a moment you had to be there to experience, and the spot we were standing in was perfect as everything unfolded around us. This was a highlight of my very first EDC Las Vegas that I'll surely carry with me forever.
---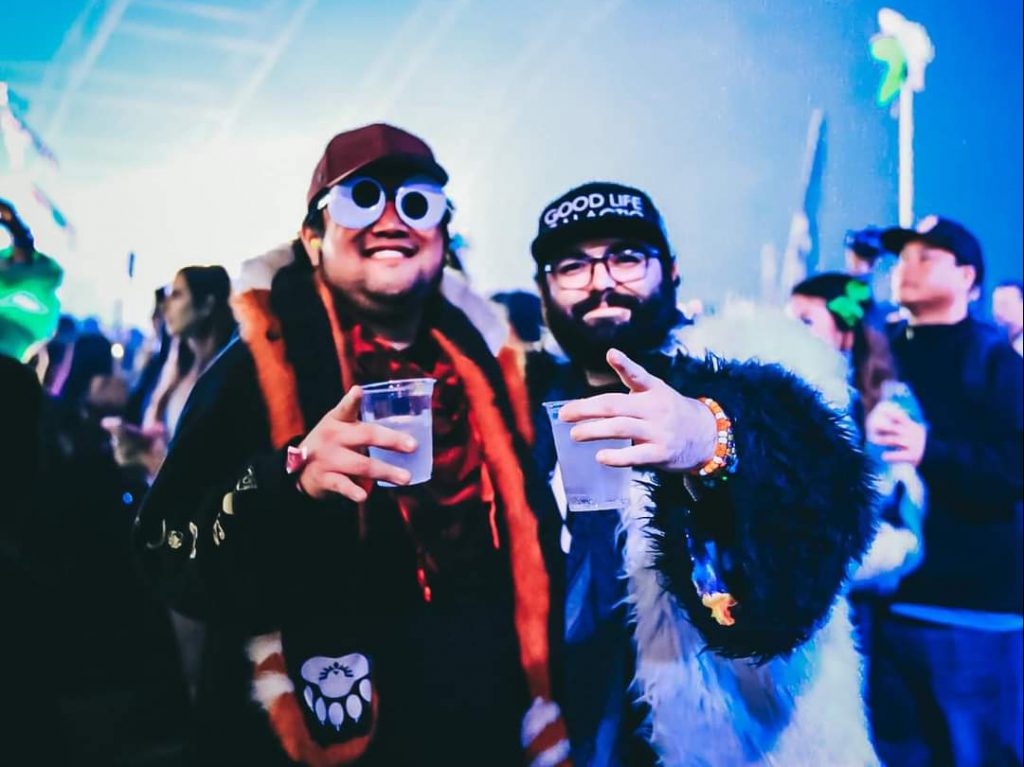 Grant's Moment – Reconnecting with the Scene I've Loved So Much Over the Years
To say that the past few years have been insane would be an understatement. From the ongoing pandemic to the turmoil we're facing as a country, it's been difficult for many, myself included, to keep their heads up and remain optimistic about the future. For me, the lack of live music events hit harder than most as that's where I would recharge my mental batteries, reconnect with old friends, and develop new ones as well.
This year began unlike any other I had lived through in the past. I spent New Year's Eve at home watching a livestream alone in my room and then took my family to Electric Mile in the weeks after – not your typical experience for someone who was constantly on the go for the past decade. As festivals and events began to reemerge from their slumber, I was simultaneously excited and a bit nervous about what would come. Yet, I was delighted to experience music booming from speakers once again.
My first official show back was Kaskade at SoFi, another iconic show from the house mastermind that featured Dombresky and deadmau5 playing in support. From there, it was off to the races with DAY MVS XL, the debut of ARC Music Festival, and a flurry of other events as well. The quick pace of the condensed festival season was grueling, and I felt that the most after attending EDC Las Vegas and Escape Halloween back to back. But while my body might still be sore, I couldn't have been happier to be back in action and soaking in some fantastic experiences.
The moments that stick out from this year aren't of catching impressive sets (even though there were a number of them), but instead being able to reconnect with those I hadn't seen in a long time or had ever even met before. Catching sets with Logan at ARC, seeing Holly's face light up at her first EDCLV, hanging out with Matt at CRSSD Fall, dancing with Raven at Kaskade, exploring Escape with Kyley, and losing my mind during Audien's set at Dreamstate with Brandon all stick out as special. Moments like those are ones that I cherish the most, and I can't wait to make more in the new year.
There's a lot more to come from the EDM Identity team in 2022, so make sure to stay tuned!
---
Connect with EDM Identity on Social Media:
Facebook | Twitter | Instagram | SoundCloud | Mixcloud | YouTube | Twitch