Beautiful energy radiated from the grounds of the Spirit of the Suwannee Music Park as it came alive for Suwannee Hulaween 2021.
---
If you've heard anything about Suwannee Hulaween, it's likely only praise for this gem of a festival that takes place on Halloween weekend and is quick to sell out year after year. Nestled in a quaint, swampy forest in Northern Florida is the Spirit of the Suwannee Music Park the venue is transformed into a space filled with art, vendors, and plenty of beats to celebrate the spookiest of holidays.
While people have always said the vibes at Hulaween are simply magical, including many who have compared to a mini-Electric Forest, I knew that I needed to see it for myself. It had been on my festival bucket list for quite a few years, so I couldn't wait to attend. So when the opportunity presented itself this year I immediately jumped at it, and after securing my passes the excitement began to build. I couldn't wait to experience my first Hulaween.
I expected some chaos upon entry or absurd wait times, but the venue itself is extremely accessible and easy to get in.
There was no line of cars for miles on the highway and I realized with relief that the event was smaller than I'd thought. Friendly staff members checked COVID documents and tickets as they helped everyone get in quickly and smoothly. From the moment I saw the campgrounds I was in love because instead of the typical campsites lined up in a field, everyone gets a spot in the forest.
Despite getting to the campgrounds with ease, we were then somewhat alarmed by the lack of direction to find a campsite. Festival campgrounds being a free-for-all can be an absolutely beautiful thing, but with the size of this event, there could have been a bit more guidance. When asking a staff member which way to go, we were given a smile and a "good luck!"
With that being said, Suwannee Hulaween is definitely a festival you'll want to purchase an early arrival pass for if you want to snag a prime camping spot. The festival offers arrival as early as the Sunday before the event for those who can't get enough of their camping fix. My friend and I were so lucky to be offered a campsite next to a sweet middle-aged couple, whom we later deemed our "Hula mom and dad." They were awesome and we loved getting to know them throughout the weekend.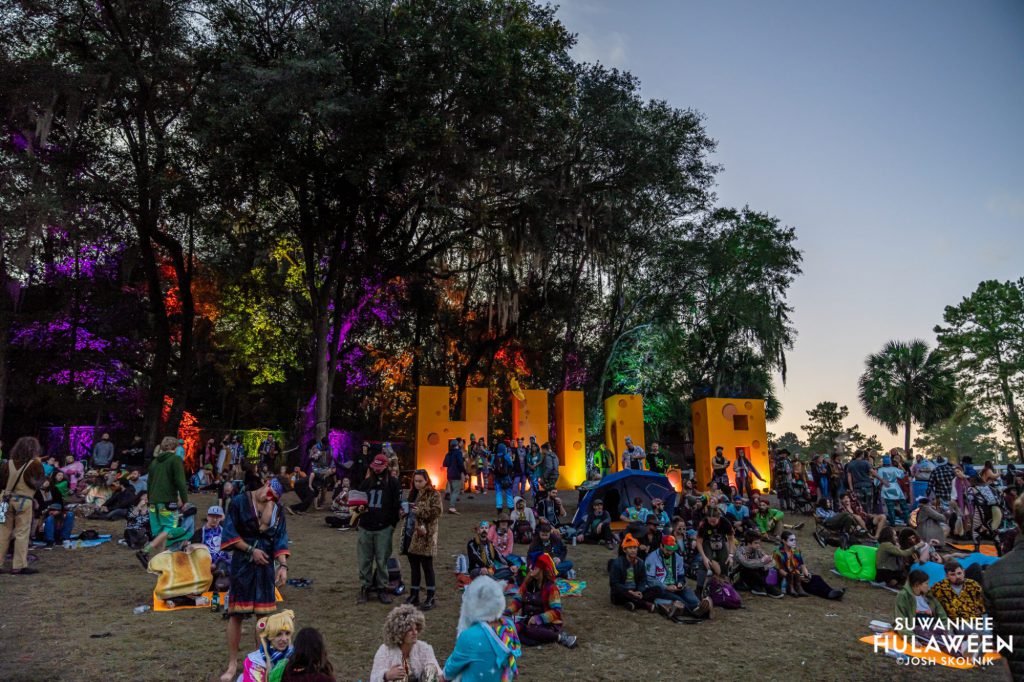 On Thursday I arrived just in time for sets from GG MAGREE and DEATHPACT at the Deadbeats takeover.
The Deadbeats takeover took place at the new stage, The Hallows, that was introduced this year to the festival. GG MAGREE, DEATHPACT, LSDREAM, and Zeds Dead all threw down, but unfortunately, the stage itself offered little wow-factor in terms of production and overall vibe. I can only imagine how Zeds Dead's set would have been at the Amphitheatre or Spirit Lake stages, perhaps they'll return next year for another round.
After getting some much-needed rest after the end of the pre-party on Thursday, it was time to explore the venue itself for the first time. We meandered into the venue on Friday and walked down Lake Road to begin checking out the different stages and vendors. The Ampitheater stage immediately drew my attention with its perfect natural bowl-shaped viewing area, but it wasn't until the evening that it truly came alive with some intensely beautiful lasers. They looked incredible during Manic Focus' set on Friday night as they shot through the many trees surrounding the stage and its crowd.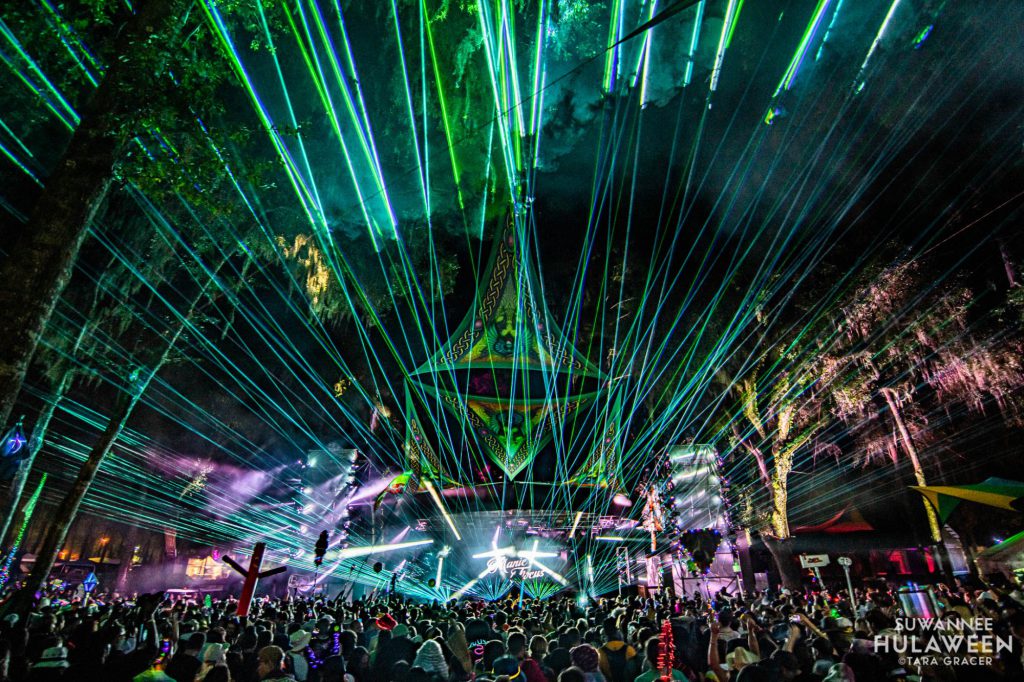 The Meadows drew some of the biggest crowds throughout the entire weekend, mostly because it was the place to be for any fan of The String Cheese Incident.
The String Cheese Incident played not one, not two, but a whopping six sets at this stage throughout the weekend, along with other artists including Magnolia Boulevard, Khruangbin, Dumpstaphunk, and Raquel Rodriguez. One of the biggest artists on the lineup, Skrillex, also took the stage to close out the festival on Friday night – and this rare opportunity to catch the legend couldn't have been hosted anywhere else due to the sheer volume of people that flocked to the stage.
Of all these artists, my favorite set at The Meadow stage all weekend was the two-hour set from My Morning Jacket to close out Saturday. Even though I wanted to catch Claude VonStroke at Spirit Lake, their performance was truly fantastic – and I also couldn't leave the set because I was freezing cold and tightly bundled up in blankets in my inflatable couch.
The Meadow stage also played host to almost all of the food vendors at Suwannee Hulaween, although there could've been a few more of them. Some of the vendors I was looking forward to were spread throughout the campgrounds and I didn't try to find them for fear of getting lost at night. Had I done more daytime exploring in the campgrounds I might've found some more. That being said, I did enjoy some unforgettable sweet and sour chicken and potentially the best egg rolls I've ever had.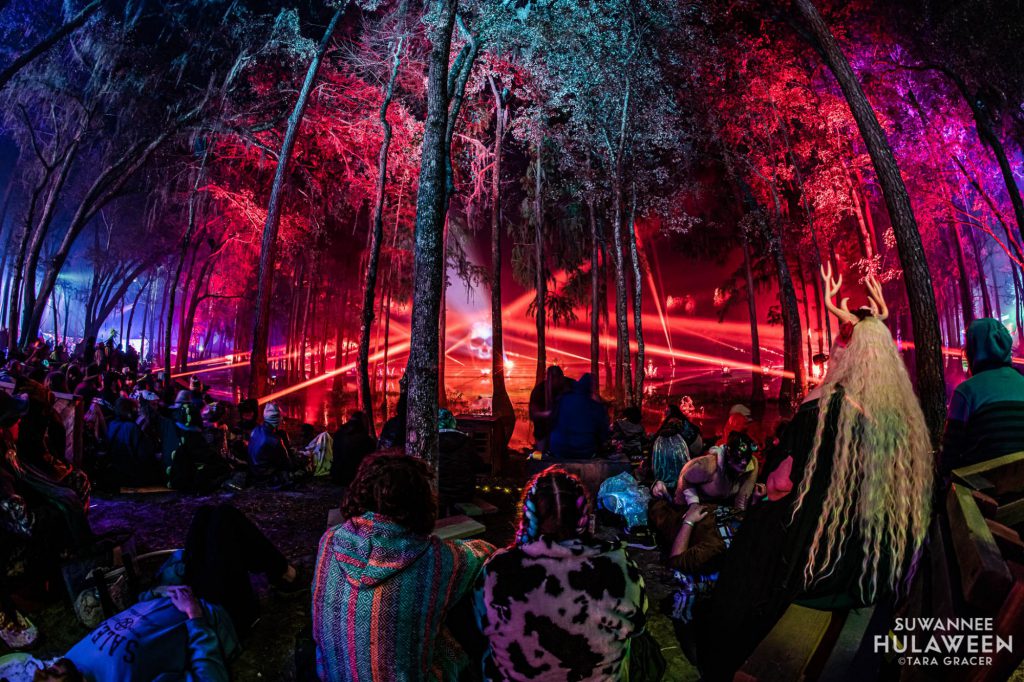 The Spirit Lake area is a glowing forest home to both the actual lake and the stage that bears its name.
The Spirit Lake area was by far the most special part of Hulaween to me, as the lake comes alive with spectacular light shows every night. The comfy chairs and benches that run along the lake were also a welcome surprise because there was nothing better than sitting down to take in the breathtaking projections across the water.
The surrounding forest is full of beautiful art, fire and flow performers, and a mural maze that adds to the ambiance, while the Spirit Lake stage is positioned opposite of it. This stage became my immediate favorite due to its forest setting and how beautiful it was at night. The overall vibe of this stage was unmatched, especially on Sunday.
Sunday's lineup at Spirit Lake was my favorite of the weekend with Levitation Jones, VEIL b2b NotLö, Mize, and Mersiv all one after another.
Levitation Jones opened the Spirit Lake stage that day to kick off the festivities. After an intermission, VEIL and NotLö took the stage for their b2b set and delivered a dose of their deep dubstep beats. Their set was tied with Mersiv's for my top set of the entire weekend. It's so wonderful to see these ladies crushing it on huge stages this year, so if you haven't caught them yet, you should definitely do so. Mize took over the decks after that b2b and played his heart out at the festival that inspired him to begin his artistic journey just a few years ago.
Soon after, plenty of energy swept over the crowd as Mersiv stepped on stage. I was bummed that his set conflicted with Khruangbin, who closed out the Meadow stage, but that washed away in seconds after he began. The beginning of his set brought a spooky vibe that perfectly fit the weekend and flowed effortlessly into plenty of fresh tunes from his debut album Pretty Dark Loud. I was dying to hear his drum and bass edit of "Demonstrate" with Smoakland, as well as his mashup of Crazy Town's "Butterfly" with his own "Floating Under Water Above The Clouds" – and I was ecstatic to receive both at the end.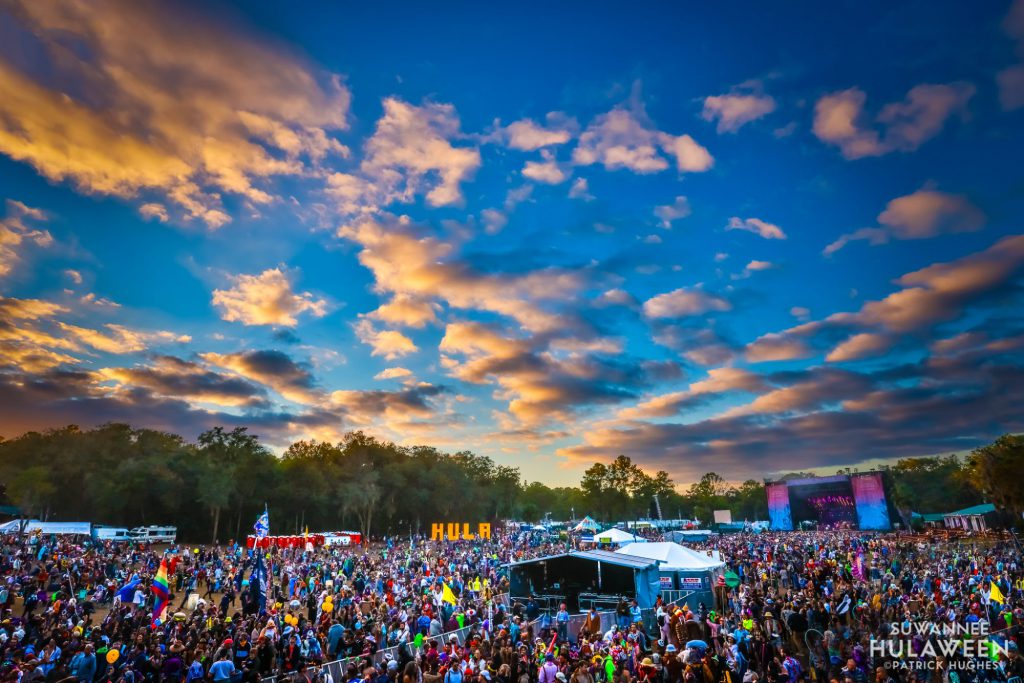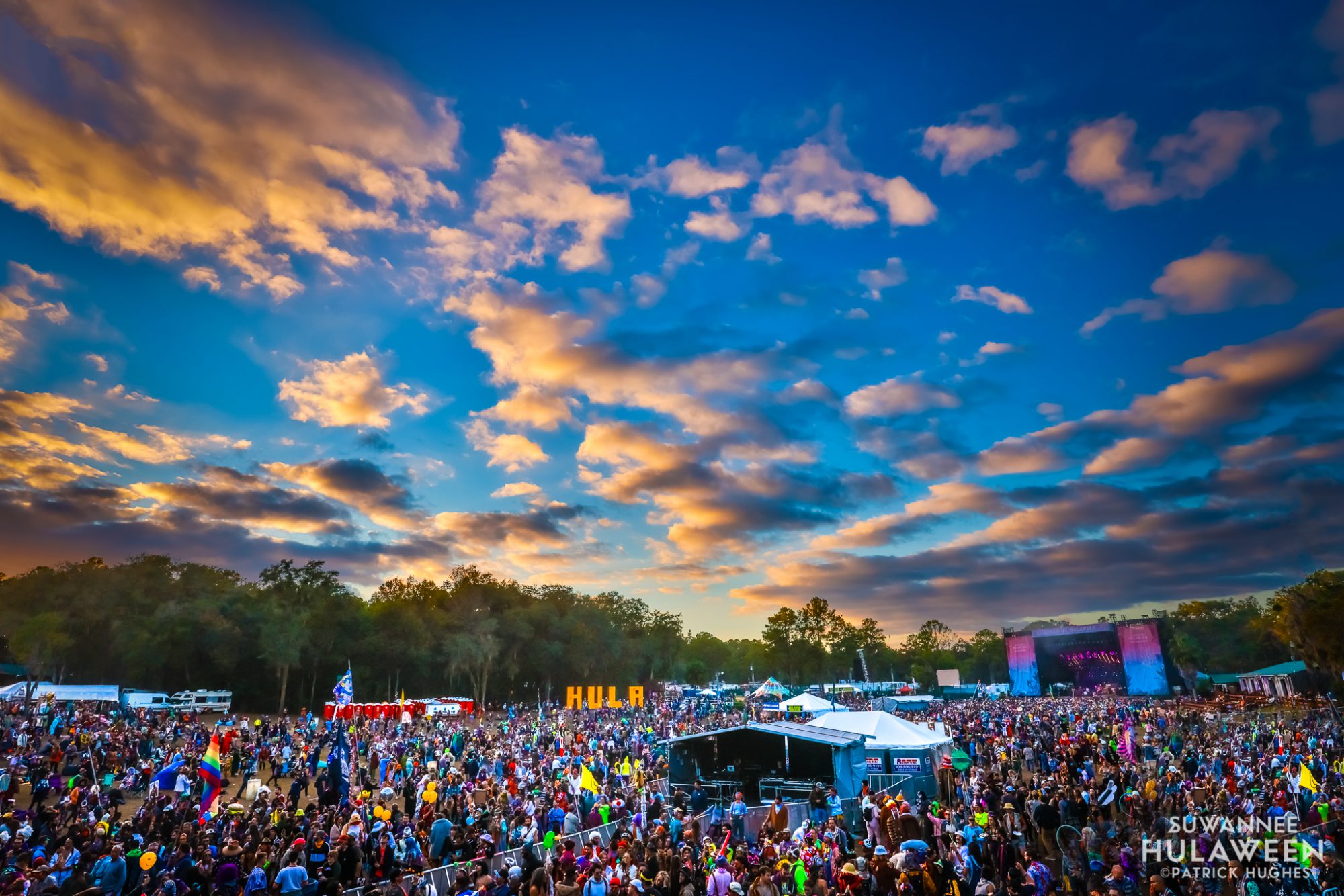 Beyond the music, I met some amazing souls at Hulaween, many of whom I kept running into and spending time with all weekend.
I could've spent hours people watching and making new friends left and right, and the weekend was full of "Happy Hula"s between attendees and staff alike. I love exchanging gifts and conversations with like-minded individuals, and I had the chance to do that often at Suwannee Hulaween. These small interactions are one of my favorite parts of the festival community, including the time I helped a girl find the lid to her water bottle on the ground in the dark. She thanked me with hugs and a string of LED lights which was a kind gesture you just don't see as often today.
I also absolutely loved the age diversity, which was more than I've seen at any other event. At least half of the attendees were seemingly over 50, and I saw a handful of small children as well, leading me to believe there were entire generations of families attending the festival. It was amazing to see them dance together.
After attending my first Suwannee Hulaween, I definitely plan to return in the future.
What my friends and other past attendees had said about this festival proved to be true. From the music and the art to the community and the venue itself, there's refreshing energy at Suwannee Hulaween that is so unique when compared to others I've attended in the past. It's truly an incredible experience that any festival-goer should consider heading to on Halloween weekend.
---
Follow Suwannee Hulaween on Social Media: