EDC Las Vegas made its grand return this October for its 25th anniversary and welcomed headliners back with an unforgettable experience.
---
After the pandemic stole live events away from the dance music scene for over a year and postponements started popping up left and right, the 2021 edition of EDC Las Vegas began to feel more and more like a distant dream. News of the festival's move from May to October left some ticketholders disappointed and unable to attend, while others were ecstatic that their favorite festival would be taking place at all, albeit with some changes. As October started to creep up and the festival drew closer and closer, it soon donned on headliners everywhere that EDCLV 2021 was officially full steam ahead.
Naturally, questions of all sorts arose for those who planned to attend the 2021 installment of the festival. What kind of weather would the Vegas climate bring forth? What measures would Insomniac put in place to ensure that the health and safety of festivalgoers were a priority? What changes would we see in the general operation of the festival? WHAT DO I WEAR?!
For many, EDC Las Vegas was their first festival back after the pandemic, and Insomniac did an excellent job of ensuring that this experience would be as smooth, safe, and fun as possible. For some, like myself, the 2021 edition was their first EDC ever – and it was a memorable one, to say the least.
Everything was mostly smooth sailing upon arriving at RV camping on Thursday morning.
After getting ourselves unpacked and situated, it came time for our crew to head into the Mesa and check out the pre-EDC festivities. We were thankful to have gone with RV camping because shortly after arriving, we heard the news about the AC units, which left EDCLV with some not-so-happy campers. I probably looked a little insane as my eyes grew three times their size, and my smile could have torn my face right in half – I had never seen anything like this before.
My first sight was the Camp EDC fountain, which was a beautiful welcome into the equally gorgeous Mesa. Surrounding me were delicious food vendors, the most adorable ravewear shops, and giant-sized games like Jenga and Connect Four. Add in the roller rink, pools, and activity tents, and it truly felt like we were in a playground for adults.
The rest of Thursday afternoon was spent lounging in hammocks, drinking seltzers, and soaking up all the good vibes that permeated the atmosphere. The pre-party sets started at 8pm at the Mesa and went until 3am, kicking off with a fire set from Freak On, followed by Elizabeth Cambage, Torren Foot, John Summit, and Dom Dolla. I enjoyed this lineup of house artists and thought it set the perfect mood for the rest of EDC.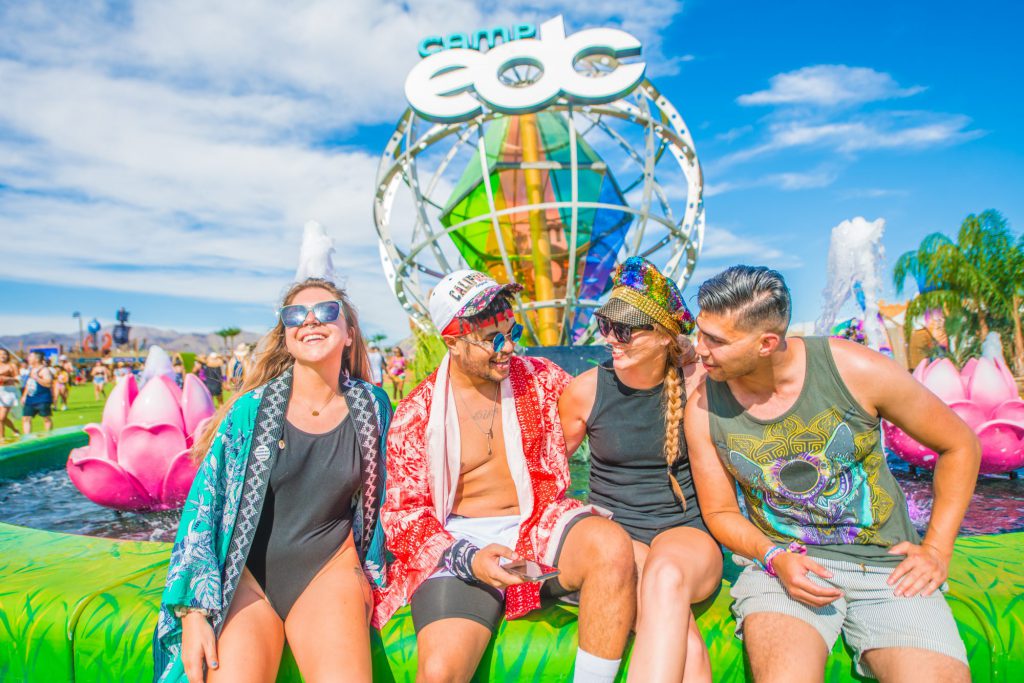 After getting a taste of what I was in for on Thursday, I was more than ready to get in on all the action come Friday.
The weather couldn't have been more perfect all weekend which got everyone in the mood to hop in the pool for Friday's pre-party, hosted by Bassrush and featured sets from Reaper, Buku, Spag Heddy, and 12th Planet. Unfortunately, there must have been a lot of bassheads in attendance as the pool was packed to the brim, and there was virtually no space to swim, so we danced on the sidelines to Reaper's set. After spending most of our day at the Mesa, 5pm eventually rolled around, and it was time to head into the festival.
Finally, the moment of truth washed over me as we reached the top of the grandstand, and I saw my very first view of the festival grounds. It all hit me at once – here I was, in an unfamiliar venue, in a city I'd never been to, surrounded by hundreds of thousands of strangers. And yet, tears streamed down my face as I realized what could only ever hit me in that moment of seeing it all for the first time; I was home.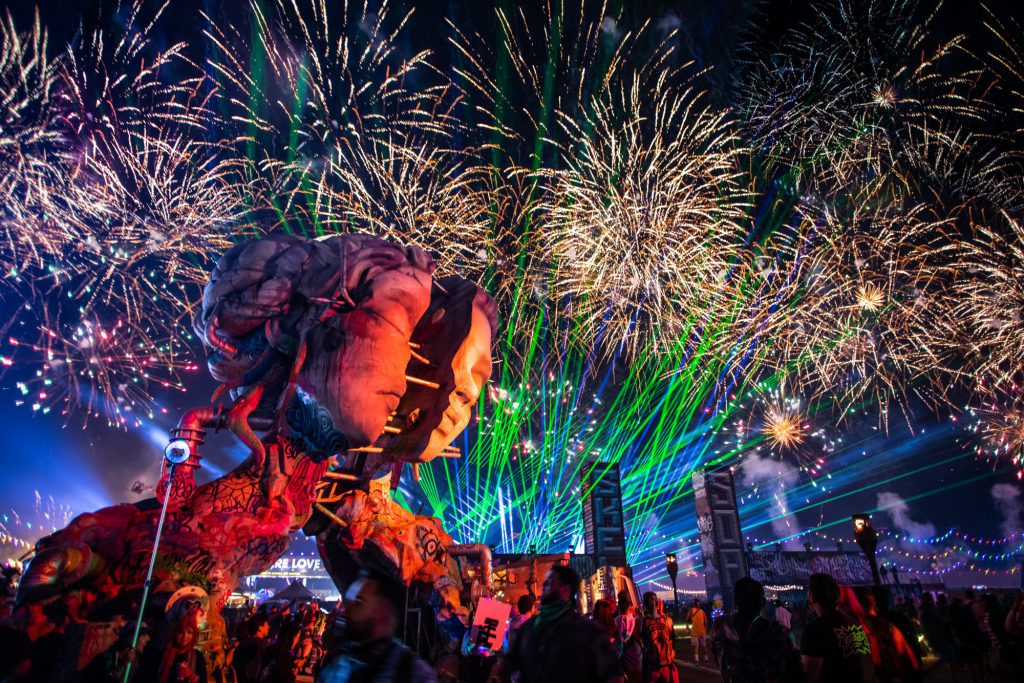 Attendees were greeted with the warm welcome of John Summit's thumping house beats opening up cosmicMEADOW, followed by an incredible B2B set from Solardo and Vintage Culture.
Following the opening ceremony was Moore Kismet, who was one of the top sets I wanted to see that weekend. They got everyone at cosmicMEADOW headbanging with their glitchy bass and touched the crowd with a personal anecdote regarding their struggle during the pandemic. It brought tears to my eyes (it was an emotional weekend, to say the least), thinking about how proud I was that they were opening up the biggest festival in North America.
One of my personal Friday highlights was Claptone, who threw down a fantastic house set at circuitGROUNDS. I even surprised myself with how much I was dancing and grooving to his set – I distinctly remember saying out loud, "I didn't know I could have this much energy in me!" That same energy carried over into Dom Dolla and Tchami, and afterward, my feet were hurting in the best way.
I was in the best mood as my crew headed to the Forest House Art Car for Emo Nite – my adolescence was significantly defined by emo music, so I was super excited for this event. As it turned out, though, Emo Nite fell flat. The sound was insanely quiet and was overtaken by Don Diablo on kineticFIELD, and the result was a small, huddled crowd at the front with others seemingly disconnected from the show. It was a letdown.
Fortunately, that disappointment was remedied with what came to be the best part of the night – the drone and fireworks show that took place at kineticFIELD.
Insomniac wowed everybody with an enrapturing drone show which transitioned through depictions of past kineticFIELD stages, followed by a mesmerizing fireworks show. Everybody kept joking that Fourth of July firework shows would never be the same after witnessing EDC fireworks, and honestly, they were spot on. This was a display unlike anything I'd seen before and a high point of the weekend without a doubt. Afterward, we stayed at the stage to catch Alesso, followed by Seven Lions, before heading back to get some sleep.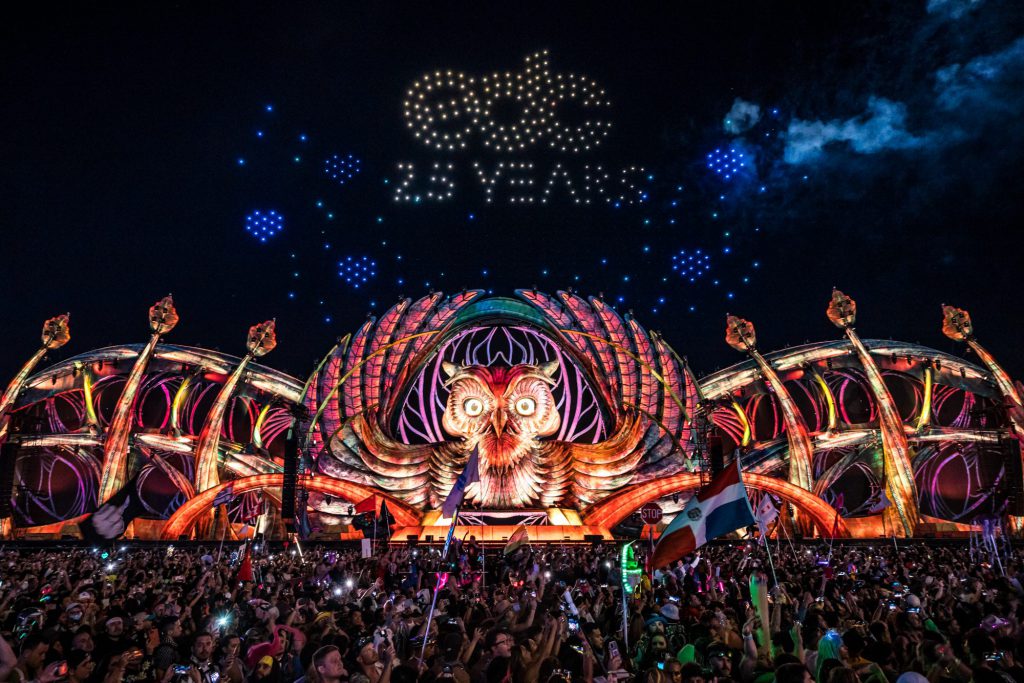 After a jam-packed day one, Saturday brought even more insanity.
There was hardly time to recover from the chaos of my first night at the festival because Saturday's pool party lineup was stacked with some house artists that we had to be sure and catch. This time, my crew and I were able to secure some spots in the pool and got to jam out to the sounds of Adam Auburn, LP Giobbi, Noizu, and Dombresky while splashing around in the water. The energy was extra contagious this day as everyone who wasn't swimming was up on their feet moving and grooving to the music – it was a blast.
After grabbing some pizza and buying my new favorite pair of pants from a vendor, it was time to make our way to the speedway for night two of EDCLV. We got there in time to see KILL SCRIPT open up kineticFIELD, and that pulsing techno was just what I needed to get me going for an adrenaline-filled night two. Afterward, we made our way to the Parliament Art Car to see Mark Lizaola and House Divided and eventually got the best seat in the house as we climbed atop the stage to see the artists front and center.
Saturday night was the night I got to finally see the man, the myth, the legend – deadmau5.
Like every other artist I saw at EDCLV this year, I had never seen him live before, and his set met all my expectations and then some. One thing I got to check off my bucket list at this festival was hearing "Strobe" live. I was disappointed I didn't get to hear one of my all-time favorites – "Raise Your Weapon" – but I suppose that means I'll just have to catch him live again in the future.
As a resident basshead, the best part of the night came for me when I finally got to head to the bassPod stage to see Pendulum for an hour of pure drum and bass, followed up by a throwback dubstep set from 12th Planet that's sure to go down in the history books. His set was filled with old-school bass classics from Benga, Rusko, and Caspa, and even the non-bassheads were headbanging. It was a fantastic reminder of what good, classic dubstep sounds like.
Getting back into camp would prove to be a disaster this night, unfortunately. It felt like we were a herd of cattle as campers shuffled through the gates to have our wristbands checked, permitting us back into Camp EDC. It felt super unsafe considering loads of inebriated festivalgoers were having to cross a street where vehicles were trying to cross, all the while being packed like sardines. In the future, it would be nice to see the Camp EDC gates set up more conveniently on the other side of the street, but we made it back to the RV and caught some much-needed Z's in preparation for day three.
If you thought EDCLV was tapped for energy after the first two days of the festival, then you'd be wrong as Sunday was phenomenal.
Upon waking up Sunday morning, I was met with mixed feelings – immense sadness since I knew the festival would be over soon. I would have to say goodbye to all the amazing people I met, but I was also excited because I knew that just meant I would have to go extra hard to make the most out of my last day.
We arrived at the festival grounds in time to catch the last bit of Z-Trip. He gave some heartwarming words about being yourself, having each other's backs, and believing in yourself, which tugged at my heartstrings. After a rough year away from festivals and live shows due to the pandemic, I couldn't help but let myself feel all the emotions that came with being in this magical place surrounded by even more magical people.
Next on the itinerary was Declan James at neonGARDEN, and he delivered all the deep, dark techno goodness that our ears desired. After getting to sit down and chat with Declan for a bit, we stopped by quantumVALLEY to get our trance on with Jerome Isma-Ae, who brought some lovely tunes and visuals to the decks. As a disco lover, I got super giddy when my crew told me it was time to head over to kineticFIELD to see Purple Disco Machine, and his set was super groovy.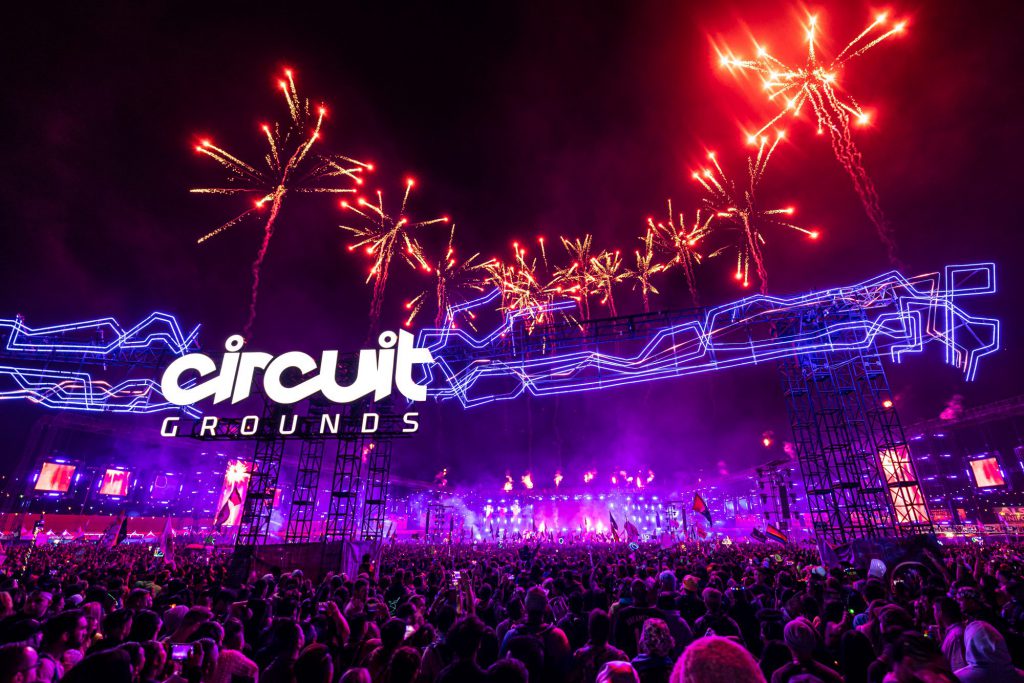 The circuitGROUNDS brought forth my favorite part of Sunday night with an insane set from Lane 8.
I felt so fulfilled after hearing "Little Voices" live, as that song is packed with so much emotion, and being immersed in it live was surreal. As if things couldn't get better after his set, Eric Prydz took the stage immediately afterward and made the whole crowd go crazy as he played some of his most beloved bangers along with tunes from his Pryda and Cirez D monikers.
After getting our faces melted off by Eric Prydz, we decided it was time to see some magic and catch the fireworks show from the top of the grandstands. We reached the top just as Duke Dumont was finishing out his set, and the fireworks started right as fan-favorite "Ocean Drive" came on. I couldn't tell if this was planned or not, but regardless, it felt all too perfect that one of the most beloved songs in dance music played as this beautiful spectacle happened before our eyes. Zedd took the decks shortly afterward, and we got to jam to his hits, including "Clarity" and "Stay the Night" while enjoying the fireworks.
To end our Sunday night, it was only right that we caught Afrojack b2b R3HAB at kineticFIELD.
Their set brought super high energy, and everyone around me was dancing like no one was watching. We decided to head back to camp after their set, and although I was really sad to be leaving the festival grounds for good, we didn't let the party stop there. Instead of going to sleep, we headed to the Mesa and stayed up 'til the sun rose as we danced to Lee Foss and John Summit. We were sent on our way with free donuts and coffee, which I thought was the perfect touch to end the weekend.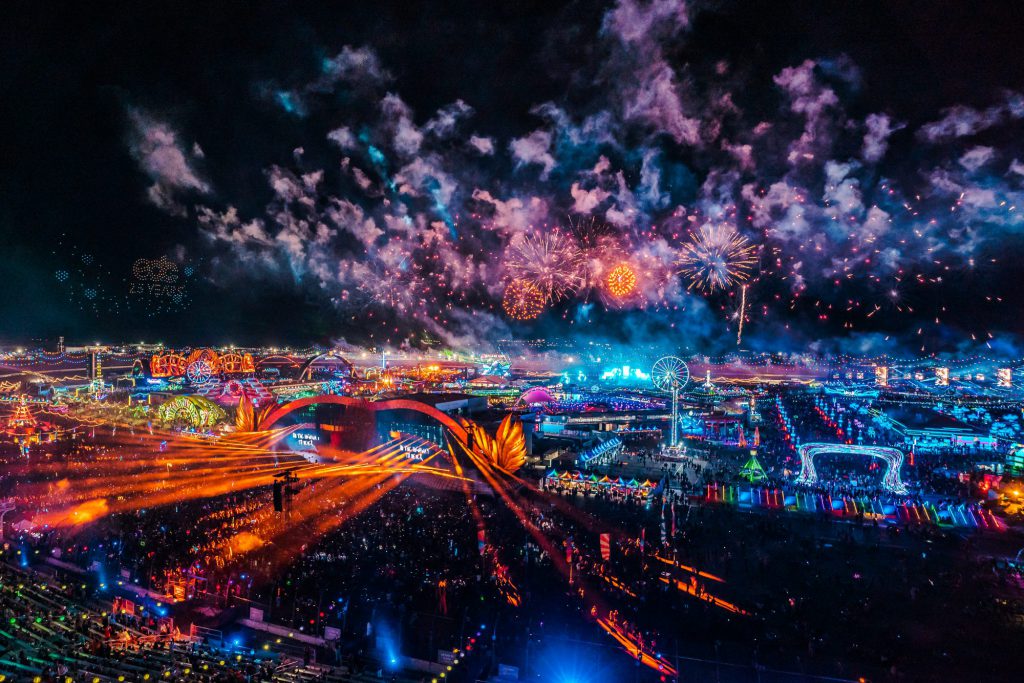 From the music to the incredible company I was surrounded by, EDC Las Vegas was everything I could have dreamed of and more.
From the moment I found my way into the dance music community, I'd heard countless times that EDC Las Vegas was unlike anything you would ever experience. However, it took witnessing it firsthand to understand what all that buzz was about. All it took was walking in that first day and feeling the love radiating through the air to get me hooked for good, and I understand now why dance music fans from all over the globe make their way to Las Vegas every year to experience this festival.
Something I'll never forget, probably for the rest of my life, happened while I was immersed in Pendulum's set. I was dancing my heart out when a stranger walked up to me out of nowhere. He looked me in the eyes and said, "thank you for being here," to which I replied, "thank you." We embraced, and he walked away, never to be seen again. We gave thanks to each other for merely existing in the same space as one another, and at that moment, it hit me, and I thought to myself, "so this is EDC." That moment will stick with me forever – that in a split second, I was able to connect so deeply and profoundly with someone I had never met and will likely never meet again.
EDC Las Vegas is more than a festival. It's more than a place to party. It's a place where the burdens of the outside world dissipate for a bit, and all we're left with is our shared love of the music. There's no one there to tell us we can't be ourselves; even if just for a weekend, we are free. The only boundary is the electric sky we dance under, and that is where we find both solace and community alike. If you're reading this: thank you for being here.
See you under the Electric Sky in May 2022!
---
Follow EDC Las Vegas on Social Media: