Beyond Wonderland at The Gorge proved to be the perfect place for uniting the power of electronic music with the rave community.
---
Beyond Wonderland has long established itself as a mainstay of the festival community, particularly in Southern California, and for good reason. Boasting its flagship edition every year in San Bernardino, Insomniac constantly proves why it's a leader of the pack in the industry; exceeding its previous year's production levels, organization, and curation. It's no wonder that the PLUR culture proliferated by their large-scale events has generated such a strong community of devoted ravers.
Over the years Beyond Wonderland has spread its wings to give dance music lovers outside of SoCal a taste of the madness. This has included editions in Northern California, Mexico, and even South America, but the most recent location was in the Pacific Northwest at the legendary Gorge Amphitheatre. This epic outdoor venue is constantly receiving accolades as the best in the US, and the debut edition of Beyond Wonderland at The Gorge helped showcase exactly that.
Related: Go even further down the rabbit hole and through the looking glass with WHIPPED CREAM and Moore Kismet!
Much like many others flocking to the Pacific Northwest, I was bubbling with excitement in the lead-up to Beyond Wonderland at The Gorge. Their main edition was one of the first big festivals I attended when I moved to Los Angeles for college, and it's always held a special place in my heart; though it had been years since my return. Plus, this would be my first time at The Gorge!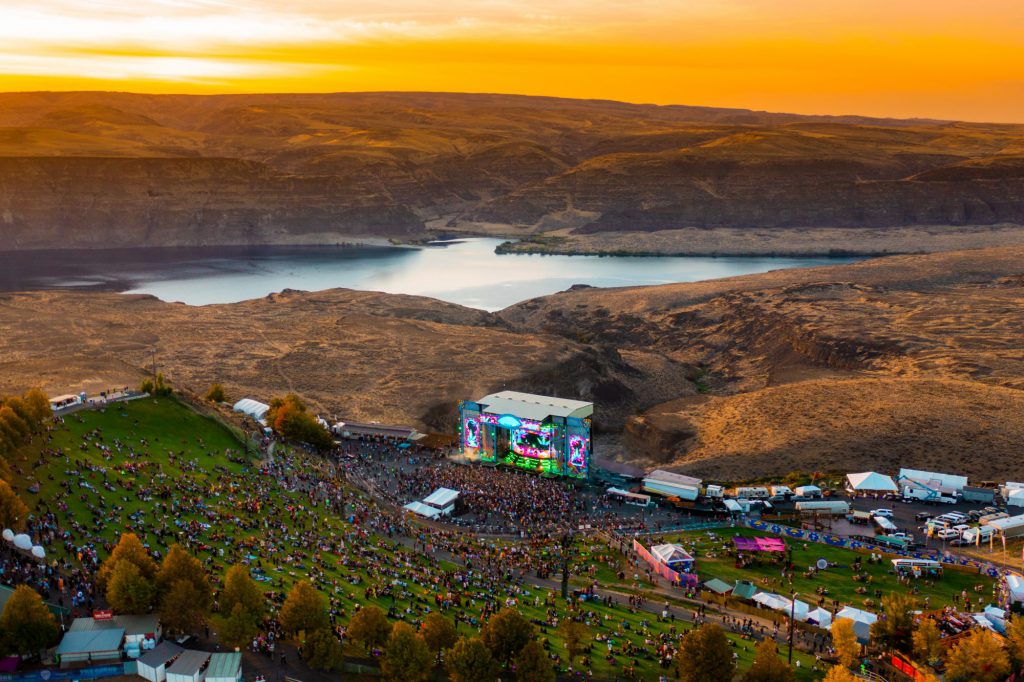 After arriving early on Thursday and picking up my pass with ease, I quickly met up my camping crew – a group I had never met before.
Like true festival culture, the common link was a friend I camped next to at Shambhala over seven years ago, and we hadn't even seen each other since! Yet, between the welcoming vibes of his friends and the general intent to have an amazing time together, I felt so at home.
I didn't even have a rainfly on me when it rained, and they generously helped me zip tie a tarp to my tent (and trust me, I've been in weird festival camping situations before in the exact same setting – this felt special). Overall, the camping organization and grounds quality worked great for the festival size, with no major issues to report – and just wait until I get to the campground renegades later.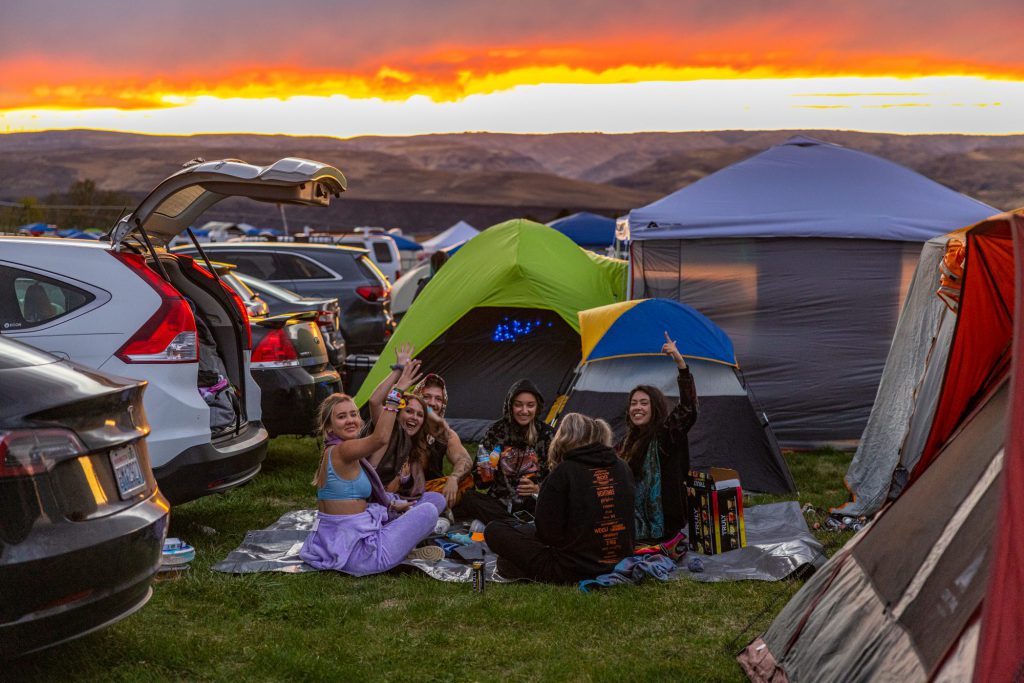 Once we were all settled in, it was time to put our party pants on.
Our first stop was the Thursday Pre-Party with a headline set from Virtual Riot on the Cheshire Woods stage. I'm not going to lie, I didn't expect to be too impressed by the Pre-Party and had considered Thursday a throw-away night. Boy, was I mistaken. By the time Wuki came on around 11 pm, I was vibing to his multi-genre set that featured a bunch of unreleased music.
The real star of this night was Drezo with a bumpin' house set. Displaying an intuitive knowledge of the decks by utilizing seamless blends and expectation-defying FX, he showed why it's important for newer artists to dedicate themselves to DJing and not just their Ableton sessions.
Not only that, but his more classic DJ set was a great hinge between Wuki and Virtual Riot, serving as a palette cleanser after Wuki and creating a refreshed setting for Virtual Riot's fast and intentionally jarring style which closed out the night. The hype was real for everyone the whole night, and the exhilaration was palpable as artists kept hopping on the mic and asking if we were ready for our epic weekend of debauchery.
Friday marked the official first day, and it was all about the musical experience and immersing myself in the wonderland Insomniac created.
Even though I'll never say no to a good campsite pregame, I couldn't wait to get on the grounds – something about entering an entirely fictional world built by pure human creativity and hard work, is so captivating. Raves are a safe space for freedom of expression, allowing us to shed external identities projected onto us by our backgrounds and careers, and project what we define for ourselves instead. Having a physical environment that allows you to suspend your disbelief and dive wholeheartedly into that mindset is paramount.
What I've always loved about Insomniac's world-building is the commitment to branding consistency and all the little details that make you feel like your own proverbial Alice in Wonderland, wandering down the rabbit holes less taken. Beyond Wonderland at The Gorge achieved that aspect in full.
From the minute you step into Beyond Wonderland at The Gorge you're beckoned into Gulley Alley, and every minutia is wonderland themed.
Everywhere you looked were whimsical elements like trippy flowers, giant colorful mushrooms, and distinct Alice in Wonderland motifs like big teacup art installations, lock-and-key symbols, and, of course, Mad Hatters and Cheshire Cats. The attendees' commitment to the theme and PLUR culture cemented that feeling of entering a self-governed fantasy world with tons of ravers sporting on-theme totems and over-the-top costumery. I felt like a kid again, in the best way possible.
If I was the kid, the lineup and stages were my candy shop, and I was in it. With each stage boasting top-of-the-line L Acoustics line arrays packed to the brim with subwoofers, every set shined bright. In fact, I was awe-struck when I first walked up to the main stage, also known as the Fractal Valley. Seeing the top-tier production of Insomniac's signature giant LED screens and high-intensity lighting choreography, contrasted against the sweeping expanse of the beautiful canyon, felt so surreal. Sitting atop that crazy steep grass hill that leads down to the main stage, we basked in a legendary sunset sesh before heading to our first set of the night – the one and only Green Velvet.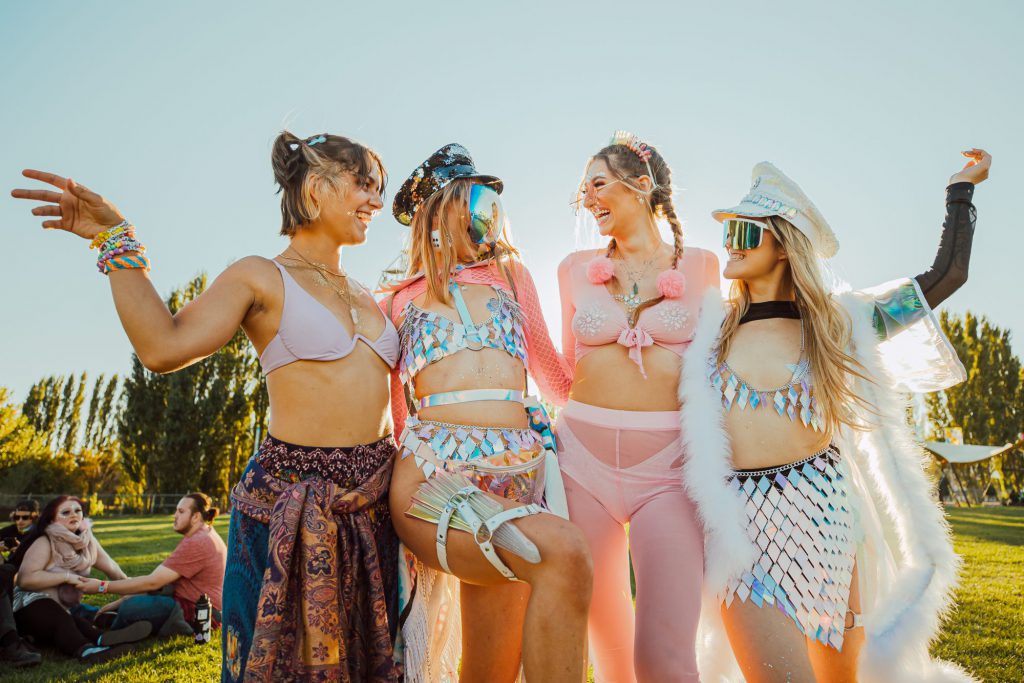 I was excited for Green Velvet's set, not just because I knew he would throw down, but because it was a chance to scope out the third stage of the festival – Caterpillar's Garden.
This stage turned out to be my favorite of the weekend. While Cheshire Woods, which was where the pre-party took place and was curated by Bassrush both days, and Fractal Valley both felt like proper rave stages, Caterpillar's Garden was just always a vibe. It was by far the most intimate, and the placement of the stage, nestled in a natural divot in the grass fields, surrounded us with a bubble of dancefloor bass that always felt the most like a party.
The atmosphere was light and positive, the people around were present, and the music was on point… especially when the bass sets got overbearing. Other standout performances on this stage from Friday were the curated tunes of CID, Sidepiece, and AC Slater – bringing playful, high-energy sets that felt fun and cool at the same time.
Now, to get to the bass being overbearing…
Mind you, I will concede that as someone immersed in the world of bass, I likely brought a more critical eye to these sets. There was a lot more build-up-breakdown DJing than I would have liked, but at least the artists had a sense of cohesion to their sets and did not come off scattered or overly youthful. Realistically, though, I was underwhelmed and honestly walked away feeling a big disconnect with my basshead roots and what I heard.
Save for exceptions like Levitate, Huxley Anne, and Eprom who showcased the ability to play a proper low-end-frequency based set that goes between broken and constant beat effectively, and G Jones who at this point can play his crowd like a fiddle using his artillery of sound designed wubs, it was stale. Perhaps the problem I have is that I still remember the days of more genre-based mixing styles and things like seven-hour Andy C sets, but it just felt like most of the 'bass' artists didn't actually play bass music sets.
Here's a snapshot of the average bass music set over the weekend – there were seemingly two choices, all-riddim or 'eclectic.' With 'eclectic' used as a guise for unstructured. Perhaps it's just me, but when a DJ goes from riddim to happy hardcore buildups to brostep drops to random festival trap, all with future bass interludes and punctuated by a token Neurofunk DnB song, it feels like a series of Pavlovian call and responses with the crowd rather than an actual showcase of forward-thinking artistic dialogue.
I'm not arguing that DJs should play sets that are alienating to the setting they're in – I don't expect sets at Beyond Wonderland at The Gorge to sound like those at Boiler Room. Yet, I do expect to see some form of artistic leadership that, sure, embraces the North American free spirit and anti-establishment values, but also pays respect to the origins of the craft. I just didn't see that. I do want to make clear that many of the problems I outlined about these sets carry across the entire industry right now, and are not confined to this genre or festival. It was just evident during my experience at Beyond Wonderland at The Gorge.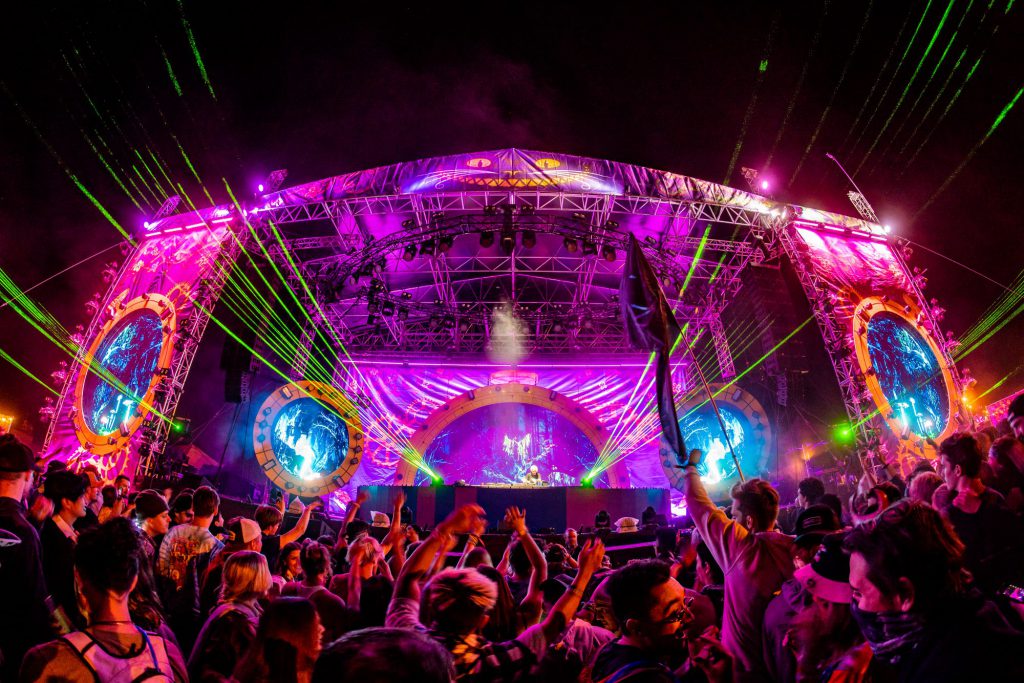 On the second day I took more of a break from being at every single set, and gave myself some breathing room to really enjoy the experiential aspects of the festival.
I headed in early to make sure I caught the aforementioned sets from Levitate and Huxley Anne at Cheshire Woods in the afternoon and made sure to circle back for Eprom at sunset as well. But I spent the most time indulging my adventurous spirit and explored everything I could on the grounds. My first stop on this excursion were the big swings at the top of the hill leading to the main stage. Topped by trippy, geometric clouds, these metal swings literally felt like you were flying over the Gorge with no inhibitions.
After that, I made it my mission to try all the rides on the grounds. I loved the discombobulating feeling of the spinning ride, but my favorite was the Ferris Wheel. I'm not usually a "let's go on the Ferris Wheel" person, but riding that with one of my camp buddies with a front view of all of the stages and intimately chatting about our fears and goals, was that festival magic vibe. When we needed to take a break from the laps we were taking admiring the stages, the Oasis center on-site, designed for those needing to decompress or relax on an up-scale bean bag, was the perfect respite.
I also made it a point to dive into the food and beverage options, and if it weren't for the mouth-watering, addictive nature of the poutine vendor, I probably would have sampled more.
What I definitely did get a good sampling of was the drinks. Conveniently located throughout the festival grounds, you could enjoy a margarita or beer while walking around, or some nicer cocktails in lounge areas. What was interesting about this edition of Beyond Wonderland was the move to a completely cashless system. Other festivals have seen varied successes with this, but the backend logistics and the on-site signal were strong enough to carry it through smoothly.
My one complaint is that, despite saying Apple Pay was accepted at the entrance, most vendors did not accept Apple Pay and they also did not use chip readers. This meant it was really frustrating to conduct on-site transactions for people like me whose credit card strip has become demagnetized. But at the end of the day, after some attempts at manual entry, we were able to get it done.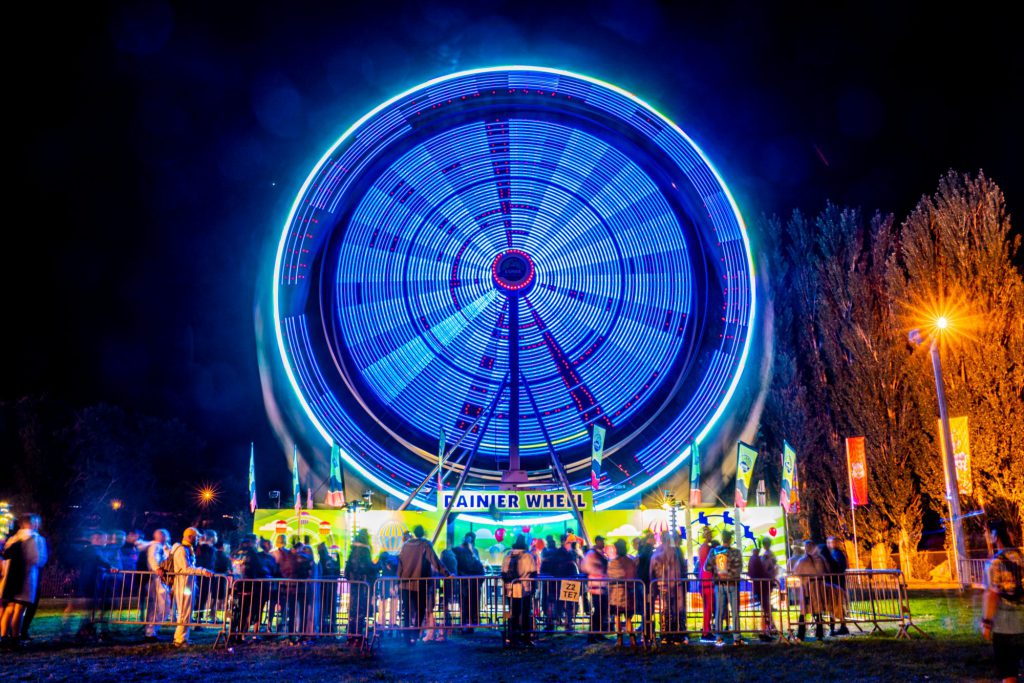 What set Beyond Wonderland at The Gorge's activities apart were the easter egg moments.
I love the little festival moments because they feel so personal and special – it's like being let in on a hidden secret or inside joke that's just between you and the festival magic. A highlight for me, as silly as it was, was Jello-Shots! One of the beer vendors near Cheshire Woods had off-menu pre-packaged Jello Shots for sale, and it became one of those 'if you know you know' things. It's silly, but watching someone's face light up with delight after telling them how to get them, was so fun.
Another thing I loved was the activities in the VIP section, where I was able to build my own, cute rave crown at the crafts station. It's these thoughtful details and activation points that keep you engaged and coming back in future years.
The real highlight of my Saturday was the afterhours renegades in the campgrounds.
Anyone who knows me also knows I'm a sucker for festival renegades. Sniffing them out in the late hours makes me feel like a cross between Lewis and Clark and Lara Croft, and discovering them brings an ineffable feeling that you are part of something. Maybe it's the anti-authority nature of it all, but regardless of the psychological reasons behind it, no one can deny the epic-ness that is reveling in a sunrise renegade set.
GA camping had plenty of afterhours activity including the festival's official silent disco, but it was also a literal mile away from where I was in Gold camping. Luckily for us, a campsite just 10 feet from us took up the mantle and set up a four-point speaker system of the newest Soundboks. When we walked up to it, there was already a popping dancefloor of house music enthusiasts getting down to tracks being selected by a mysterious DJ in an RV. When that wrapped at 3 am, I dragged my last standing campmate over to the silent disco to meet my friends in GA and keep the momentum going.
I actually usually don't like silent discos, but I liked this one a lot. It was well organized and all of the headphones were actually high quality and never fritzed out. Unlike many others I've experienced in the past, this one had music lightly playing on actual PA speakers to reinforce the music coming through the headphones so when you took them off to talk it didn't feel like you were awkwardly going between full dancefloor vibes and then full silence. This is what let me lose myself in the groove.
Once that was done, we went to my friend's site for a classic late-night campground chat filled with war stories about our weekend highlights. On the way back to home base, like true festival magic, I found my last renegade of the weekend – a cute little stage that was playing into the sunrise. I couldn't have thought of a better note to end my night on, plus once I realized that the sunrise set was about to go full riddim, I figured it was bedtime. You always want to leave on a high note right?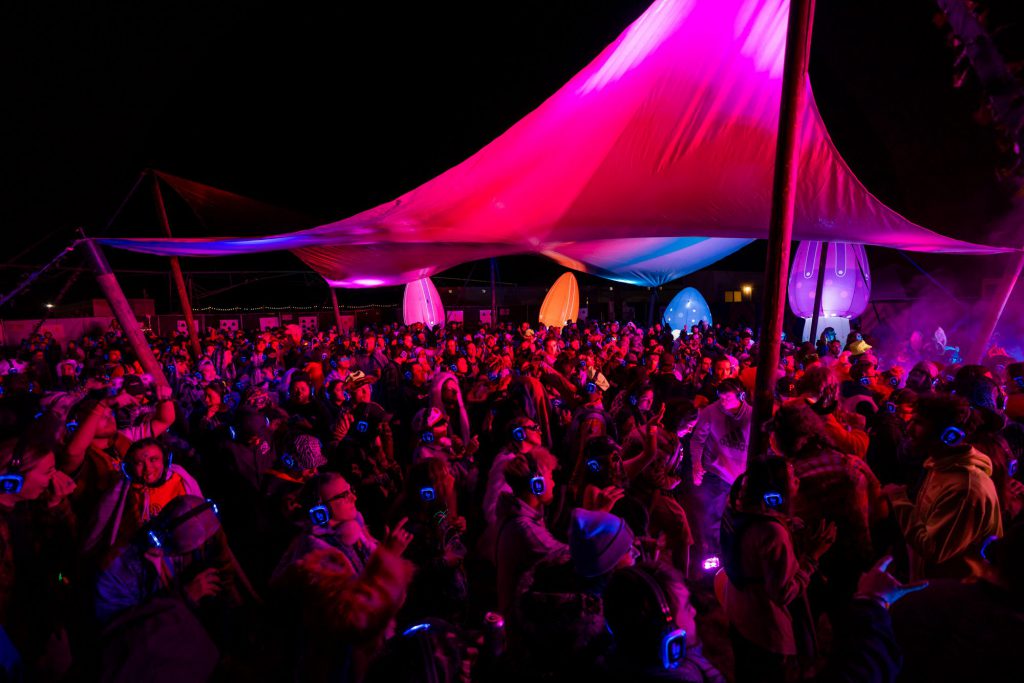 And on a high note did I leave it indeed.
Packing up my campsite was surprisingly painless on Sunday morning especially with the help of my new friends, and as I drove away from the Gorge Amphitheatre with a content smile on my face, one sentence kept playing over and over in my head: my heart is full. I think all of us felt weird about a lot of stuff during COVID – whether it was friendship issues, career concerns, or just general disillusionment – and as we continue into the post-lockdown period, we're all looking for ways to restore that faith for ourselves and our community.
Beyond Wonderland at The Gorge was able to do that for me that weekend, helping me remember what got me into electronic music in the first place and why I will always be passionate about lifting up North American dance music culture. I have another line I like to throw out a lot – this music thing is not fun and games, it's our hearts and souls. I think that's true no matter what role you play in the community, and I'm happy to say that through Beyond Wonderland at The Gorge, Insomniac proved to us again just how powerful our culture is in uniting our community.
---
Follow Beyond Wonderlad at The Gorge on Social Media: