Explore the origins of disco and learn about the Black artists and communities who left a lasting impact on music and dancefloors around the world.
---
Disco is an era of music history that can't go unnoticed when discussing the roots of dance music culture. In fact, it influenced the scene right from the beginning with samples leading the way in Chicago's house scene while jumping across the Atlantic to foster growth in Italy as Italo Disco. This era allowed music lovers to dance around freely, and we can thank the darkened nightclubs and rotating disco ball in a dark room for the good vibes that came to dominate the rave scene years later.
Without artists like B.B King, Donna Summer, Loletta Holloway, the Bee Gees, and Marvin Gaye, there wouldn't be records spun by Frankie Knuckles, the Hot Mix 5, Larry Heard, and yes, even Purple Disco Machine. And whether through listening, sampling, or crate-digging, the sound of disco has also inspired the likes of Daft Punk, Jai Wolf, SG Lewis, Dua Lipa, and countless others.
Related: Check out our post to dive into the Black History of House Music and learn how that genre came to be.
Although Black History Month has come to a close it is important to continue educating ourselves about the shoulders we have been standing on. It is equally important to teach ourselves and be rooted in our familiarity with the community while appreciating the intimate local clubs we are so fond of. So continue on for some exciting history about disco and the incredible human beings involved in its establishment and growth.
Where did disco come from?
The disco, as a venue, is known for enticing "party music," which led to it being an escape for marginalized groups, especially those in the Black, Latino, and LGBTQ+ communities. The concept itself is rooted in "Rent Parties" that date back to the early 1900s after African Americans migrated to industrial centers in the Northeast United States. There, people gathered and built connections while listening to music in lofts in cities like New York.
Flash forward to the 1960s and disco arrived as a product of the counter-culture movement. This later shaped the ideas and venues that spread all over the nation that we know today. "Discotheque" was a French word brought to New York, a word meaning "library of phonograph records." One important name to emerge during this time was "Disco Daddy" Oliver Coquelin who was the first to open a members-only venue called Le Club on New Year's Eve in 1960. 
Shortly after, independent radio stations enjoyed the convenience of having records pre-recorded to share on the air, versus live musicians to hire to play. The DJs submitted their "Disco mixes," as a way to become discoverable. Juke-boxes started to decline, and from that, the birth of the Disc Jockey fell into place! By 1965, Billboard reported that "DJs were beginning to gain the upper hand." The DJs started to bring their vinyl to give a "cool jive" to crowded social places, especially on the weekends at bars where music is always a hit at local hot spots.
David Mancuso, venues, and the growth of disco.
As a young boy, David Mancuso found himself intrigued by music, and over time he became one of the important figures in the disco community. One of the first experiences Mancuso discovered was "rent parties." This inspiration was central in Black nightlife culture, and he wanted to push the experience further. 
There was no turning back from the world of music that found him, and he started to pursue his purpose. He began to host loft parties and invited guests to listen to music. The community started to grow and listeners liked his selections. He knew he had a way to communicate to his guest by the music he selected, as he bloomed as a promoter and a Disc Jockey.
Mancuso's first-party, Loves Saves the Day, was held on Valentine's Day in 1970 and later developed the venue known as The Loft on Huston Street in New York, leading to more parties and connections. Manusco included food and fruit punch for attendees while also making his parties economically equal. As the underground emerged for disco, the energy he provided in his efforts started to push venues to warm up to the disco fever and allow music to make its impact.
Music, Space, and Art: living together as an immersive discovery.
DJs always strived to keep the energy matched with the crowd, especially for fresh new DJs to Broadway clubs in New York. As disco began to flourish, members would show up at the clubs with their guests, and clubs became more packed. Venues quickly became an experience of "art, space, and living," all blended into a cohesive environment as the guest lists to attend surged.
Club DJs were considered freelancers as they played as many lofts as possible in order to make a living. This contrasts with Radio DJs because they had a higher and more permanent position and voice in the music industry. Disco DJs would curate vinyl to play during the night while sampling and cutting selections on cue to keep the party rolling.
For example, in one of the first clubs called Sanctuary, one of the resident DJs, Francis Grasse would play "Whole Lotta Love" by Led Zepplin while simultaneously playing Chicago's "I'm A Man." This blended the tracks in a new experimental way where the music could introduce more unique mixing or blending techniques seamlessly. Disco music ultimately became a mix of pop, funk, soul, and soft rock with African American artists and DJs leading the charge
Studio 54 in Manhattan, was one of the most known and famous for celebrity appearance, fashion, glamour, and media attention. One of the artists who shined their way through the iconic space was Donna Summer – and it was here that she was deemed "Queen of Disco" for her appearances and performances at the venue. Her 1975 song "Love to Love You Baby" was produced by Giorgio Moroder and Pete Bellotte and helped disco reach new heights.
Radio hosts and record labels sought after the "Disco Action" as a way to gain investments and market the trend to full stardom. Shortly after, the Midwest and West Coast sparked interest as Chicago, San Francisco, and Los Angeles followed suit to open clubs and popularize the era.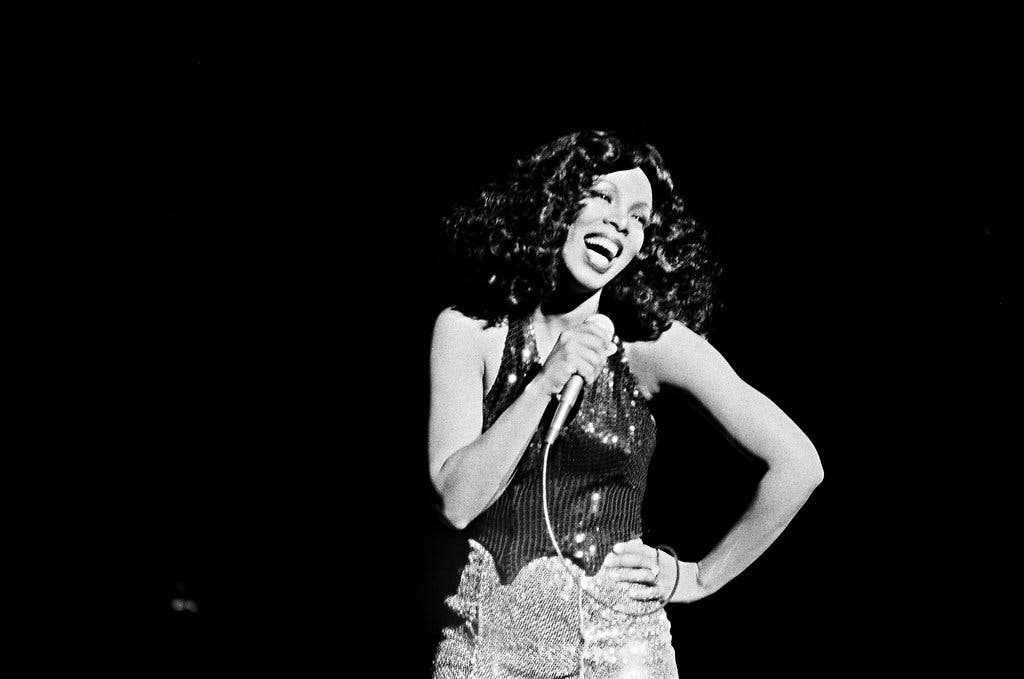 Signature Artists of the Disco Era
As disco was at the forefront of popularization, Black artists such as Earth, Wind & Fire, Gloria Gaynor, Thelma Houston, and the Trammps lead the way to spin on the dancefloor. Founded in Chicago by Maurice White in 1969, Earth, Wind & Fire became the wildfire of attraction to the "Boogie Wonderland." The band keeps their roots alive using a kalimba sound that uses dynamic horns, bass, grooves, and the contrast between the vocal falsetto used melodies. 
The first artist that carried a disco anthem is an artistic stunner named Gloria Gaynor. Born in New Jersey, her father played ukulele and guitar in nightclubs, which inspired her to follow in his footsteps. She began her journey by performing in her hometown, and she was recommended by her neighbor to join a local band. Her disco anthem "I Will Survive" included vocals that provided hope and energy while hitting home for many who continue to find a love for it to this day.
Continuing the disco phenomenon, female artist Thelmas Houston was a Mississippi native and kept the energy going within a crowd. Her blend of Motown soul-infused vocals and R&B curated what later became the definitive sound of the disco era. Her success and ambition for an album, Any Way You Like It, that featured one of her hits, "Don't Leave Me This Way," allowed her to earn a Grammy in 1977 for Best Female R&B Vocal Performance.
Finally, The Trammps solidified disco in stone by sharing their music for people to dance to for years to come as they rose to the top. The group was formed in Philadelphia and could keep any party going with their soul-rich vocals and power behind their lyrics. Their album Disco Inferno and titled single on it was a massive hit and charted to number nine on US charts in 1977. Title track "Disco Inferno" was included on the Grammy award-winning soundtrack Saturday Night Fever and popularized the scene and the artists to celebrity.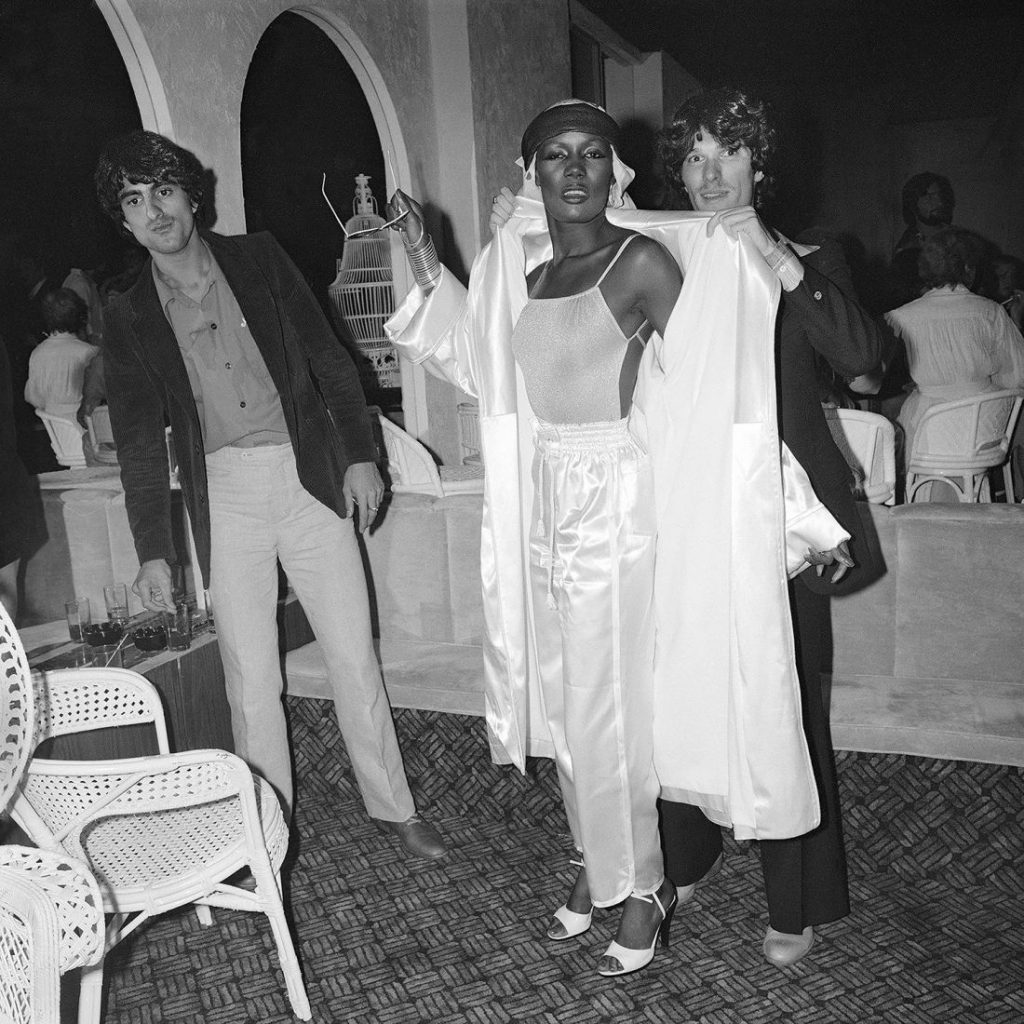 Disco's politically charged voices and the venues they embody.
One of the clubs, Le Jardin, was the most mixed. Many nights included appearances from artists Andy Warhol, David Bowie, and Elton John. But, disco wasn't always glamorized as turbulence took place opposing those that started it all. Marginalized groups fought for their safety of these "Sanctuaries."
The disco movement is just as powerful as it is political. In the early hours of June 28, 1969, when police raided the Stonewall Inn, a local gay club located in Greenwich Village, New York, people in the community were infuriated by the suppression of freedom to be themselves. Riots let out in response to change. The club Sanctuary was closed for a while until the riots subsided. The occurrences only fueled the passion for activism, inclusivity, and a newfound lifestyle of disco.
Artist Larry Levan was born in Brooklyn and was a revolutionary DJ for disco. Levan's song selections were "resolutely eclectic, spanning rock, dub, jazz, R&B, and disco." and he would keep the crowd moving as he varied the tempo up and down. As disco boomed to the top in 1977, Levan was offered a residency at the Paradise Garage. The club was similar to The Loft, but it was on a level up and more massive. The state-of-the-art audio system started to become a huge part of the clubs' experience.
The Night Disco Died: Inclusivity leads to be better by celebrating individuality.
Disco's downfall happened abruptly. A Chicago Radio Station hired Steve Dahl at WDAI- FM Detroit, and that was when the sweet sound started to become sour. Dahl spoke in disapproval of the trend and he quit his current role at the station in 1978 because "disco really didn't really fit the show [he] was doing." By July 1969, anger and fear that rock wasn't getting the attention on the radio they desired hammered the first nail in the coffin for Disco.
On July 12, 1969, an anti-disco rally took place at Comiskey Park, home of the Chicago White Sox, "fans were told they could pay ninety-eight cents if they could have over a slab of unwanted disco vinyl." By the end the crowd was chanting "Disco Sucks," this all occurred as they blew records up for the notorious "Disco-Demolition Night" to seal the end of that era.
The Future of Disco
Although that era came to an abrupt end, disco has been carried on throughout the years by genres like nu-disco, which leans heavily on synthesizers. Additionally, other genres like house and hip-hop have embraced elements of disco as well through sampling classic tunes from the era while artists continue to draw influence from disco to this day. Disco also brought forth an environment where all people can feel free to be themselves and connect on a humanized level. And today, the club can be seen as a sacred place for all and a place for open expression.
We honor the history and respect the empowering artists and DJs that broke the status quo to encourage and guide others to be unapologetically themselves. As we say today, "follow the call of the disco ball," to acknowledge our wrongs, work to do better, and create rhythms in clubs together in harmony as an outlet for years to come!
---
Further Reading and Viewing:
Love Saves the Day Turns 50 by Aaron Gonsher – New York Times
Love Saves the Day: A History of American Dance Music Culture, 1970-1979 by Tim Lawrence
When Disco Ruled The World – BBC