Ahead of Digital Mirage Friendsgiving, we caught up with Brownies & Lemonade to explore the story behind these professional party-throwers!
---
While the dance music scene might be dominated by behemoth brands and larger than life festivals, one of the true movers and shakers over the past decade is Brownies & Lemonade. Based out of Los Angeles, these tastemakers have truly had a massive impact on the community with insane showcases and standalone events that have featured rising stars and established names alike. In fact, to say that they have their finger on the pulse of the scene would be doing them a disservice because, quite frankly, they are the pulse.
Each show and stage takeover that Brownies & Lemonade curates lineups for are carefully crafted, whether at the biggest festivals in the world or jumping across the Pacific Ocean to countries like Japan. And even though the pandemic has altered plans this year, their impact hasn't diminished. Instead, they focused their efforts on the virtual realm to keep the scene dancing away in their rave caves by teaming up with Proximity for Digital Mirage and Porter Robinson for Secret Sky, while also hosting their own Open Aux streams as well.
On the eve of Digital Mirage: Friendsgiving, we had the opportunity to chat with Brownies & Lemonade's Creative Director Chad Kenney to reflect on their year, what's to come this weekend, giving back to others, and plenty more. Make sure you're in the know ahead of this weekend's festivities and read on for the conversation to learn more about how Brownies & Lemonade has thrived in the face of uncertainty this year.
---
Hi Chad, thanks so much for taking the time to chat with us today. For those who are unfamiliar, can you share the story of how Brownies & Lemonade first came to be and a favorite moment over the past few years?
Hey, thank you for having us. Brownies & Lemonade started as a small series of college and local parties in LA that over the years became a showcase for the best rising artists in electronic music, to a recognized brand for cutting-edge dance music. My favorite moment over the past few years was a series of parties we threw with Skrillex in Tokyo and Kyoto in 2017.
When the pandemic hit you guys were forced to postpone plans for live events in 2020. What were your initial emotions when this happened and how have you both kept your heads up during this time?
Honestly, it was really difficult to accept that all the incredible festivals and shows that we worked so hard to put together would be canceled, but it was equally as humbling to know that everyone around us was going through a similar or worse struggle in their respective industry. We used the momentum from entertaining people during this difficult time to keep our heads up.
Two of the bright spots for many dance music lovers this year have been your Digital Mirage showcases. What led to your decision to team up with Proximity to bring this to life?
The Digital Mirage showcases were a direct response to the devastating impact COVID-19 had on touring musicians and others in our industry. It was born out of necessity and the urgency to raise money for powerful initiatives, which has totaled almost $400k to date.
The Friendsgiving edition of Digital Mirage is packing some serious heat on its lineup. When you're brainstorming who to book for the show how do you decide on artists that will fit the bill?
Because it is a collaborative effort between Proximity and B&L we want to make sure our respective tastes are represented well, with the full range of established headliners and rising acts included. And as POC promoters ourselves, we want to make sure that our cultural track record in booking artists from marginalized groups is also well represented.
Past editions of Digital Mirage have featured a number of unique performances and this one is no different with sets like ZHU b2b NGHTMRE and YehMe2 throwing down some Trap Classics. Are these diverse sets ones that you guys cook up or are they more of a collaborative idea?
It's definitely something that we cook up but also something that the artists themselves are excited to bring to us. One of the positives that have emerged during the pandemic is how open-minded artists are to try something new or different in the spirit of the festival.
This edition of Digital Mirage will be especially exciting, as it will use the same technology used to make Sony PS5 video games and will feature unique filming locations that would not normally be possible for an artist. Can you elaborate on this?
We consciously want to take advantage of the endless creative possibilities and technology that streaming festivals allow, and also offer something different than the status quo of digital shows. Some of the locations and sets for this Digital Mirage have taken this concept to the next level (and next-gen) and we are honored to host them.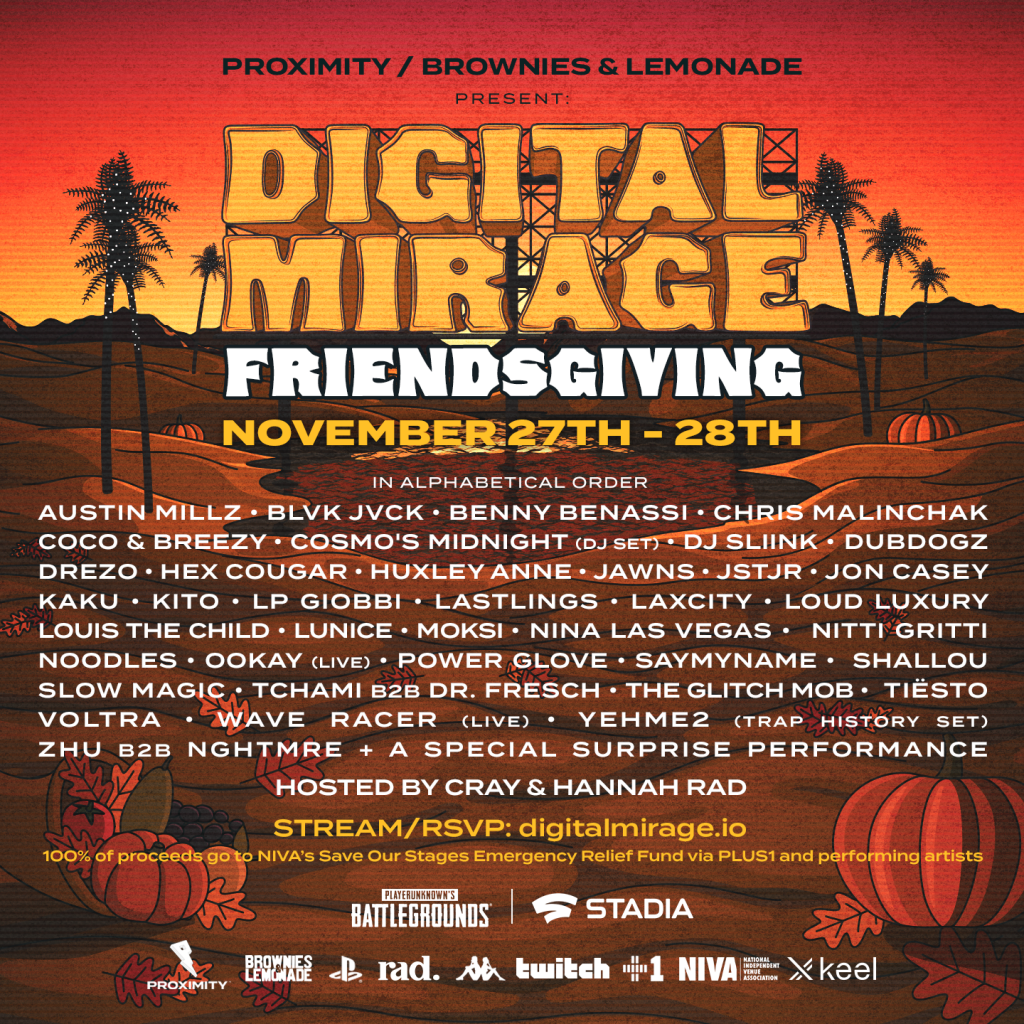 One of the biggest aspects of Digital Mirage has been its dedication to supporting charities and artists alike. How do you go about choosing the beneficiaries, and what drew you to the Save Our Stages Relief Fund for this edition?
Our philanthropic focus for each iteration has reflected the rapidly changing climate of the country, whether it was musicians affected by the COVID-19 crisis or real change being fought for by organizations like the Equal Justice Initiative. For B&L, independent venues are maybe the most important part of our career and without the good people that gave us and so many young artists a chance and space to flourish, we would have achieved nothing.
While similar to live events, ones in the digital realm have presented different hurdles for artists and brands to overcome. How have these problems differed from the events you've thrown? Do you feel this has gotten progressively easier with each passing edition?
The technical issues are a lot more unpredictable and varied, but I am happy (and relieved) to say that many of these have been ironed out over time. And the fans are pretty understanding that we are trying our best given the circumstances and restrictions in place. I still think that the magic of a live event is inherently unique to that experience and is unmatched, but I personally love events in the digital realm in a different but equal way.
In a recent article published by Forbes, five of the artists slated to play your Friendsgiving event explained what they're thankful for musically. Do you have an album or artist that you're grateful for that's helped get you through the insanity of 2020?
Funny enough I really fell in love with Jazz during the pandemic so I have to give thanks to the greats like Sidney Bichet and Charlie Parker for always keeping me balanced. I also told him this recently, but Dugong Jr.'s song "Holding On" has been really helpful for me and I highly recommend his whole catalog.
Finally, as the pandemic continues to rage on and uncertainty for the future remains, what words of encouragement can you offer to those who are feeling lost or uncertain about their future during this time?
I'd like to remind people that everyone is going through something, so just know that more people understand what you're having to deal with on a given day than maybe they let on. I know people encourage you to check in on those you care about, but it's hard to actually follow through. Now that we have more time on our hands than usual, give someone you've been thinking about a call or text and really speak to them honestly for even a few minutes. It could make a huge impact on their life.
---
Follow Brownies & Lemonade on Social Media:
Website | Facebook | Twitter | Instagram | SoundCloud