Insomniac pulled out all the stops with Electric Mile, their latest experience in Southern California that's COVID-friendly and fun for the whole family.
---
Late last year, a notification appeared on my phone that Pasquale Rotella had just tweeted. While sometimes these are just retweets, this time around it was an announcement – but not for a festival, Park N Rave, or Virtual Rave-A-Thon, instead it was something new. I quickly dialed into the number posted, giving me flashbacks to the first edition of Factory 93 or even the EDC Las Vegas hotline on the way to Sin City, and was presented with the latest from Insomniac… the Electric Mile.
Soon after I found myself hunting down information on the Electric Mile website, scraping any tiny detail that I could get my hands on. Hundreds of art installations and five million lights, featuring themes from Insomniac's flagship festivals, and it would be a fairly safe thing to do during the pandemic? I was sold.
Having attended a number of holiday "drive-thru" events in the past that were fairly lackluster, I didn't quite know what to expect. But knowing Insomniac's dedication to larger than life, immersive production, I figured that there was no way that Electric Mile would be some run of the mill experience. Then, pictures and videos began to surface to tease what was in store, and it washed away any worry I had from letdowns in the past.
I needed to see Electric Mile for myself, but driving up to Los Angeles alone seemed… lonely.
Surprisingly enough, when I brought up the idea of attending to my family, they showed interest in going as well. My parents have never attended an Insomniac event with me and my sister had only been to one in the past, so their knowledge of the scene comes from what I tell them or what they can see through videos. I thought to myself that this might help them understand why I'm so passionate about dance music and the festival community, and I'd be lying if I said I wasn't excited.
Throughout the pandemic, I've preached being responsible and staying as safe as possible, and my family has as well, so safety was the biggest concern. But since there was no leaving the car (unless you had to use the restroom), Electric Mile is one of the few experiences out there right now that I'd give a green checkmark to on that front. They felt the same, signed off on attending with me, and the pass was acquired for the first weekend.
The day we decided to attend gave me flashbacks of getting ready for a festival, except the tables were turned and my mom and sister were the ones making sure everything was ready to go. We had snacks, drinks, and they even dug up light-up glasses and other LED toys that had been acquired over the years while catching artists like Elton John. It almost felt like they were more excited than I was when I jumped in the car to make the drive to Santa Anita Park.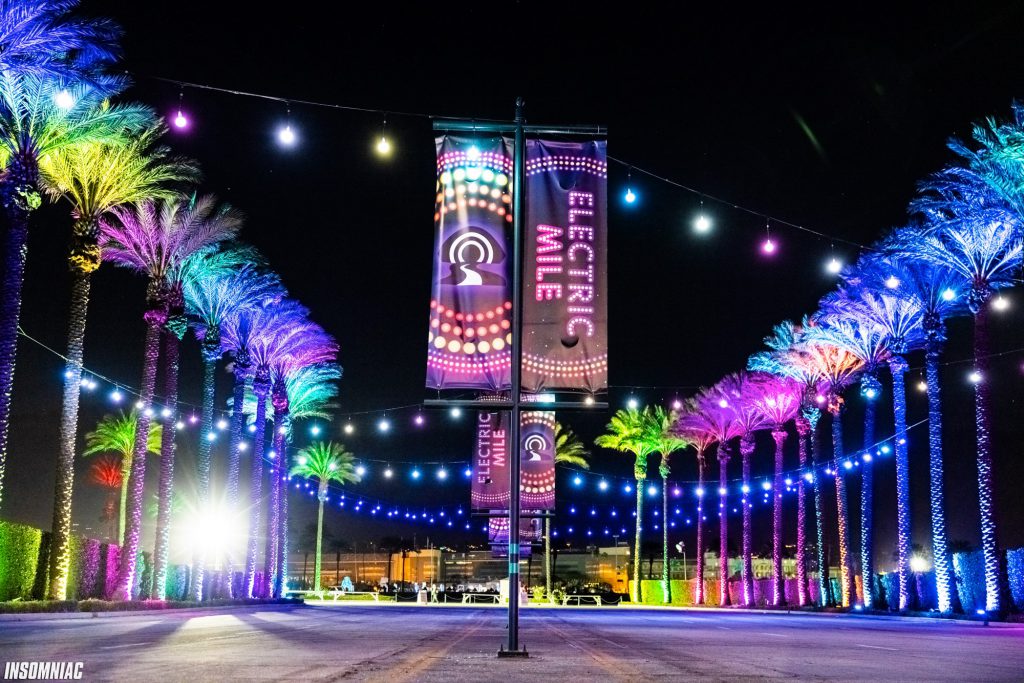 As we arrived closer to the Electric Mile there were butterflies in my stomach, the same ones you get when driving towards EDC Las Vegas and seeing the lights on the horizon.
Once there, we meandered our car through the orange cones that marked the lanes making our way closer to the entrance and I flipped the car radio to the FM station to see what would be playing. We arrived right at our scheduled time and while the line was still fairly lengthy, Insomniac helped us bide the time with music and screens that showcased their history over the past three decades. While I was having memories stir up inside me from past festivals, my family was learning a thing or two from Pasquale as songs from artists like Avicii and Kaskade played in the background.
Towards the end of the entry line, they do have some merch available (that you can order through the app). But we decided to bypass that and instead proceed directly to the entrance, flipping the radio to the secondary channel as we approached the giant, lit up Electric Mile sign that welcomed us while being greeted by Insomniac's experience creators along the way.
The way that Electric Mile is laid out allows you to first understand the roots of Insomniac in the warehouses of the past before diving into the different festivals and events they've thrown over the years.
Soon after passing through the warehouse, Nocturnal Wonderland arrives and that's where the stunning displays really begin to appear before diving into Beyond Wonderland, Escape, Countdown, and then finally Electric Daisy Carnival. Music booming from our car's speakers guided us along the slow drive through Electric Mile while different characters from the festivals waved to us as we passed by (all of which were wearing masks, as well).
But the displays of lights and other production elements really took this to the next level.
Insomniac created a number of unique displays of LEDs to showcase the thematic elements of their festivals. There were even some familiar stage designs and art installations that helped add to the immersion. (Check out some of my favorites below.) It was just as amazing as what you'd find at one of Insomniac's flagship events.
The journey also let me tell my family tales from those festivals that I've attended over the years. Stories about Beyond SoCal in the rain, memories of Escape and its insane level of production, and why the kineticCATHEDRAL stage is my all-time favorite come to mind, but there were many more as well. Being able to show them this allowed me to bridge a connection that hadn't been there previously of why these events mean so much to me, and why I do what I do today.
Soon enough, we were driving down Thank You Road and I was hearing my family talking about how awesome it was. (So Pasquale, you did well, my mom approves.) And honestly, I felt the same way. While the stickler in me would've wanted Electric Forest to get some time in the spotlight, I left the experience impressed by what Insomniac brought to Santa Anita Park. Bravo!
I applaud Insomniac for providing an experience that was both family and COVID-friendly, it really helped brighten up the beginning of the year. If you're someone who loves Insomniac events and are looking for something to do that's safe, I cannot recommend Electric Mile enough. Pack up some snacks and water, and bring your whole family, there's no doubt they'll enjoy it just as much as you will.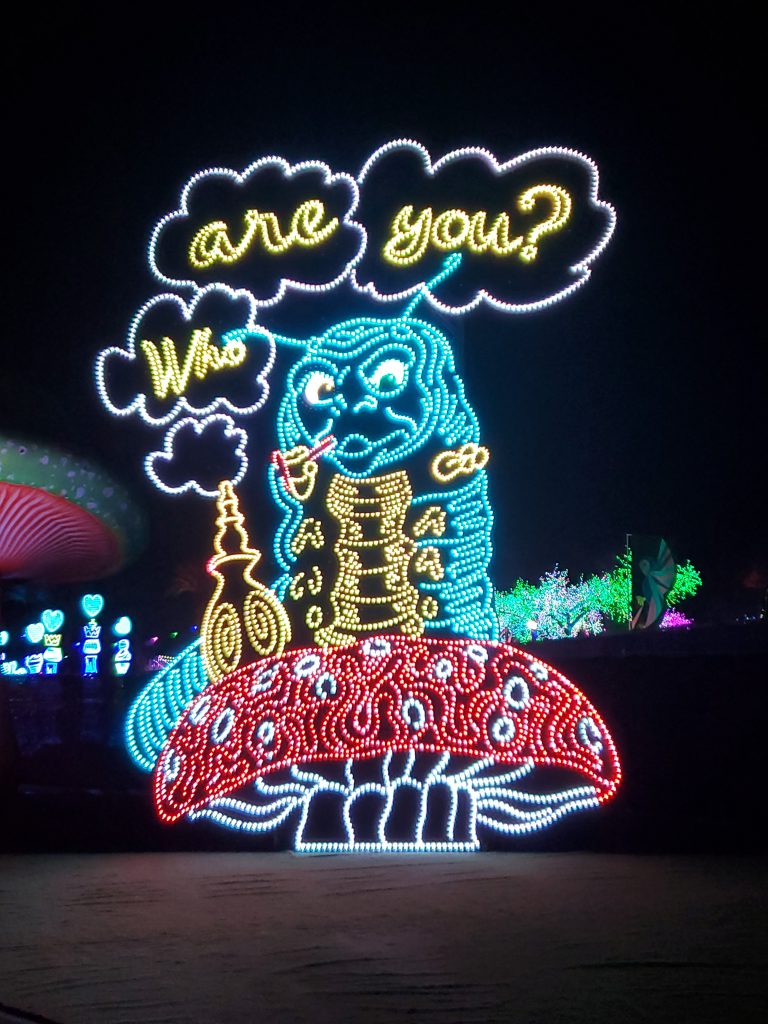 ---
Connect with Electric Mile on Social Media: