The combination of Hurricane Ida, possibly oversold tickets, limited staffing, and overtaxed facilities caused Elements Festival to devolve into near chaos.
---
The week and a half leading up to Labor Day Weekend were an ominous time for those planning to attend Elements Festival in Lakewood, PA. At a time when the region should have been enjoying beaches and BBQs, the remnants of two hurricanes battered the area. First, Henri dumped record rainfall in neighboring NYC. Then, just two days before the festival, Ida shattered the records set only days earlier.
Bonnaroo made the decision to cancel its festival planned for the same weekend as Elements and those planning on making the trip to Lakewood anxiously awaited any updates. In fact, the lack of updates was a bit surprising after we attended the COVID reduced 2020 edition and found things ran very smoothly.
One key rule of festival life is to "roll with the unexpected" because so much can happen at events, and we sure had to do just that at Elements.
Bad weather is a common "unexpected" snag at festivals and campers can only pack so much to handle a significant turn of events. Organizers knew that the area was flooded and in terrible condition. They also knew that there was no cell service to rely on. Yet they made the decision to go ahead with the event, even while all the parking areas were flooded. Presumably, they expected that things would dry out on Thursday, but when Thursday night arrived this wasn't the case. They still had the chance to pull the plug, but they didn't.
At 11:30 AM on Friday, Elements sent an email update to all attendees that didn't address any of the problems that had begun to surface. Instead, it focused on EZ Ups being prohibited due to limited camping space and that the 8'x8' space per tent was going to be strictly monitored. Was this really the most important matter at hand? Of course, virtually no one received this email as most were heading to the festival or on-site with no service.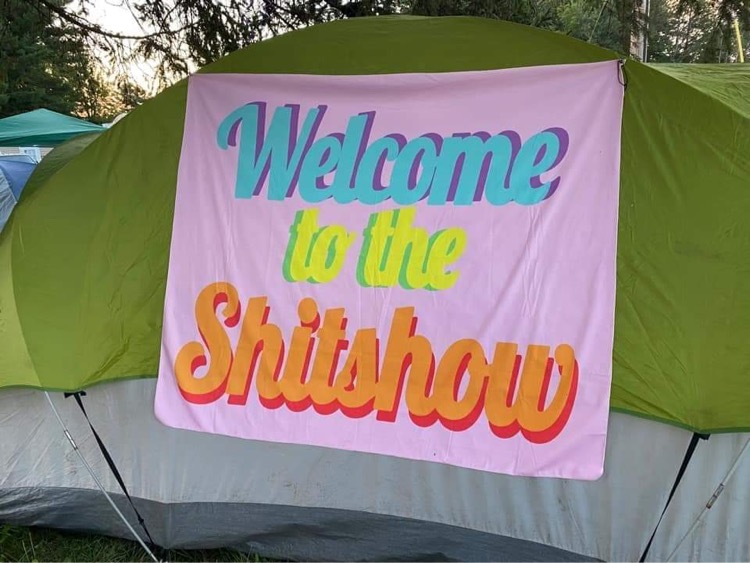 My drive crew left NYC at 10:00 AM expecting, at most, a five-hour process to get into the venue – but turned out to be much closer to 10.
With no updates from Elements regarding parking, shuttles, and venue entry, we proceeded with our original plan hoping to be onsite by 4 PM. Around 3 PM our line of cars was directed to park in a field behind a house and we needed to enter one car at a time as there was a "small muddy area" at the bottom of a hill we needed to navigate. If we stopped, we would've gotten stuck, but we made it through, parked, and noted that it was wet but navigable. I'd later ask myself, "But what if there's more rain!?"
As we neared the shuttle line a volunteer told us on a megaphone that the area was unsafe and directed everyone to a new staging area. The next 20-minutes were complete chaos because those at the back of the line were first to move towards the new line and people in the front were rightly ticked off. At the new location, things calmed down and a few volunteers came around with uplifting positive vibes, but we were waiting in yet another long line. Cutting to the chase, we were in line for about four hours and folks were pretty calm and friendly until the next curveball was thrown.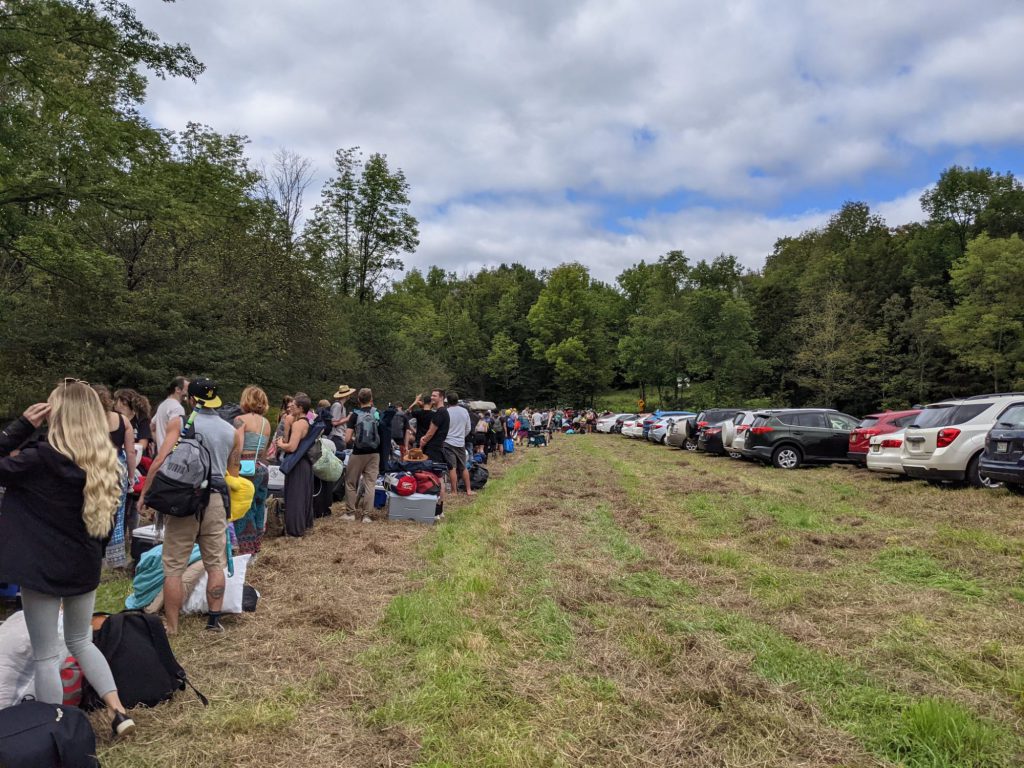 Ticket checks were chaotic and security was practically non-existent.
When we encountered the check-in "tent" on our line, which was actually just four volunteers with wristbands, they were absolutely mobbed. One of them broke down in tears and finally screamed at people to "back the fuck off!" She honestly had every right as the mood went from relaxed patience to total chaos as those in line tried to get wristbands. 
The volunteers were so inundated and scanners were so unreliable at these locations that all they did was glance at our paperwork and give out wristbands. Seemingly anyone without the proper COVID compliance documents, or even a festival ticket, could have gotten in at that point.
After the wristbands, the extent of security checking was practically non-existent. My bags were patted down and they opened my cooler – that was it. We then frantically loaded a box truck with gear, got on a school bus, and were told to remember the box truck license plate because that was the only way we'd find our stuff. We were told this on the bus – after the box truck was pulling away! Luckily, our driver had been doing this all day and stayed close to the truck for us.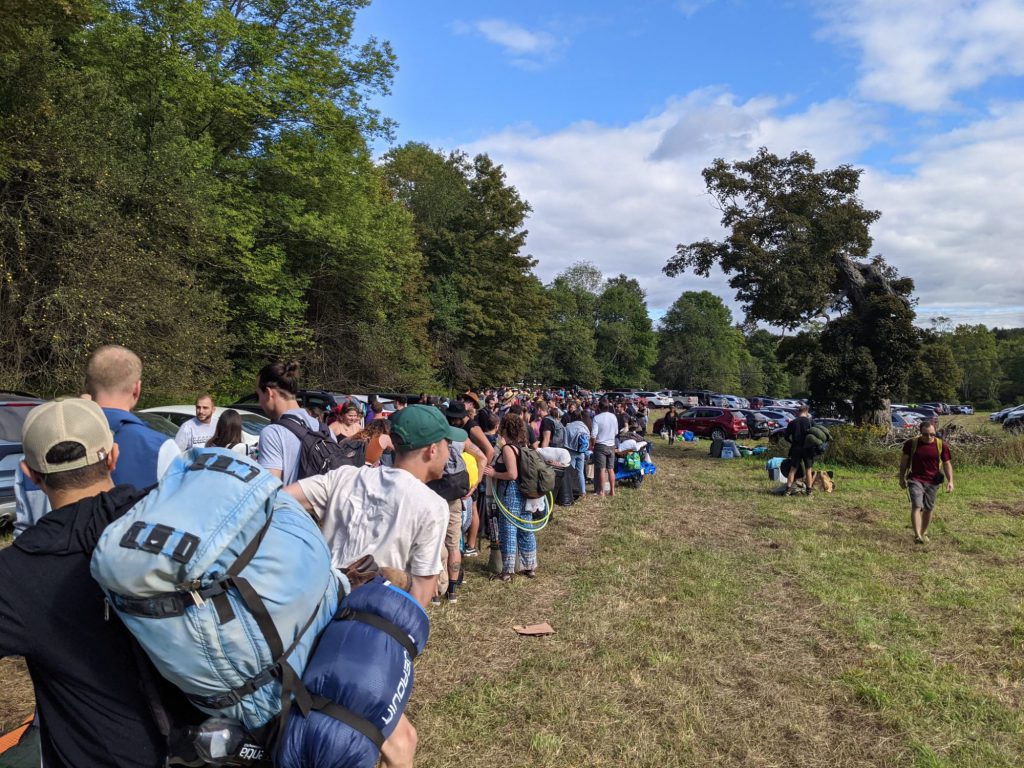 Once at the grounds, the condition of the cabins weren't great and the "sound camps" became an added annoyance.
We had no inflated expectations of the cabin conditions, but only one of two showers worked, one of three sinks were fully functioning, and the sink drains leaked so much that your feet got wet when using them. The toilets? This was comical – we had three stalls where one door didn't lock, one toilet seat fell off and the third got clogged. We'd soon learn that this was still way better than most others fared.
As for the sound camps, we had one sound camp two cabins down on one side and another one that was two cabins down on the other. So we were smack in the middle of two competing stages that were only about 100-feet apart. And when they played at the same time (which was nearly always) they each seemed to dial up the volume trying to drown out the other. We were left with a chaotic bass reverb that shook the cabin practically all hours. I'm used to lack of sleep at festivals, but this was a physical assault on our nervous system for three and a half days straight.
Despite an abbreviated Friday at the stages, Elements most definitely got a few things right – the art and music production was absolutely phenomenal!
Let me take a break from the #hellements description for a little bit and give credit where credit is due – the team behind Elements knows how to produce outstanding stages and content. If you didn't take the time to wander and gaze, you definitely missed out. For example, I was at Earth Stage for hours before I noticed the eight-foot-long Gecko tucked up in a tree overhead! The four main stages were absolutely incredible, the themes were fun and cohesive, and the light show (especially the lasers in the forest) was top-notch. 
Another thing that went right was the vibe from the crowd. Elements always targeted a Burning Man crowd, which brings a very specific vibe along with them. Not only are Burners self-sufficient, but they won't let obstacles get in the way of a good time. My camp and I were self-supported and practically ready for anything. We had our own food, water, drinks, and many shared items and experiences to fall back on even if the event went bust. We had a terrific experience despite the logistical failures of the organizers.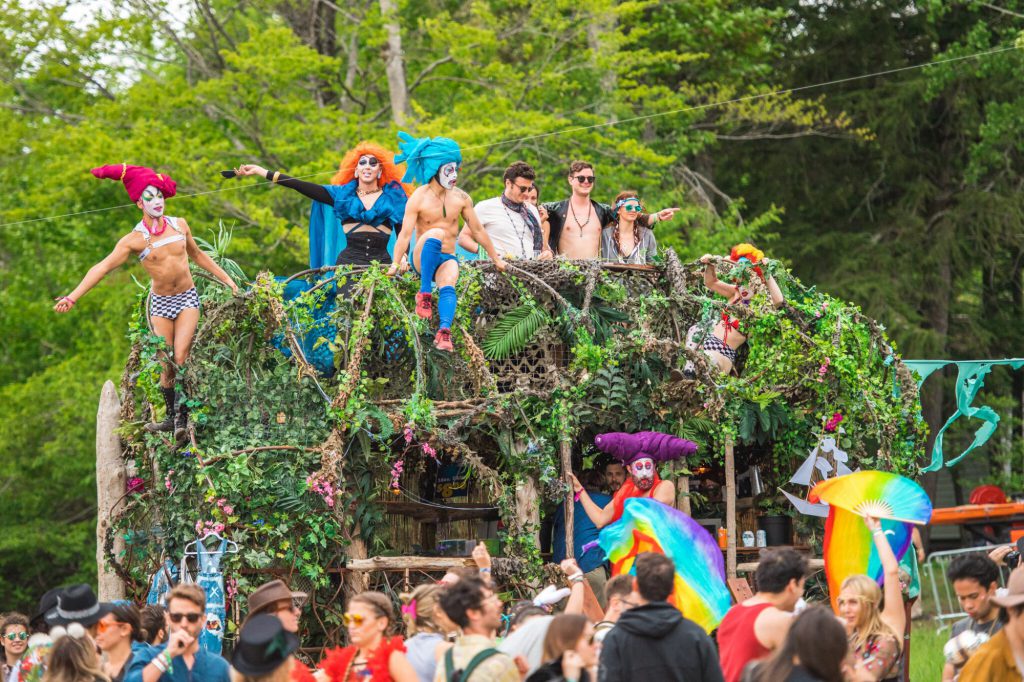 On the other hand, there are those that paid money for a list of amenities and, rightly, expected those to be there.
Those attendees were let down and many of them were left in unsafe situations. Many amenities and activities were closed or canceled, reducing the value of each ticket. There was no general store (the operator couldn't make it after the flooding), limited wellness activities, the pool was closed, the lake was closed, and at least one main stage DJ canceled last minute.
For example, if you expected to fill water bottles at the water stations (rules prohibited more than a 1L bottle each to be brought in) you were pretty well screwed. There were three water stations (although none were listed on the map) and taps took about 3-5 minutes to fill a 500mL bottle. Lines were often three hours long and by Sunday several taps stopped running altogether.
Additionally, the food lines were about an hour each with many vendors out of anything satisfying by the time you got to the counter. So if you wanted water only once and food three times a day, that's six hours of lines a day just to be hydrated and nourished! I'd call that a complete fail.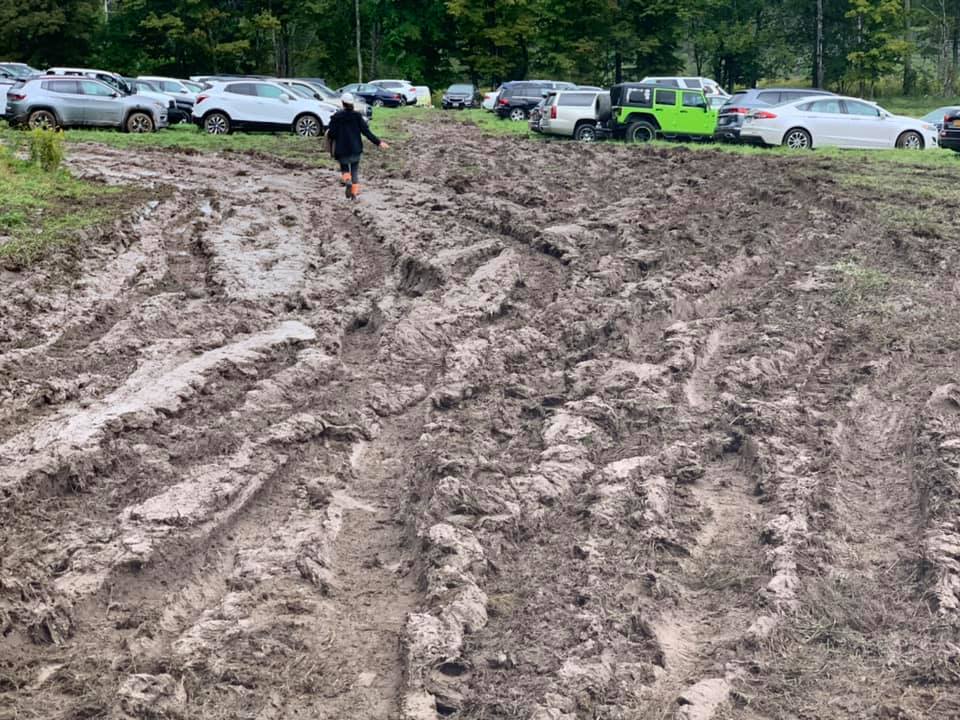 Beyond water and food failures, there were other essential failures that could have resulted in sickness, injury, or death.
The most egregious thing I observed was RV and tent camping in the same area. A tent camper posted on Facebook that the RV near them ran their engine and exhaust was piped directly into their tent. Had they been sleeping, this could have been a life-threatening event. Thankfully this took place during the day and they simply left their tent. But, seriously, no matter what limitations there were on space, this is an unforgivable oversight.
While I never used the public toilets or portapotties, there were absolute horror stories about the conditions. There are many pictures to corroborate this, but I will spare you because they are absolutely disgusting. The lake was abruptly closed to swimmers Saturday afternoon (ironically moments after I exited the water). When asked why, security said things like, "trust me, you don't even want to know." A lifeguard later said there was a septic leak, but septic overflow from overuse seemed more likely. Either way, gross.
Elements Festival was also advertised as ADA compliant, and I found that even able-bodied people struggled to get around, especially in the woods between stages.
I saw a person in an electric wheelchair at the Fire stage, but I imagine that was the only of the four stages they found accessible. Not to mention that if they needed an outlet to recharge their wheelchair they would be out of luck. A friend reported that they saw someone on crutches fall in the forest and when staff was asked to help they simply would not. There was only one medical tent and while I was never there I was told there were only two medics at the tent. The medical tent was also at the furthest corner of the campsite from the stages.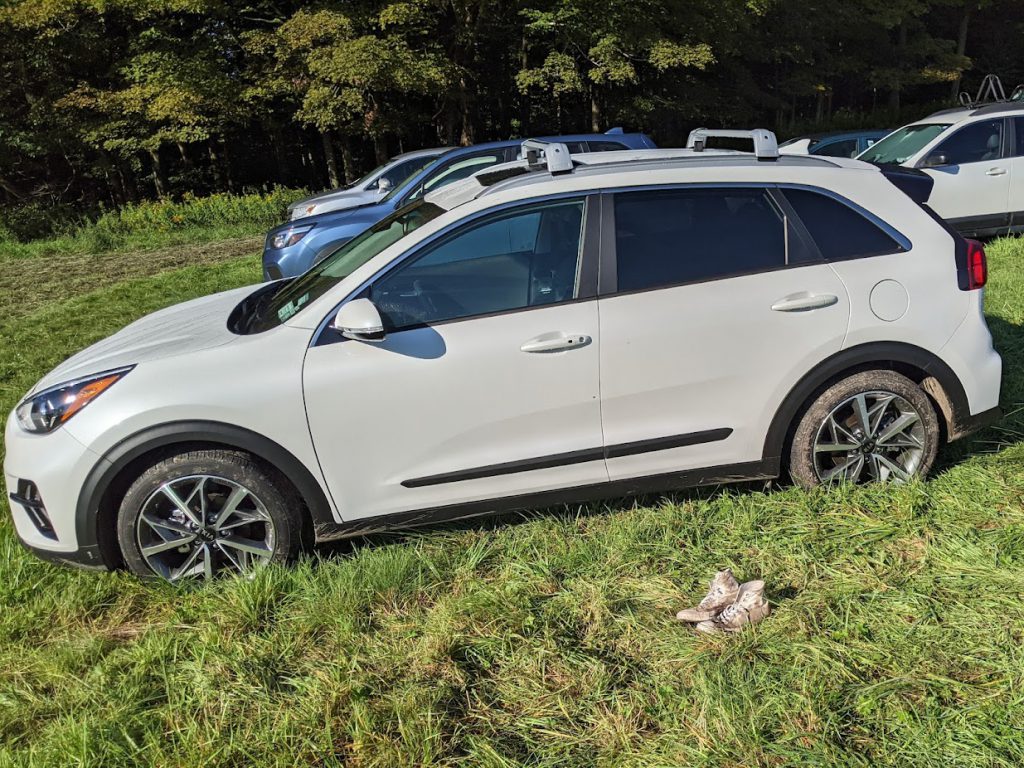 Despite everything, I had a great time and so did my crew – but the response, or lack thereof, from Elements was a slap in the face to attendees.
We were prepared for the worst and made the best of it when that's actually what happened. Being experienced and self-supported goes a long way and sharing good vibes goes even further. We enjoyed the amazing stage productions, hidden gems throughout the camp, and serendipitous run-ins with strangers along the way.
But if you needed a better support system and bought into what Elements was selling, you weren't only let down, you were put in harm's way and the organizers don't seem willing to accept accountability for this. They tried to spin it on social media calling the first day a "happy rollercoaster" and when the comments devolved, they hid their accounts. In a Facebook group created to share grievances, there are countless stories that have surfaced from the weekend – most of which are negative.
After days of silence about the situation that unfolded at Elements, their team did release an official statement. Much of the blame for the failure to deliver the show they anticipated was pushed onto complications from Hurricane Ida ranging from the parking issues to the restroom cleanliness. They also state that they are community-first and that the voices of attendees matter, but some of the decisions made seem to counter that notion.
Like it or not, if you're an event organizer, you're responsible for the safety and wellbeing of your customers. You are responsible to make the right decision when the unexpected (Hurricane Ida) collides with several very objective issues (lack of staff and volunteers, flooded parking, far more tickets sold than ever before, etc.) Making the wrong decisions puts people at risk and also jeopardizes the future of your events. 
Correction: We've updated the article to reflect that there were three water stations, not one.
---
Connect with Elements Festival on Social Media: