Madeon sheds some light on Good Faith Forever and performing at Second Sky as he delves into his creative mindset.
---
French sensation Madeon has created groovy, colorful tracks for the past decade. Every time he hits the stage he surprises audiences with his interactive visuals and charismatic personality. From shredding on the keys to singing his most iconic songs, GRAMMY-nominated producer delivers an unforgettable experience. His multifaceted artistic ability makes him an artist you don't want to miss, especially in the era of his sophomore album, Good Faith.
Since coming out of quarantine, Madeon has already begun to take the stage for some special shows and debuted his new live set, Good Faith Forever at Porter Robinson's Second Sky. And over the past few weeks, he's taken Good Faith Forever on the road for the official tour to completely wow audiences across the country with forthcoming dates in Austin, Houston, and San Diego.
From the shy performer he once appeared to be, Madeon's charism empowers audiences and engulfs whatever stage he plays. Prior to his sunset performance of Good Faith Forever, we were able to catch up with the French artist to discuss Second Sky, some insight on the production elements, and his favorite things right now.
Stream Madeon – Good Faith on Spotify:
---
Ashley: Hey Madeon, how's your day been so far?
Madeon: My day has been good! I've been riding the high since yesterday. Yesterday was especially magical, so I've just been watching videos and seeing photos from it, and getting hyped about doing it again tonight.
Emily: Thank you so much for chatting with us. If there's anything we've learned over the past year, it's to be ready for change. Imagine was canceled, but now you could make the Good Faith Forever debut here at Second Sky. How does it feel?
M: It was very unfortunate Imagine got canceled. It would have been a great place to debut the show, but the weather wasn't in our favor, and people's safety took priority. Second Sky's a meaningful place to debut new material. This festival is also where I did my first Good Faith-style DJ set, and I premiered new music. We were bummed out about the Imagine cancellation, but we'll make up for it, and Second Sky's an ideal debut setting.
A: How does it feel to be back supporting your friend Porter at the second installation of this festival?
M: I love Porter so much. I'm so proud of what he's achieved with the festival. This year is better than ever before. I know that it's been complicated, they had to change the venue and adapt, but they delivered an experience beyond what any of us could have hoped. Porter and I's friendship and the journey are deeply cherished, so being a part of it in any capacity is a treat. If I wasn't playing, I would probably be just hanging out, so I'm glad that I get to do both.
A: When you look at Second Sky's production and the crowd's vibe, how does this compare to other festivals you've played?
M: It's unique because it's an artist-curated festival so I think that informs a lot of the decisions about the immersion. The lineup is very eclectic but makes so much sense. It's unlike any other festival, and it's a pretty magical experience for artists. I hope it inspires many other festivals like it. I also love mega multi-stage festivals, but this range, this scale feels right. I think Porter is the perfect artist to be at the helm of it.
E: And I bet you feel proud seeing one of your closest friends put on something like this.
M: It's amazing! Everybody on Porter's team has so much overlap with people we work with, some that we've worked with since the start of our careers when we're teenagers. So going from being teenagers chatting online to putting this together, it's a journey of a lifetime. It's wonderful to witness.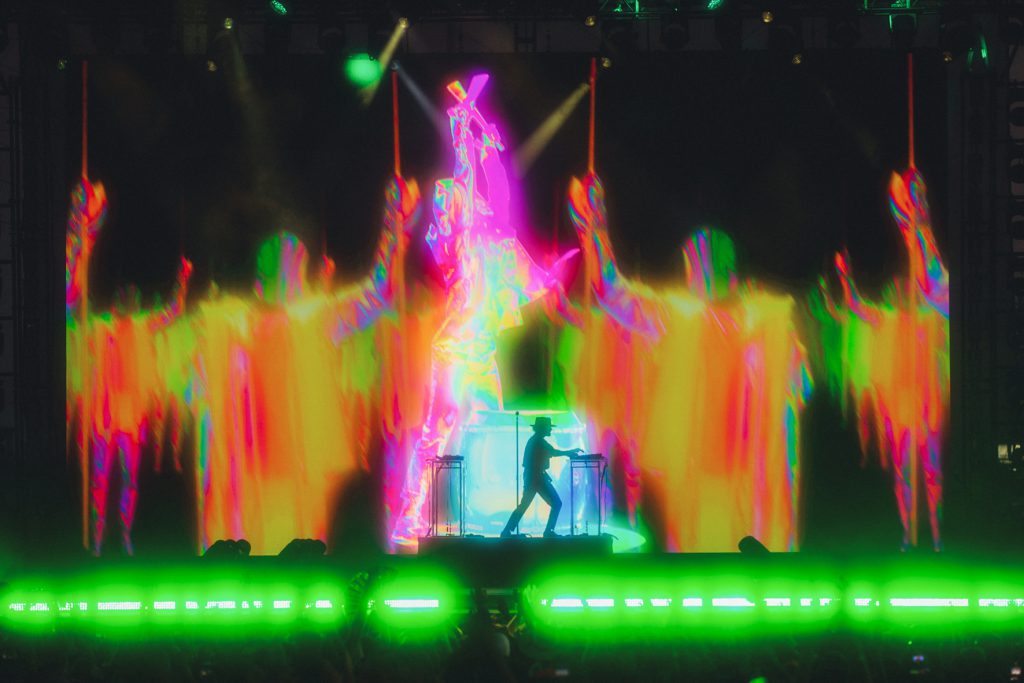 A: You wrapped up your Good Faith Live tour at the end of 2019 and have incorporated that show into the new "Forever" act. What can fans expect for the new part of this show?
M: So Good Faith Live is the artistic project that I'm proudest of in my career and something that I've given a lot of thought to. The architects and I have been thinking about it non-stop. We understood some fundamental principles about what we liked about live performances and what we had created. So it made it obvious when we wanted to emphasize: the theatrics, the narrative dimension, and the drama. 
We decided to focus on quality over quantity because we're already so proud of the existing show. So we wanted to create an additional segment of this show to be the strongest. We put as much energy into making this addition as we did probably the entire original show. We wanted it to be a barrage of really compelling visual and musical ideas. I'm proud of every new minute. One of the ideas that I have also pulled off was that Good Faith Live is about the relationship between my silhouette and visuals.
A: Right, because you often stand against the background in silhouette, which is so cool.
M: Yeah, and so we're very mindful of that. It made sense to start thinking about how we can design what I wear to make sense with those visuals. Yesterday was partially in the daytime, which normally never happens with Good Faith Live, we made an exception for Porter. Good Faith Live is always a show in the dark, so we didn't get to do the full thing yesterday or today. But if you see the show at future stops, it will make more sense what we're trying to do there with the silhouetting and costume that we designed. 
We're trying to think about how every aspect of the show relates to its overall emotional mission, and I think we took it further than ever with this version. I'm prouder of this show, and I was already very proud of the previous version, but I'm really happy adding the two together.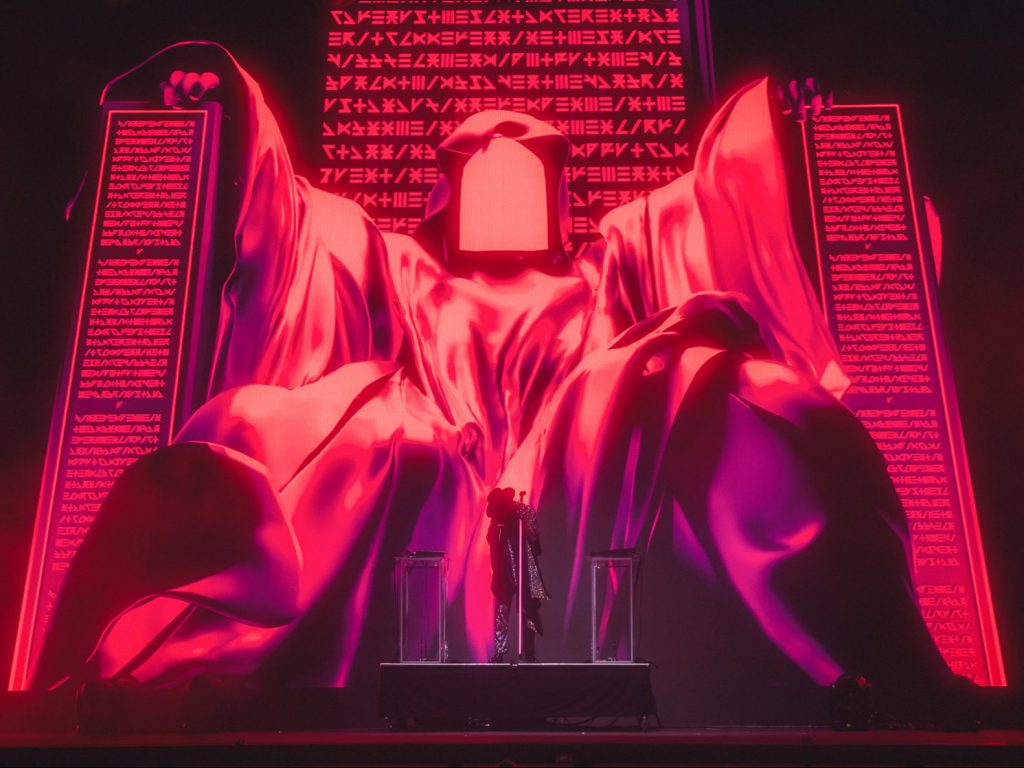 E: Did you and your team design the costume, or how did the outfit come about?
M: Yeah, I worked with my friend Drew, a fashion designer and stylist that I've worked with for a while. We were thinking about ways to interact, like how my silhouette would drape on stage against some of the content during the moments. It's this kind of draped visual that extends what I'm wearing. 
We spent as much time thinking about the show and conceptualizing it as we did making it. The visual illusions connect the dots of the show, from the music and the video to the way I move and the instruments; everything has to be connected. So we understand the mechanics of it. It's been really fun to be able to apply those big principles to every aspect of it.
A: You mentioned there's a backstory to the show, and within each frame, you want to communicate this. Can you give a little insight into what that is?
M: I try not to be too explicit because I think it is more fun to uncover. But I use my Imperial alphabet throughout the set, which is this custom design cipher language that I've been using since my very first single almost ten years ago that fans understand. 
I hide a lot of messages and backstory in the show using that tool. Especially with the biggest new addition to the show, the extended version of "The Prince." The whole eight-minute sequence is a story in chapters. If you look back at the visuals and translate some of it, you can get a sense of the backstory of this Queen that gives me this kind of magical power. You can see me suddenly become the recipient of those powers, and how it translates into those magical abilities to clone myself and all that stuff.
We thought about it as a story, and you can connect the dots with other aspects of the show. For example, you have Borealis wearing this big crown near the end. The idea is that this crown evokes the character of Dischead. In the Good Faith lore, Dischead is the god. This crown is a way to explain that the Queen character is not a god but is rather trying to look like one in the way that kings and queens in ancient times would wear clothing that would make them resemble divinity rather than humans. In a way, it is an admission of their humanity. So that's part of the story you can pull from the show.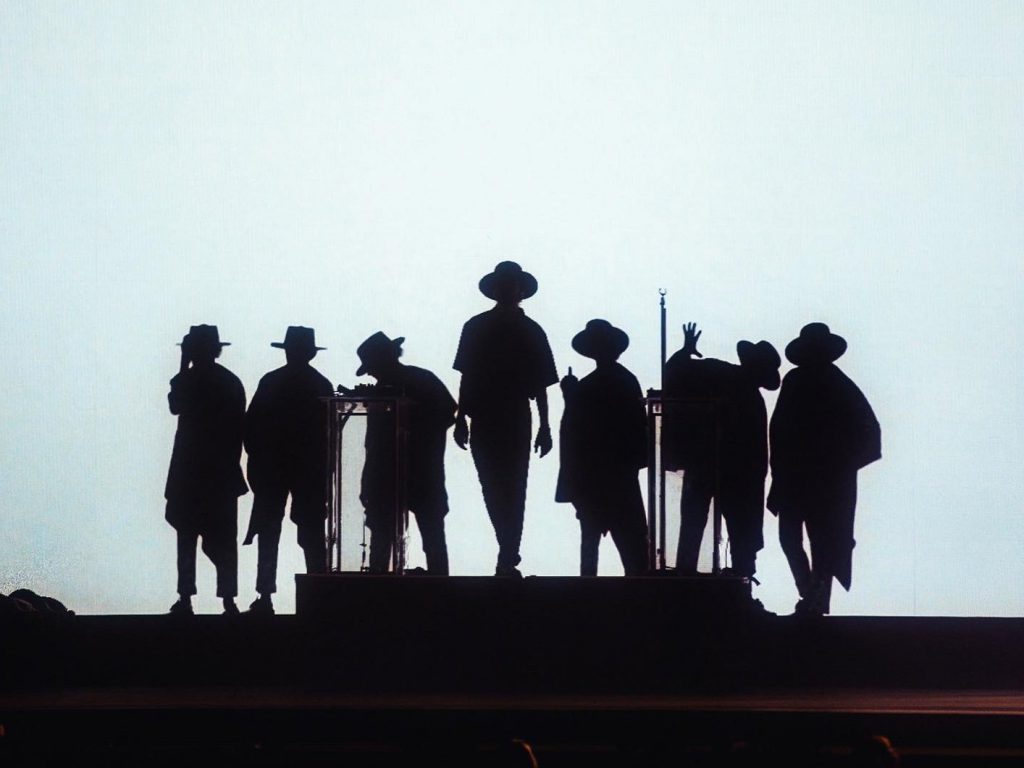 E: What are your favorite parts to perform?
M: I think it's all very fun, but because I know the visuals by heart, I love when I get to do something that interacts with them. So when I get to do a certain pose, I know what it looks like even though I don't see it, and I hear people's reactions — my favorite moment of the new set is for me to be kneeling to the big face. I think the theatrical parts are my favorite part, essentially. I love singing too. It's fun because I don't get to when I do DJ sets. It's great to sing along with people; that's always been my fantasy.
A: What is your favorite part for fans to experience?
M: My favorite part for fans to experience is kind of the same. I love when I hear the fans roaring at something that we worked so hard on, specific moments in the set, whether it's musical cues or visual cues. When I hear this loud reaction that I was hoping for, it fills me with so much joy, and everybody that works on the show feels it too.
E: With 2021 wrapping up and Good Faith Forever about to start, what do you have in store next?
M: I'm trying to finish a lot of music that I've been working on. I'm excited to release new music when it's ready and continue to expand and complete the universe of Good Faith. It's been the mission of my 20s pretty much – this universe, this world, and this album. I want to explore and complete it and accomplish that journey thoroughly. So that's what's next.
A: Last question, what is something you're obsessed with right now?
M: I'm obsessed with high-waisted pants and glitter, clearly per the show. I'm obsessed with Japanese jazz music because that just makes me so happy right now. Also, I'm obsessed with looking back on my childhood: Finding things I grew up with in France that I know nobody here knows about, keeping them as little treasures of my story, and revisiting my history. I try to merge what's unique about it with what is around me.
---
Follow Madeon on Social Media:
Website | Facebook | Twitter | Instagram | SoundCloud | YouTube | Twitch