Hex Cougar, Pauline Herr, So Sus, and Sejo show the perks of teamwork with the release of their collaborative four-track EP, Genesis.
---
When it comes to artists like Hex Cougar, their music speaks for itself. He has a refreshing take on dance music and walks to the beat of his own drum while continuing to produce stellar tunes like a boss. He's the gem behind tracks like "Burn" with Pauline Herr and "Glass Hearts (How Much You Mean)," while also becoming known for his remixes of Krane's "Chemical" with Ahsha and Lemay, and RL Grime's "Shrine" as well.
During the pandemic, Hex Cougar turned lemons into lemonade and kept himself busy. He started his label Alter/Ego and shortly after, released its first compilation, Alter/Ego Volume 1. The compilation featured 13 tracks from up-and-coming artists in the scene and helped further prove he's passionate about representation and giving rising producers a platform to share their work. Talk about using your influence for good. But on top of starting Alter/Ego, Hex Cougar ventured into something new, a collaborative project with three other artists, Pauline Herr, So Sus, and Sego, to create a special body of work. 
Now, this dream team is celebrating the release of their four-track EP, Genesis. When asked about the release, Hex Cougar shared that he "had this idea of getting a bunch of different producers together and trying to tackle a particular genre and style for a while now." He continued on to say, "So Sus, Sejo, and Pauline had all sent me demos independently, and I thought it would be a dope concept to combine all three tracks, plus one demo of mine, into one project and have everyone work on all the tracks simultaneously."
Every song on Genesis features a piece of each artist, and most impressively, they did all of this in the digital sphere. Be sure to check out this release on Spotify or your preferred streaming platform, and read on for a deeper dive into the tracks on this fantastic EP.
Stream Hex Cougar, Pauline Herr, So Sus, Sejo – Genesis on Spotify:
---
Genesis kicks off with the relentless energy of "Your World."
The opening track on the EP starts off in a haunting manner. "Your World" is dark, cold, and quickly erupts into this ferocious drop as the distorted synth and explosive bass swallow you whole. Towards the midway point of the song, the intensity subdues until you're sucked into another melodic drop that packs another punch.
As the song fades, you're tossed into "Abyss," a dreamy tune with heavenly vocals harmonizing throughout the song. The big euphoric drop is supported by an angelic melody, and the intensity of the synths adds that extra layer of emotional impact. Together, the sound composition flows so effortlessly that it feels like you're floating through the chaos.
"East Bridge" is the definition of perfection and steals the spotlight on Genesis.
Pauline Herr shared that she drew inspiration from the video game Cyberpunk 2077 and "subconsciously wrote "meet me at the" because in Cyberpunk the characters often tell you to meet them somewhere for quests." Her vocals are flawless and enhance the powerful nature of "East Bridge." The first drop is truly ridiculous in the best way. It's dark, heavy, and unapologetic, and you can easily immerse yourself in the beautiful sounds and zone out into your own world.
The final track, "Everything All At Once," is raw and vulnerable. It's packed with intense moments that will trigger an emotional response. It's intricate and delicate at the beginning but the calmness doesn't last for long. The drop is bursting with that melodic force as that experimental bass guides you through the madness. As Pauline Herr sings "will I ever feel again?" you drift into the final drop which is gentle. As the drop nears the end, the song fades out in a peaceful manner. It's the perfect way to close out this masterpiece.
Overall, the Genesis EP is impressive. It's one that you'll have on repeat after listening for the first time and you won't be able to get enough of it. Hex Cougar is innovative and continues to push dance music forward. As genres like hardwave continue to grow in popularity, we can't wait to see artists Pauline Herr, So Sus, and Sejo thrive like no other. Do yourself a favor and show this EP some love, because it deserves all the attention and praise it can get.
---
Hex Cougar, Pauline Herr, So Sus, Sejo – Genesis – Tracklist:
Your World
Abyss
East Bridge
Everything At Once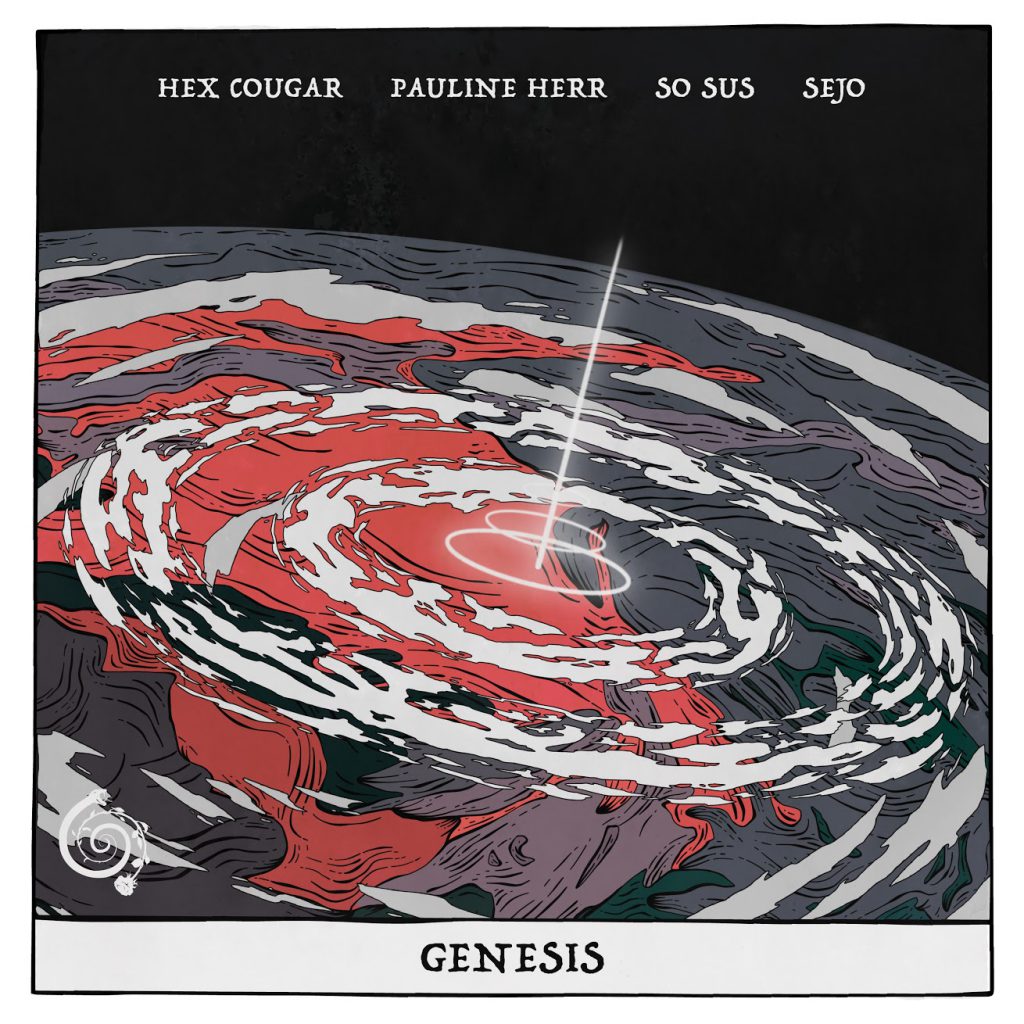 ---
Follow Hex Cougar on Social Media:
Facebook | Twitter | Instagram | SoundCloud | YouTube
Follow Pauline Herr on Social Media:
Facebook | Twitter | Instagram | SoundCloud
Follow So Sus on Social Media:
Website | Facebook | Twitter | Instagram | SoundCloud
Follow Sejo on Social Media: