A peaceful park comes alive and transforms into a bass-lover's utopia for the 10th year of Infrasound Music Festival!
---
Tucked between hundreds of miles of Minnesota farmland in its own wooded paradise resides Harmony Park Music Garden, a beautifully quaint venue just over an hour south of Minneapolis. This tranquil park filled with evergreens, massive oaks, and the changing hues of autumn was my home for the weekend at Infrasound Music Festival 2021. 
In its early years, Infrasound remained a well-kept secret among Midwest locals, starting out as a small homemade music gathering. After gaining more popularity among underground sound fanatics, the festival grew and moved from Wisconsin to its Harmony Park Garden home in 2019.
With 2021 being Infrasound's 10th anniversary, we knew we were in for a treat with the outrageously stacked lineup, funktion-one sound systems and intimate vibes at this gorgeous venue. 
The arrival process was the easiest of any camping event I have ever attended. We paid $10 to park and were able to get inside and settled within minutes of driving into the gates. Although car camping is an option, it costs extra and is not the best way to experience Infrasound given that it's in a hot field.
The real magic is camping inside the wooded area of the park, where I had my favorite and most memorable camping experience to date. Although this option does require some gear hauling, it was not a far walk from where I was parked. Other campers even brought wagon carts that were a huge help in making fewer trips. 
We were faced with a surprisingly hot first day, but as soon as we stepped into the woods, we were instantly greeted with a cool breeze and an inviting blanket of shade from the huge oak trees. With nightfall came color-changing lights that illuminated the trees, providing not only light to guide our way through the campgrounds but an aura straight from a fairytale! One main pathway went through the campgrounds with the main Harmonic stage on one end, and the Pyramid stage on another, making it easy to go from stage to camp and back.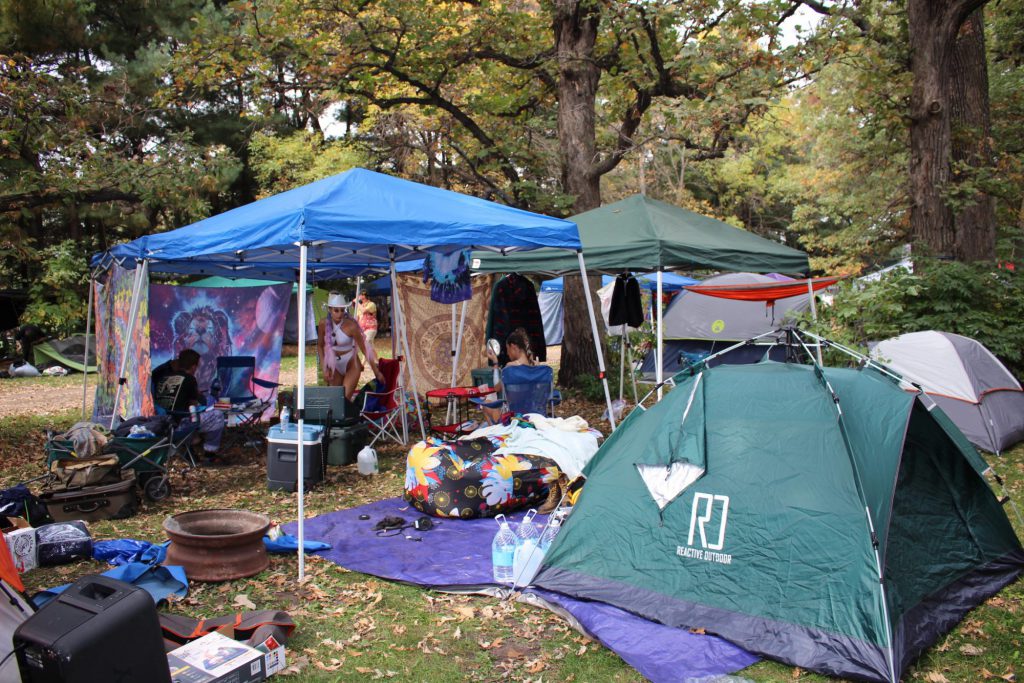 My group of 10 was camped in a fabulous spot within hearing range of the Pyramid Stage, which was my first stop.
Kicking off my weekend right were 3 heaters in a row; Chief Kaya, Vibe Emissions, and Dalek One.  While this stage featured little production, the acoustics were absolute madness and was home to a unique art display by Chris Griffin (@neuralpatterns). Threads of yarn were weaved into intricate patterns above the stage, connecting to a forest of glowing yarn in a hidden clearing. 
I was able to catch the end of Floret Loret at the Portal stage, which was a massive dome of LED panels that came to life with breathtaking visuals each night at sundown. Given that the LEDs were the main focus of this stage, it had little to offer during the day because we could barely make out the projections.
Because of this, I felt disappointed for all of the artists booked for a slot earlier than 6pm. It just felt lackluster, to where I felt music shouldn't have even started here until dark. Since this stage was close to the parking and not within the wooded area, it was also full of rocky gravel instead of grass. 
After checking out the two smaller stages it was time for The Widdler and Ivy Lab to close out the main stage.
Set in a picturesque clearing surrounded by trees, the Harmonic stage brought mind-blowing production and massive sound. One of my favorite moments was the walk from the campground pathway to get to this stage at night; I was mesmerized by the lasers shooting through the glowing trees as we got closer and the music grew louder.
Of the four Widdler sets I have seen in the last year, this one had to be my favorite. Ivy Lab was one of my most anticipated sets of the weekend and absolutely did not disappoint. Their signature, sensual tone set to visuals in dark and fiery hues had the entire crowd grooving with everything from 140 to drum n bass. 
A Thursday night in a park with strict sound ordinances made for a shockingly early end to the main stage. Sound system culture is a huge part of the music at Infrasound, so it was disappointing to be forced to resort to a silent disco while that beautiful stack of Funktion-Ones speakers sat in the background.
When we returned to camp, our kind neighbor informed us Ternion Sound was about to play a jungle set at the Portal, which hosted silent discos every night. He laughed at how quickly we jumped up. Though it was a silent set, this spicy mix of jungle, dnb, and halftime was undoubtedly one of the best of the weekend. Infrasound is Ternion Sound's hometown festival so their appearance at the Portal on the first night made everyone even more excited for their main set Saturday.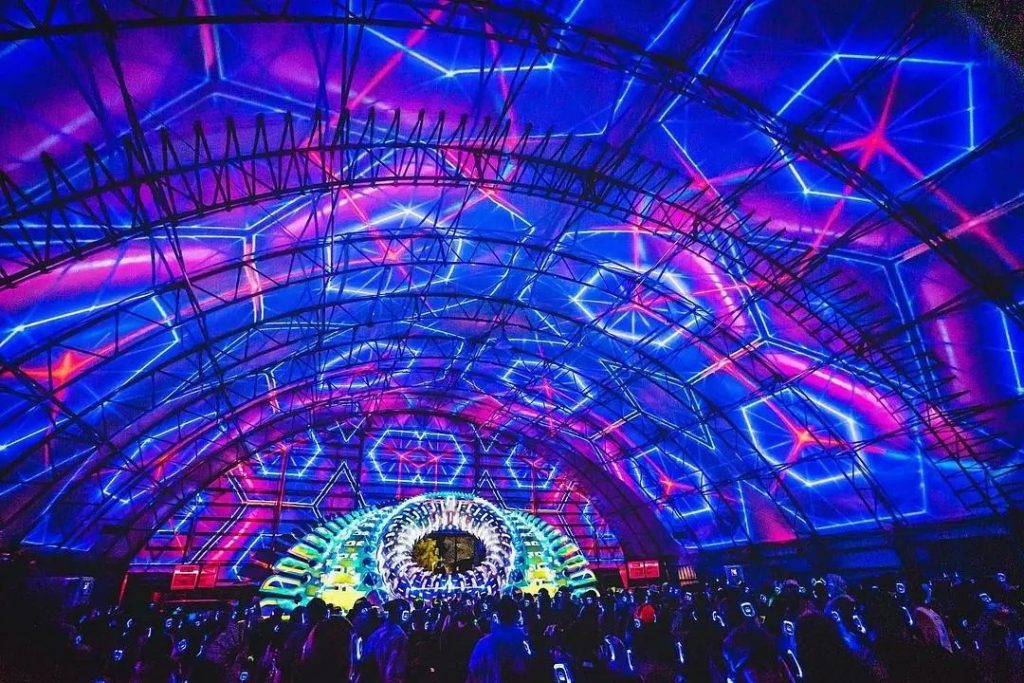 Although the sound ordinances made for underwhelming late night sets, being in this beautiful venue I simply could not complain.
These quiet hours allowed for the most legitimate and peaceful sleep I have ever had at a camping festival. Despite Thursday ending outrageously early, Friday and Saturday's main stage played until 1am. Each night, volunteers were coming around to shut down everyone's campsite speakers left and right. 
When it comes to the temperature, we were blessed with next-to-perfect weather the entire weekend and I was eternally grateful to have never woken up in my tent sweating. It was warm enough to rock minimal clothing during the day while night temperatures were perfect for pants and a hoodie. It doesn't get much better than that. 
I relaxed at camp for much of Friday morning listening to the sounds of the Pyramid until heading out to catch Resonant Language. From there I had to see Kromuh, who threw down despite having an early set. The sun set in time to make the LEDs pop for Duffrey and Black Carl, and it wasn't long before I was making my way to the Pyramid again for Eazybaked. 
Veil b2b Notlo was one of my top sets of the weekend. These ladies were on fire with dark 140 beats reminiscent of classic dubstep. Coki brought real OG dubstep to close the night at the main stage in place of Mala, who unfortunately had to drop due to last-minute COVID-related issues. Coki's set blew away my entire group in a rare opportunity to see this dubstep legend.   
Saturday, being the last day of music, allows a day to travel home and recover, but this was definitely an event that left all of us wishing for a fourth day.
We spent nearly all afternoon at the main stage, soaking in the art from live painters and the beautiful murals that had reached their final forms. Early in the day, everyone was out at the main stage barbecuing for the "GRLL SMTH" cookout organized by kLL sMTH. There were also plenty of food options for all dietary preferences for those who chose not to participate in the barbeque.
The carefree vibes were elite, and we were feeling them big time on Saturday. My friends and I were unapologetically lounging all weekend in our chairs and inflatable couches at the stages. I even fluttered around giving out nearly 100 packs of fruit snacks during Secret Recipe.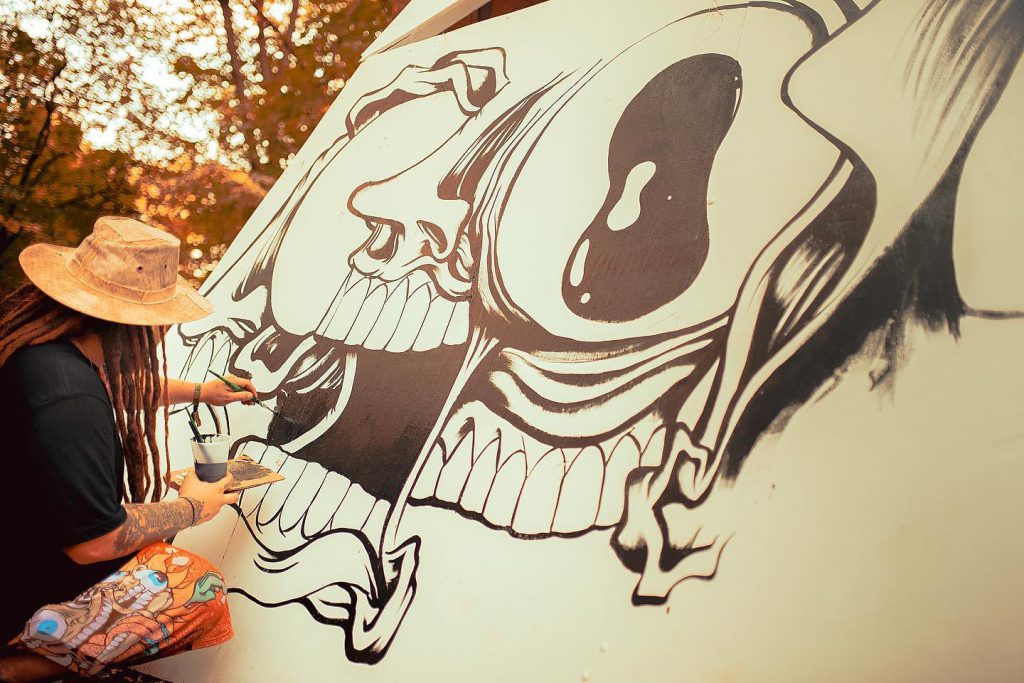 Saturday's schedule was stacked with an overwhelming amount of conflicts.
I only left the main stage to see DMVU, whose set full of grimy bass paired with hip-hop vocal samples ended up being another one of my favorites. Then it was straight back to the main stage for the most anticipated set of the weekend, the local legends Ternion Sound who had a perfect sunset time slot.
This was the first time I have seen all three of them on stage together, and they were throwing down ID after ID. Their set was at least 90% unreleased originals, which just goes to show how much heat this talented trio is sitting on. I didn't know a single song they played, and we got absolutely spoiled with all of the unreleased treats. 
Yheti ended up as a surprise last-minute set in place of Spor. Mr. Bill b2b kLL sMTH, or kLL bill blew me away, coming in hot with never-ending lasers and so much spicy drum n bass. 
I have few words to describe CharlesTheFirst's set other than ethereal. A light mist danced and shimmered through the webs of lasers, making his breathtaking production even more magical. We even got to hear some live rapping from Charles with tracks from the infamous Lab Group. Sadly this set conflicted with ill Gates, an artist I would have really wanted to see but I simply couldn't leave Charles.
G Jones closed out the Harmonic stage with the last set of the weekend, switching the vibe completely after CharlesTheFirst with his heavy-hitting sounds. Afterward, attendees stuck around to pick up trash, which is always awesome to see. I then spent a few hours at the silent disco with not the slightest clue who was playing, just wishing I could restart the whole weekend.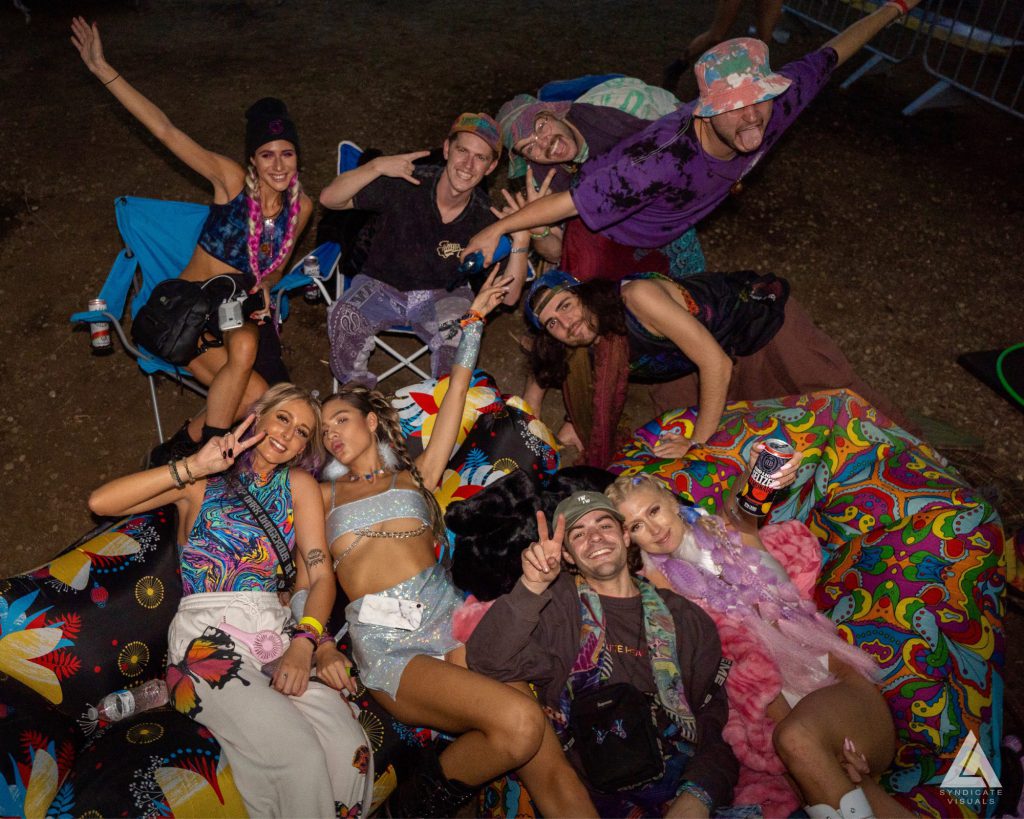 One of the most special things about Infrasound is that everyone there is family.
Having spent this weekend with amazing people played a huge part in my next-to-perfect experience, and every stranger I encountered immediately became a friend. With less than 3,000 attendees, it was never difficult to move through the crowd, and finding friends was a breeze. Crowds like the infra-fam are a big part of why I am so in love with the underground bass music scene and smaller festivals like this one.
Leaving this beautiful place had me in tears of gratitude on my 13+ hour drive home; a journey I will not hesitate to make again for years to come. I have attended at least a dozen camping festivals and every event carries its own magic. The magic that is Infrasound, however, is a special one that I'll certainly be missing every day until next year.

---
Follow Infrasound on Social Media: