Porter Robinson proved that he's the perfect artist to curate a festival after gifting fans with a serene experience at Second Sky.
---
Second Sky is quite new on the festival circuit in comparison to others, but there is no doubt that Porter Robinson stops at absolutely nothing to give audiences a one-of-a-kind fantasy experience. After debuting in 2019, Second Sky had to take a year-long hiatus much like many others before coming back this year bigger and better than ever.
Driving up to Oakland Arena Grounds, I was welcomed by an overhead sign assuring us that we were in the right place to be. Upon entry vaccination cards or negative tests within 72 hours of the festival were required prior to the ticket check. Up the road, bags were checked and we all walked through a metal detector ensuring a safe entry. After tickets were scanned in the entrance offered a merch table canopied with purple flowers.
From the moment I stepped onto the festival grounds, I felt overwhelmed by the serenity.
Second Sky was the first festival I had ever attended by myself, yet I never once felt alone. Instead, I found myself surrounded by so many familiar faces I have gotten to know over the years at Madeon and Porter's shows. Rather than anchoring myself in one spot as I did in 2019, I decided to walk around and really take in all of the art installations, the food trucks, and the merchandise. The only downside I found was the lines were ridiculously long to take pictures with the installations and to get food. A lot of vendors and merchandise ran out of supplies, which was disappointing.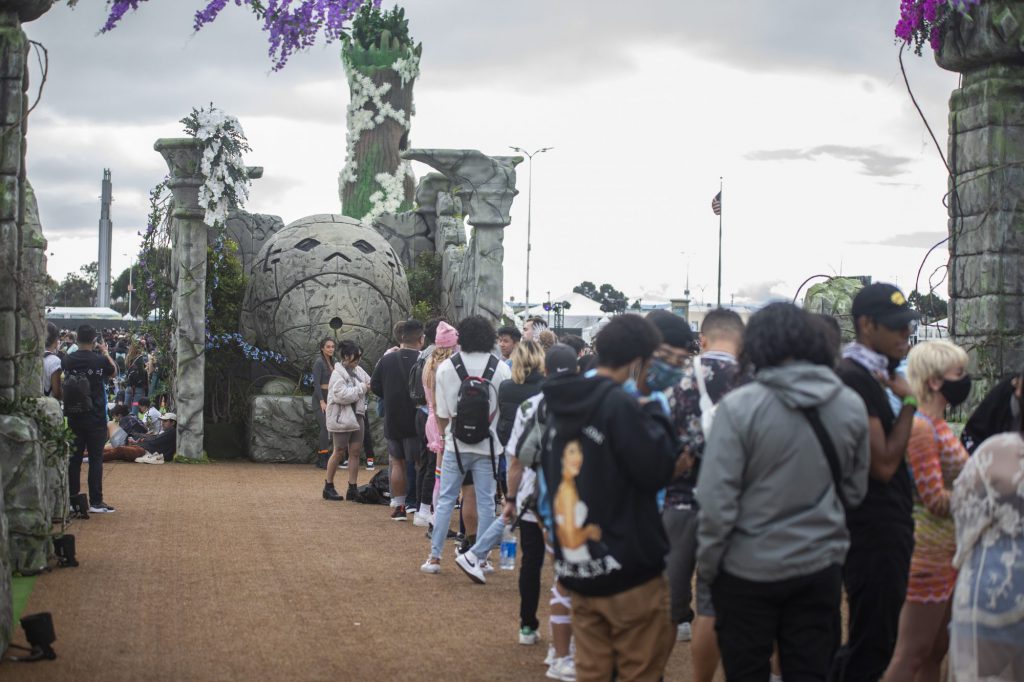 The art installation that caught my eye first was the giant tree trunk centered in the middle of the grounds.
Offering the perfect photo op from top to bottom, the tree had a variety of flowers and of course, futuristic boxes placed throughout the trunk, building up to a blossoming top. From cascading purple flowers to giant crystals throughout the grounds, there was a perfect opportunity for photos just about anywhere. Of course, the festival wouldn't be complete without the giant Second Sky sign.
Without a doubt, the favorite installation by far was the marbled shrine dedicated to Porter Robinson's coveted character, Potaro. Featuring a grand entrance of pillars and floral arrangements, Potaro stood tall in the middle for everyone to grab a picture with – if you were willing to wait in the seemingly endless line. And if you were lucky enough, you could snag a picture with Potaro wandering around the festival as well.
The day started at 11 am, and Porter Robinson took the stage with his newest progressive house project, Air 2 Earth. This encouraged people to come at the beginning and stay for all of the marvelous acts. This set got us all in the vibe for a diverse lineup of artists to come. Wavedash followed with one of my favorite sets of the day, as I was especially excited to see them. They brought a chaotically beautiful set, blending their dubstep with beats from other genres.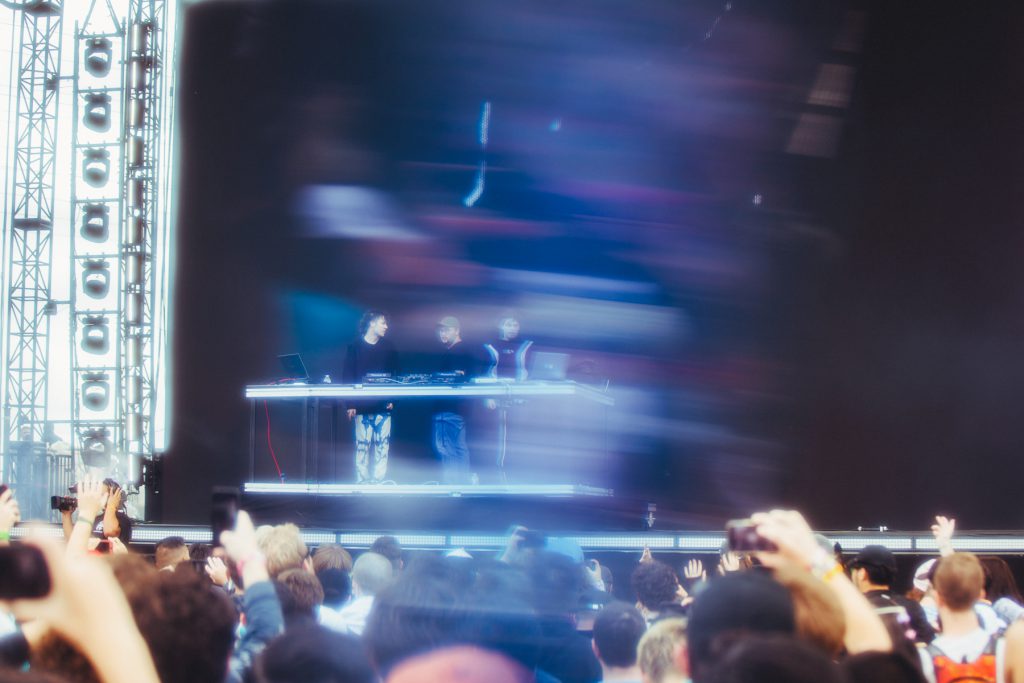 KNOWER took the stage with a funky-jazz pop sound in tow.
KNOWER is like none other. Genevieve Artadi's voice is truly one of a kind and radiated throughout the grounds, while her partner, Louis Cole, threw down the backing beats. Jacob Collier brought an incredible performance with a live band that accompanied him as he sung and played piano and guitar. Another artist I was excited to see, and who's set to hit every sense, was Jon Hopkins. There were blissful moments contrasted with ones where the bass was so heavy it pulsated throughout the whole body. His set graced us with an undeniable elegance paired with his intensely deep tracks which matched his vibrant visuals.
Toro y Moi brought some heat with their best R&B and visuals for the ultimate nostalgic set. What made them so special was how they transferred positions and switched instruments along the journey. Jai Wolf was another artist I was excited to see, especially since the last time I'd seen him was at HARD Summer back in 2016. He had a very simple stage set which really empowered his set and focused on his music. His set felt like a fairytale and Second Sky felt like the perfect setting.
Then, Madeon took to the stage to debut Good Faith Forever, the newest rendition of his live set.
Madeon stepped onto the stage and opened with "All My Friends" as his visuals energetically danced around the stage and everyone in the audience screamed along with the song. His visuals were absolutely breathtaking as he had updated them so he was able to interact with them.
The biggest addition was adding his newest single, "The Prince," which incorporated the story behind his Queen character. He stood with a visual of his clones before kneeling down and interacting with the large profile on the screen. He ended with his iconic collaboration with Porter Robinson, "Shelter" mixed into "All My Friends." I've seen Madeon more times than I'd like to admit, and this set left me at a loss for words.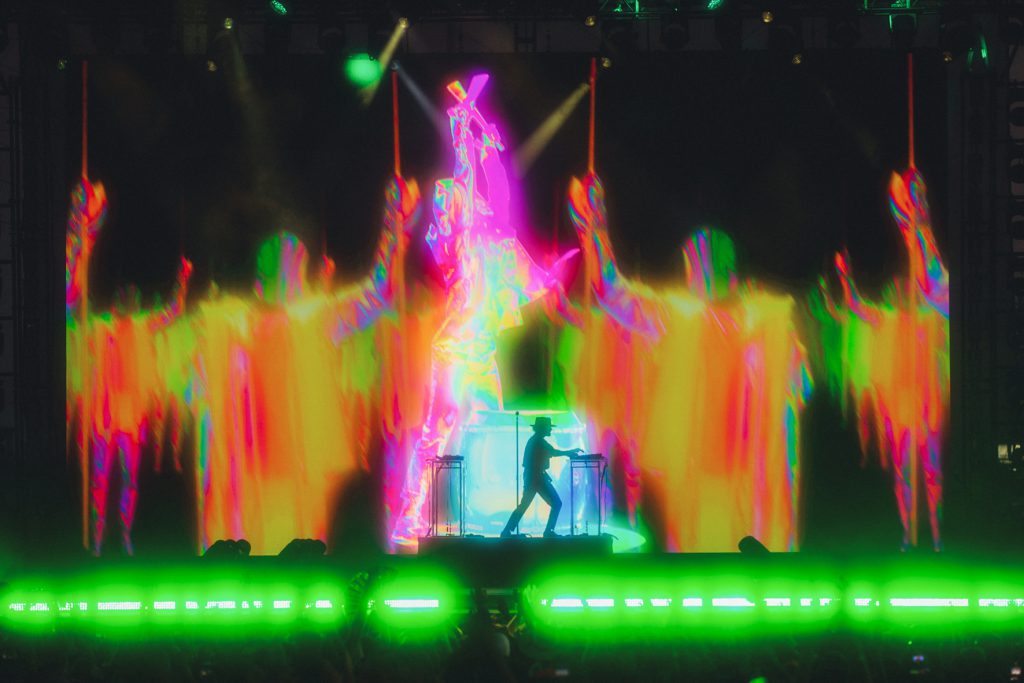 Finally Porter Robinson took the stage for the debut of Nurture Live, and while I was looking around there was not a dry eye in the house.
Porter Robinson began his set with one of the first singles released from the album, "Something Comforting." He sang along with the crowd as he danced around the stage, before jumping behind the decks for "Look At The Sky." Of course, it wouldn't be a Porter Robinson set without incorporating some of his most iconic hits from Worlds. He approached the audience and teased "Sad Machine" and the crowd went absolutely insane.
He continued with songs from Nurture and offered a truly tear-jerking moment when he thanked his family and girlfriend Rika as he played "Blossom," the song dedicated to her. With fireworks lighting up the night sky he closed out the set with "Get Your Wish," leading into a piano rendition of "Goodbye to A World."
Second Sky is truly a surreal experience, and I have never met a crowd that was so warm and welcoming.
I felt like I had gotten to know so many new people by sharing this magical show – and it was so hard to leave as I was truly overwhelmed with emotion during Porter Robinson and Madeon sets. Doing this alone was extremely out of my comfort zone, but I left feeling very grateful for the one-of-a-kind experience.
For anyone who wants a fairytale with all-around good vibes, Second Sky should be at the top of your list. Not only does it offer peace of mind and tranquility, but it's a unique way to experience with some of the most amazing fans on the planet.
---
Follow Second Sky on Social Media: