Dreamstate Stuns Trance Addicts With Massive SoCal Lineup!
Yesterday, the trance world was stirred into a frenzy of anticipation as we all waited patiently for Dreamstate SoCal 2016 tickets to go on sale. In a flash, the first two tiers were sold out as trance addicts flocked to the Dreamstate Website to grab their golden ticket to trance paradise. Social media posts went full tilt and the energy within the trance family reached new heights. Why all the commotion for an event? For years the trance community has been aching and yearning for the United States to hear their voices and breathe fresh life into the trance scene. Pasquale Rotella, founder of Insomniac and the man behind festivals like the Electric Daisy Carnival, Electric Forest, and Beyond Wonderland has been paying close attention to our pleas and has delivered an event that rivals other trance events all over the world. Some have even dubbed Dreamstate as the United States' version of the Netherlands' trance destination, Luminosity!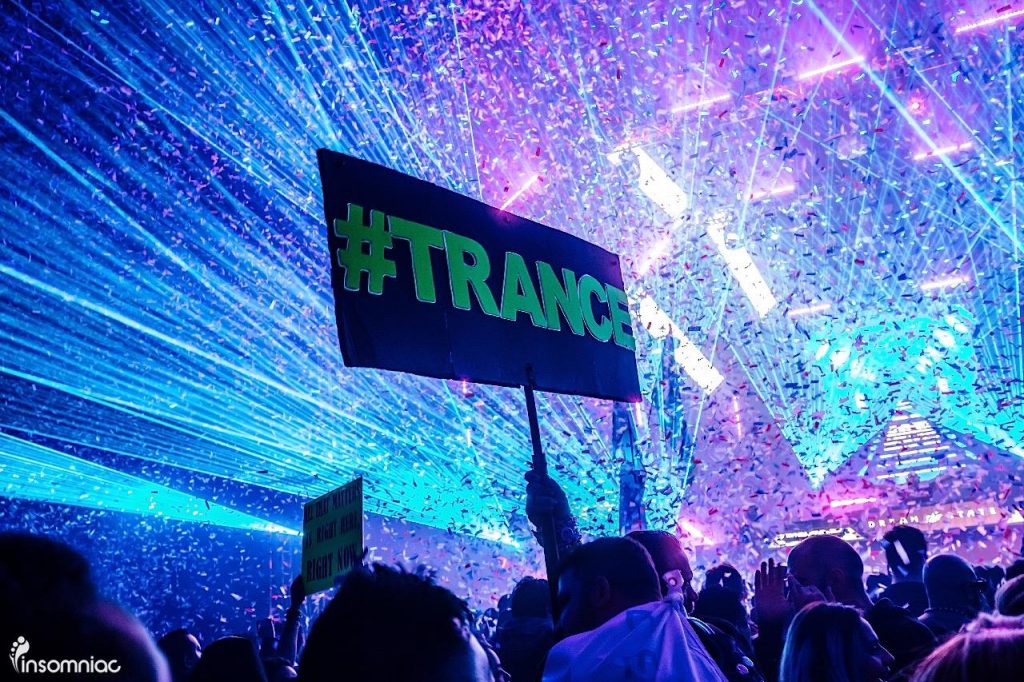 Since the inaugural event last November in San Bernardino word spread like wild-fire about the intense weekend full of trance mega stars and state of the art production that left everyone's jaw on the floor. Due to the overwhelmingly positive response, Dreamstate has found itself landing in new locations and growing the brand at every stop. But, come this November, The National Orange Show Center in San Bernardino will host a homecoming for the event that began it all. Of course, the 1 year anniversary must have a groundbreaking lineup. A lineup that outdoes any other lineup on the Dreamstate ticket to date. And with a bigger lineup comes the need to expand, add more stages and turn up production a few more glorious notches. With 4 stages and 64 trance maestro's to rock our socks off, Dreamstate San Bernardino will continue change the game and shine the spotlight on one of the greatest music genres in the history of mankind.
Dreamstate SoCal 2016 Full Lineup: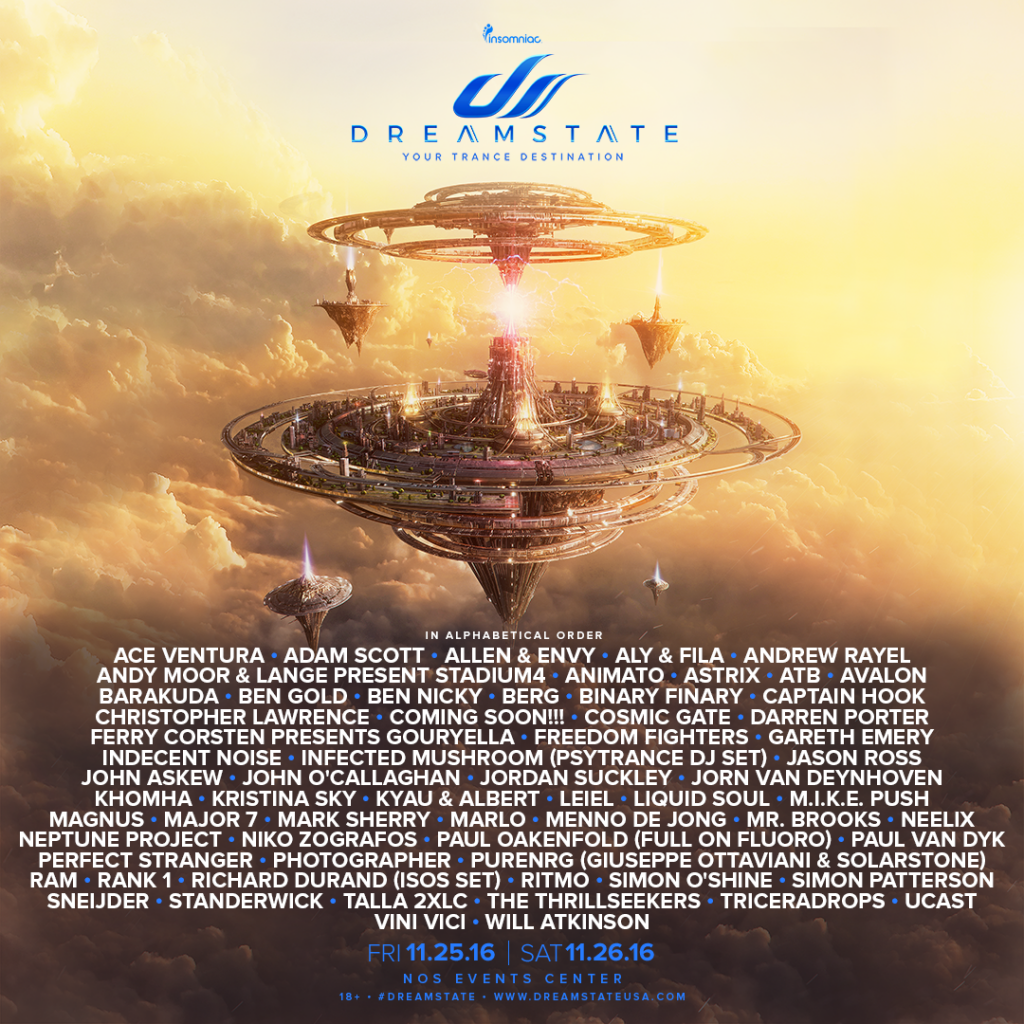 Adam Scott
Andy Moor & Lange Present Stadium4
Animato
ATB
Avalon
Barakuda
Ben Gold
Berg
Binary Finary
Captain Hook
Christopher Lawrence
Coming Soon!!
Darren Porter
Freedom Fighters
Infected Mushroom (Psytrance DJ Set)
Jason Ross
Jorn Van Deynhoven
KhoMha
Kristina Sky
Kyau & Albert
Liquid Soul
M.I.K.E. Push
Magnus
Major 7
MarLo
Menno De Jong
Mr. Brooks
Neelix
Neptune Project
Niko Zografos
Perfect Stranger
Photographer
RAM
Richard Durand (ISOS Set)
Ritmo
Sneijder
Talla 2XLC
The Thrillseekers
Triceradrops
UCast
Vini Vici
Now that is one hell of a trance line up! Insomniac has outdone itself once again, bringing in names that run the gamut of the entire trance genre. Every thing from Psy to Uplifting to Tech-Trance to Progressive will be represented by these talented DJ/producers. There will even be a special Timeless stage to get your much needed dose of trance classics. 4 stages of trance, trance, trance, and more trance. Music that will unlock your soul and take you on a journey of energy, passion, and emotion. Music that has the power to unite people from all over the planet, bonding us together through dance. So, prepare yourself for a weekend you will never forget and memories that will last a lifetime!
Have a taste of what's to come and check out John O'Callaghan's set from Dreamstate SoCal 2015 on SoundCloud:
Dreamstate will be taking flight on November 25th and 26th at the NOS Events Center in San Bernardino, California. Tickets begin at $140+fees and are on sale now. With the first 2 tiers already sold out you are going to want to grab them fast. With predictions that this event will sell out completely within days, you don not want to miss out on your chance to be part of the biggest trance event in the Unites States. Dreamstate is an 18+ event
Purchase your tickets by clicking HERE!
Stayed tuned in to EDM Identity every week as we present artist bios for the entire Dreamstate lineup! Get to know the men and woman behind the decks and learn about the artists you may have never heard of before. We will be posting bios every week up until the event on November 25, 2016. So strap yourself in and join us as we prepare with incredible anticipation for Dreamstate SoCal's glorious homecoming!
---
Follow Dreamstate SoCal 2016 on Social Media: