When I first started attending events back in 2010, there weren't nearly as many options to choose from. It was a period of time in which you would see, outside of club events, only a few massive events per year. This of course would change rapidly over time due to the boom in the popularity of electronic music. In 2010, Insomniac Events launched their Beyond Wonderland brand which would complement its flagship events Nocturnal and the well-loved Electric Daisy Carnival. Unfortunately for me, Beyond Wonderland 2010 or 2011 would not be in the cards, and I missed the inaugural edition of this event.
Beyond Wonderland returned to the NOS Events Center in 2012, and was nearly ruined by some truly terrible weather. ASOT 550 arrived in that year and the entire night ended up being one of the best times of my life. After a brief hiatus while searching for a new venue in 2014, it returned in 2015 to the San Manuel Amphitheater where it currently resides today. After having an absolute blast at the 2015 edition of the event I was ready to have a wonderful weekend on my 4th trip Beyond Wonderland.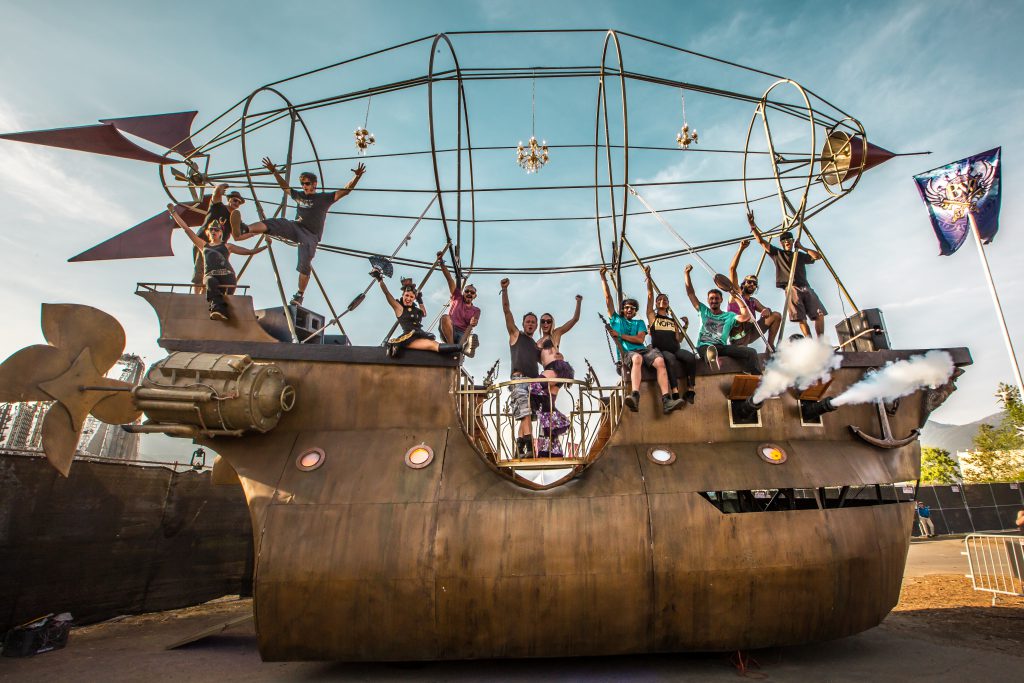 I told myself that I was going to make 2016 different from years past and the cards must have fallen in that favor to speed the process along. With a stellar lineup that included a wide variety of artists I looked at this event in a different light than past editions. Having a stage devoted on Friday to Dreamstate and Saturday to Bassrush was exciting for me as I personally love both genres that would have artists populate those stages. To top it all off, seeing that one of the acts announced for Dreamstate would be Ferry Corsten Presents Gouryella shot me through the roof.
You're telling me that I get to witness a set that I never thought I would get to experience first-hand? Stop. I have always dreamed of seeing Gouryella, and this event was about to make my dream come true.
Top that off with other notable acts ranging from Datsik and Deorro to Ghastly and Alesso with some Pure NRG sprinkled on there for good measure and I was locked in. To be completely fair, one of the most seen complaints about the events that Insomniac has been hosting has been the "staleness" of their lineups. I don't think that those complaints really hold any truth to it. Sure, the main stage might circle similar names, but the side stages are definitely where it's at and those have been killing it as of late. But enough about the lineup, let's talk about the event itself.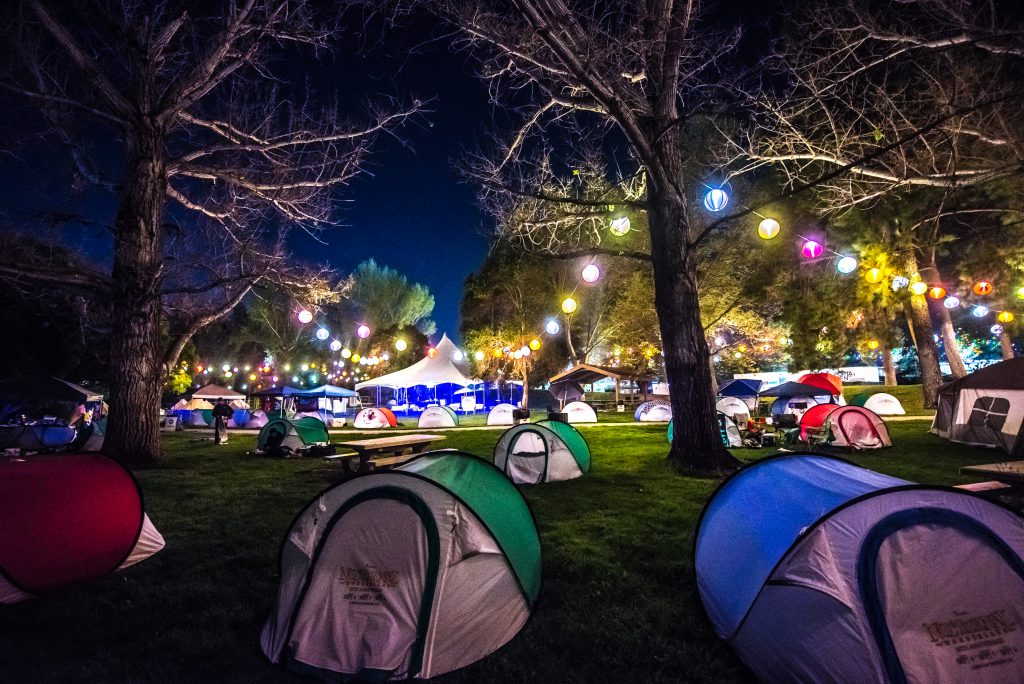 Camping at Beyond Wonderland SoCal 2016
When I mentioned earlier that I wanted to make 2016 different from the past times I've attended this event, I really ended up doing just that. How? Well I was presented with an opportunity that I never contemplated participating in before. "Are you down to camp?" is the text I received on Thursday before the event. Did I? I knew we had a room booked but camping would be roughly the same cost overall. I thought about it briefly and responded "Sure, why not?" Angel made the decision to camp and sometimes you just have to let things fall as they may. I hurried to pack up my gear, making sure not to forget anything, and then waited for Angel to get off work to head up there.
We arrived at the camping area around midnight and proceeded to the car search. Now, I've been through many searches at other festivals in the past so I know what to bring and what not to bring, this process seemed to be no different than before. Unfortunately for me I had the one security guard who was having a bad day. She must have seen how jovial and content I was and decided to simply try to ruin my day. Never once did she say please, and was actually fairly rude about the entire situation as I tried to accommodate her demands of "open this" and "what's that". I'm not sure why but she had this sense of actually trying to find something incriminating in that bag, and in all reality she found nothing. See, it's fairly easy to get through security when you aren't trying to bring anything illegal with you, but as the contents of my bag were all strewn about the ground she got a hit on something. She screeched, "Medic, Medic" as if she had just hit the giant pay-day she was looking for. Apparently my hair cream, beard oil, and supplement pills were a no go even though she said nothing about my shampoo, conditioner and the open water bottle. My prescription medication checked out, and she barked at us to move forward…which was delayed because every item of my backpack had to be placed back inside.
Honestly, that was the only negative thing I really experienced all weekend. Really, it was. Immediately after entering we were approached by two people from "Camp Ops" who completely turned that entire experience back around and brought some seriously positive vibes. They told us if we needed anything while in camp to get in touch with them so that they could assist us.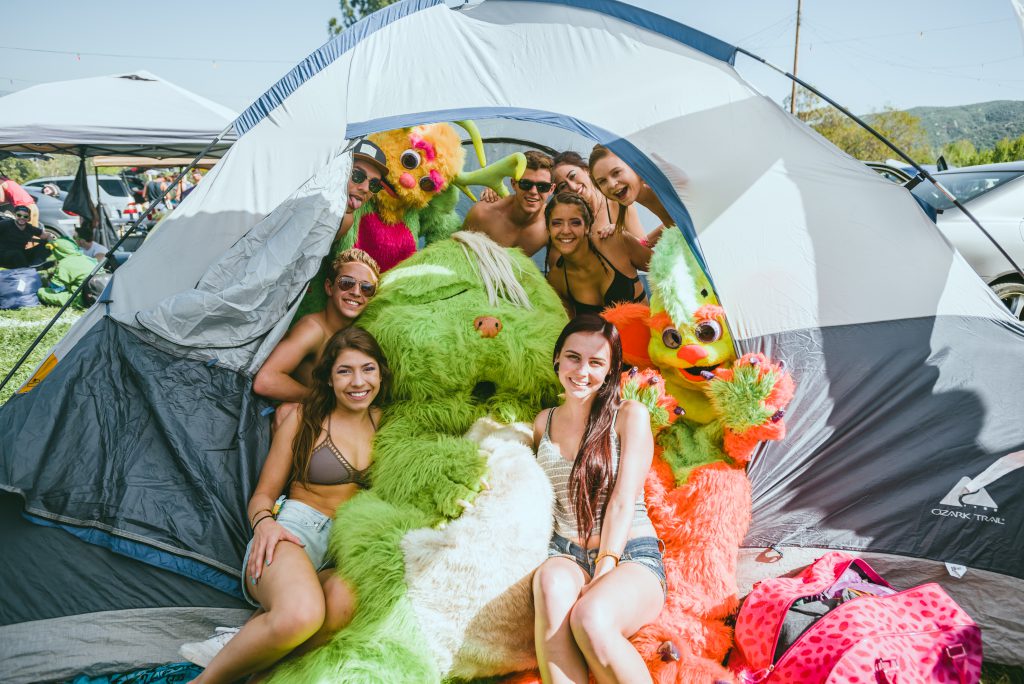 Angel and I arrived at our camping spot and set up our tent and canopy before locking up the car and venturing out to see what the happenings were in the campgrounds. We could see the production crew testing the lights, lasers, and pyro inside the festival grounds from our campsite and it only made me more excited for the following day. Throughout the camping area you could hear smaller groups of camps partying with each other. Each camp definitely had its own vibe and everyone was very welcoming, offering you their beer or music and everyone having a great time. But we were one a mission to get to where the main event was happening. There was a "not so silent" disco going on and I definitely wanted to be there. Chris Lake was the headliner for the night and after some truly awesome DJs opened he took the stage to blow the roof off of the place. One of the things that I enjoyed the most about the silent disco was that it was a very small, intimate setting for the duration of the set. After his set, Chris had time to chat with fans and grab some pictures before heading off. We briefly checked the merch booth in the campgrounds to see what was offered and then finally made the long walk back to camp.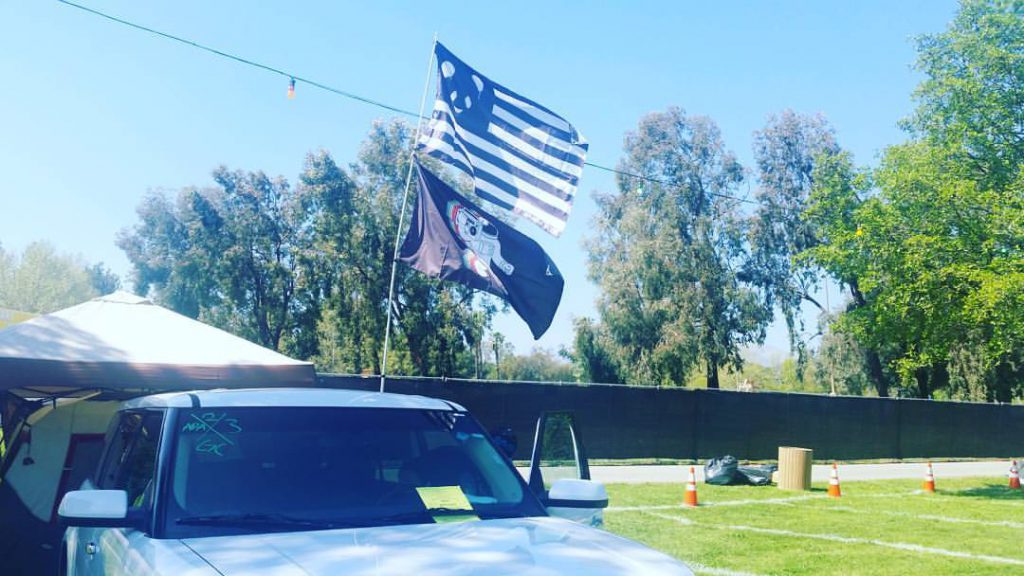 Waking up on Friday morning I realized that I had loads of time before the event and so it was time to once again adventure somewhere. The silent disco had turned into an arts and crafts extravaganza, so I headed that way to create some of my own. There were plenty of stations but I only ended up participating in two. First I got in line and had a custom Tie-Dye Shirt and Bandanna made. While I didn't get to actually do it myself, we picked the colors and chatted with the friendly staff that was helping make the process more efficient. After I checked out the kandi-making station before deciding to construct my own dream catcher instead. The rest of my time before the event was primarily spent creating that. After heading back to the car to charge my phone, I got ready to go inside the event for the first day.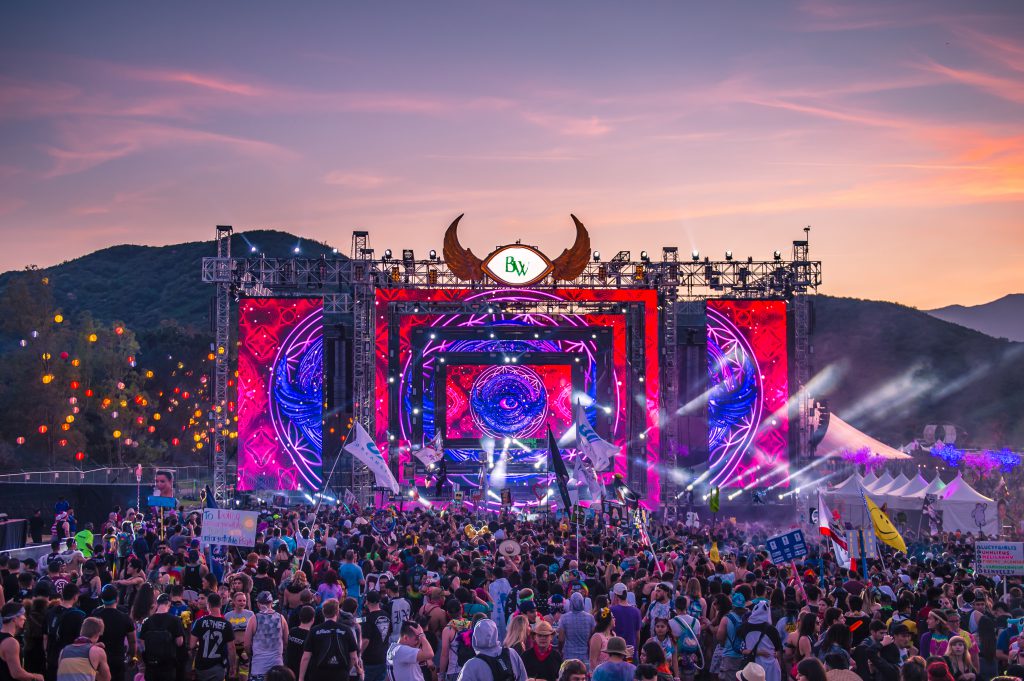 Beyond Wonderland SoCal Day 1
I had noticed that the map had shrunk in size for this year's event and I was slight concerned that there would not be enough space between stages. As I walked into the venue though, my fears diminished as I realized that the event was still being held on plenty of space. It was definitely hot during the day and the Dreamstate Takeover of the Outer Realm stage was already kicking into full gear. I decided to do my usual walk around the venue to check out everything and see what was interesting. EDM Identity favorite Adam Auburn was opening the festivities at the Queen's Domain, so I headed over there to check out his set. I entered the VIP area and noticed that the Upside Down Room was very well hidden from view as well. It seemed to be in its own little world and that in its own is cool. Friday for me was all about trance and I headed back to the Outer Realm stage to soak in some Jorn Van Deynhoven and Will Atkinson before venturing off to catch a bit of Vindata and Chris Lake. I returned to the Outer Realm during Bryan Kearney's massive set, and spent some time relaxing in the VIP area too.
Notable sets from the Dreamstate Takeover included MS54's set, which was as "trancey" as I've heard from them in a while, and a Pure NRG (Solarstone & Giuseppe Ottaviani) that was also amazing in its own regard. Andrew Rayel took the stage and it was a moment of contemplation for me. He was there in replacement of Paul Van Dyk and really hasn't been playing much trance as of the past few years. I decided that I might as well give him a shot, and I honestly had a great time at his set. Sure, it wasn't specifically the style of trance that many people were hoping for, but it definitely wasn't a bad set either. But then, the moment I was waiting for, it was time for Ferry Corsten Presents Gouryella. At this point my legs were fairly dead so I spent a good portion of the set just sitting down in awe of how amazing it was.
I would say that, hands down, Ferry Corsten Presents Gouryella was one of the best trance sets I've ever experienced in my life.
When the set finished I headed back to camp, and passed out due to pure exhaustion of the day I just had.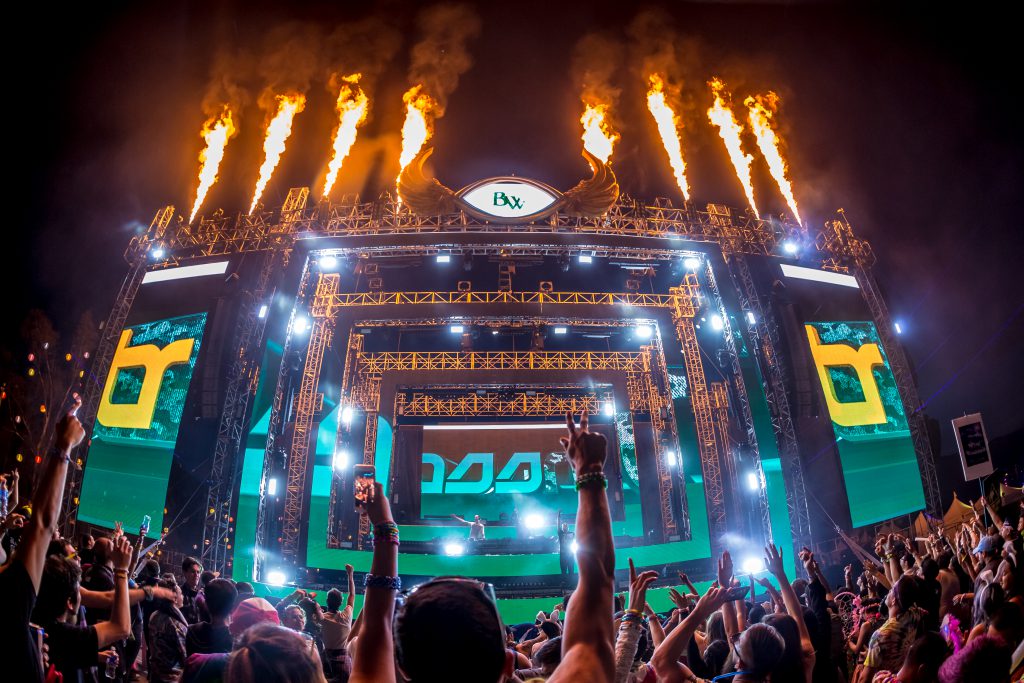 Beyond Wonderland SoCal Day 2
I woke up on the second day of Beyond Wonderland and felt rested and ready to go. I ventured into the camping area a bit and grabbed a free breakfast from the Plurways Group. You might know them as the people who hand out kandi that promotes their Christian Church, but having never actually met any of them before I figured "why not?". Honestly, they were very nice and were giving away free food to anyone who wanted some. Two pancakes, two sausages, some great conversations, and no one ever pushed anything religious on me the entire time. I grabbed my towel, took a shower and got prepped for the day.
Now, I was a bit conflicted on the second day as to who I would see during the event. After starting my day at the Outer Realm with Lumberjvck for the Bassrush Takeover, I actually spent a considerable amount of time at the Queen's Domain. I had an absolute blast meeting some very interesting people in the VIP section and the music was good to boot. Sleepy Tom and Klingande surprised me and I definitely enjoyed both of those sets due to the cool vibe they brought. Things got a bit wild during Slander's set, at the end of which the boys brought NGHTMRE out to announce their show on July 2nd in LA. After Slander came Alesso and my god was that set one of the most impressive ones I've heard in a while. Hate all you want on Alesso, but the man can sure play a great set that I did not see a single person not enjoying. After Alesso I raced over to the Bassrush Takeover to catch NGHTMRE who had replaced Doctor P and switched slots with Ghastly. After his epic set ended, with the same announcement with Slander, Ghastly was up. His set definitely did not disappoint and even his delayed flight couldn't bog it down. I had an absolute blast with the high energy he brought with him. The night was coming to a close and I had to make a decision between two of my favorite artists. I had intended on heading back to catch Deorro at the Queen's Domain, but ended up deciding to stick with Datsik to close out my Beyond Wonderland Experience.
Datsik played such a dope set, the entire crowd was feeling it and the vibes were unreal. Towards the end of his set he thanked Insomniac for providing one of the best stages he's ever played on and proceeded to drop some Red Hot Chili Peppers for the crowd to sing along to. We hit 2am and the sound was turned down, forcing Datsik and the fans in attendance to finish the song strong without the music playing. It was pretty insane to hear everyone belt out the lyrics and close out the night on such an awesome note. The party didn't stop there though as it was time for the last night of the silent disco. I threw another jacket on because it was pretty cold out and headed over there to see what the party was all about. Everyone was there, dancing and having a great time but all in silence which is weird to watch. The sound quality on the headphones was amazing though, and the beats that were hitting my eardrums were on point. Pasquale even joined us for a bit, meeting fans and taking pictures while everyone went about their nights. It was really nice of him to come hang out with us, it shows how much he loves the people who attend his events.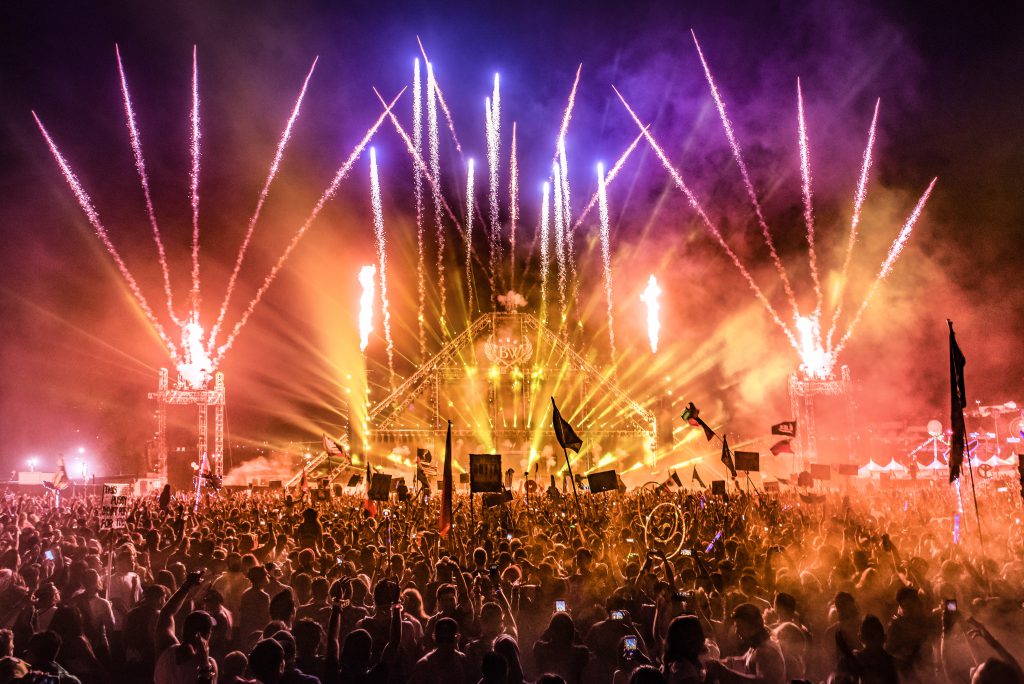 Final Thoughts
I'll be honest, going into this year's Beyond SoCal I had no idea what to expect. I said "Yes" a lot more than "No" and it really ended up being one of the best experiences I've had in a long time. Now that I've camped at San Manuel it definitely is something that I plan on doing in the future. It was so convenient to be so close to home, not worry about driving or traffic, and the amount of amazing people who I met in the campgrounds was insane. I cannot wait to see what Pasquale and Insomniac Events has in store for Nocturnal this upcoming Labor Day, I'm sure it is going to be one hell of a good time!
---
My Top 5 from Beyond Wonderland SoCal 2016:
Ferry Corsten Presents Gouryella

Alesso

Bryan Kearney

Ghastly

Datsik