This month's edition of What We Like is focused on Vocal Trance!
---
The What We Like series focuses on a sole genre that a contributor to the team is passionate about. Our intention is to not just to provide some music for you to listen to, but to guide you on your journey in discovering new genres. Join us as we explore the sounds found in the genre Vocal Trance!
---
Hello readers, and welcome to another edition of What We Like.  This month we're discussing Vocal Trance – a sub-genre of … you guessed it… Trance!  It only felt appropriate since were in the month of two of the world's biggest Trance events – Transmission Prague and Dreamstate SoCal!
So what is Vocal Trance?
At its root, it probably feels rather obvious – it's Trance with Vocals.  Okay, all joking aside, Vocal Trance represents a slight departure within Trance, allowing the melodies that typically enrapture the listener to give way to vocals.
Vocal Trance can be softer in tone like Progressive Trance, it can be edgy like Tech Trance, and it can be uplifting like Uplifting Trance. The key to the genre is ensuring the center point of the production radiates from the vocals.
Also, it may seem stupid to state this – but the vocals can be either male or female, so don't go thinking Vocal Trance is only female vocals.
---
The Way-Back Machine Into 2000's Vocal Trance
Longtime fans of Trance will no doubt recognize the genre fairly quickly.  Almost every major producer at one point in their career offers a Vocal Trance tune.  In this section, we want to offer some newer listeners to the genre a selection of tracks that represent the genre with ease!
Solarstone & Alucard – Late Summer Fields (Deeper Sunrise Mix)
The combined forces of Solarstone and Alucard creatively designed this gem for Solarstone's album Rain Stars Eternal.  "Late Summer Field" represents Vocal Trance through its sublime blending of Trance tropes and a male vocal performance just as catchy today as it was when released in 2007.  Ironically, the male vocal performance comes from Solarstone himself!  I chose the Deeper Sunrise Mix to share because I felt it best showcases not only the vocal but many of the aspects that makes Progressive Trance such a joy to listen to.
Markus Schulz ft. Anita Kelsey – First Time
Back in the early days of Coldharbour Recordings, one would find the tell-tale sounds Markus Schulz original darker take on Trance.  Though the Trance is much darker in its approach (goodbye Uplifting), the vocal line delivered by Anita absolutely envelops the listener while the soft keys of the lead melody gravitate us towards bliss.
Store N Forward ft. Mils Brokes – 4 Seasons In One Day
Another male Vocal Trance tune – and admittedly one of my favorite tracks on vinyl.  There's plenty to peel back here – an upbeat tempo, a signing main lead, the catchy lyrics that somehow radiate both desire and loss.  "4 Seasons In One Day" epitomizes the beauty of Vocal Trance while remaining bare the structure that makes it so emotional.  It just brings a package without any fluff – straightforward and driving.
Armin van Buuren vs. Rank1 feat. Kush – This World Is Watching Me
Then you have Vocal Trance like this storming gem from industry giants – Armin van Buuren teaming up with Rank 1.  The vocals from Kush also provide two aspects to the genre – one: chopped vocals for instrumental effect, and two: lyrical stylings that remain catchy even as a track ages.  There is no doubt Armin could drop this at Dreamstate and it would still sound just as good as it did when he first aired it.  A classic example of Vocal Trance is this one!
---
What About The Modern Era?
It's hard to imagine the popularity of Vocal Trance completely dropping off, so let's look at some modern examples.
Kamio K & Sue McLaren – Call It What It Is
There's no doubting the Psy-Trance influence on this production.  Triplet bass line patterns and running note progressions are tell-tale signposts for the Psy-Trance genre.  Layered on the top though is an effortless and sublime vocal from Sue McLaren.  A mainstay of Trance's stereotype – the breakdown's piano motif – rings true in this track.  The build serendipitously raises the energy's stake before giving way to the darker Psy-Trance elements again.
Cosmic Gate & Sarah Lynn – Folded Wings (Rafael Frost Remix)
Anthemic Vocal Trance can be tricky but Rafael does a wonderful job taking this touching track from Cosmic Gate and Sarah Lynn and catapulting its appeal across genres.  Both gritty and airy, the track moves between moods with little hindrance.  The melodies reverberate throughout the track but never steal away from the touching vocals Sarah lays down.  "Take these folded wings, I am ready." Bliss!
Bryan Kearney & Plumb – All Over Again
There's no denying this track is the epitome of Vocal Trance.  Plumb's beautiful voice instantly grabs the listener's ears – radiating positive vibes and joy with a drip system right to the heart.  "All Over Again" also showcases the amazing punch of one of Trance's biggest rising talents in Bryan Kearney.  Softly rising pads accent the energetic synth choices, which he uses deftly, layering and filtering to each instrument, to give rise to simple, beautiful emotions.  This just oozes the right motifs to share the genre of Vocal Trance.
---
Feeding the Vocal Obsession
Now that we dove through what's in the genre – both old and new – you may be wondering what outlets you can use to find additional Vocal Trance to feed the inner craving.  We're taking you beyond individual releases now so, ease those worries, we've got you covered!
First of all – the easiest recommendation is the Vocal Trance station over at DI.fm. 
The station blends a selection of DJ mix-shows and singles and runs all day every day.  Digitially Imported curates a bounty of musical tastes and dedicates a good amount of its bandwidth the subgenres of Trance.  Access is easy – just swing over to DI.fm and click on channels.  Then select either Vocal Trance or Classic Vocal Trance if you want to join the "way back machine."
Second in our trip to Vocal Trance awesomeness – some radio shows to enjoy!
For a big name with ear grabbing potential we recommend checking out Pedro Del Mar's "Mellomania Vocal Trance Anthems."  Pedro del Mar has worked with Roger Shah for almost as long as I can recall – so you know that you'll find quality music spread throughout the mix session.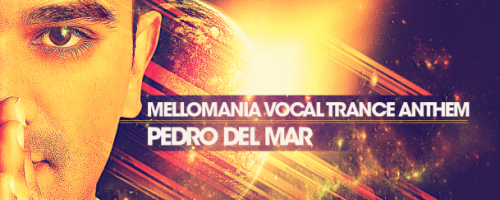 A personal choice is also DJ GT (and formerly Project C) Voices Of Trance series, where Trance is often replaced with a month or season.  They've been mixing this series all the way back to the early 2000's and it still lives on today under the guidance of DJ GT (aka Generation Trance).  The series focuses more on stylistic traits that they artists feel represent the given period in question, rather than worrying about the most up-front music, so expect a bit slower melodies during the winter and beach vibes in the summer without regard for the latest and greatest all the time.
For the above shows, you can find many of the episodes on your favorite streaming platform (SoundCloud or Mixcloud), on-demand at DI.fm, or of course tune in live over on the DI.FM stream by checking out their calendar.
---
The Wrap-Up
Vocal trance beautifully blends the joys of the journey in Trance and the wonder of well-crafted vocals made possible by producers honing their craft and blending their talents with singers.  There's no reason not to enjoy the genre when it reaches for excellence, and there's no doubt a bounty of examples we could have chosen here.
We'd like to remind you – that with every genre, there are tracks you'll love and tracks you'll dislike.  Vocal Trance is no different, but edge beyond the comfort zone and you'll find plenty to love within the genre… perhaps even crafted from the hands of your favorite Trance producer.
---
Let us know what genres YOU would like to see in the future in the comments and stay tuned for next month's edition of What We Like!
Check out past editions of What We Like below:
Hardcore | Future Bass | Nu-Disco | Real Progressive House | Tech Trance | Video Game Music | Electro Swing | Dubstep | Uplifting Trance | ChillHop