Markus Schulz talks Groove Cruise, Dakota, The Nine Skies, & More! 
---
Markus Schulz is a legend in the electronic music scene. He's produced music since the early 90's and has huge accomplishments under his belt like multiple artist albums, being the founder of Coldharbour Recordings and Schulz Music Group, releasing many tracks that fans have come to love, and playing the biggest stages worldwide. Recently, rejoicing fans across the globe have become so excited to know that Markus is bringing back a side-project from years past — Dakota. With the comeback of Dakota, Markus is releasing a new album, The Nine Skies, which he has stated truly reflects his inner-self. On this new album, Markus hopes to truly touch fans and help listeners in any way that he can through his music. We were able to speak to Markus on Groove Cruise Miami… check out what he has to say about Groove Cruise and his new album below.
Learn more about The Nine Skies here!
Stream Markus Schulz presents Dakota & Koen Groeneveld – Mota-Mota on SoundCloud:
---
As a Groove Cruise veteran, what keeps you coming back year after year?
Hanging out with all the people. Partying with the people. Not just partying, just hanging out… breakfast, dinner, you name it. You get to meet a lot of people who come to your shows, but you don't get to really hang out with on a personal level elsewhere. For me, that's what I really love about Groove Cruise… being part of the Groove Cruise Family.
If you could pick one craziest, favorite memory of Groove Cruise what would it be?
Wow, well there's been so many. Can I say my favorite? My favorite was last Groove Cruise when we were pulling into the port of Miami, Roger Sanchez was playing a classic set right out on the deck. As we were coming into the port, the buildings were around us. It was great because all the Groove Cruise family was there, and we all climbed up on the stage. There were more people on stage than out in the audience because we were all just crammed. They were afraid the stage was going to collapse. It was a beautiful moment and we were all just celebrating.
It's awesome that you had a Coldharbour stage this year. Did you give the other artists any pre-Groove Cruise tips?
Oh no, no. They have to learn… and not only that, but you never know, sometimes ignorance is bliss, right? You know, they just kind of come in and do their thing. I like them to do their thing. I don't like to put any of the artists that I work with or that I'm involved with in a box and say "this is your box, stay in it". You know? I just hope they can feel the vibe, the party atmosphere, and roll with it.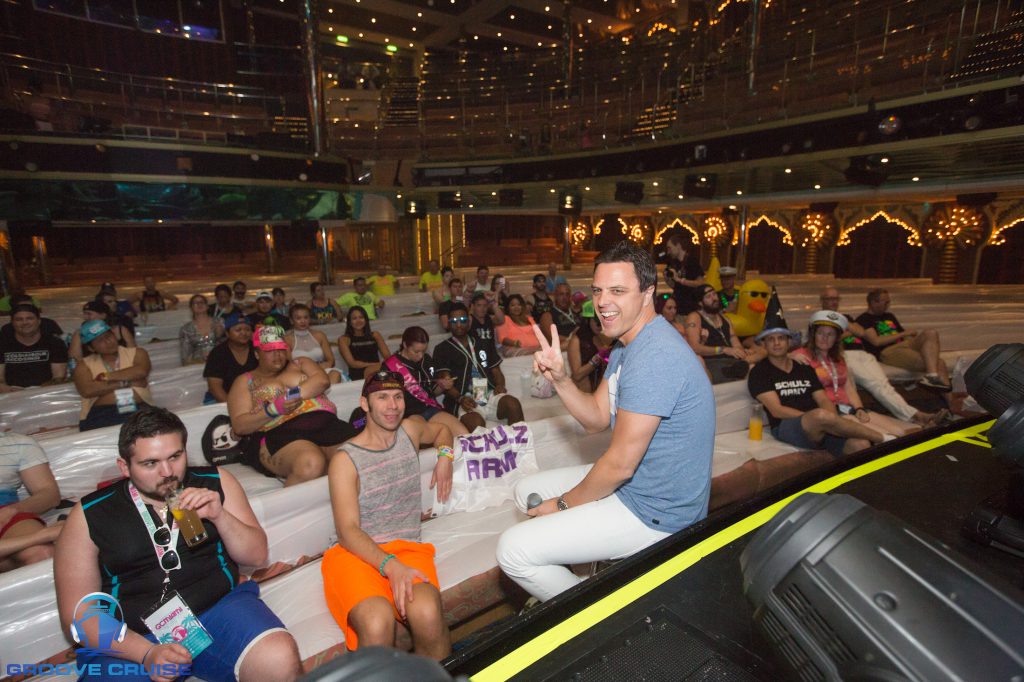 Your fans are really excited about you bringing Dakota back, what motivated you to bring the project back?
I think that after I finished the Watch The World album, with all the shit going on in the world, I wanted to do something a little deeper and make people stop and think. It's called The Nine Skies and it's about the nine steps that we go through in life to enlightenment. One of the first chapters is the follower, you first have to be a good follower before you learn to be a good leader. There are so many people who are kind of stuck at that level and you know, with all the shit going on in the world, you want to hate them. But on the other hand, it's almost like you want to reach a hand out to them and help them along or help them to the next step because they're stuck there.
Like I said, I wanted to do something deeper and something that was kind of within me. A lot of my fans have probably noticed, but four months ago when I really started getting deeper into this, I just stopped doing social media. I stopped snapchatting. I needed to reflect and look what was inside of me, and not be like "hey we're at another party". I would go do a show, and then go back to the hotel room, and work some more. Like I said, I really wanted to do something deeper and kind of look inside of myself for that.
How did you come up with the concept of The Nine Skies?
It comes from Reiki. In Reiki, they talk about The Nine Skies as the steps that people go through in re-incarnation. As I was kind of learning and reading about it, I realized that these are steps that people go through in one lifetime. We all go through these steps in our lives, from the follower to the nirvana, which is the ninth sky. We all go through these steps in one lifetime. I wanted to put together this concept, almost like a life coach, because I was talking to a life coach who is a friend of mine, and it kind of inspired me talking to my friend and hearing his energy and everything… and then people telling me that the music helps get them through dark times, so I wanted to give them something of substance to help them through sometimes. Not just a drop, but give them something, a whole message.. and you know, I'm very proud of it.
When producing as Dakota, since it's a darker side of you musically, is there something different you to do get in that creative mood?
Yeah, I mean, first thing, like when I was doing the Watch The World album, I got together with the singers and we wrote the songs, the lyrics, and everything. Just kind of based on us as a community, you know the trance family as a community, writing lyrics that we can all kind of relate to. But with the Dakota project, I looked inside myself. I went and did soul-searching. I think that's the biggest difference. I wanted to give a piece of myself, my soul, to my fans, or to anybody who is listening. The Watch The World album is a reflection of you guys, what I'm writing about, what I see.
With such a busy tour schedule, what do you do outside of music to keep yourself healthy and motivated?
Lately, I've just been in the studio! Other than that, I love playing basketball. I love sports. I love riding my bike… you know just kind of clear my head doing stuff like that. I try to stay as active as possible when I'm not on the road and sitting on an airplane.
If you could pick one of your many accomplishments, that you would say is your greatest, what would it be?
Wow, um, waking up this morning after last night. No, but really, I would have to say the open to close the solo sets that I do. Those are, for me, you know… I can't point out one specific one, but every time I finish a 12-hour set, I get back to my hotel room and it takes me a while to come down from that. Because for me it's just so inspiring. I think to be able to do that, for me, I never thought I would be able to do something like that at that high of a level. We all have an iPod with a playlist that goes over 12 hours, but to actually play live 12 hours in front of people… you know, I think for me, that's one of my proudest things.
What's one goal for yourself in 2017?
To make a difference. To make a difference and help people. Like I said, I really looked inside of myself, and I want to give myself. I think it was funny because someone asked me when I was doing the Watch The World interviews, "What's next for Markus Schulz?" I said, what's next, is my legacy. That's really what I'm working on now, is just giving myself and trying to leave a legacy.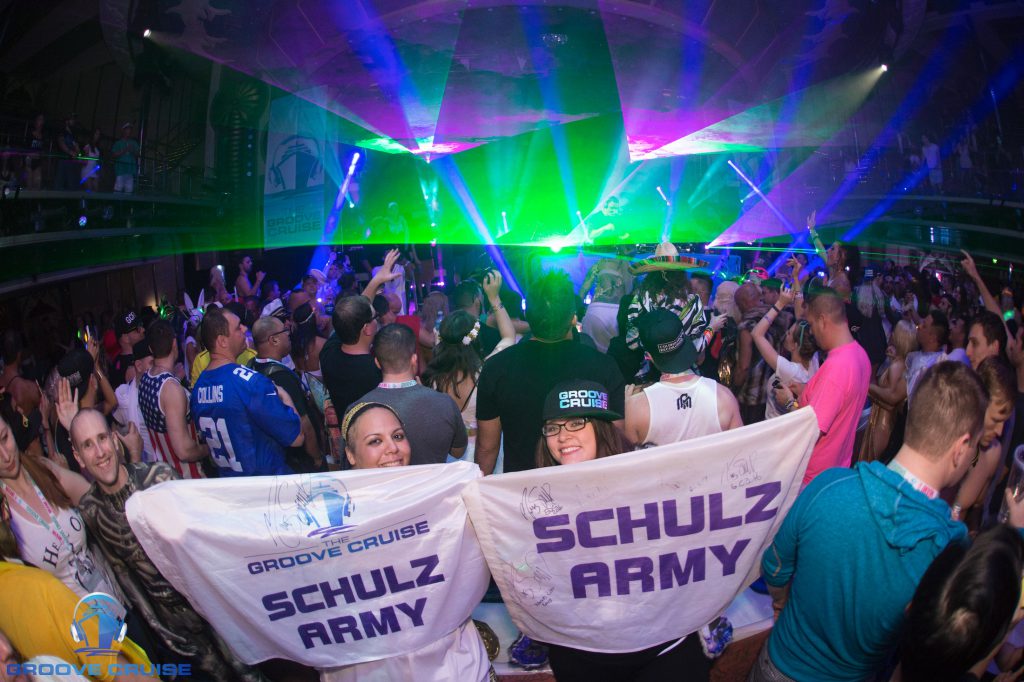 ---
Follow Markus Schulz on Social Media:
Website | Facebook | Twitter | SoundCloud | YouTube
Featured Photo Credit: Veranmiky