Immerse yourself in the beautiful memories as the EDM Identity team relives the moments that made 2018 a spectacular year as we chased the beats we all adore!
---
This year has certainly been a whirlwind of fun, escaping the reality of our day to day lives for the chance to move and groove with dance music families across the globe. Whether it be getting down in the club, shaking our tail feathers at our favorite massives, or vibing out at an intimate event, all of us at EDM Identity will end the year with memories that will last a lifetime. It is within these special moments that we are reminded just how lucky we are.
We are part of a unique movement where we can celebrate our common interest among our brothers and sisters of dance music, together as one. While our personal favorite moments do hold an individualized spark in their own right, it is the realization that as a whole we can all relate. So, read on as the EDM Identity team breaks down their favorite moments of 2018 and be sure to tell us your favorite moment in the comment section!
EDM Identity's Favorite Moments of 2018
---
Maria's Moment – Bonding with friends at my very first house music event
This year has been quite the flip for me as I chose to place my trance escapades up on a shelf while I dug deep into the realm of house and techno. On a whim and through a few well-placed nudges from my festie besties I made my way over to Dirtybird Campout East for their Florida debut. Little did I know that my musical taste would evolve in a flash as I was swept away by the quirky vibes that run rampant through the Dirtybird family of incredible beat makers. But, what made the DBCE incredibly special for me was the bonding experience with my dear friends Tory, Erin, Tim, Ben, Christopher, and John.
On the last night, the rain had begun to fall down from the heavens and the music was touching each and every one of us in ways that unleashed a fury of laughter, hilarious dance moves, amazing conversation, and wild shenanigans that I will never forget. Everything felt so right and so refreshing as I watched my husband chase jellyfish totems while his umbrella bopped to the beat. It's moments like these that humble me as I feel so blessed to have found my true wolf pack. Friends who help ease my social anxiety and allow me to unleash my inner wild child without fear of judgment.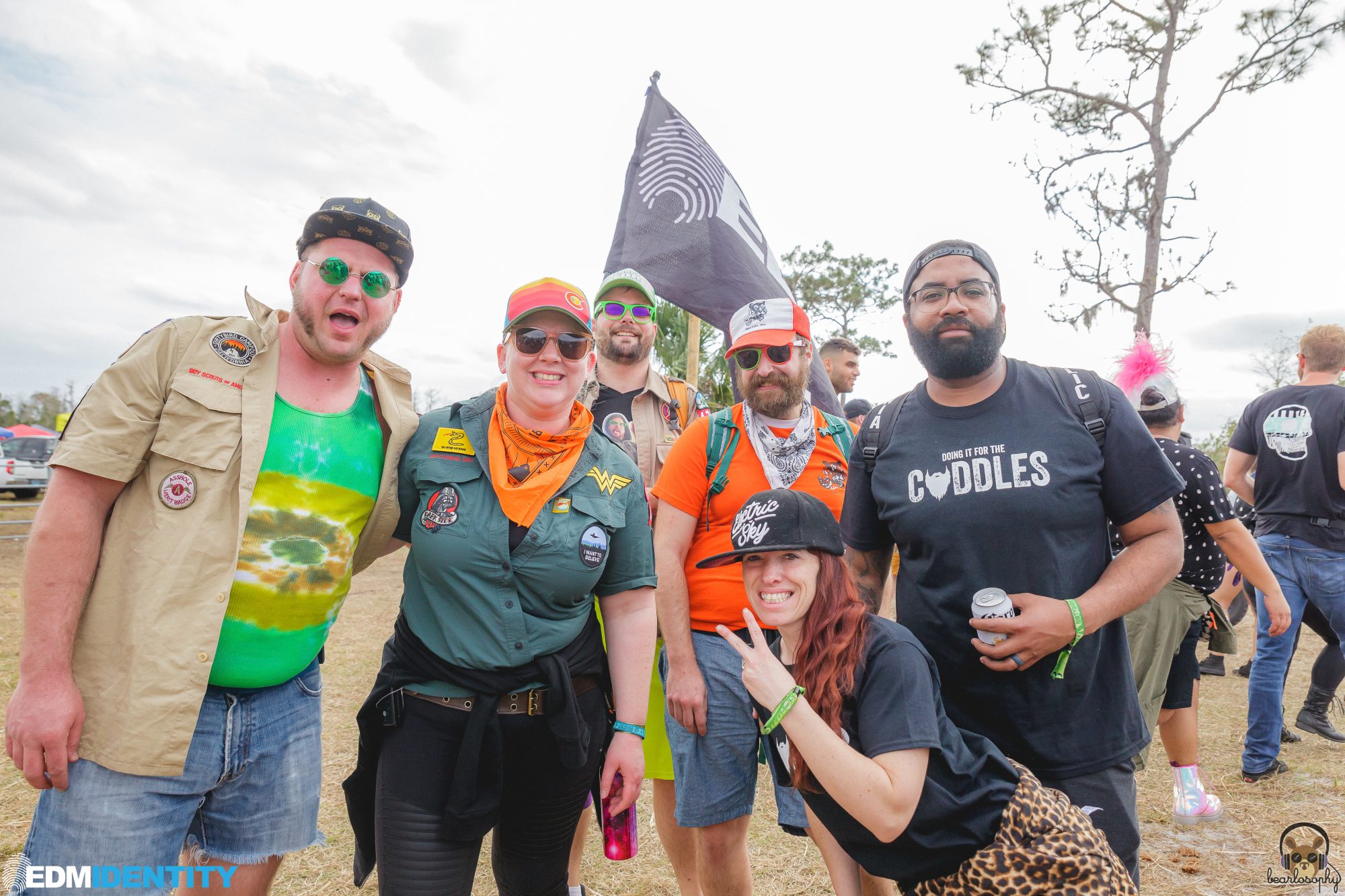 ---
Bill's Moment – Nora En Pure provides the perfect soundtrack for Origins 2018 sunset
Relentless Beats had blessed the Phoenix house scene with their first stand-alone house music festival, Origins. With an incredible lineup and a date during the middle of November, Origins 2018 was set to be a perfect day of great music and even better vibes.  While a house festival is a bit of a departure from the normal dubstep and trap artists that I follow, Origins had an amazing lineup and was being held at one of my favorite venues, Rawhide Event Center in Chandler, AZ.
Aside from getting to interview Arizona local DJ/producer, Sean Watson, the part of this festival I was most excited about was seeing a special sunset set from house maven, Nora En Pure. Nora's set, transitioning the festival from day to night, was a sublime mix of deep house and indie pop perfectly blended together. I was lucky enough to be joined at Origins by my editor-in-chief, Grant. About two-thirds of the way through Nora's amazing set, Grant and I looked at each other and both said, "wow"! Nora's set was so perfect against the backdrop of the setting Arizona sun, it was as if the two were made for each other.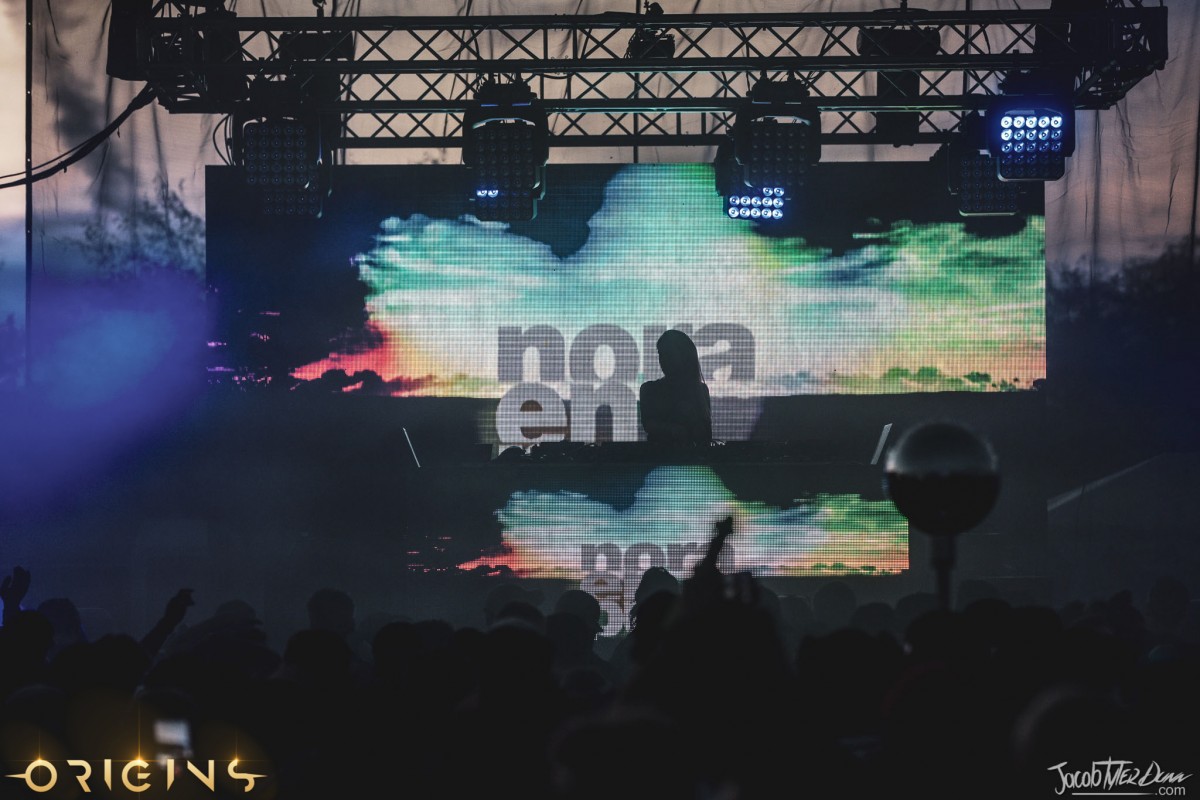 ---
Grant's Moment – Experiencing the first ever edition of Camp EDC
Since I first attended EDC Las Vegas back in 2012 the festival has become a permanent fixture in my list of "must-attend" events each year. Every time I head to Las Vegas and set foot on the grounds of the Las Vegas Motor Speedway, I'm transported to a different world that only my dreams could imagine and this year Insomniac added another dimension to the experience with Camp EDC.
So, on top of the fact that this year's edition of EDCLV was one of my favorites yet, I had a whole new experience with Camp EDC that left a lasting impact on me. While there were definitely some hiccups along the way, I had such an amazing time being able to hang out with my friends, make plenty of new ones, and get down during the pool parties each day.
It's hard to pick just one moment from the entire weekend that was filled with a ton of adventures, but the pool party on Sunday and then the after party on Monday really helped close this year right for me. On Sunday we took our excess beer to the pool party and handed them out, making plenty of friends along the way and having an absolute blast to celebrate that the last night of EDCLV was upon us. Monday's morning party was fantastic in its own right as well, as we got our last few hours of beats in before the random thunderstorm rolled through and ended the party with a literal bang.
If you weren't considering Camp EDC for 2019 I highly recommend you explore the option, this is an experience you won't want to miss out on.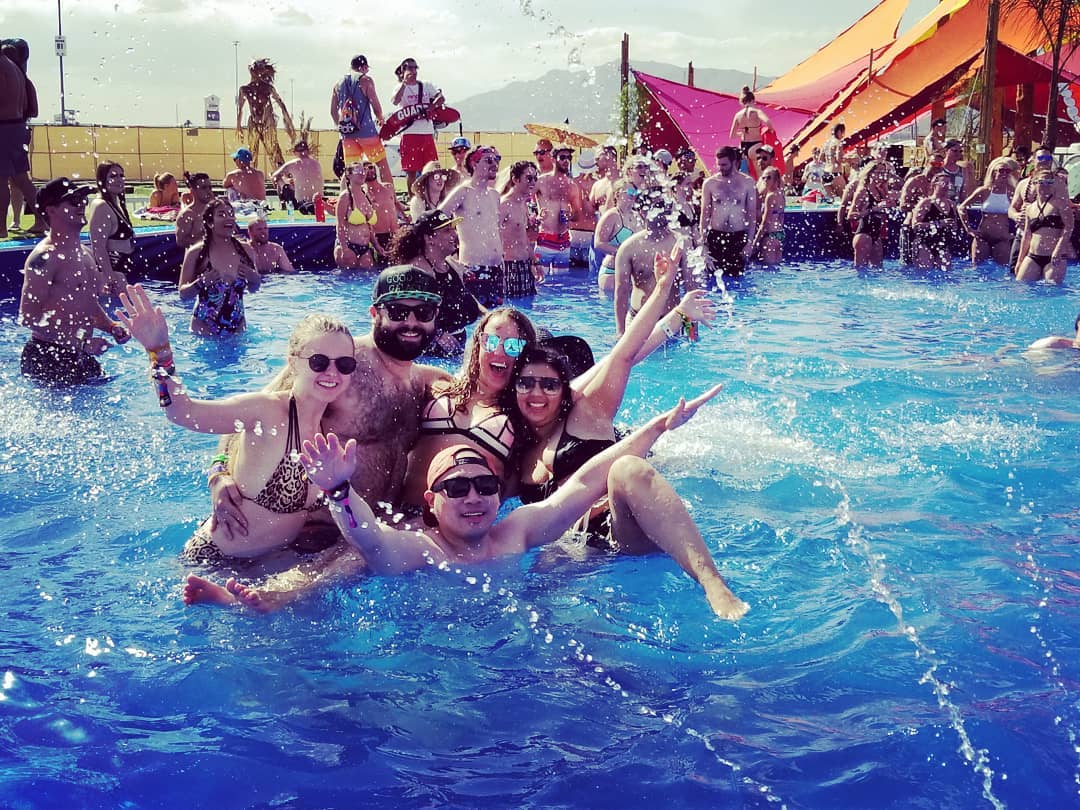 ---
Grace's Moment – RÜFÜS DU SOL's "No Place " hits home at Electric Forest
This year I finally decided to make the trek to Electric Forest and I couldn't be happier I did. One of my best friends, Sonya, and I drove all the way from California to Michigan in her truck, stopping to camp along the way in various national parks to see some beautiful sights throughout the country. A week and over 2,000 miles later we finally made it to Electric Forest, met up with our friends, and prepared ourselves for the whole new adventure that awaited us inside the festival.
Sonya kept telling me in the car just how special this festival was, but I didn't quite understand just how magical it would be until I walked into the Forest for myself. As night fell and it all came alive, I couldn't believe my eyes! Later that night, we saw RÜFÜS DU SOL play, and I'll never forget sitting on the grass next to Sonya as RÜFÜS played their new track "No Place". As I took in their beautiful voices singing the lyrics "There's no place I'd rather be," I looked around, feeling the magic in the air and the amazing vibes amongst the Forest Fam. I knew to my core that there truly was no place I'd rather be.
Sonya and I hugged each other as we felt the weight and beauty of the moment; we could feel it in our bones that the insanely long journey across the country was so incredibly worth it. We belted out the words with the rest of the crowd and felt so unified amongst all these amazing people who have also found a home in Electric Forest. There really is nothing like the Forest, especially when you get to experience it with the people you love.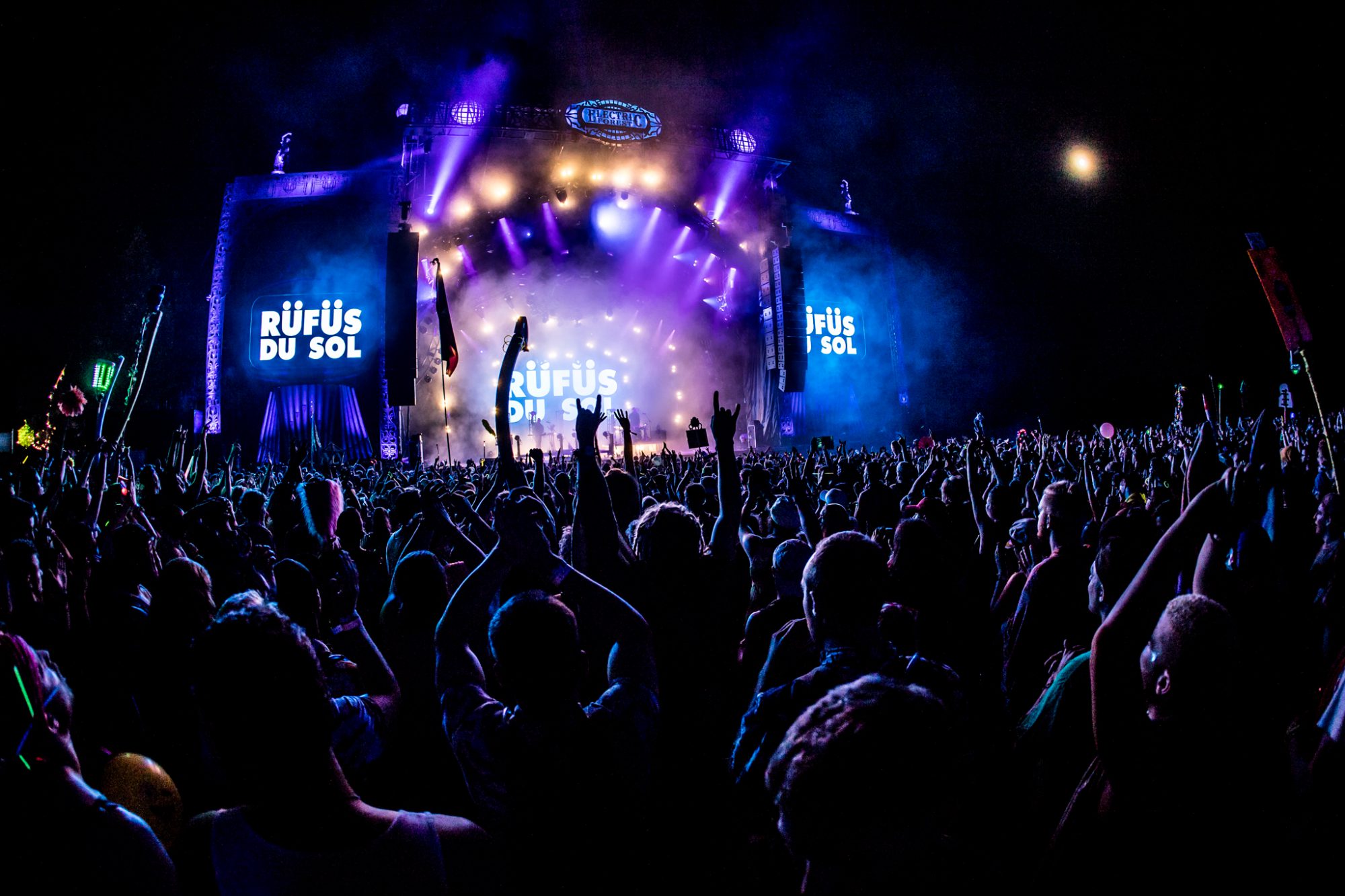 ---
Hanna's Moment – Finding myself in the Forest for the first time
This year I decided to finally venture off to different festivals outside of Bonnaroo. My friends always talked so highly about Electric Forest and encouraged me to go, so my best friend and I went out on a limb and bought our tickets two days before the festival. I knew this year was going to be the year I found myself surrounded by the beauty of the forest and I'm so glad I took the plunge and opened myself to the EDM community. I've met so many amazing people and got to see so many amazing artists perform.
I was so amazed by everything Electric Forest had to offer, between the lights inside the forest, trading kandi for the first time, and the unique festival fashion. I remember the first night dancing to the sounds of the forest and I couldn't believe my eyes! I was truly taken aback by the lights reflecting off of the trees and the sounds echoing from the stages. I have never experienced something as beautiful as this.
When I think back to that weekend, one of my favorite memories was squeezing my way to the front of Space Jesus' set. It was here that I headbanged at the rail for the first time ever. It was so intense that I could barely move my neck the rest of the weekend. As I reminisce all I can say is that I can't wait to see what 2019 has in store!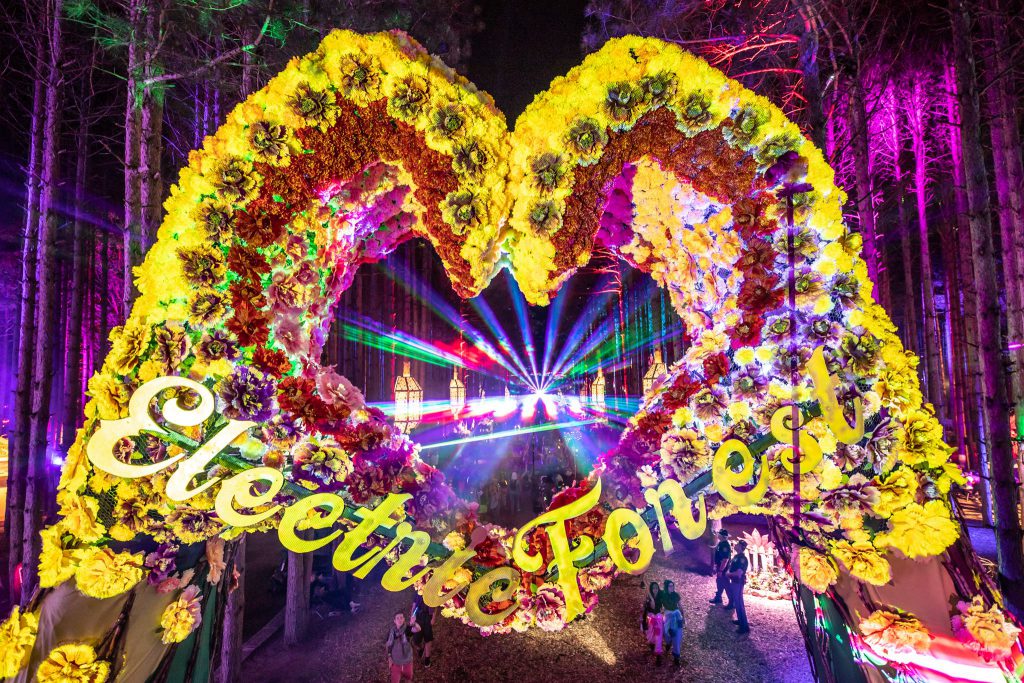 ---
James' Moment – Headbanging at the Heineken House during Zomboy's set at Coachella Weekend Two
This year I went to my first Coachella. It had been on my list of festivals to attend for quite some time now and I was stoked to be in the desert for three days. While the main Coachella lineup was phenomenal and what drove me to buy my ticket, I absolutely fell in love with the Heineken House lineup when it dropped a few weeks prior to the event. To my surprise, it was full of bass-heavy artists such as 12th Planet and Zomboy and I couldn't have been happier.
I told my group ahead of time that I was excited for all the artists at the Heineken House and I intentionally made gaps in my schedule to check them out. So, on the first day of Weekend Two, my friend and I went and checked out 12th Planet and were blown away by the sound system inside – it was comparable to bassPOD at EDC Las Vegas! I knew I had to come back later in the weekend.
On the final day of Coachella, I knew I had to see one of my favorite artists, Zomboy. Shortly after Cardi B's set, we headed over to get in line for some serious bass music. Zomboy played around 7 PM that night and although line was super long, we stuck it out and got inside for a majority of his set. He crushed it!
There's no better feeling than headbanging and throwing your body around, listening to Dubstep with some of your best friends. That's one of my all-time favorite festival moments that I'll never forget!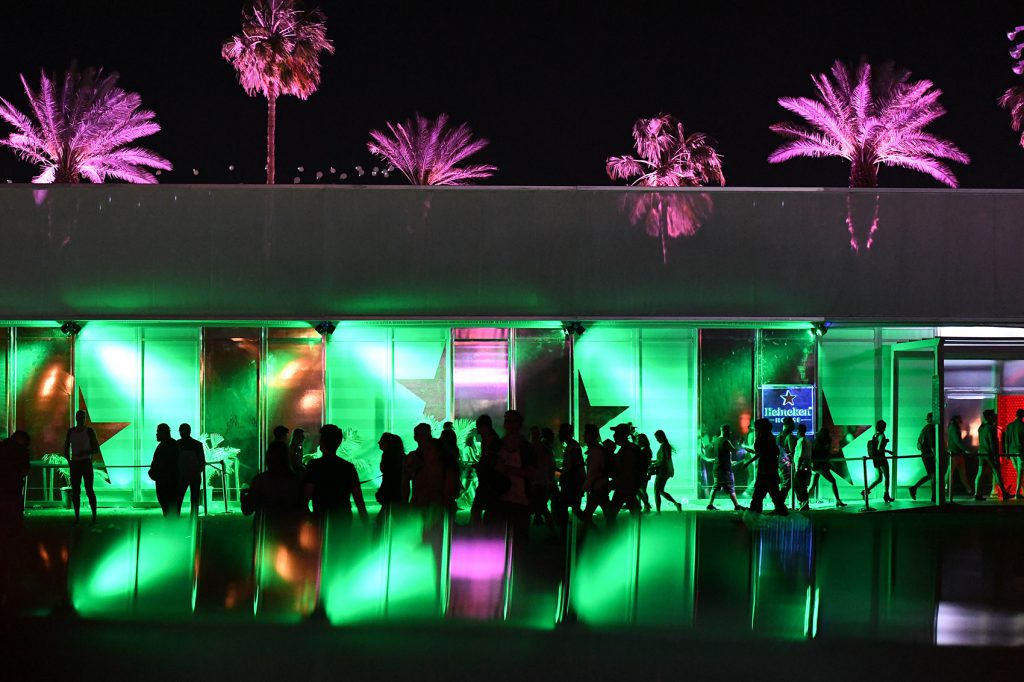 ---
Logan's Moment – Spreading the love at Red Rocks with my GRiZ fam
Few artists have the ability to bring people together in the way that GRiZ does and his show at Red Rocks has been one of my favorite weekends of the summer for the past three years. This year's edition of 'GRiZ Rocks' definitely did not disappoint. A handful of my closest friends and I made the three hour trip from Aspen to Denver on July, 13 with an anxious excitement on par with Christmas morning.
For only the second time ever we would be witnessing true future-funk greatness with the GRiZ Live Band; a fifteen person ensemble of some of the most talented musicians you've never heard of. GRiZ 's music has been near and dear to my heart ever since the first time I saw him at Summer Camp Festival back in 2013. His music has taught me to live my life with a sense of love and compassion in a way that I have never felt before from an artist or music of any kind for that matter. I have considered GRiZ my favorite artist of all for quite a while now, yet this year at Red Rocks truly solidified the fact that he is absolutely untouchable.
As the night unfolded GRiZ 's true talent shined as he masterfully orchestrated a reworking of old classics from his Mad Liberation, and Rebel Era albums, to brand new material off of Good Will Prevail for the fifteen-piece band. The set felt like I was hearing all of my favorite songs for the very first time, and the vibes on the rocks were out of this world. The live band experience was punctuated by GRiZ rocking front and center with his saxophone. As he belted his heart and soul through the golden horn out, the Red Rocks overflowed with love and positive vibes.
The love and kindness that come hand in hand with the GRiZ community is something that I have yet to find anywhere else in the scene. I am extremely thankful that I am able to share this love for not only GRiZ 's music but for the family of fans that we have created together with some of my closest friends. GRiZ fam truly is a beautiful thing, and Red Rocks is our annual family reunion that I will always attend. Remember… show love, spread love!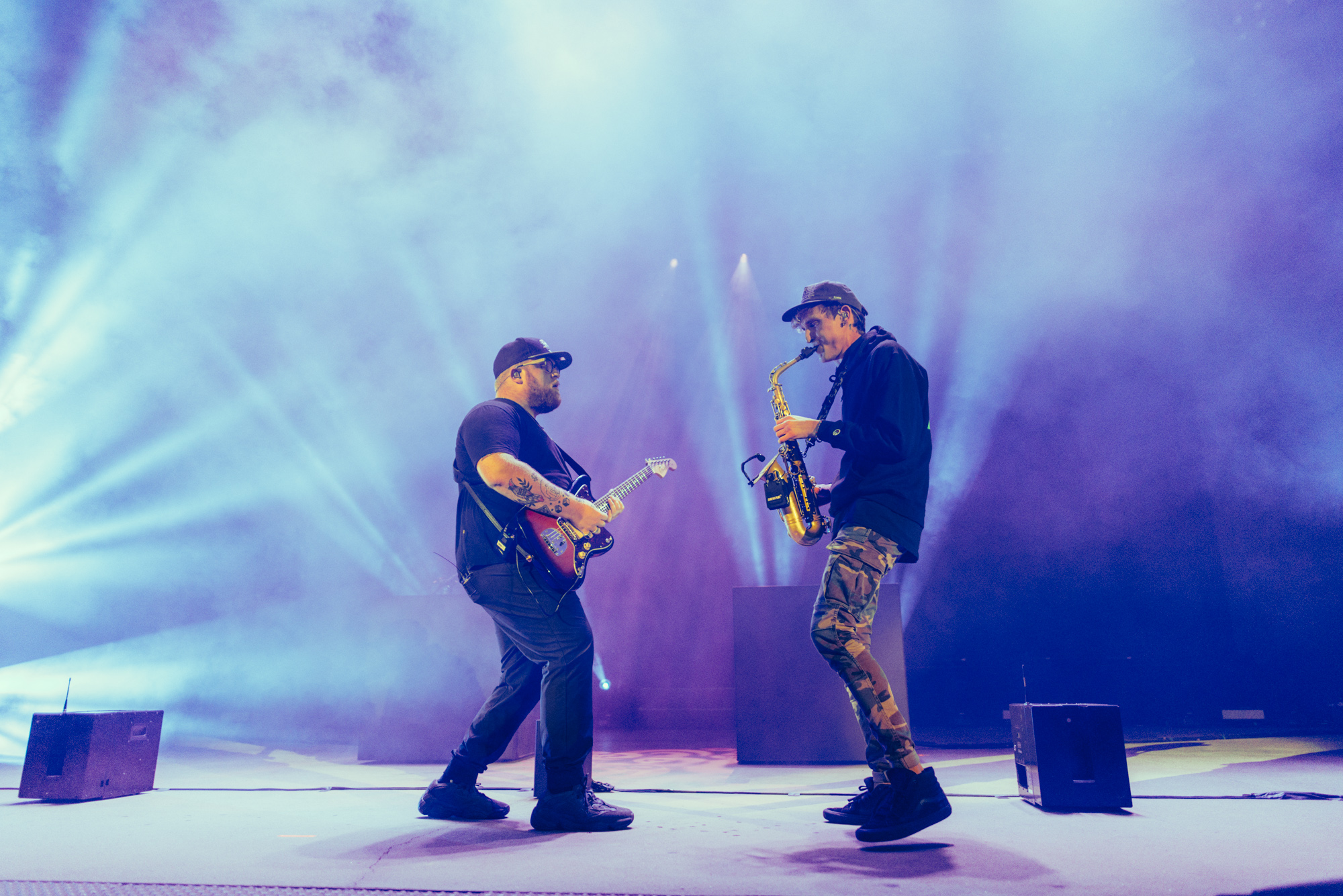 ---
Erik's Moment – Surviving HARD Summer
My first HARD Summer was hell. Instead of attending, I worked Ground Control, marking the sixth or seventh time I was wearing the wings. Packed into a building outside the festival grounds that acted has GC HQ, our bosses gave us a pep talk. "Some of you may be joining Ground Control for the first time for this event," they said. "Well, it might be the hardest one we've ever done." Having worked two EDCLVs in a row, I was skeptical. Could anything really be worse than fourteen-hour shifts spent falling asleep on your feet followed by two hours of unmoving traffic? At the time, I didn't think it was possible.
But then the temperature jumped into the 100s, the dust started to descend, and the drugs kicked in. People were overheating, fainting, and more. Headliners hid under whatever shade they could find, packing tightly into tents or shielded by their friends. Rows and rows of people sat against the barriers and fences, eyes closed as if waiting for it all to be over. Everyone was fucked up hard. Couples were fighting; asthmatics were choking, and we were distributing water as fast as we could, but at times it didn't feel fast enough.
Yet from that unrelenting hell came something powerful and memorable. From the 'go' moment every Ground Control team was actively making a difference at the festival. The conditions were so harsh that each hour was packed with life-saving decisions. Whether it was supplying water to people who desperately needed it or taking those unable to walk to medical, there was constantly things to do to help the headliners survive the night. Unlike the previous shows I worked, where I could spend hours wandering without finding anyone to assist, from the second the gates opened at HARD we were actively saving lives.
In the end, it was the hardest event I've ever worked — and most rewarding one as well.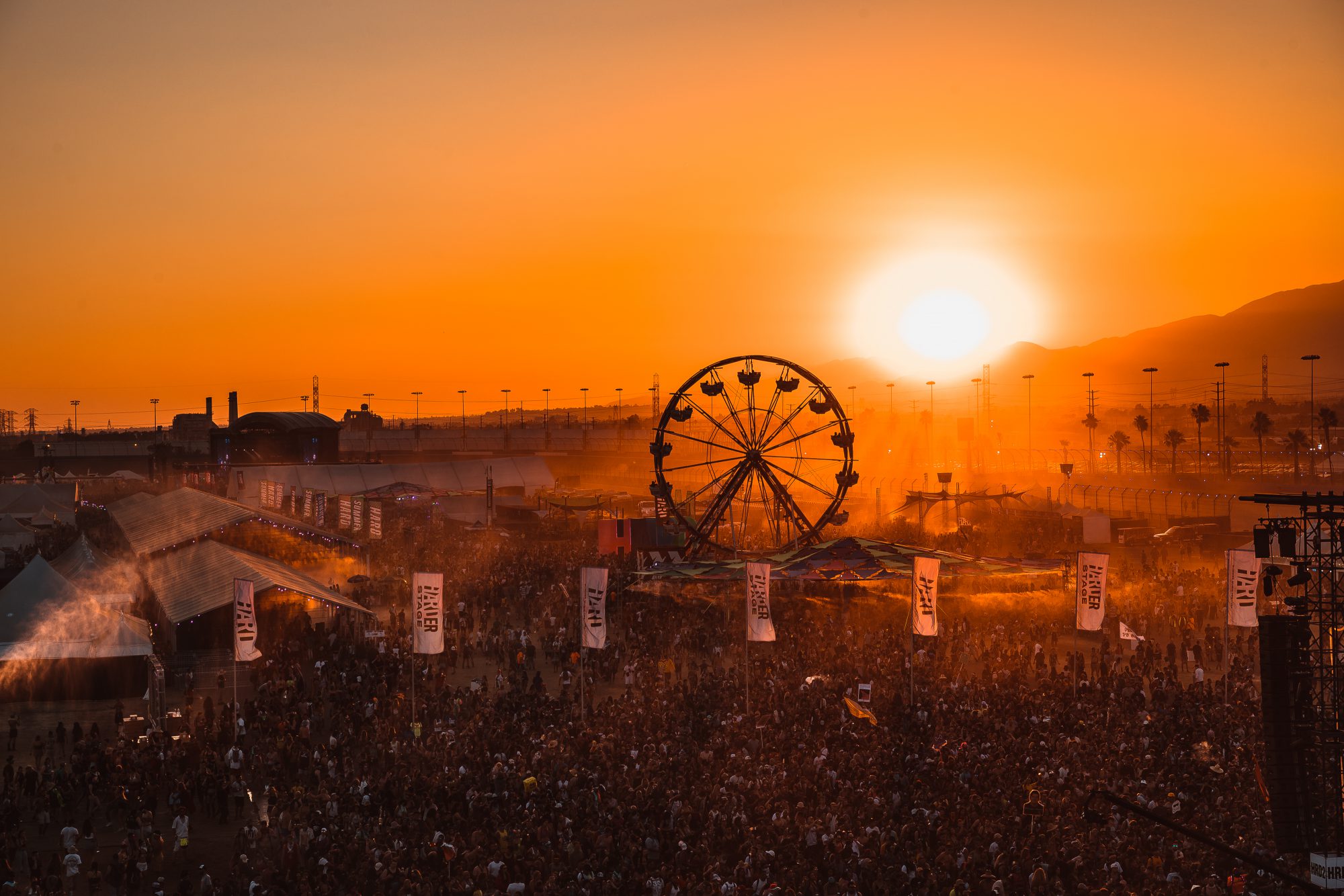 ---
Jayce's Moment – Coming home with Excision at Lost Lands 2018!
With so many monumental events this year, it was pretty difficult to settle on just one that would be my favorite, but I knew it had to be Lost Lands 2018! I started out my EDM journey with random tracks from Bassnectar, Flux Pavilion, Adventure Club, and other bass mavens, but I soon moved toward progressive house and trance and away from the wubs. I got sucked back into the world of bass with G Jones, Herobust, and Rezz at Bonnaroo in 2017, and bought my Lost Lands ticket on a whim. I only knew a couple of the names on the lineup and closer to the festival, I considered selling my ticket and not going. Little did I know that Lost Lands would be my saving grace, as well as my new home.
I went to the first Lost Lands with a group of random people who I had only met and talked to once throughout my college career. Though we arrived as strangers, we became closer friends than we ever could have imagined. I found my family in an electric sea of dinosaurs, headbangers, and heavy bass, and there was nothing that could have compared to my first time seeing Excision ever, which happened to be at the Prehistoric Paradox stage at Lost Lands. Since then, I have been an avid supporter of the artist and everything Lost Lands is.
Fast forward to Lost Lands 2018 – the first time since April 2018 that I was reunited with the same group I had attended the festival with the year before. There were so many circumstances which almost kept some of us from heading back to Legend Valley this year, but somehow, we all made it work. Though every set and every day of Lost Lands was something special, I'll never forget the feeling I had being surrounded by all my best friends when Excision took over the Prehistoric Paradox on the first night.
We all looked at each other in anticipation as we chanted "baby steps!" with the biggest smiles on our faces, thrusting our fists into the air and throwing our entire bodies in sync with each colossal bass stomp. I fell to my knees and sobbed to "Die For You" and held my friends to "Home", hugging them all and telling them how much I appreciated them. I'll never forget that feeling of finally coming home and being with everyone I consider my family. It's this feeling that will keep me coming back to Lost Lands for years to come!
---
Cristiaan's Moment – Returning to the Forest
There have been so many amazing shows and events in 2018, it's difficult to narrow down a favorite. If I have to, I would give it to Electric Forest. Forest has a special place in my heart because it was my first festival in 2013 and it distinctly changed my life in many ways. I'll never forget the first night of that year, Madeon came out to the Ranch Arena with "Technicolor" and blew me away like never before.
That moment made me realize how much of a ride I was in for that weekend. I had the chance to look around and realize how lucky my friends and I were, and how thankful I was to be there with them. It's one of those moments where you look around and think "Well alright, we're about to do the damn thing". What I didn't realize yet was how many other amazing artists I would discover, how many genuinely kind people I would meet, how the festival would influence me as an artist, and how much people are a part of why the scene is as beautiful as it is.
I returned to Electric Forest 2018 knowing it may be the last time I return for a while. I've attended four times in the last six years and I felt that it was time to start exploring other festivals and events. That being said, Forest is a staple for me. The amount of attention they place on creating a unique atmosphere that showcases talent through a variety of mediums is incredibly inspiring and fun to be part of. For the most part, people are operating on a similar wavelength and it wouldn't be the same without the energy everyone exudes.
Being from the Midwest, Forest is a reunion of sorts. I get to see a lot of good friends and faces that I sometimes only get to see there. Having been there before, it's really like coming back to a home away from home. Some highlight sets of the weekend for me were Medasin, Shallou, Bonobo, RÜFÜS DU SOL, Chris Lake, Boombox Cartel, and CharlestheFirst. If one had to take the cake it would be Medasin's set on the third night at 2 AM.
I'd been looking forward to seeing him for a while and it was the first opportunity I was able to. I think part of what made it great for me was the diversity of the set. It was dynamic, combining deep, dark moments with feel-good hip-hop influenced waviness. At this point, we were in the thick of the weekend and everyone at the Observatory stage was collectively vibing. We got to hear a lot of tunes from Medasin's latest album Irene as well as classic remixes of Rihanna's "Wild Thoughts" and Portugal the Man's "Feel it Still".
Music consistently provides an outlet and sense of fulfillment unlike any other. I hope you all had your own opportunities to create amazing memories and friendships through 2018. Happy Holidays!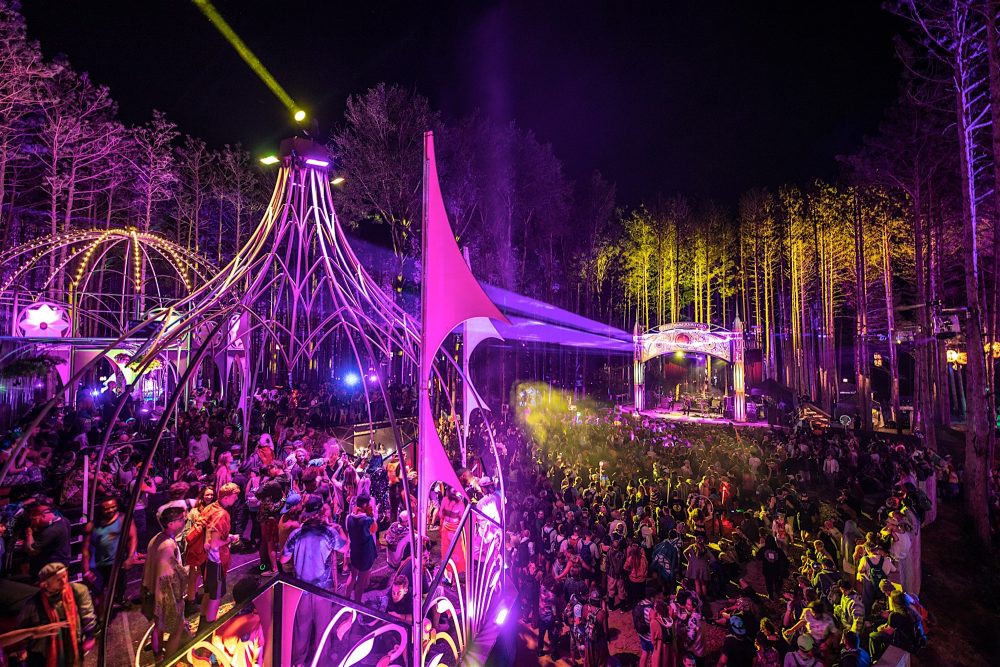 ---
Zach's Moment – Capturing lightning in a bottle once again
Lightning In A Bottle has become my favorite festival for countless reasons. The vibes are unlike any other fest I have been to, the lineups consistently host a variety of genres, the workshops are enlightening, the art is inspiring, and the lake is refreshing. In addition, the culture of sustainability, self-expression, and love that Lightning in a Bottle has made LiB hold a highly regarded position in my heart. This year the group that I have attended with the last few years committed the whole week to the experience and one of the best moments came early in our adventure.
Opting for an early arrival this year, we drove up north a day before to split the trip and camped at Jalama Beach, which is about two hours south of Bradley and a windy way away from civilization. As we approached the campsite we pulled over to stargaze near a railroad crossing. I have never seen so many stars in my life. The only light was being cast by nature, the saltiness of the ocean seemed to purify the air, and all you could hear were distant crashing waves. I gazed into the vastness of the universe and felt dwarfed by its majesty. I was in awe of the sky and I'll never forget it.
My other favorite moment from the festival was being in the photo pit for GRiZ. I am a huge fan of GRiZ's feel-good music and the energy he puts into his shows. I had the privilege of shooting photos this year and when I snapped this picture I knew it was the best photo I had ever taken in my career. I am so proud of it because I feel I really caught GRiZ in his element and the colors make me so happy. This was also one of the first photos I printed and I couldn't believe how great it looked in my hands. I will never forget this moment and I am so happy that I was able to capture lightning in a bottle with this picture.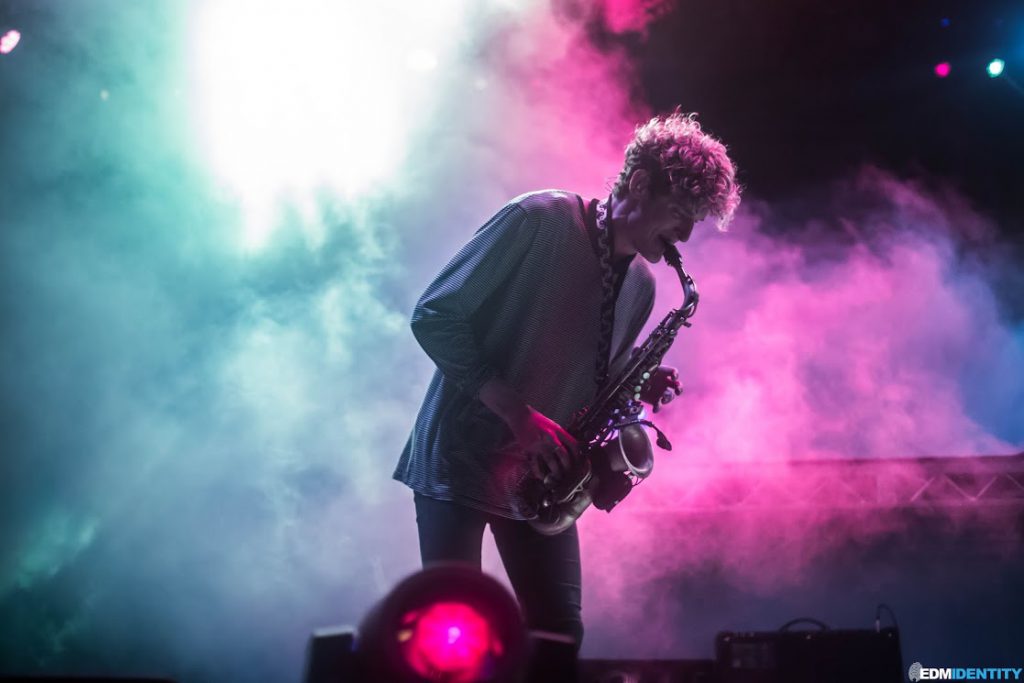 ---
Jessica's Moment – Helping build Electric Forest with Electric Forces
2018 for me has been a roller coaster of different events which have made me thankful for those I have in my life. This year has also been filled with so many amazing memories to the point it came down to choosing between two. Between them, it was very hard to decide, but essentially one literally led to the other.
The most memorable memory of 2018 for me was the ability to say I helped build one of the most magical places in the festival circuit, Electric Forest. It allowed me the chance to see the inner workings of what it takes to create these festivals first hand. Electric Forest is a small city in itself and it was something I never expected.
The amazing group of veterans I met through the Electric Forces program have since become my Forest Family forever and I wouldn't want it any other way. Being able to see the forest grow from nothing to the magical experience it is known for and then watching my fellow Forest Family enjoy what I helped build is indescribable. I can't wait to go back to help once again and see the Electric Forces family grow next year!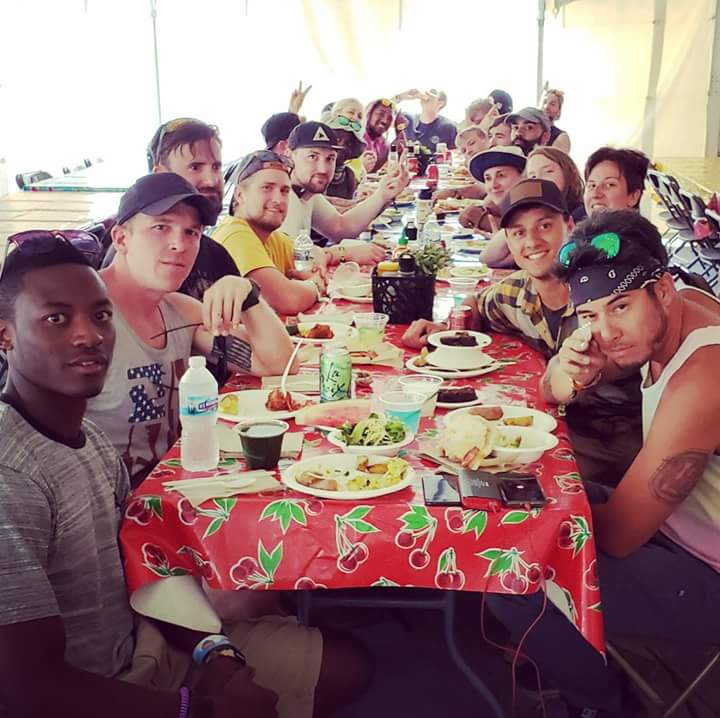 ---
Darris' Moment – My second tour of the aquatic wonderland, Imagine Music Festival

Though I've long been a fan of EDM music, I am still fairly new to the festival circuit. This year was my second year at Imagine Music Festival. I wasn't able to attend the whole festival, but the closing day was one of many magic moments for me in 2018 and one of awesome music and performances.
This year's lineup was much more robust, celebrating IMF's five-year anniversary; There was a solid selection of recognizable names and several lesser-known acts to which I became a new fan. The Disco Inferno stage was practically my home, and while I diverged briefly for main stage acts, the selection of house, disco house, and dance that was present there further solidified my love for those genres. Complete with a giant disco ball that opened up and shot flames, seeing EDX and Chocolate Puma rock that stage this year was an amazing experience.
Whether it was grooving out to Atlanta house duo, Halogen, chatting with ATHRS, or being pleasantly surprised by staple DJs, Zeds Dead and Kaskade, my friends and I had a great time. The grounds this year felt very much alive, with more stages and small stages, local acts, and support from groups like Atlanta Trance Family.
I've seen Kaskade at least three times now and this was by far my favorite set from the house legend. Several rounds of fireworks, remixes of epic songs like ODESZA's "Falls" and an emotional re-work of "Last Chance" and "Eyes" left me with all kinds of feels by the end of the night. Zeds Dead had an amazing set as well, with an energetic show full of bass, some surprising transitions, and remixes of some throwback classics like Daft Punk's "One More Time" and even a bass filled version of "Ain't No Mountain High Enough." Imagine is one of Atlanta's premier festivals and it keeps getting better every year. I will no doubt be back in 2019.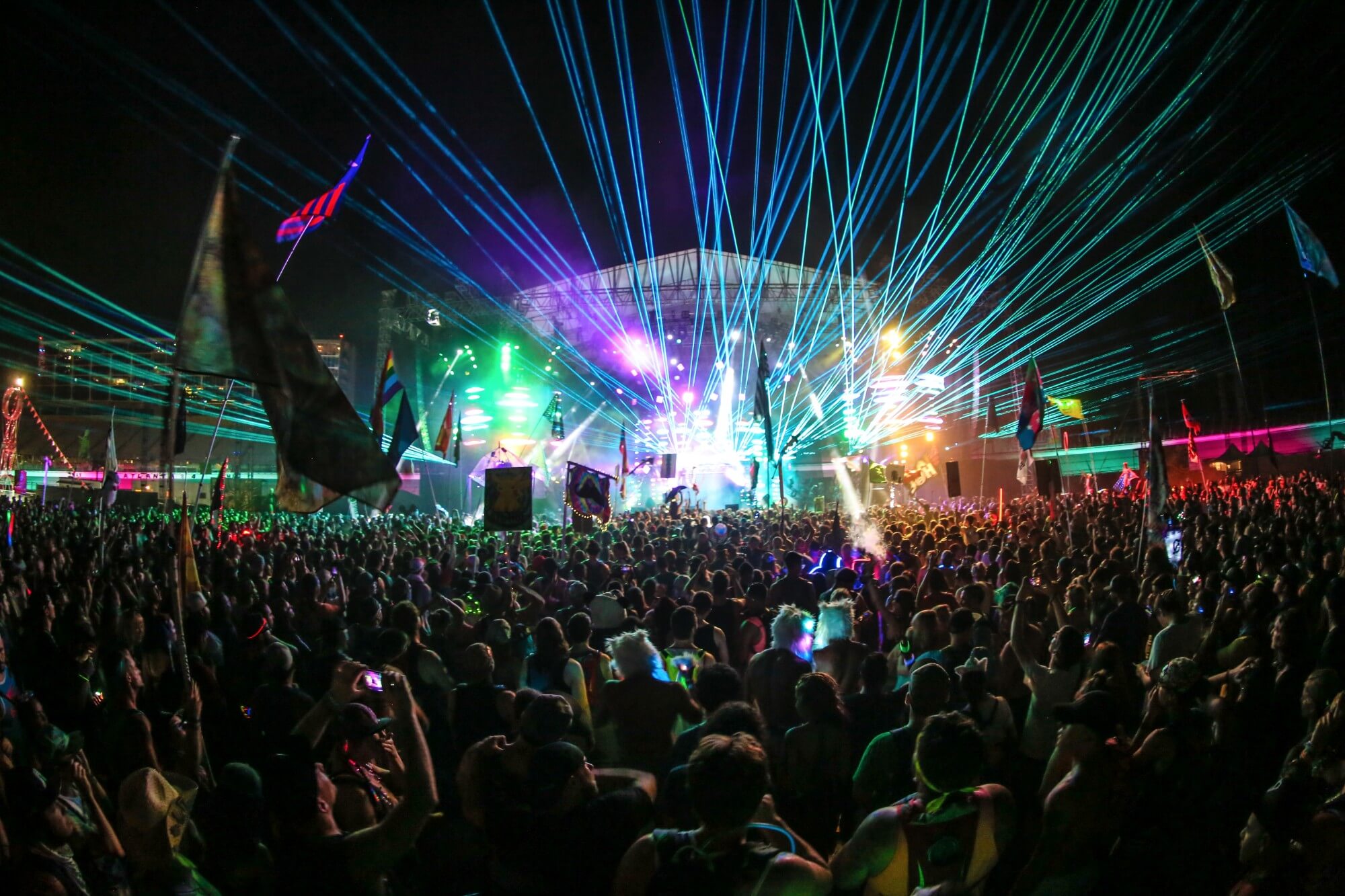 ---
Abisola's Moment – Experiencing Defqon.1 b2b Luminosity
Though I love trance and fully dove head first into immersing myself into the trance world, this year I wanted to make sure that I did not neglect the other electronic genres that I adore. After last year's magical Luminosity experience, I knew I wanted to re-live the magical trance wonderland and so at the beginning of the year, that was really my one grand overseas plan. However, once I found that Defqon.1 would be the week before, not at the same time, I wildly considered attending both.
I was a huge hardstyle fan five years ago and even attended the first Sound of Q-dance LA event solo in 2013. Though I have attended a few hardstyle and hardcore (mainly happy and UK hardcore) events here and there since then, I did not keep up with the genre and did not have many friends that liked it. Even though my preferences may have changed, one of my goals has always been to one day attend Defqon.1 as my love of harder styles still lingered as I often gravitated to the harder end of the trance spectrum. I did not think that would become a reality and the fact that I was able to attend both was an amazing experience.
At the beginning of the year, I made new trance friends who mentioned they love hardstyle and were going to Defqon.1 as well, and the rest became history. In planning and prepping for the adventure I became more grounded in recent hard dance works and when I finally stepped onto the field and became a weekend warrior, the feeling was amazing. That paired with attending Luminosity the following and experiencing so much love and kindness made my heart full! I went in for the music and left both with amazing stories and new, wonderful friends!
---
MyStro's Moment – Sharing the world behind the curtain with my beloved
While this year featured plenty of awesome memories – CRSSD Festival both times (Spring & Fall), after festival parties at Spin Nightclub, hosted events with Lucent, chill barbecues during the summer with the EDM ID family (Shoutout to Carlos for hosting), and raving the night away at Avalon Nightclub to some Pure Trance and J00F Sessions – there was one simple experience that truly made this year special. It was bringing the passion I have for trance to my significant other for the first time in her life.
See, she is natively Chinese, and while the market is exploding, dance music still hasn't found roots beyond the teenage population. During her first visit in 2018, I introduced her to the venue I love and got to DJ in front of her as well. I thought that would be the moment of the year back in February, but it was not until November that it was topped.
The best memory was bringing her to trance heaven during the brisk nights at Dreamstate SoCal and watching her soak it all in. The positive energy that was seen in her during the sets was infectious and her eyes lit up at the crazy production elements. The elements of Dreamstate came together to allow her to truly experience her first dance music festival with ease and bliss. The experience was not perfect, but the moments after the Pure Trance get-together where we took photographs on the bridge hit the heart just right. Shout out to our fearless leader Grant for also giving Lulu her first piece of kandi and teaching her our cultural handshake.
The special energy that both moments carry means that I simply cannot choose just one photo because of how much these moments mean to me. So I'm sharing two. Godspeed 2018, let's ride the wave into 2019!
We want to hear all about your favorite moment of 2018! Let us know in the comments! 
---
Connect with EDM Identity on Social Media:
Facebook | Twitter | Instagram | SoundCloud | Mixcloud | YouTube