As Lightning in a Bottle continues to grow year after years so does my love for the festival.
---
Lightning in a Bottle has been my favorite festival since I first attended three years ago, and each year it provides me with the enriching and life-changing experiences that I'll never forget. From the moment you enter the San Antonio Recreational Area where the event is held, you can feel the energy exuding from the rolling hills and scintillating lake.
The Do LaB are masters at curating a vibe of self-expression, inclusiveness, love, and respect, all of which is on full display at LiB. Not to mention they always have a stellar lineup of music, art, yoga, and tons of different learning and cultural workshops. All of these factors create a magical oasis where troubles disappear and inexplicable events of synchronicity manifest. To say I was excited about Lightning in a Bottle would be an understatement.
This was the first year I left for Lightning in a Bottle on Tuesday and I highly recommend it.
My group and I were so stoked that we drove up North on Tuesday evening to camp at Jalama Beach. Making that drive a day early relieves a lot of stress when it comes to beating traffic, gathering last-minute supplies, and you get to explore new places.
Jalama Beach is two hours south of Bradley, CA and is a quiet campground known for its surf and the Jalama Burger. We arrived at the campsite at 1 AM and the stars were firing away. Adding to the incredible view, the Milky Way Galaxy was even visible with the naked eye! I have never seen the sky look the way it did that night and I will never forget it. The vastness of the sky offers a whole new perspective on the universe and feeling small never felt so refreshing.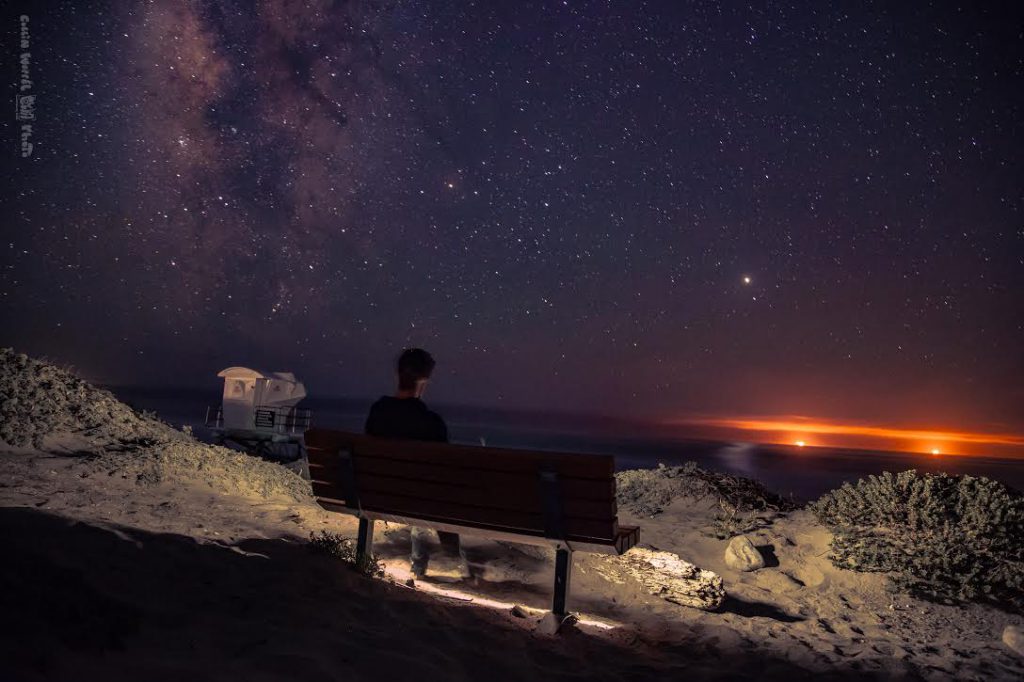 After stargazing a couple of hours we decided it was too late to set up camp. My crew set up blankets and slept on the floor, tables, and cars until we were woken by natural light and the sound of crashing of waves. We began the last leg of our trek to Bradley at 9 AM and arrived at the festival entrance by 11 AM for early arrival. The line was moving quickly, but I had to stop at will call get my wristband.
The lines at will call were long and when I got to the front it was easy to see why.
There were hundreds of festival attendees and less than ten volunteers. The volunteers were working as hard as they could, but the number of people to be helped was overwhelming. There is only so much you can do at the time, but I think it would be beneficial for everyone to have more volunteers. I could see both attendees and volunteers showing glimmers of frustration, but they handled it well and sent people on their way.
Early arrival is a great experience because you get to appreciate everything that is Lightning in a Bottle before the craziness.
We were directed to Gate 4 and set up camp at Bass Grounds, which was prime real estate because it was a five-minute walk to the lake and a straight shot down Greenland to the festival. After setting up we roamed the festival to familiarize ourselves with the layout for this year.
Checking out the mind-bending stages, structures, art, and natural landscapes, we meandered the whole venue talking to builders, volunteers, and other early arrival folks. This is one of my favorite parts of the festival, simply meeting new people. After scouting the grounds we made our way back to camp after sunset and relaxed for the rest of the night until we fell asleep.
It was like a time-lapse watching the campgrounds fill in Thursday morning.
There is nothing better than waking up at a festival to your smiling friends. The rest of our crew arrived at Bass Grounds at 10 AM and began filling in the spots we saved for them. On the opposite peninsula, The Sticks, hundreds of cars began staking out their sites and setting up camp. It was no more than three hours before the entire place was filled with campers.
Once the crew was finished setting up, we made our way to the Desert Hearts takeover at the lake.
The takeover was where giant skeeball used to be and I prefer the lake parties. Pretty much everyone that was at Lightning in a Bottle on Thursday was at the Desert Hearts takeover. The dancefloor was packed to the dock and there were more people dancing on each side of the hill. Marbs and Porkchop had the party going for hours mixing crazy dark drops with house and techy beats that had everyone, including Lee Reynolds, gigging.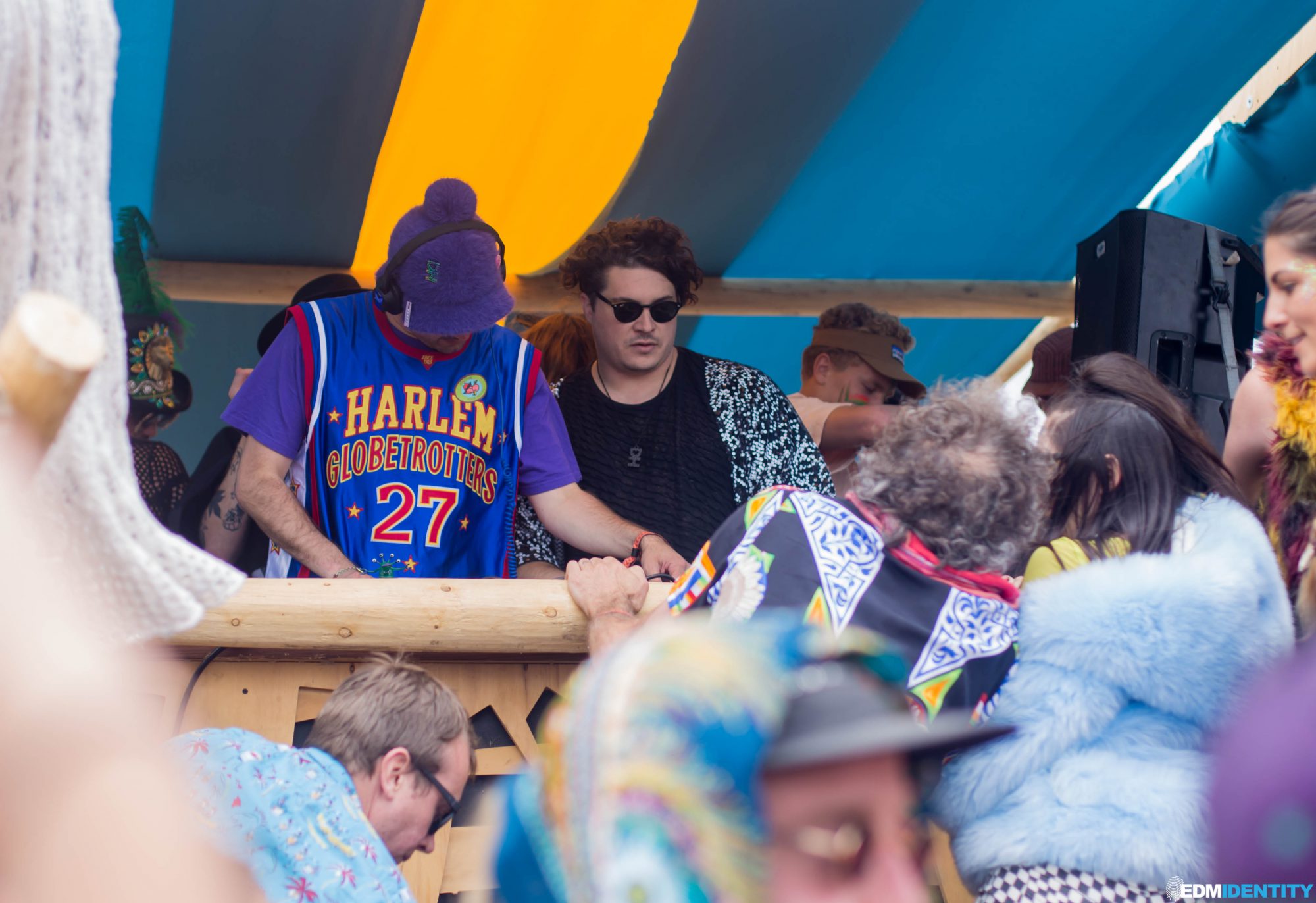 After the lake party, we danced in the tree houses at the Favela Stage then stopped by The Dough Lab on our walk back to camp.
The Dough Lab was one of my favorite food vendors throughout the weekend because it was quick and delicious! I got a sweet potato and kale pizza and my taste buds were stoked. We walked back to camp enjoying our food and played it cool the rest of the night. Taking the time to rest was necessary because Friday was about to be an insane day of music.
Between SOFI TUKKER and The Glitch Mob, Friday was my favorite day of music.
I started the day with Walker & Royce and it was the perfect way to limber up my dancing legs. Every set at the Woogie was two hours so you could come in at any time and still find a groove. They played a bouncy set mixing tracks from their album Self Help as well as other originals.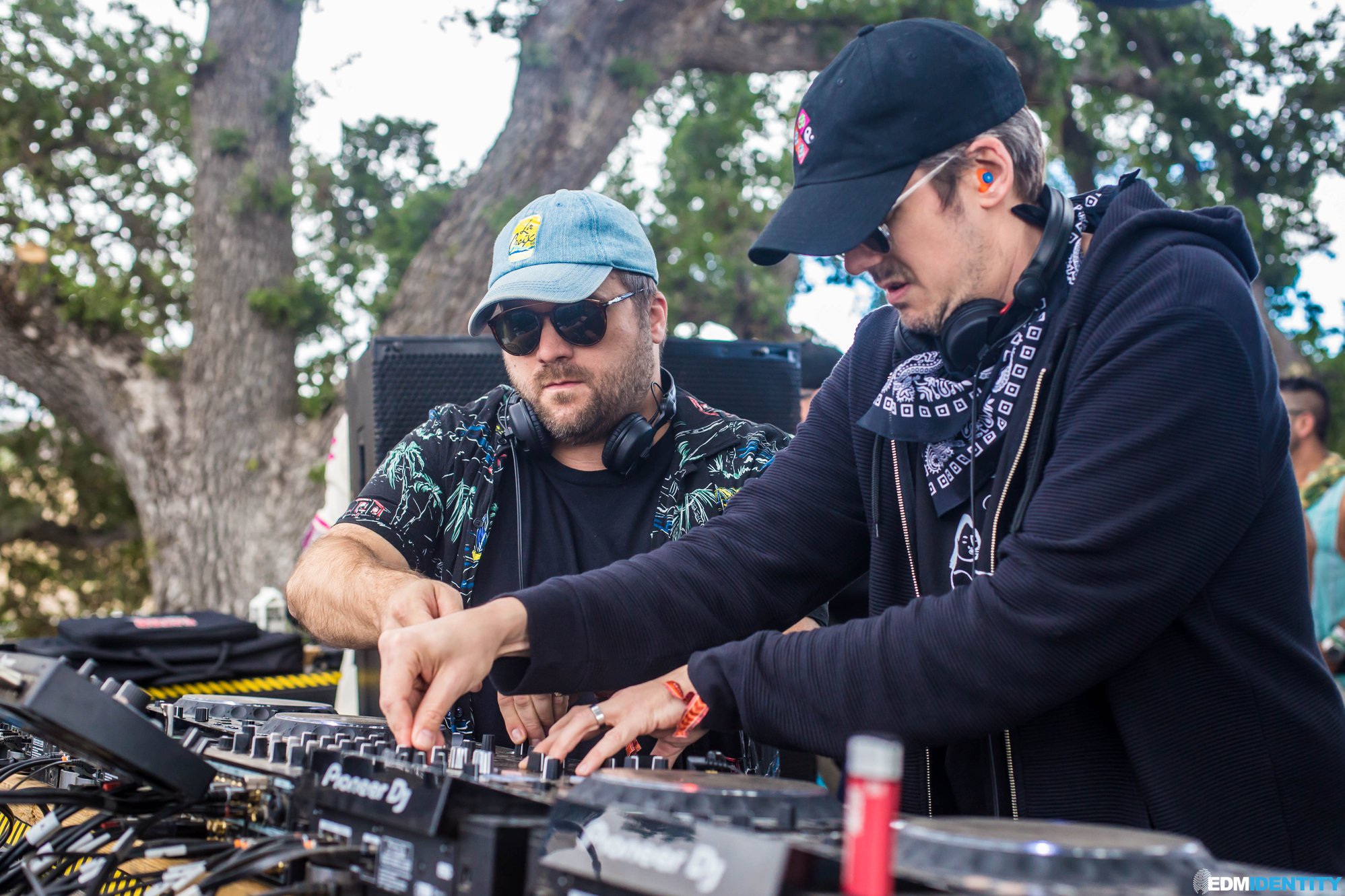 I knew I would be at the Lightning stage most of the evening as SOFI TUKKER, GRiZ, and The Glitch Mob were taking the stage all in a row.
SOFI TUKKER was one of my top groups to see and they rocked! Their stage set up had a jungle theme which was very fitting for their sound and debut album, Treehouse. The duo commanded the stage moving from left to right singing and playing their respective instruments.
At one point Sophie approached the front rail and let the crowd sing into the microphone before leaping onto outstretched arms to crowd surf. SOFI TUKKER might have an electronically recorded sound, but their live shows are so much more. Don't miss them if you get the chance.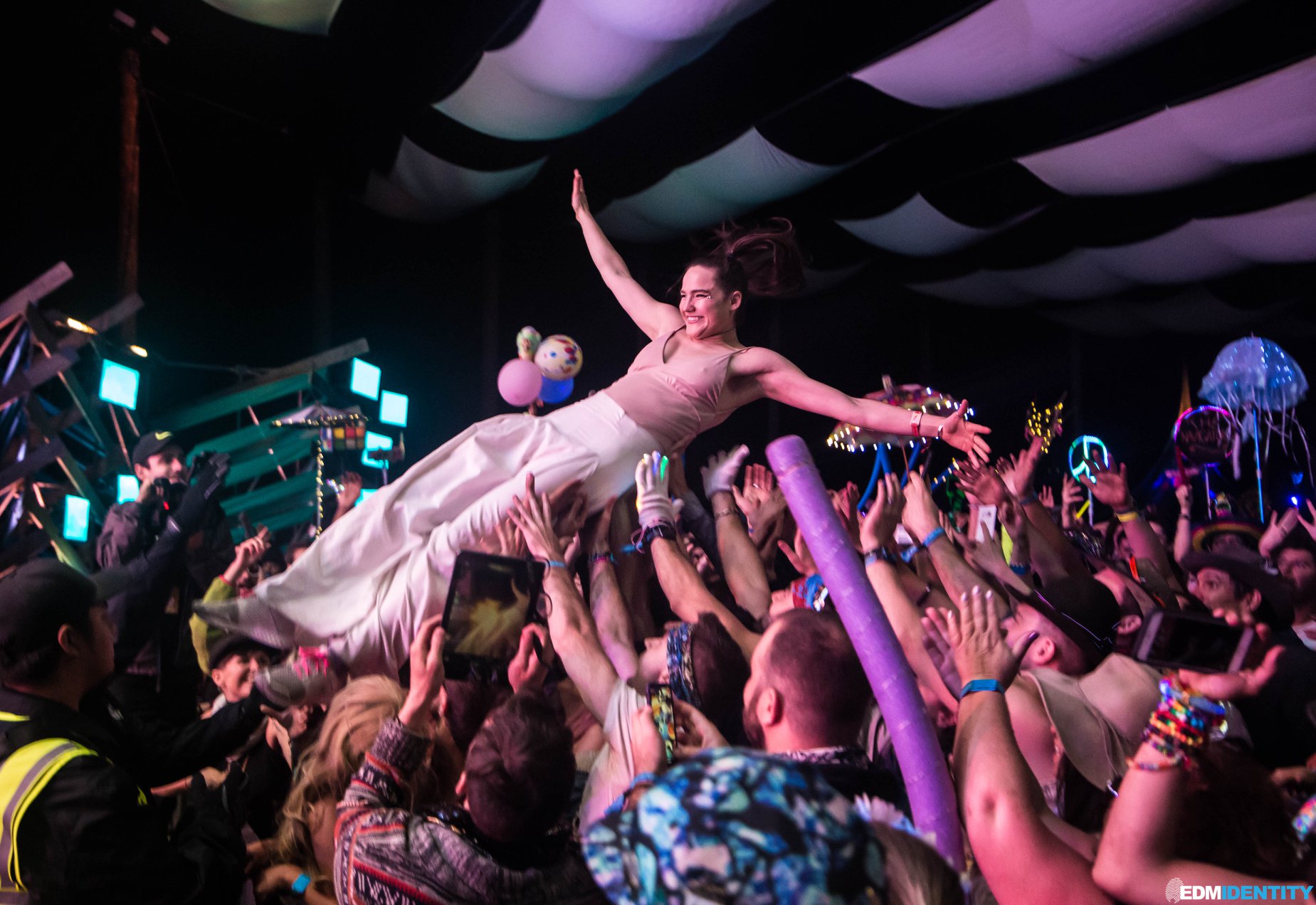 Up next at the Lightning stage were GRiZ and The Glitch Mob, so we stuck around to make sure we had a good spot.
GRiZ played one of the best sets I have ever seen him put together. Per usual, he seamlessly went from playing funky sax riffs to dropping headbanging dubstep while Muzzy Bear played accompanying melodies and solos on the guitar. I have seen GRiZ a handful of times, but I think the environment of Lightning in a Bottle and the production at the Lightning stage set this performance apart. When his set came to an end, we patiently waited for The Glitch Mob to start.
I knew The Glitch Mob's set was going to be good, I just had no idea they were going to tear my mind to shreds.
Many people stayed for The Glitch Mob while others scattered to see The Black Madonna and Modeselektor at the Woogie and Thunder stages. Personally, I am stoked on my decision to stay for The Glitch Mob because they ended up being my favorite set of the weekend.
The LA-based trio sent everyone at the Lightning stage on a futuristic voyage with their insane stage design and glitchy beats. The entire set was like a movie as they stitched together track after track steering the crowd through timed pauses and heavy bass drops. Just when you thought the set or track was done they would bring it right back and as they ended with "Fortune Days" my mind was blown at what I just witnessed.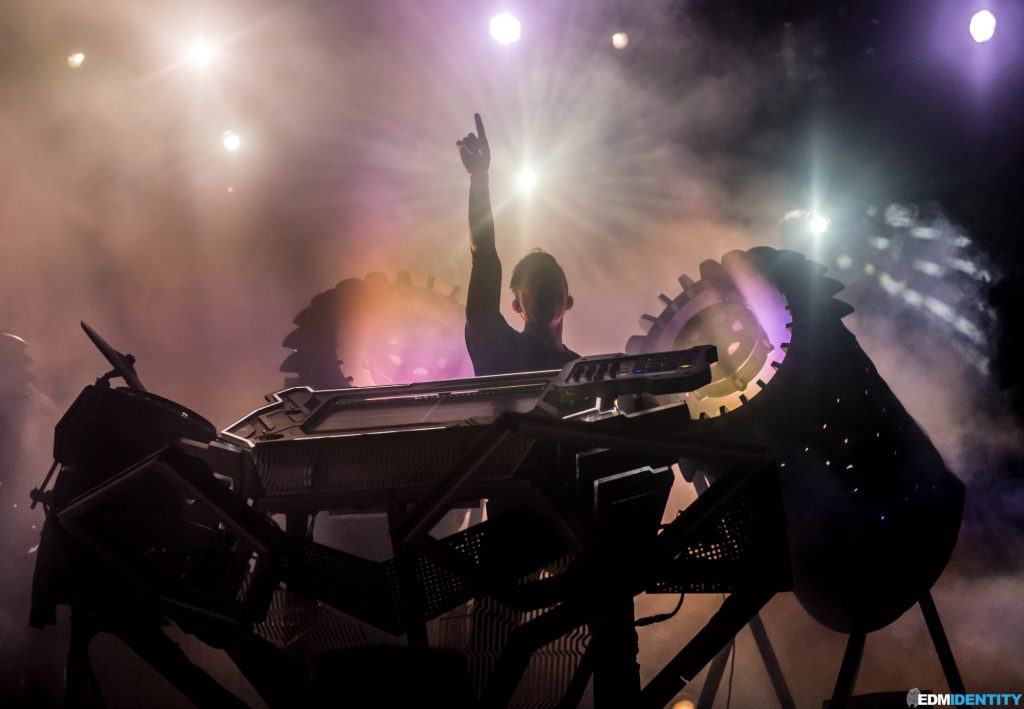 Other music highlights from this year for me were Dirtwire, Anderson .Paak, and ZHU.
Dirtwire is no stranger to Lightning in a Bottle as they have played the Grand Artique countless times and rightfully landed a sunset slot at the Lightning stage on Saturday. Their electronic, folky sound is infectious and there wasn't a still body on the dance floor. As the sun began to set the festival collectively let out their howls which is extremely fun to participate in as the night time festivities began.
After Dirtwire was Anderson .Paak and The Free Nationals. I was really excited about this set because I am a huge hip-hop fan and was ready to vibe with a different genre. Anderson .Paak took the stage and performed with explosive energy. He was constantly moving to engage the crowd left to right and front to back. He played everything from "Come Down" and "Am I Wrong" to "I Miss That Whip" and his most recent release "Bubblin'". You could tell he was having fun and it got the crowd feeling the same way.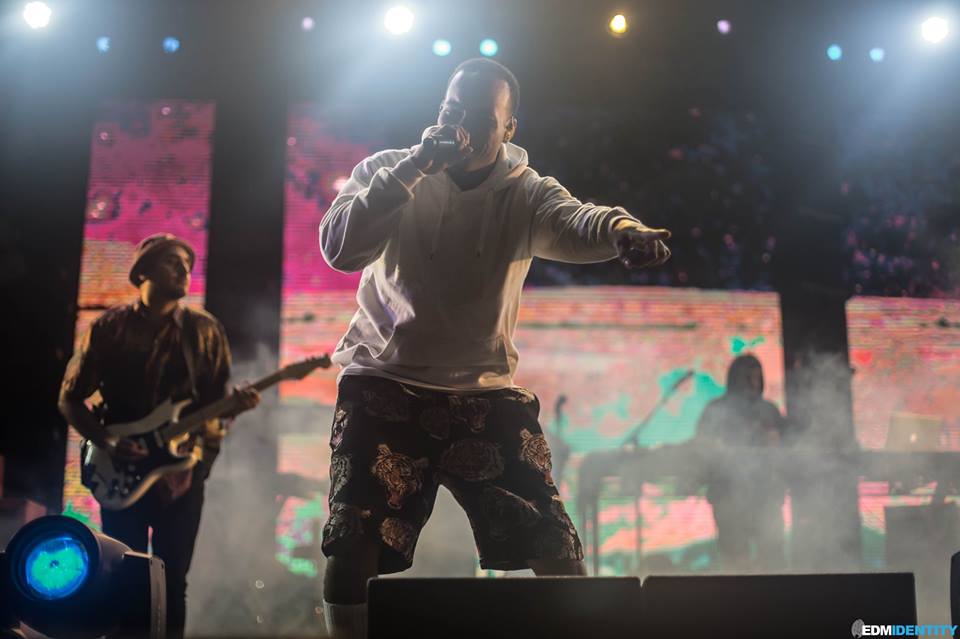 ZHU was one of the last performances I saw at LiB and it was intense.
While it was the most crowded sets of the weekend, ZHU's production was unparalleled. I was excited to hear the new tracks from Ringos Desert Pt. 1, but I was even more excited to hear the Tame Impala collaboration live for my first time. When he played it I lost my marbles and sang my heart out. That was also the only moment at the festival all weekend where I recorded a video because I needed to have that memory.
After ZHU's set, we soaked in what was left of Lightning in a Bottle.
My group headed to the Grand Artique and found ourselves in one of the new buildings added to Frontierville, the Classroom (or Church). We were in there so long it felt like we were part of the installation. People would assume the teacher position and smack the gavel to gain the attention of the class. Everyone played the part it felt like we were actually doing a skit, it was pure comedy and showed off the fact that this festival isn't all just about the music.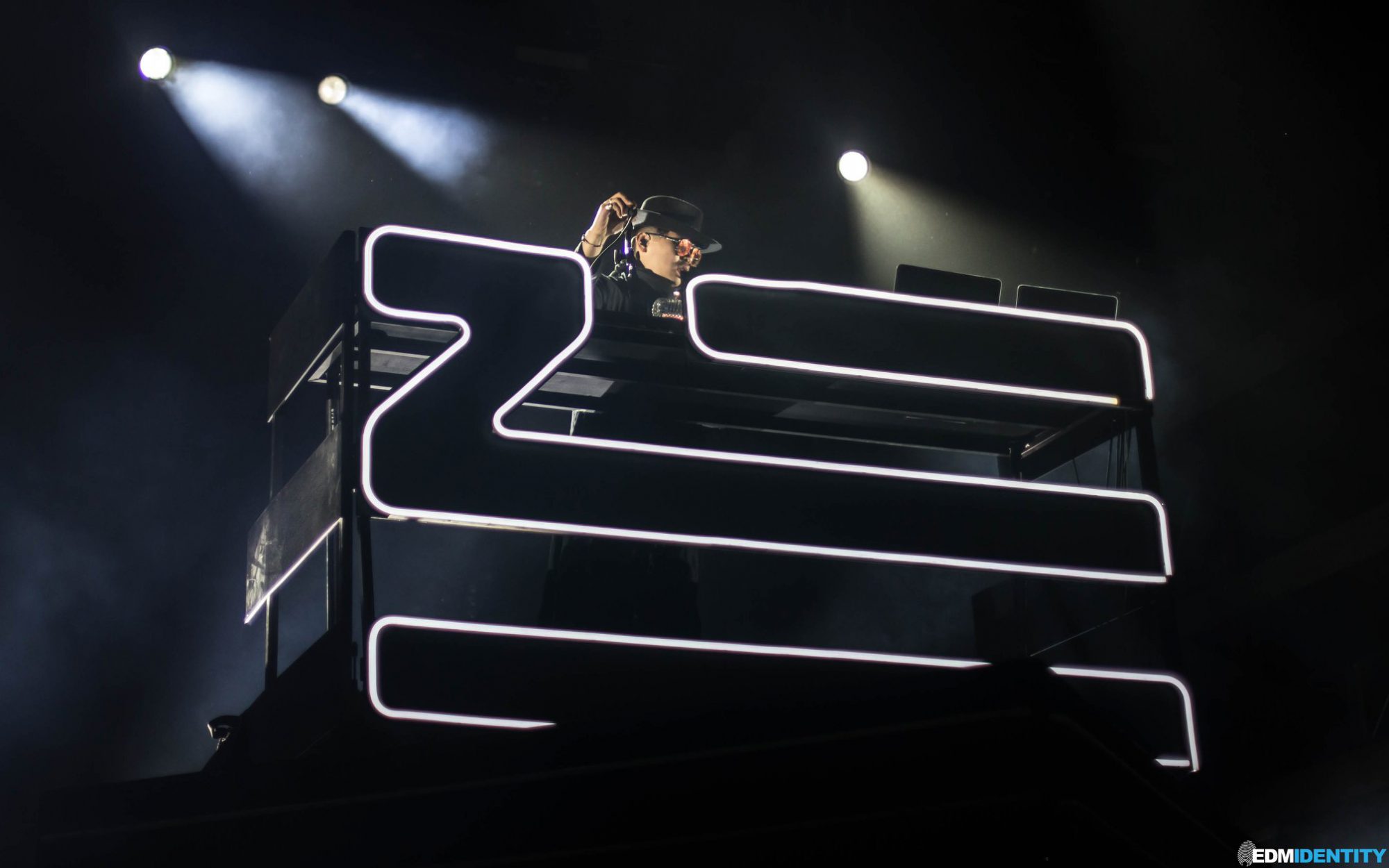 It is simply amazing how quickly six days can fly by.
The sun began to rise as we made our way back to camp. After nearly a week of music and endless good times, it's hard to leave such a beautiful place. Looking to avoid some of the traffic, we waited for the line to die down before exiting the campgrounds that day.
Because of our delayed exit of the festival, we did notice one thing that was sad, which was the "Pack In, Pack Out" philosophy wasn't really followed by everyone. Hopefully, in the future, the Do LaB and the community that attends Lightning in a Bottle can raise more awareness surrounding that philosophy and that we can collectively leave less of a footprint.
All in all, Lightning in a Bottle 2018 was a massive success and I cannot wait to be back.
Once again I feel rejuvenated and refreshed. A feeling I do not usually get after festivals, but there is something special about Lightning in a Bottle. Instead of coming home tired I feel ready to take on new life challenges and incorporate the values of LiB in my everyday life. I cannot wait for next year and you should be there too!
---
Connect with Lightning in a Bottle on Social Media: