Are you ready to return to Camp EDC for EDC Las Vegas 2019? Camping Packages go on sale October 5 so get prepped with this info!
---
Debuting in 2018 and changing the game on how Headliners experience EDC Las Vegas entirely, Camp EDC has already left a lasting impression on many. While there may have been a few hiccups in their first edition like long wait times to get inside or limited showers and bathrooms, Pasquale Rotella and the Insomniac Team are intent on making the 2019 edition even better.
Highlights from Camp EDC 2018 included the Kickoff Party featuring Excision and a curated list of bass artists, the daytime pool parties that were full of infectious grooves, Goat Yoga on The Mesa, and so much more. Check out our full take on the Camp EDC experience and get a taste of what's in store for 2019!
Camp EDC goes on sale Friday, October 5 at 10am PT via FrontGate Tickets. Make sure to grab your passes that day if possible to lock in the lowest price as they will increase on October 6! Camping packages start at $999 for Moon Glow, $1,299 for Desert Rose, and $279 for RV Camping, with layaway plans and additional options or upgrades available.
Aside from the cost, not much has changed for the different Camp EDC packages this year.
All tent camping options feature fully enclosed, lockable, dust-controlled ShiftPod2 structures with comfortable artificial grass flooring, air conditioning, interior lighting, a power strip, access to The Mesa amenities, and include one vehicle pass. Details on each type of camping, the layaway pricing, and other activities on The Mesa can be found below.
Check out the Camp EDC 2019 Trailer for a look into the experience:
EDC Las Vegas 2019 – Camp EDC Packages and Layaway Details
---
Moon Glow Camping ($999, Up to 4 People)
Moon Glow Camping comes with pre-setup, air-conditioned tents for up to 4 people. All you need to bring with you is your bedding, personal items, two travel locks for your tent, and coolers or grills if you plan on using those.
More details on Moon Glow Camping can be found on the Camp EDC website!
---
Desert Rose Camping ($1,299, Up to 2 People)
The Desert Rose Premium Camping package offers spacious setups for two people, with proper beds, linens, pillows, and air-conditioning provided. This year, the package also grants you entry to the GA+ bathrooms inside of EDC Las Vegas as well. All you need to bring with you are your personal items and two travel locks for your tent, a cooler is suggested along with a grill if you plan on cooking.
More details on Desert Rose Camping can be found on the Camp EDC website!
---
RV Camping ($279, Up to 8 People)
Drive your own RV on-site and keep yourself comfortable all weekend long. Insomniac offers power hookups, RV water refills, and pump-outs for an extra charge. RVs must be standard size, ranging from 19′ to 45′. RV groups will be limited to the vehicle's specified sleeping capacity, up to a maximum of 8 people per RV site.
More details on RV Camping can be found on the Camp EDC website!
---
Other than the close proximity to EDC Las Vegas that eliminates traveling to the festival each day, camping offers enhanced experiences for headliners on 'The Mesa'!
Notable perks of The Mesa include Yoga, Guest Speakers, Stand-Up Comedy, Rave Aerobics, a Beauty Bar, and more. The Mesa also offers food options, full-service bars, and shaded areas to cool down at during the heat of the day.
Of course, you can't forget about the extra sets that campers get as well! Last year's Kickoff Party featured an onslaught of bass beats from artists like Excision and G Jones, while the daily Pool Parties brought us curated takeovers from Brownies & Lemonade, Space Yacht, and Insomniac Records. Stay tuned for more information on who will be playing this year!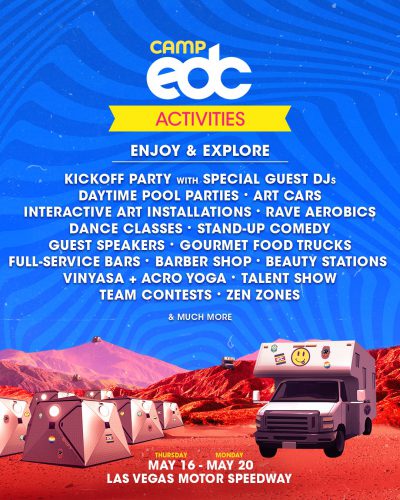 Will you be joining the EDM Identity Team at Camp EDC this year? Let us know in the comments below!
---
Connect With EDC Las Vegas On Social Media: