One of the biggest additions that EDC Las Vegas welcomed this year was Camp EDC, a game changer for many Headliners.
---
If you've gotten to know me over the years, you know how much I love camping at festivals. Whether it's Electric Forest or Coachella or Burning Man, I have a lot of love for not having to worry about how I'm getting to and from the festival each day. So when Pasquale announced that this year we would be able to join Camp EDC, I was stoked to experience something new at the Las Vegas Motor Speedway!
The thought of walking back to my campsite after the festival ended to just crash out instead of spending hours getting back to the strip alone had me eyeing the concept immediately. Once it was announced that campers would have ins and outs and that there would be exclusive parties at the campgrounds at their massive pool area, I was sold.
Opting to go with the RV camping, the total cost for my group ended up being fairly close to what it would have been if we were staying on the strip. Between ticket, shuttle pass or car rental, hotel room, food and drinks, and more, the difference in price was fairly small. As the saying goes, time is money, and as someone who always wants to maximize their time, that small upcharge was well worth missing out on anywhere from six to ten hours of travel over the weekend.
First, let me just say that my overall experience at Camp EDC was a positive one.
As the event drew closer, the announcement of the welcoming party, daily pool parties, activities, and more continued to build the hype surrounding this brand new experience for EDC Las Vegas. Pictures began to leak of the development and soon enough we were in our RVs on our way to Camp EDC, blasting music the whole way. The hype died down during the long line in, but more on that later because I'd like to take the time to explore some of the best things that Camp EDC had to offer.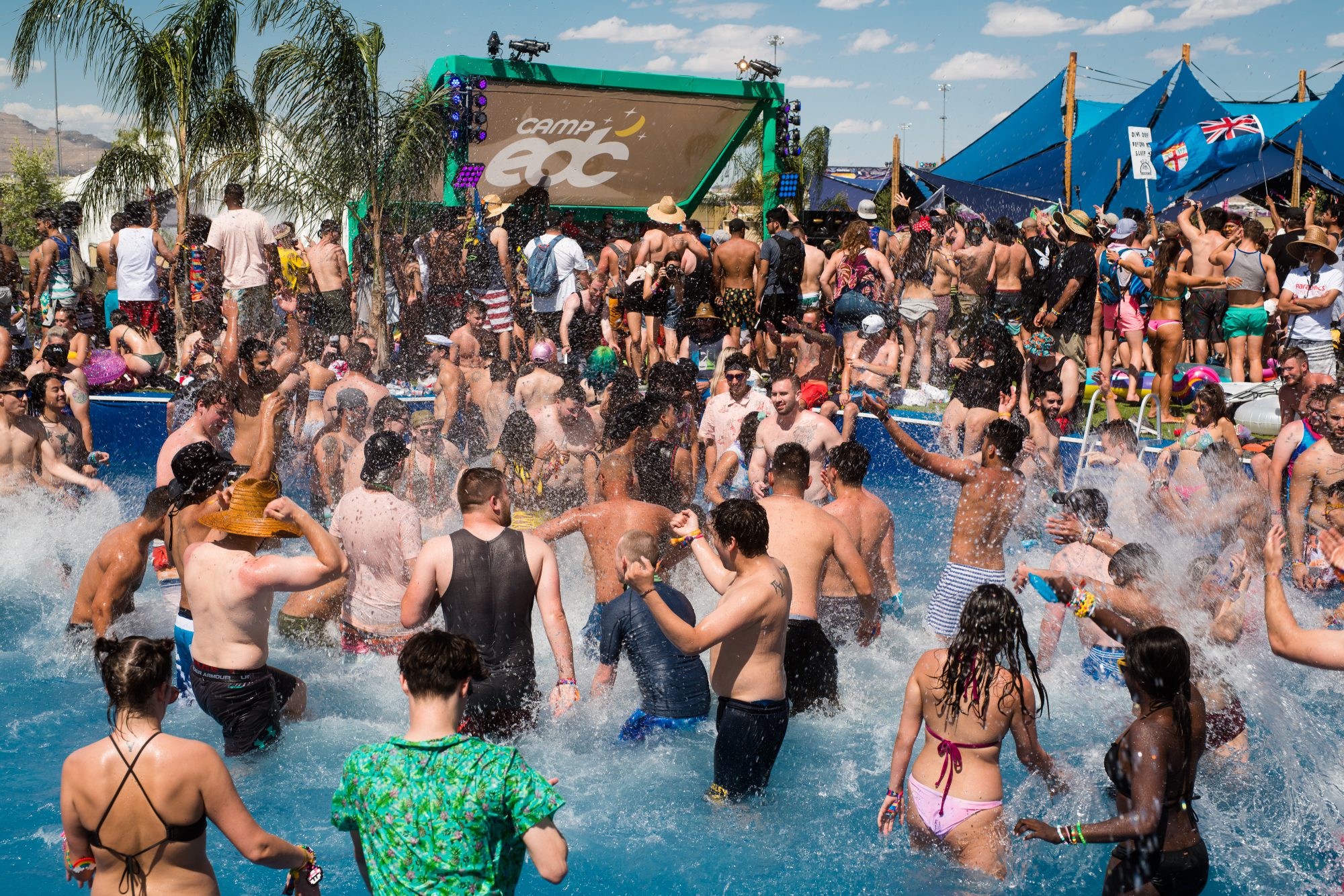 There is a special vibe that develops at camping festivals that is hard to match when attendees don't stay on site.
Through activities, unique campsites, and exclusive parties, attendees actually interact with each other on a much grander scale. This feeling of camaraderie was present at the inaugural edition of Camp EDC, and there were so many happy campers that I met while hanging out at The Mesa.
I had an absolute blast getting in some exclusive sets from artists like Excision and G Jones to kick things off and set the tone for the weekend. The booming bass from the Parliament and Wide Awake Art Cars definitely had things rocking the entire time while the crowd got down to some heavy beats. As the crowd mixed and mingled, the energy in the air was truly electric on Thursday night.
The pool party aspect didn't get going until Friday, but when it kicked into full gear it was the perfect way to relax during the day before EDCLV.
While I missed the Insomniac Records party on Saturday, I attended the Space Yacht and Brownies & Lemonade Takeovers which both had the pools full of headliners clearly enjoying themselves and having a great time. The special guests they brought along with them provided a quality soundtrack that you could even hear pretty deep into the campgrounds themselves.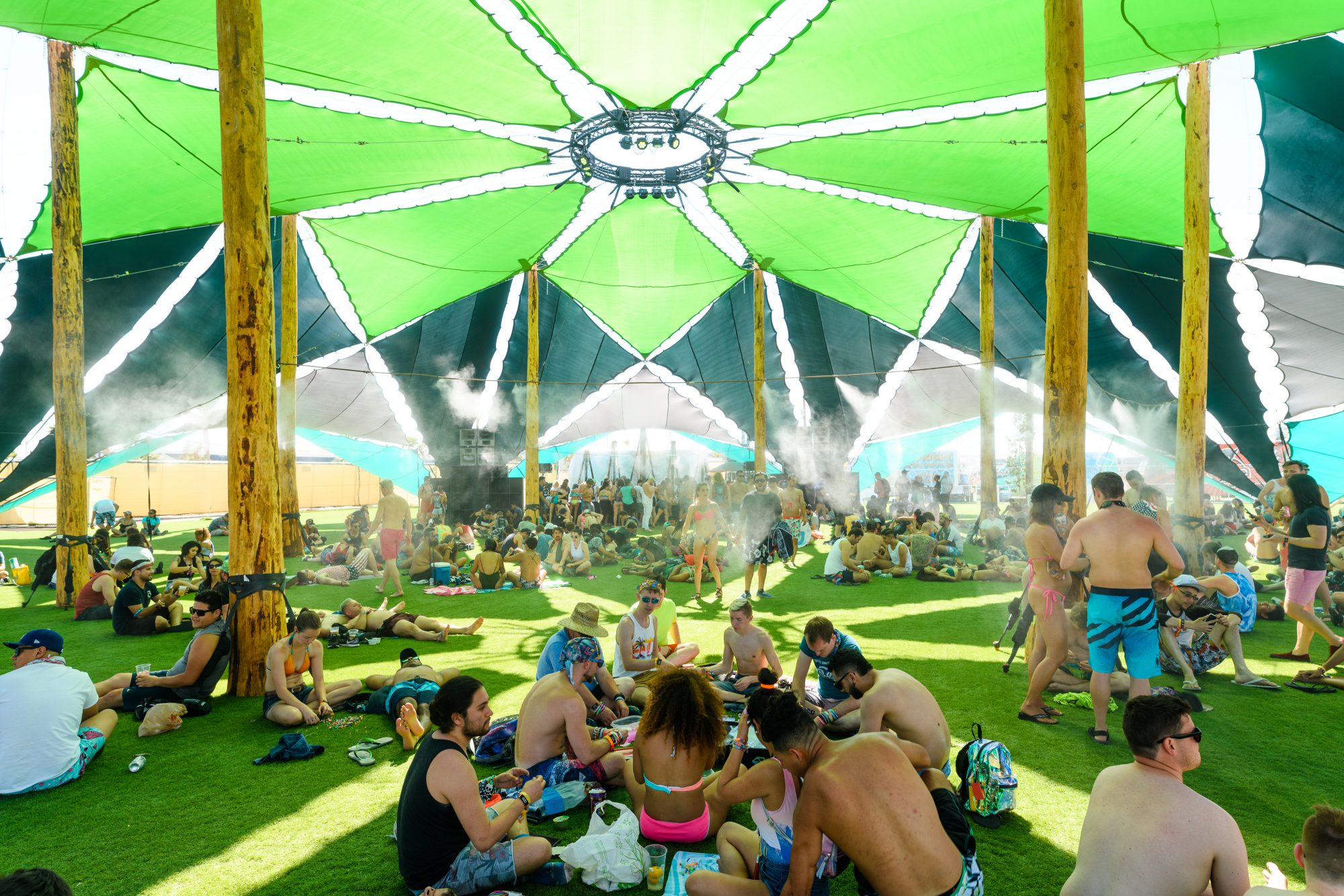 The activities were unique and fun, but I found myself drawn to the pool more than hanging out underneath the tents with misters. I caught a portion of the Stand Up Comedy which was hilarious, as well as checking out a part of the panel that featured artists and industry members. As someone who isn't fully into yoga or workshops I wasn't as interested in those, opting to eat or swim instead. I do wish that there was better signage at the tents themselves to let campers know the daily schedule since I didn't always have my phone or the booklet handy.
The other added bonus was the afterparties each morning which featured sets from artists like Rabbit In The Moon, Solardo, and CamelPhat. While I was far too tired to attend after a night full of raving, for the most part, I did catch that final morning party on Monday and it was a highlight of the weekend. Dancing along with so many others who didn't want the party to stop, the only thing that held us back was a freak rainstorm that came through and had us all huddled under the tents.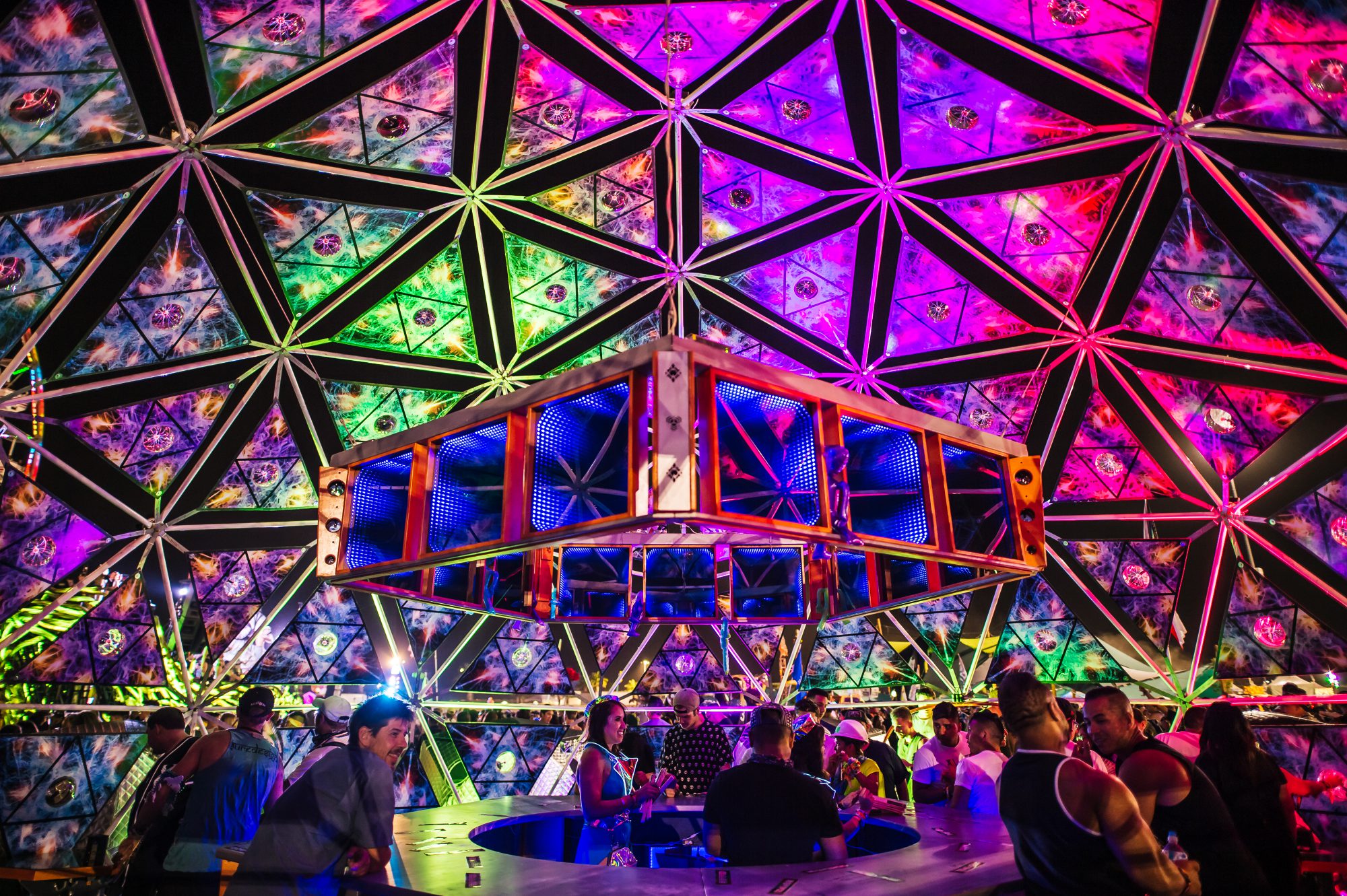 Camp EDC wasn't without its hiccups, and there are definitely some improvements that can be made in future editions to make it even better.
This year was the first year that Camp EDC existed, and because of this, I anticipated that there would be some things that would miss the mark. I knew going in that we would be guinea pigs for future editions, and perhaps with that mindset I was more comfortable with the problems that myself and many others faced during the course of the event. Most of these issues occurred on Thursday, and while many were corrected as the weekend progressed, some things will just have to be fixed in future editions.
To start, the entry was an absolute nightmare for most everyone, myself included.
I've attended festivals with long entry lines in the past (here's looking at you Burning Man) but the entire entry process felt mismanaged and unorganized. The one road for entry was full of cars, RVs, production members, delivery drivers, and more. Why a different gate couldn't be opened for the latter is something I didn't understand, but in the very least a separation for RVs and regular cars would have been nice. The next stop, to get our wristbands for camping, was plagued by a lack of internet service to actually confirm that our passes were valid, but at least we could finally see the security check ahead.
Finally arriving at the security check after waiting nearly five hours, I realized that was one of Camp EDC's biggest breakdowns.
The team who checked our RV did a quick and thorough job but had clearly lapped the other security team by two or three RVs at that point. They seemed frustrated by the slow process that their coworkers were taking, so I guess the feeling between us all was mutual.
After seeing reports of people having to completely unpack and repack bags, security dumping out pill bottles, and spending upwards of 20 minutes per RV, it was pretty clear that this was the largest issue of the whole ordeal. I understand completely that the safety of the attendees of the festival is a top concern, and that when there are thousands of people coming to one location it can be difficult to be both safe and happy with the process.
The simple fix for this would be to have more security who keep up a better pace while checking, and more gates open to alleviate the slow process while pushing cars to one line and RVs to another. It would also make sense to officially open the gates much earlier than 3pm on Thursday, although they did open earlier due to people lining up this would have changed entry for many people.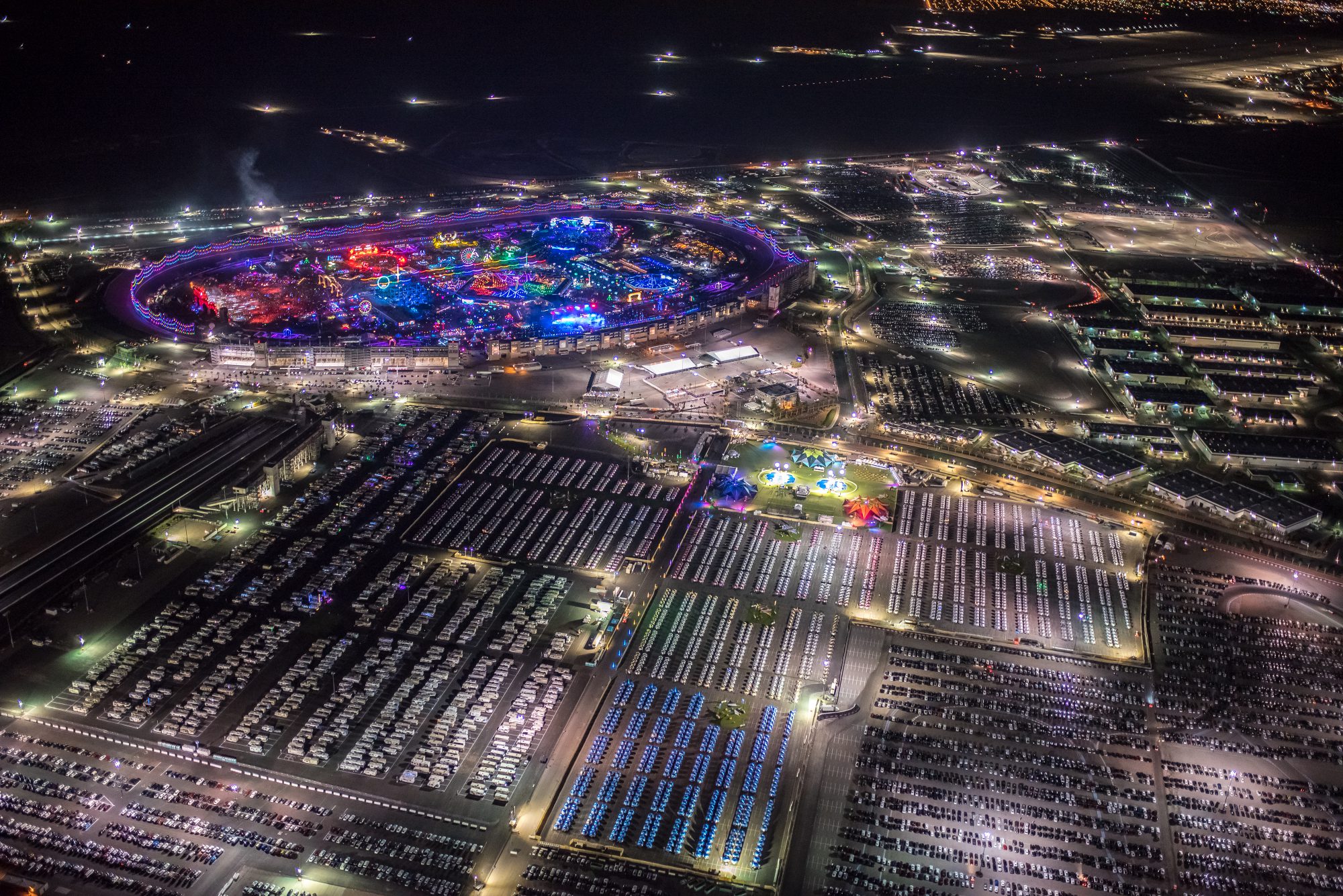 Once arriving at our campsite, the next issue became pretty clear: the lack of restrooms and showers.
I actually was somewhat concerned about this when I looked at the updated Camp EDC map, but my suspicions were confirmed upon arrival that there were far too few. Friday morning saw an increase in portapotties as more were delivered to the site, but the distance from most campsites to working facilities was still a solid trek.
The showers presented their own issues as they regularly "weren't working" which is fairly devastating when there are so few trailers to begin with. The amount of both facilities needs to be doubled next year from the start, and whichever company is hired out to operate them should take a page out of Coachella's book as to how these are managed.
There were also some issues with the power grid over the course of the weekend, as outages occurred during peak times for many attendees.
When the options for camping were announced I was immediately drawn to the RV idea, partially because of the cost but also due to the self-reliance of having my own generator if there were issues with the onsite power. While I don't have any first-hand experience in the ShiftPods, it was definitely a hit or miss experience in regards to the grid going down during peak times. My friends in Desert Rose and Moon Glow camping all had moments in which the power went out, sometimes for 20 minutes, other times for a bit longer, but it was restored fairly quickly from what I've been able to gather.
While the grid going down for a brief amount of time might not seem like a huge issue, it could get pretty warm inside those ShiftPods as they sat baking in the sun. This could have possibly been due to more electricity being used than anticipated or perhaps someone was tripping the breaker, but it could quickly turn into a bad situation if the AC wasn't working.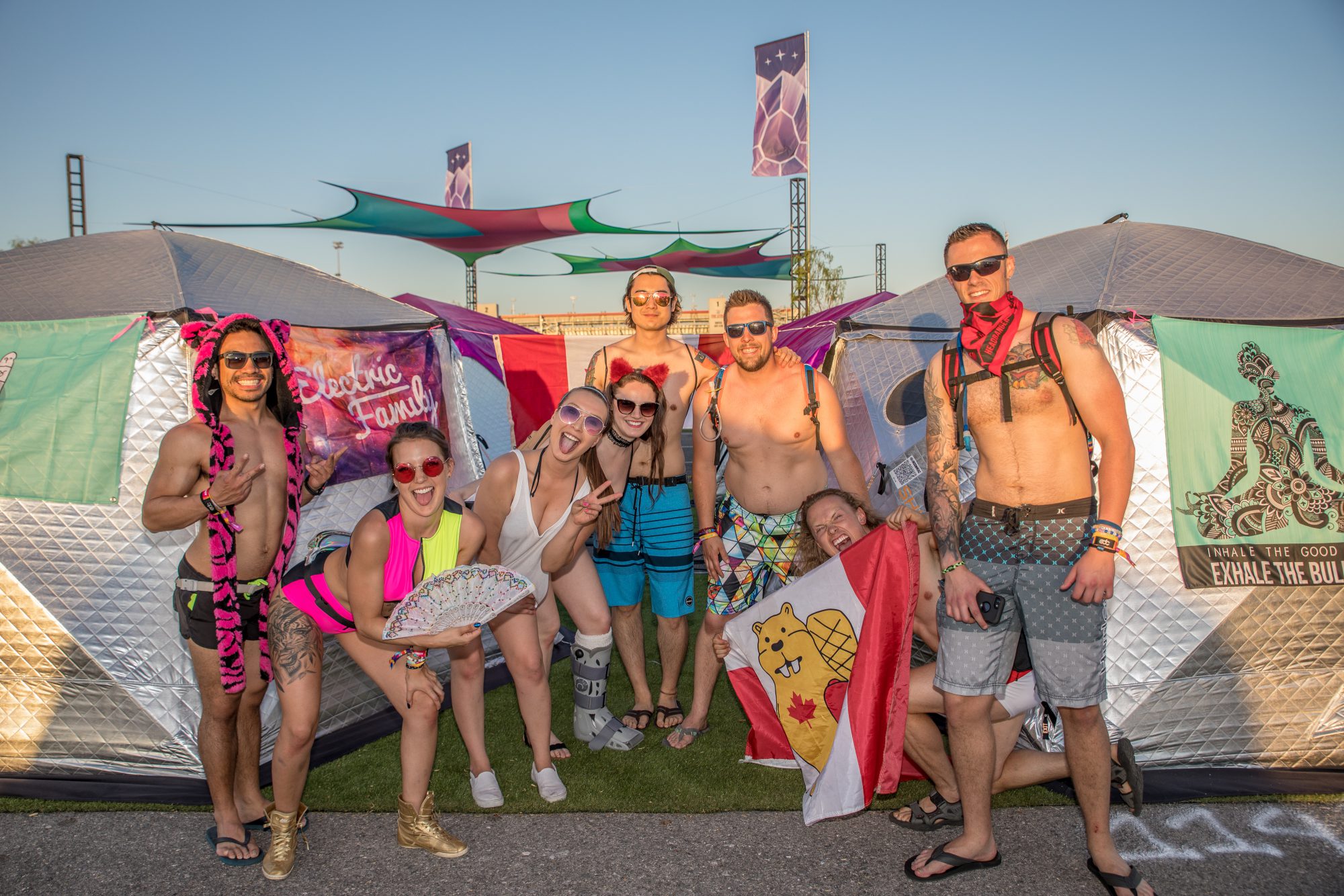 While those were some major issues, there are also some other things I noticed that could be improved upon for future editions.
Shade was also at a premium and many found shelter from the heat underneath the three giant tents that hosted the activities. The Desert Rose camping area had extra shade, but it would have been nice to see some structures built by the tables in the food area or perhaps covering portions of the area in front of the Ferris Wheel.
The food options were fairly plentiful and you could purchase drinks while in the Mesa, but both were not very cost effective. I guess if I wanted to live off Spicy Pie and Buddha Bowls I could make do, but nearly every other food item was priced around the $15 mark. Drinks with hard liquor were priced at a staggering $15 or more as well, so instead of even trying to purchase alcohol, we opted for whatever was in our RV.
Insomniac could also be more clear for RV campers regarding the necessary cables and services for RVs.
While it was stated on the website that those who purchased the 30 or 50 Amp power packages would need to bring 75 feet of cable, it was clear that most people didn't get the message. At the RV Rental Office there were frantic calls to every store that might possibly sell extension cables as standard RVs only come with 25 or 30 feet onboard.
On top of that, the pumping services for the RVs were announced very late and had little information available prior to the festival. Many have complained about it being nearly impossible to figure out when they were available or how to contact the trucks, as there were not specified times given or signage anywhere.
Finally, for many of us who are traveling from out of state, it would be nice for Insomniac to partner with a local charity to receive donations of camping equipment, bedding, and more which would get left behind otherwise. Other festivals like Coachella have accomplished this, and while it may be a large undertaking it definitely would be nice to give back to the community instead of leaving it behind as trash.
Will I return to Camp EDC in 2019? Yes.
At the end of the day, I had an absolute blast at the inaugural edition of Camp EDC. While there are some adjustments and changes that can be improved upon for future editions, I felt that the money spent on the experience was well worth it. The time saved alone from not having to travel to the venue each day was probably the biggest bonus, and the exclusive sets were a cherry on top.
Meeting so many other happy Headliners and getting to bond with friends both new and old created lasting memories that I'll never forget and you really can't replicate the vibes that come from camping festivals. If you're looking for a unique experience, to connect on a deeper level with other ravers, and want to feel like you never truly leave the festival itself the entire weekend, I highly recommend staying at Camp EDC in the future.
---
Connect With EDC Las Vegas On Social Media: