Coachella went above and beyond expectations this year, making for an unforgettable first-time experience.
---
It's that special time of the year for music lovers: festival season. This time period between now and August/September is a treasure trove of new music and events upon events. Year after year, the perfect festival to really get the festival season started is Coachella.
Coachella's lineup boasts some of the most renowned artists and rising stars, as well as sets the tone for the festival lineups that follow later in the year. Seen by many as the kickoff to the festival season, I was happy to have experienced it for the first time ever this year during Weekend Two!
My adventure to Coachella began on Friday, day one of weekend two! 
Not being local to Southern California, my friend and I drove down from the Bay Area on Friday morning around 7 AM. The other part of our group got a bit of a head start, so they were already well on their way. We were all staying at an AirBnB roughly 30 minutes away from the venue and the overall traffic was not too bad on the drive down.
After unpacking the car and taking a quick shower, we were ready to go! After finding parking and trekking to the gates, we breezed through security that had short lines and was moving quickly.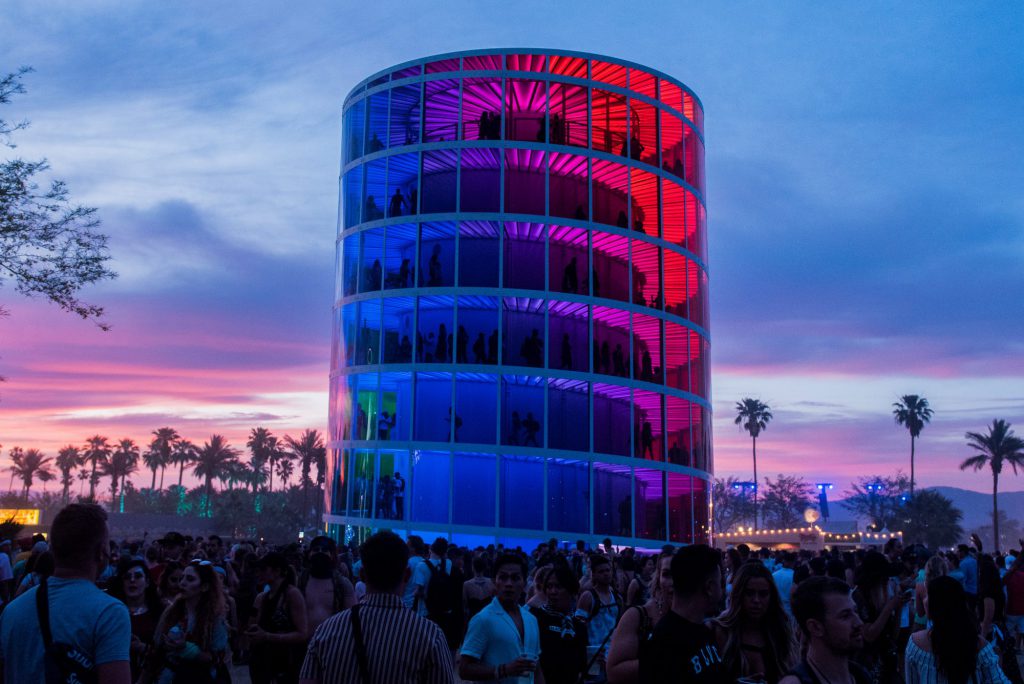 It was time to explore and get acquainted with the Polo Grounds.
This was my first ever Coachella, so I was definitely soaking everything in and just trying to find my way around. Meeting up with some friends, we went to the Sahara tent to catch Alan Walker's set, and after some time headed to the DoLaB to check out Brasstracks. These guys were fantastic! They play live instruments and had the crowd going crazy and engaged their entire set.
Continuing to explore the grounds we walked past Heineken House and over to the main stage where we caught Vince Staples. As the sun began to set, you could feel Coachella start to become more and more alive. Deorro was set to play the Sahara tent next, and wanting to see the production elements at night we chose to head back to that side of the festival. Deorro gave an outstanding tribute to Avicii, and after his set we wandered off to the Heineken House.
For me, the Heineken House was the "bassPOD" of the weekend.
As someone who has attended EDC Las Vegas in the past, when this year's Heineken House lineup dropped it was clear that this was going to be the place to be for bass music lovers. The first taste of bass this came in the form of 12th Planet on Friday, and the overall atmosphere inside Heineken House was amazing. Everyone that was there was definitely there for the dubstep and the sound system was incredible.
Leaving the Heineken House to cool off in the grass by the mainstage after getting slaughtered by 12th Planet's set we realized that Kygo had just taken the stage. A contrast to the wild bass music we were just listening to his set was very chill. During his set, he brought out Ariana Grande and Miguel as special guests to really cap the performance off.
Further, Kygo also took a moment to honor Avicii by playing his track "Without You." It was an emotional moment for the hundreds of people watching his set, but it was also fitting that his song was played on main stage at Coachella on day one.
The Do Lab called our name once again, so we headed back for Oshi's set.
I had checked my Coachella app's schedule right when we got to the DoLab and saw that Moon Boots was on, thus we were unsure if there was a scheduling miscommunication or what, but he was just finishing up his set right before Oshi's. After some dancing around to house music, Oshi took the stage.
His production is generally very melodic and incorporates lots of vocals and future bass elements. To our surprise, Oshi threw down an incredible set that was filled with heavy bass music and wonderful bootleg version of songs that kept everyone on their toes. This set shaped up to be one of the best during the entire weekend due to the unexpectedness!
After Oshi's set, we stuck around for Luca Lush, who also spun an amazing as well! He played a lot of his remixes that he has released on SoundCloud as well as some other well-known songs. From the minute he started playing, he kept the crowd moving!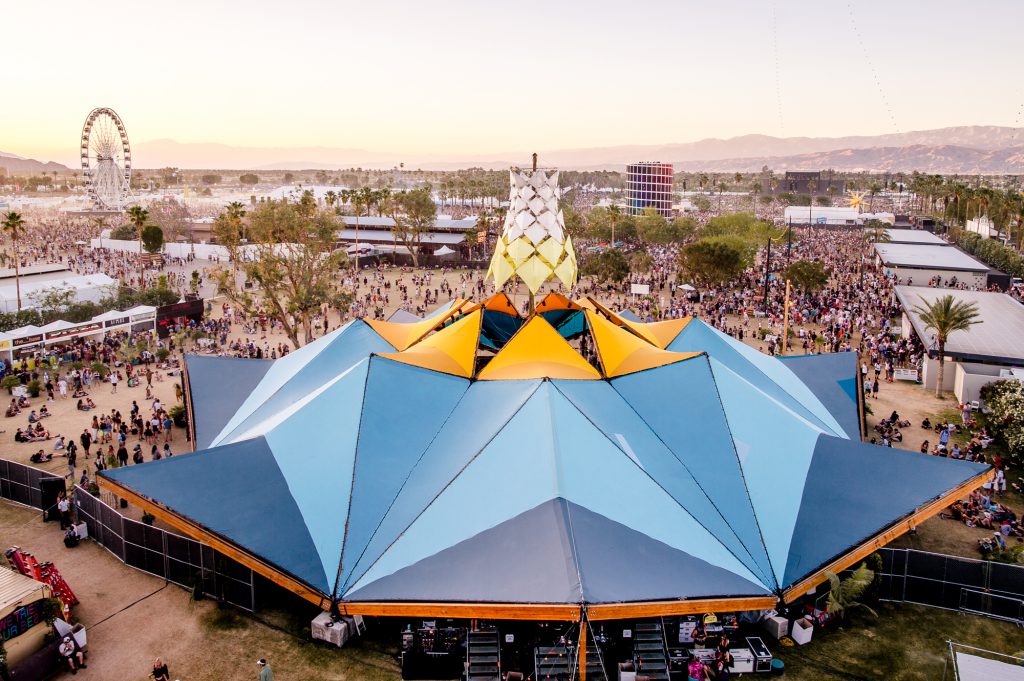 Friday night's headliner was up next, and I was excited to catch The Weeknd.
I've been a big fan of The Weeknd since he blew up through the first three mixtapes that eventually became his Trilogy album. His songs have always seemed very real to me, which I enjoy thoroughly. From the moment he took the stage, you could easily tell that The Weeknd was about to give one hell of a performance. His stage presence was great as well as his voice – he sounded just like he does on his recorded songs.
Unfortunately, we cut out of The Weeknd's set before he finished due to the set time conflict with REZZ, but she did not disappoint either. I've seen REZZ a few times before, but this time at Coachella was something else. The set she played was mind-blowing, and that paired with the Sahara tent's production elements made her set the perfect set to end the first day at.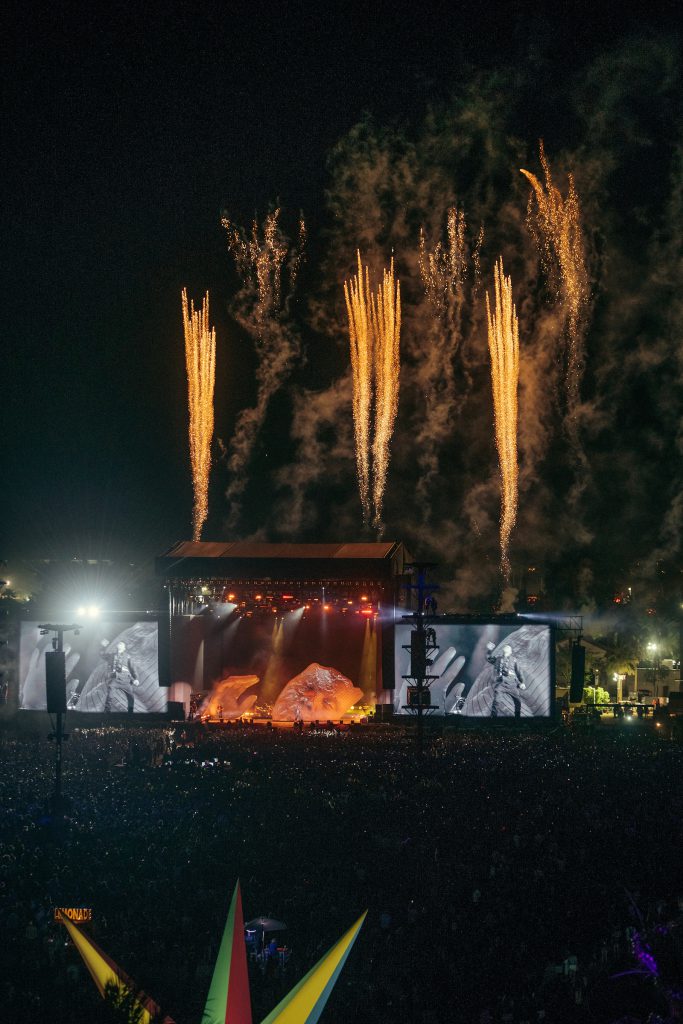 With the excitement of Friday behind me, I was eager to get Saturday started.
Similar to Friday, we arrived at Coachella and didn't have an issue with lines or security. I split off from my group to conduct an interview, but while I waited I was able to catch a bit of MO's set. Although I didn't get a chance to watch her set for too long, she had a unique energy on stage which I thought was cool.
After the interview, I was off to meet up with my group to catch Louis The Child, one of the sets we wanted to see the most. Locking down a good spot in the crowd, we witnessed an epic set that was amazing from start to finish as they kept the crowd moving with their high energy beats. My personal favorite moment from this set was when they brought out vocalist Wafia for their new release "Better Not".
Once the set was over, we wandered around the festival and found ourselves getting caught up in the web of the DoLaB once again. Saturday was full of special guests that included Mija, a b2b set from MK and Will Clarke, and a closing set that night from head Dirtybird, Claude VonStroke.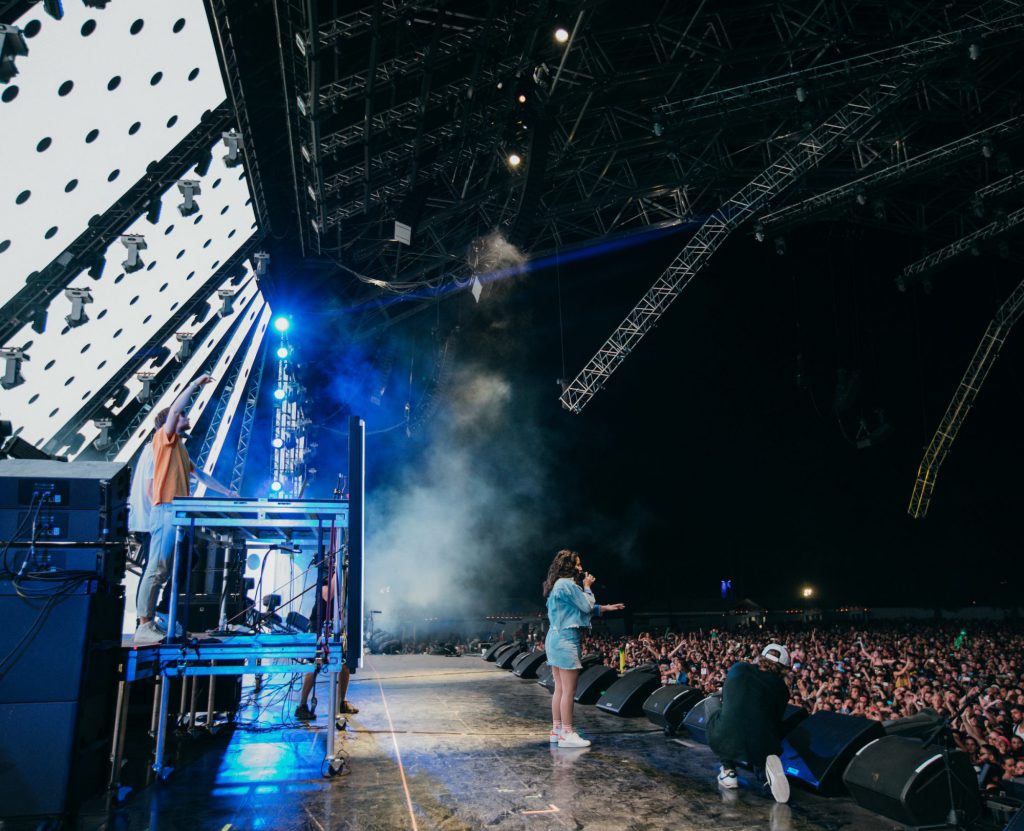 It would not be a true festival experience without someone losing something and in this case, it was, unfortunately, me who lost their phone.
Right before Post Malone's set, my group sat down and I must have left my phone there when we walked away. Only five minutes had passed before I frantically returned to the spot, but of course by then it was long gone. Despite losing my phone, I kept my spirits high and was determined to have a good time.
We caught Post Malone and Alt-J before closing the night with Beyoncé to round out our second day at the festival. Post Malone was amazing during weekend two, and he even brought out special guests Rae Sremmurd and Ty Dolla $ign. Alt-J was my biggest surprise of the night, and while I've listened to their tracks before, the live set at Coachella was incredible!
Contrary to the popular opinion at the festival and on the internet, for me, Beyoncé was just okay.
I felt a little underwhelmed by her performance. While she did bring her entire dance crew and it was a grandiose performance, I just thought it was too over the top. I have thoroughly enjoyed Beyoncé's music and Destiny's Child as well back in the day, but I feel the recent Beyoncé just isn't as good content as the old one.
I will say though that her voice is pretty amazing live and her reuniting Destiny's Child and bringing out J Balvin was cool. Overall though, there were plenty of other performers that put on a better show throughout the weekend.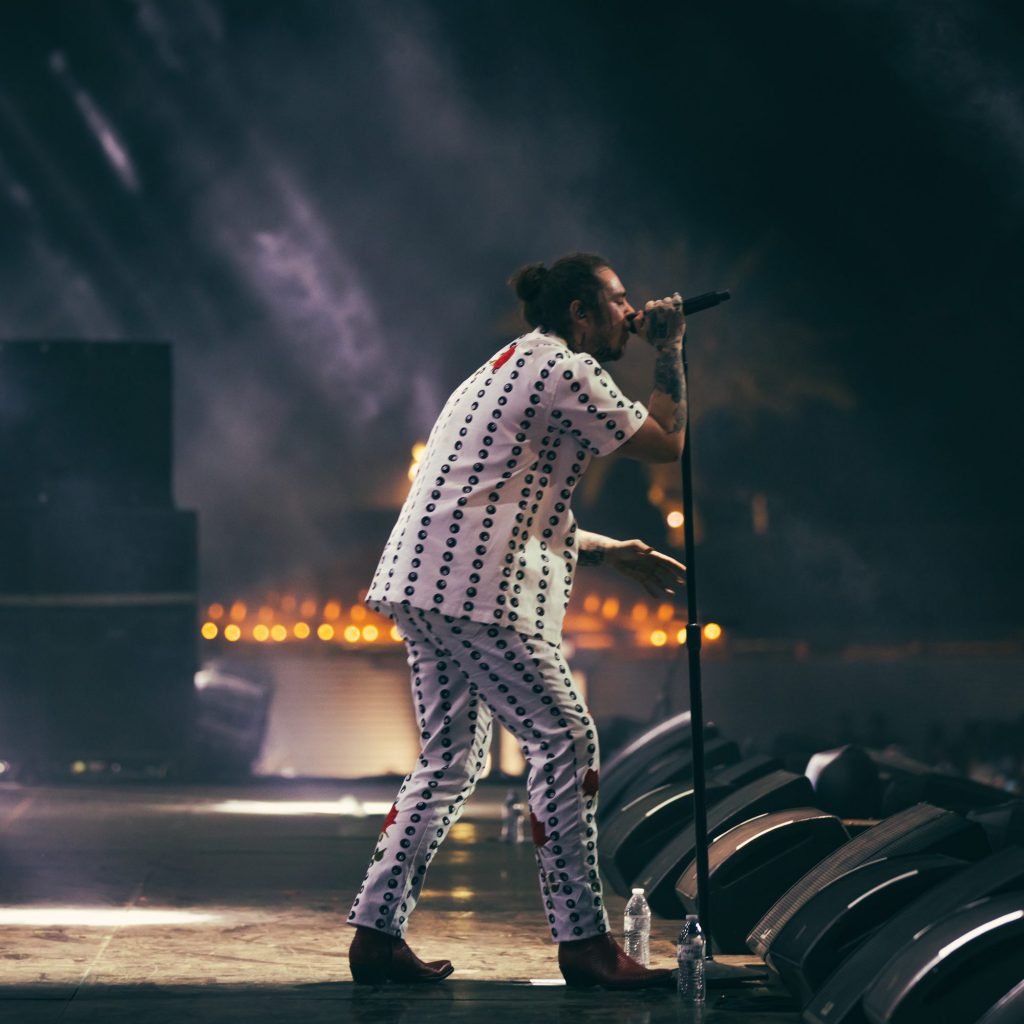 In the blink of an eye, the final day of Coachella was upon us.
The past two days had already been a blast and Sunday's lineup was stacked with acts we were dying to see. First up on Saturday for us to catch were two hip-hop artists, Amine and Russ. I'm familiar with both artists, but between the two – Russ absolutely blew me away. That guy is incredibly talented and has an awesome stage presence, I can't wait to see him again.
Coming as a complete surprise to me, Cardi B was arguably my favorite set of the weekend.
While I'm a fan of her songs, I was not expecting her to deliver such a strong performance on main stage on Sunday. Her set was entertaining the entire time and, despite it being shorter than others who played, we walked away from it feeling very satisfied. The Heineken House was calling our name once again so we made the trek, this time for Zomboy's set.
Zomboy at the Heineken House will be something I will never forget.
When I saw that Zomboy would be playing the Heineken House, I knew that I needed to be at that set. Luckily, there were no schedule conflicts during this time for me. The line was definitely long, but it made me happy to see so many bassheads at Coachella come out for his performance.
The inside of the Heineken House was packed and it felt like a sweatbox, but that added to the overall grime. I definitely went overboard with the headbanging and had a sore neck afterward, but I couldn't help myself with how crazy his set was!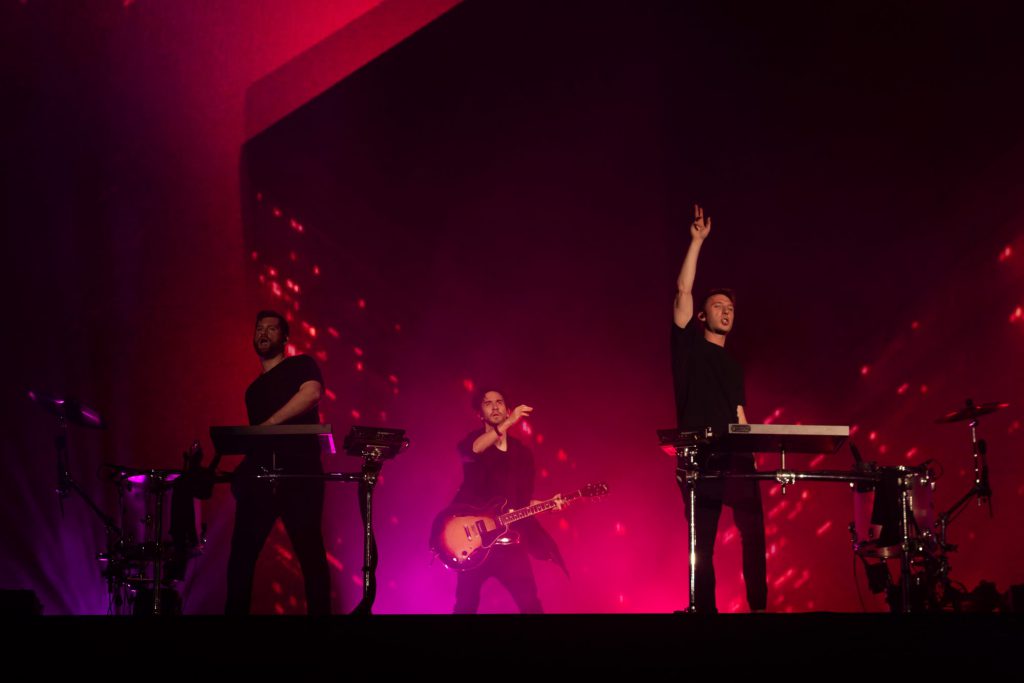 The end of Coachella was in sight, but there were a few more sets to see.
We briefly caught some of Miguel's set but had to run over to ODESZA soon after because we wanted to lock in a good spot. Playing the main stage on Sunday was the perfect fit for ODESZA and their production team went over the top on this performance. From their music to their visuals, everything flowed so well together. I've seen ODESZA a handful of times so I felt like I knew what to expect, but I ended the set in complete awe.
To round out the night we went back to our home base at the DoLaB to catch Monolink and the special guest closer, Bonobo. Wanting to take it all in we also checked out Eminem and Barclay Crenshaw as well. Out of all these acts, Barclay Crenshaw stuck out to me as completely out of this world.
I had never seen a set of his before, but would highly recommend it to everyone. It's weird, trippy, but so different from anything else. It's unfortunate that he shared the same timeslot as Eminem, but those of us who check him out were definitely gifted something special.
That's a wrap! My first Coachella was officially over.
Coachella 2018 Weekend Two was a mind-blowing experience for me. Overall, it was a festival unlike anything I have experienced before and in the best way possible. I went into the weekend with zero expectations and had some of the best times with my groups amongst some of the best music that is out right now. I will for sure be heading back to the Polo fields in 2019 and I could not be more excited!
---
Connect with Coachella on Social Media: