Once again, Lost Lands has shown me why the bass community will always feel like home.
---
When Jeff Excision Abel announced the first ever Lost Lands Music Festival in 2017, bassheads everywhere crawled out from under their pashminas and snagged tickets as soon as possible, preparing themselves for a weekend of bass mayhem. One burned-down volcano and several f#%cking dinosaurs later, Excision's first festival was dubbed the biggest bass festival in the world. With such a lofty title already claimed, I had no idea how Lost Lands could improve in the future.
This year, I returned amidst endless dubstep and dinos to Legend Valley. Though Lost Lands 2018 was much hotter than the last, each day and night was filled with nonstop dancing, laughter, and tears as I hipped, hopped, and headbanged to each set. Excision has once again put on an absolutely stunning festival, creating a headbanger oasis bass lovers everywhere can call home.
---
My journey began early on Friday morning instead of the previous night with its b2b pre-party madness.
I remembered all too well how exhausted three days of nonstop heavy bass made me feel last year, and knew I wouldn't be able to tough it out for a fourth night. After waiting three hours to get through what appeared to be understaffed security, my group and I set up camp and got ready for the day.
The first day I was decked out in Freedom Rave Wear, complete with a fishnet bodysuit and sparkly booty shorts. It was the most clothes I could bear to wear in the sweltering sun, and at times even what little I had on was unbearable.
We didn't make it in time for Svdden Death, but we did catch PhaseOne b2b Protohype, who threw down a deliciously gruesome set in the heat of the day. Even though I had just arrived, I spent a majority of the set sitting down with my pashmina over my head. The sun alone was enough to make me feel nauseous, and I couldn't help but wonder how the rest of the festival would play out given these harsh conditions.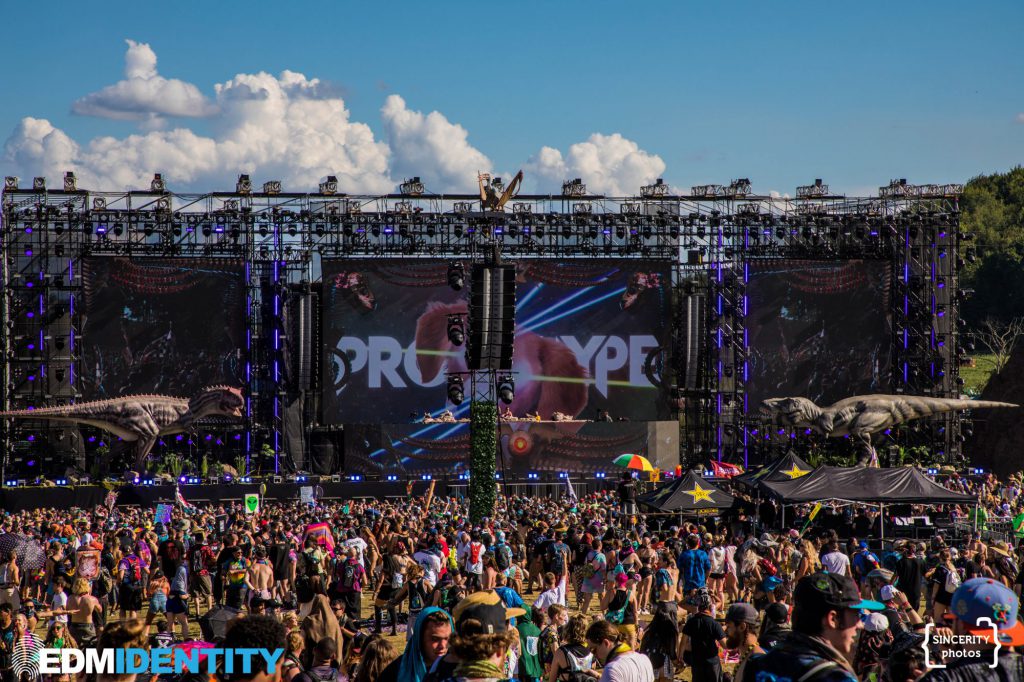 After PhaseOne b2b Protohype, we ventured to the Wompy Woods stage for Kai Wachi.
The Wompy Woods stage, a new addition to Lost Lands and their second main stage, is a prehistoric fantasy world of its own. With large paneled screens to offset a giant long-neck dinosaur perched on top, Wompy Woods was equipped with tall electronic pillars standing perimeter around the stage area. My only complaint about this stage would have to be the uneven mulched ground that made my uncoordinated self that much more awkward, but otherwise, Wompy Woods captured a beautifully intimate vibe.
Kai Wachi and Black Tiger Sex Machine, both hailing from Kannibalen Records, threw some of my favorite sets of Day 1.
I shed a couple tears when Kai played "Cerebrus" (my favorite song by him) all the way through as well as his latest release, "Bodied". Black Tiger Sex Machine brought the heat by opening with "Replicants" and interweaving house, dark electro, and vicious dubstep throughout their entire set.
Up next was Eptic b2b MUST DIE! at the Prehistoric Paradox stage, where Eptic's trademark visuals overtook the massive screens. Following that set was SKisM b2b Trampa, which I was pleasantly surprised by. I've never been super into Trampa's music but have wanted to see SKisM for quite some time, and the two Never Say Die labelmates absolutely murdered their set, making it the heaviest of Day 1.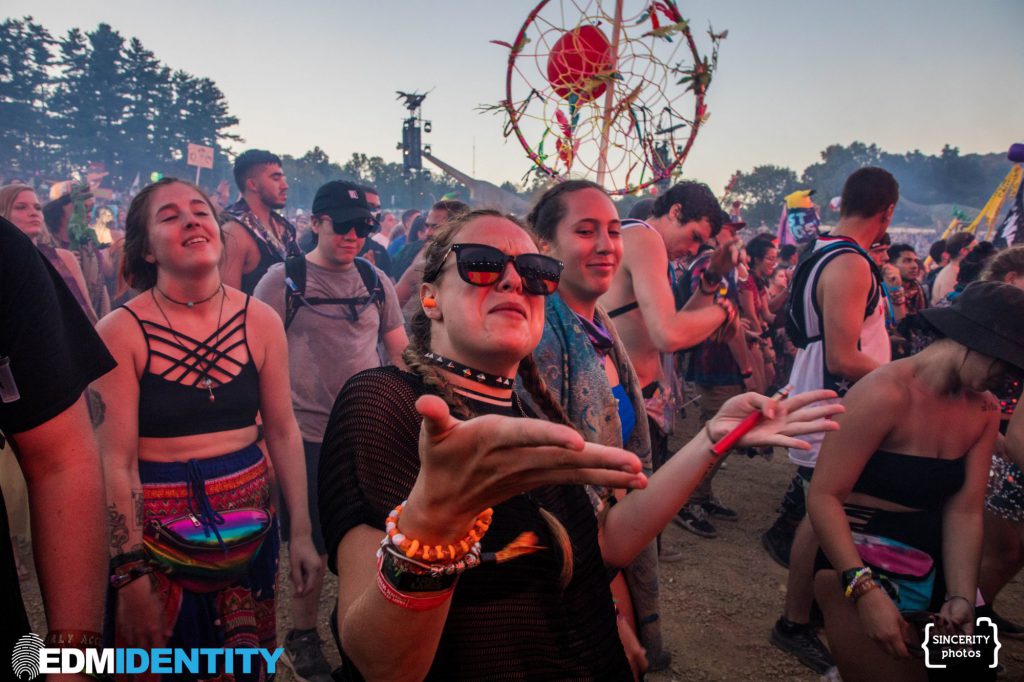 The real headliner of the night, however, was Zomboy, who I had originally planned on leaving early during to catch a little bit of Kill The Noise.
Because I had never seen Zomboy before, I expected a set matching the gritty, slaughterous energy of Trampa's and SKisM's b2b, which I knew I couldn't do two sets of if my neck was going to withstand another two days. As soon as Zomboy began, I had a feeling this was going to be one of my favorite sets of the weekend.
Zomboy did what I like to call "Zeds Deaded our asses," meaning he seamlessly played an array of tracks ranging in different styles and levels of heaviness and even threw in RUN-DMC's "It's Tricky", which really got the crowd jumping. By the end of his set, my voice was lost from enthusiastically screaming "That's my boy!" over and over again, and I walked away convinced nothing would top that set for the entire weekend.
Excision's solo set on the first day was my favorite X set of the weekend.
Besides getting the crowd going with Bassnectar's "Slather" and "Heavyweight Sound" as well as Getter and Virtual Riot's remix of "Throwin' Elbows," Excision's set was the most emotional of the day for me. Never before have I dropped to the ground sobbing during a set, but as soon as I heard "Die For You," Sullivan King's remix of "With You," and "Drowning," I melted into a puddle.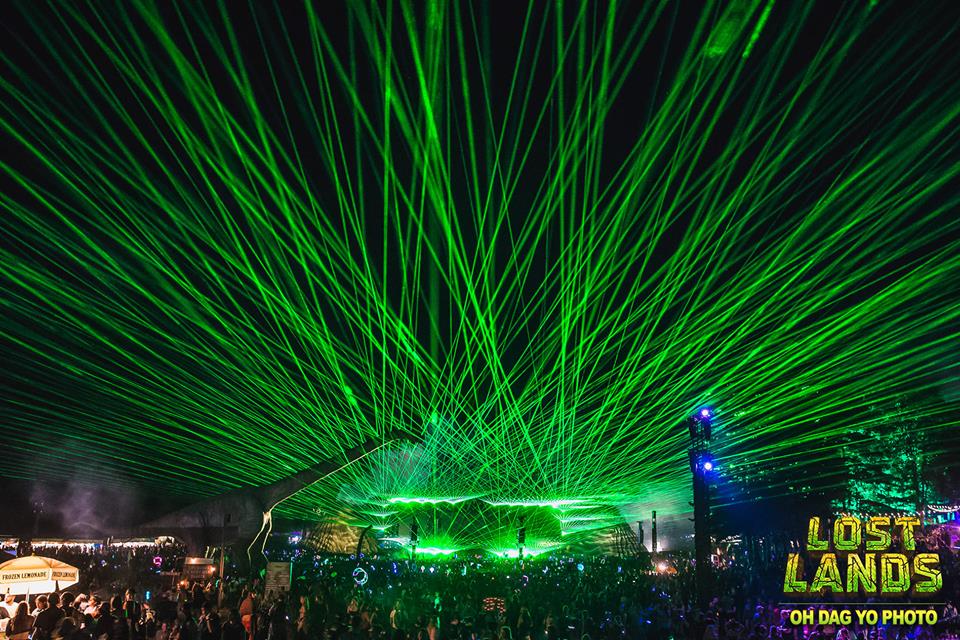 Day 2 was a mix of filthy riddim, metalstep, and old school wobbles.
HE$H's set brought out the filthy riddim rat in me, and even though I was trying my hardest to conserve my energy for later sets, I couldn't help but go absolutely mental to a savage double of HE$H's "Hoods Up" remix and Svdden Death's "Behemoth." Afterward, I chilled out (as much as you can chill out at a heavy bass fest) to JPhelpz and Sullivan King, then got weird to Eprom's grungey experimental basswaves.
I ended up leaving early from Eprom's set to sprint over to the merch tent for the chance to meet Dion Timmer, who was an incredibly humble and super nice guy. After taking a picture with him and his beautiful girlfriend Kendall and fangirling for a little bit, Dion signed my backpack and I skipped over to Space Laces to meet my friends. Since Space Laces dropped his Overdrive EP, he's been at the top of my list of artists to catch, and I was not disappointed. I especially wanted to hear "Kaiju" live, a mystical blend of bass house and gritty dubstep, and it was one of my favorite moments of his set.
One of my favorite sets of the day had to be Bear Grillz, who surprisingly threw down an extremely gnarly dubstep set that got me and my entire group hyped up for the rest of the night. Afterward, we caught a little bit of Snails but left early since we weren't really feeling what he was playing, and caught the tail end of Rusko, where we made it just in time to catch Bassnectar's remix of "High" and "Hot".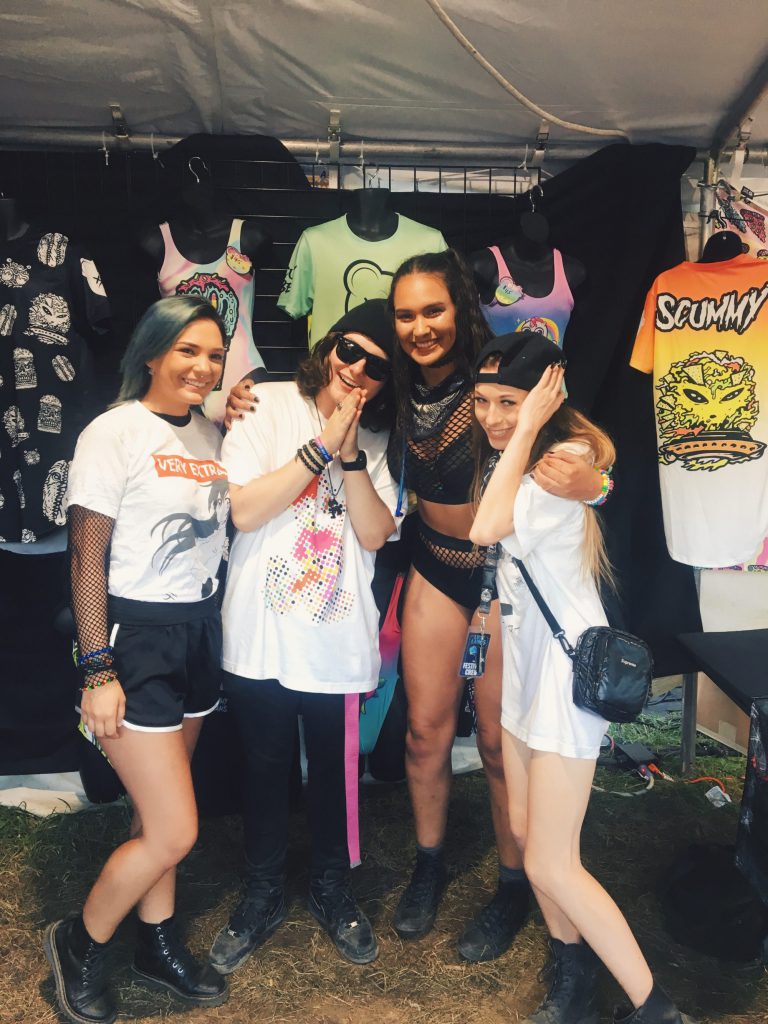 Because I was so far back from the stage, I felt entirely disconnected from Excision and Downlink's b2b set.
Despite X playing plenty of his old-school tracks, which I had been dying to hear, I was so far back at the Wompy Woods stage that at times I didn't even feel like I was at a set, but was just listening to music from afar. Considering that we were in the same spot for 12th Planet b2b Virtual Riot, I had the same feeling during theirs as well.
Though I appreciated the idea of the sound camps, the stages were entirely too small given the number of people attending, and peoples' personal conversations were louder than the music itself.
All of the sound camp stages were clustered together and only separated by small sound barrier walls, and the sound at each stage was incredibly low – so quiet that I had to take my earplugs out just to be able to hear any music. Though I wanted to stay to support Dion Timmer's sound camp set, I felt extremely bummed by the overall vibe and low volume and decided to call it a night.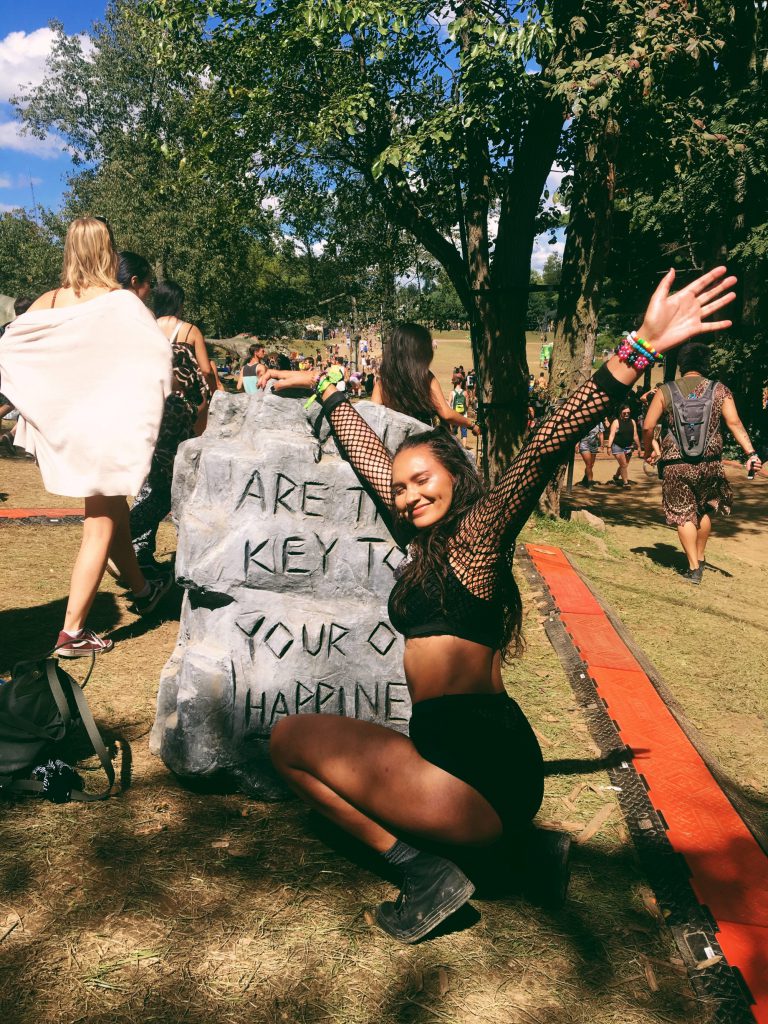 My third and final day of Lost Lands began with a severe lack of communication and organization on the festival's part, which definitely put me in a bad mood.
My group planned to leave after the last set on Sunday to beat traffic and get back home so we could have the energy to make it to class on Monday. To do that, we needed to be escorted out of the campgrounds and to overnight parking. After waking up early to pack up our campsite, we headed over to the box office and waited for someone to escort us. No one ever came. We waited for fifteen minutes and not a single person showed up.
We asked a nearby volunteer if she had any idea how we could get to the lots or if she could get ahold of someone to take us, to which she responded that she had no idea and that "they just put her there and didn't give her any information." At this point, I was extremely aggravated, sore, and tired. We decided to try to follow the map given to us when we entered the festival to find the office, hoping to see at least some signs along the way to point us in the right direction, but there were none.
Every staff member we asked said they weren't sure where the lot was and at that point, I was tempted to call it a day and go home.
About forty-five minutes later, we finally found the lot and proceeded to get ready for the day. Then another curveball was thrown our way – set times were completely shifted and moved around to account for storms headed our way later in the night. I had no idea this happened because I didn't receive a notification through the app – instead, I found out through a friend and verified it through Lost Lands' Twitter. I was really confused why this information wasn't sent out immediately through the app. Even though my service was okay, I knew a lot of people had little to no service and would end up missing some of their favorite sets.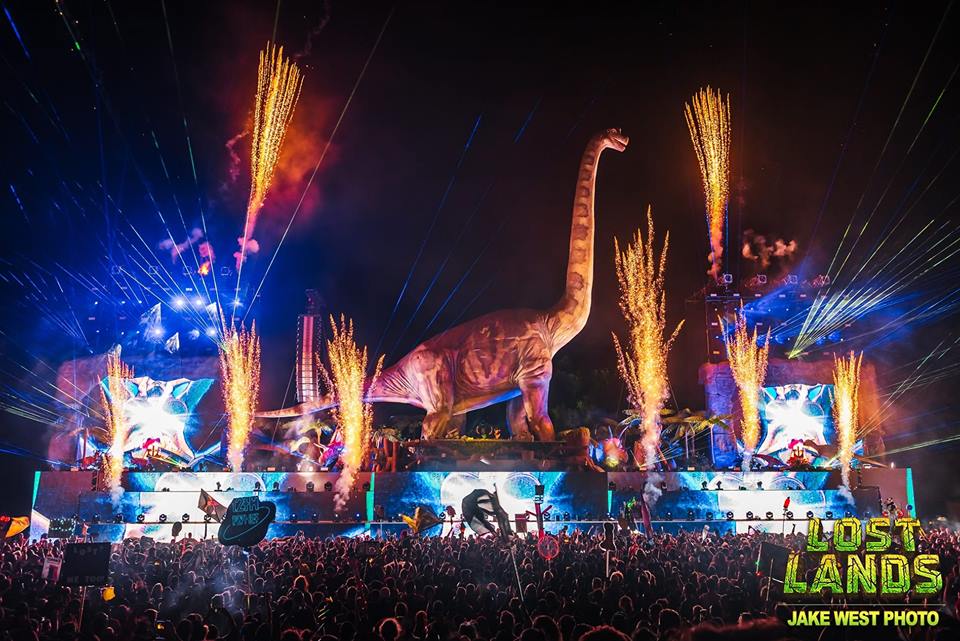 Probably the most annoying thing about Lost Lands was the inconsistency of festival staff, volunteers, and security.
After jumping on the shuttle to the festival and passing an extremely extensive security check into the campgrounds, we just had one more round of security to go through. At festivals, I carry a tiny bottle of peppermint oil with me to help with my sinuses, and if you've been to Lost Lands, you know the dust is seriously no joke.
Even though I had gotten in no problem with my peppermint oil on previous days and even through the in-depth security check I had just passed through, the security guard told me I wasn't allowed to have it. I told him to just throw it away (he said I could take it back to my campsite, but we were already packed up) and walked into the festival even more pissed off than I was that morning.
But my bad mood didn't last for long.
After getting some food (not Spicy Pie this time – I know, I'm a disappointment) and catching a little bit of Um..'s set, I was pleasantly surprised to find out that sound camps had been moved to the main stages because of inclement weather, and Kompany had acquired an hour-long set. I unfortunately didn't get to stay for long because Subtronics' meetup was starting, so my friend and I sprinted over to meet him.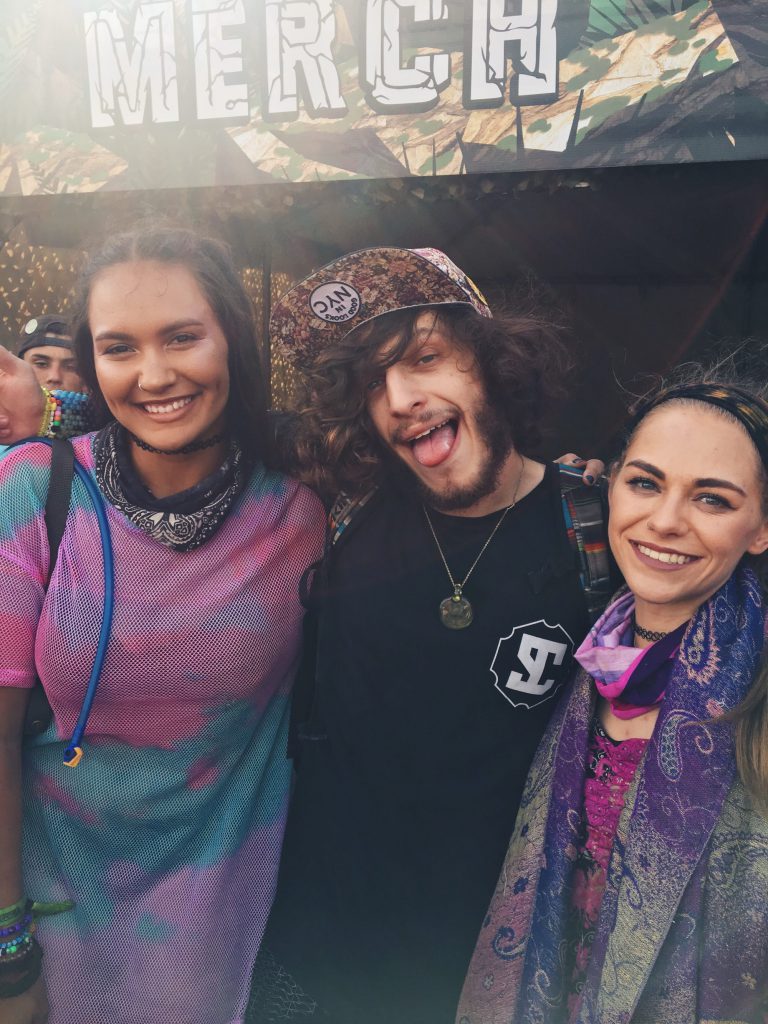 Subtronics is undoubtedly the most humble artist I've ever met, and interacting with him face-to-face made me that much more excited for his set.
Sunday's sets were easily my favorite. My day really started with Dion Timmer, and because most people were at Excision's Detox set, I felt like this show was specifically made for me. He dropped some unreleased heat from his upcoming album, as well as some freeform bass and old-school dubstep. The entire set was a rollercoaster of emotion and my limbs writhed and wriggled in ways I didn't know possible.
My friend is a huge fan of JAUZ, and his Electric Forest set absolutely murdered me, so it was only right to get a good spot for him.
For the next few hours, I headbanged harder than I ever had for Jauz, Cookie Monsta b2b FuntCase, and Doctor P b2b Flux Pavilion. Cookie and FuntCase's visuals were definitely the most terrifying I had seen all weekend: demonic clown faces popped in and out and flashed amongst red lasers and angry dubstep. The b2b rounded out with "Scary Yikes Grrz", reigniting the entire crowd with a ferociously powerful energy as we all screamed out each "BWAAA."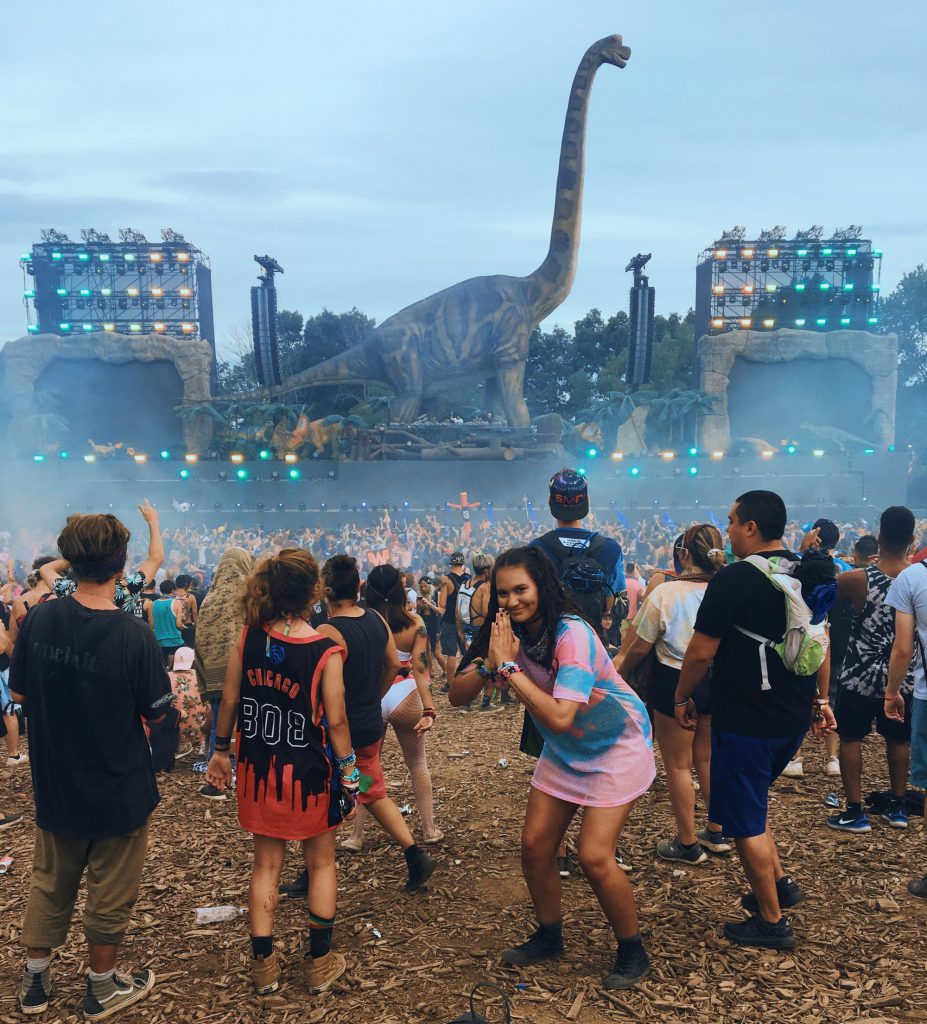 I practically sprinted over to Wompy Woods to catch a good spot for Dirt Monkey b2b Subtronics, and truthfully, there aren't enough words to describe just how freaking good this set was.
Subtronics' disgustingly filthy riddim doubles mixed in with Dirt Monkey's funky wobbles truly made this set the greatest I think I have ever experienced. My group and I left the set staring in awe at each other, wondering what the hell kind of entity just possessed our bodies during this set. Afterwards, we got a little weird to Yheti at the Paradox stage before calling it a night and saying our goodbyes to Legend Valley.
As expected, the music at Lost Lands was top notch, and I definitely appreciated not hearing "Railbreaker" thirty times. Every b2b was beautifully done and every individual artist really brought the heat to their sets. But just like with any festival, Lost Lands isn't just about the music, but the experience as a whole. After my second round at Legend Valley, I left with a few ideas of how Lost Lands could improve for future editions.
There is definitely room for improvement in the future.
Obviously, it's Lost Lands' second year running, so in no way, shape, or form was I expecting a perfect festival. That being said, I do think it's important that festival staff and attendees learn from the 2018 edition to better prepare for 2019. Aside from the lack of consistency from staff, volunteers, and security, here are some of the things I felt could be improved on in the future:
Water
Personally, I didn't have any issue with getting water. Having attended many festivals, I've learned when's the best time to get water and to go refill when my hydration pack isn't bone-dry. But overall, there simply weren't enough water stations within the festival to accommodate the increased attendance. I will say that I strongly appreciate Lost Lands' decision to continue selling water bottles for $2 since most festivals upcharge theirs for $4-5. On the second and third days, Lost Lands even allowed people to bring in two factory-sealed water bottles to attempt to combat the heat. That was pretty damn cool.
Camping
The thing that pissed me the most off about camping wasn't even the fact that my campsite was damn near on the other side of the state, but the lack of signage. We had absolutely no idea which camp we were in, and on the first night, it took us twice as long to get back because we had no idea how to. In the future, I'd like to see Lost Lands take some of those big f#%king dinosaurs and use them as identification totems in the campsites so we could actually, you know, find our way back before 4 am.
Sound Camps
The idea was really cool but the execution wasn't. Like I mentioned earlier, there were just too many people given the size of the stages, and the volume of each stage didn't help either. I felt like I was at a frat party that was lowkey playing dubstep in the background, and at that point, it didn't matter who took on one of the stages – I wasn't going to be sticking around.
Temperature
Excision, if you're reading this, please – Move. The festival. Back. Last year I was probably borderline hypothermic given the drastically cold temperatures at night, but one thing I've realized at festivals is that it's always worth it to overpack and bring drug rugs and sweatshirts to bundle up in later. With heat, it's damn near impossible to alleviate it. No matter how much water I slapped on the back of my neck or how much I fanned my face, I was burning up – even late at night.
I can only imagine how people who had been drinking or partaking in other substances felt. I know Jeff meant well, and that obviously the hurricane is affecting temperatures as well, but just to be safe, I'd love to see the festival return to its original date. Plus, I just really like dancing in my harem pants.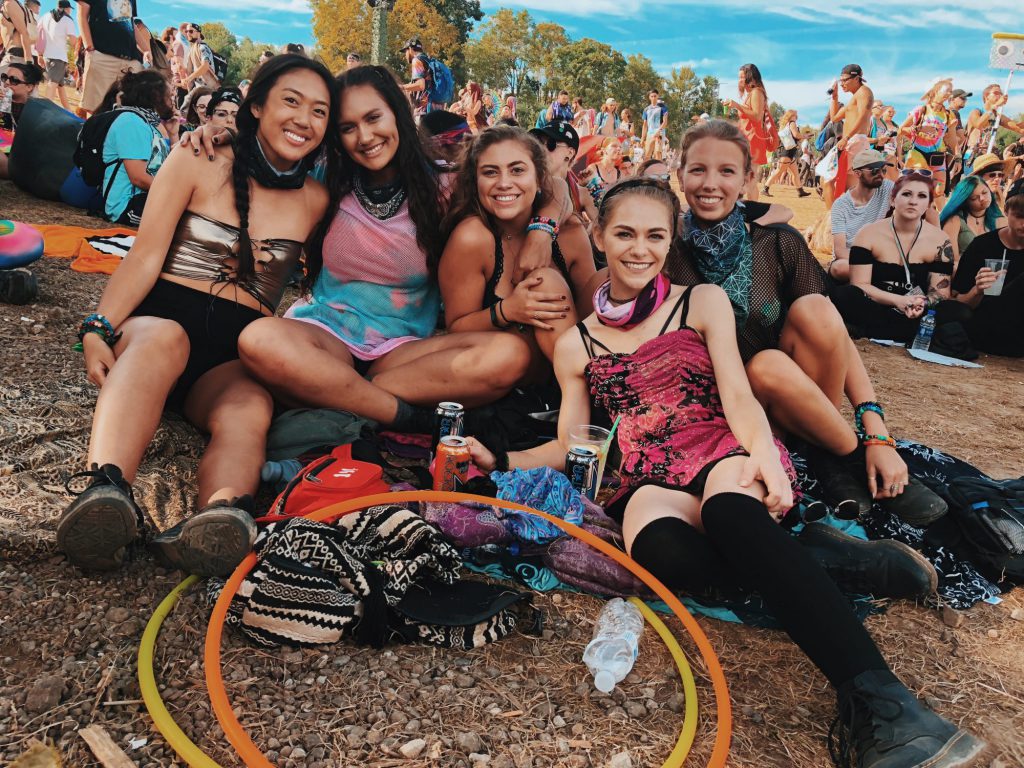 Overall, my second Lost Lands experience surpassed all expectations I had.
More than I have at any other festival, I feel a true sense of belonging at Lost Lands. There's no greater feeling than going absolutely crazy, flailing your arms around to each bass bobble and snapping your neck to every drop and seeing thousands of people around you doing the exact same.
Lost Lands 2017 was my first look into the basshead community, and since then, I've undergone a complete transformation. I fell in love once more with EDM and everything the scene is, and found my people because of it. I never knew loud angry noises would be my salvation, but I'm thankful for Lost Lands because of it.
There were a few bumps along the way, but I truly loved Lost Lands 2018. The crowd vibes were impeccable, the production level was off the charts, and there wasn't a single set I didn't at least somewhat enjoy. I hope to make a return to my heavy bass home in 2019, and as always, I can't thank Excision and his team enough for creating such a wonderful festival.
Lost Lands, thank you so much for having me!
---
Follow Lost Lands on Social Media:
Website | Facebook | Twitter | Instagram | SoundCloud | YouTube