Imagine Music Festival unleashed the initial lineup for 2022 featuring Excision, GRiZ, Kaskade, AIR2EARTH, Madeon, Gorgon City, and more.
---
The past couple of years have been a struggle for many events and when it comes to Imagine Music Festival, the weather-related cancelation of their 2021 event sent shock waves through the community. But, it's time to leave the past in the past because from September 16-18, dance music lovers will reunite on the newly selected grounds of Kingston Downs, GA.
To celebrate the festival's return, Iris Presents promises brand new stage designs, fresh entertainment, and an overall expansion and improvement of the campground experience. All that was left to wonder about was the lineup but today it finally arrived and it's a doozy with an array of artists spanning dubstep, house, trance, drum and bass, techno, and more.
Imagine Music Festival is set to feature major acts like Excision, GRiZ, Kaskade, Gorgon City, Ganja White Night, Andy C, and Subtronics, primed and ready to send shockwaves through the grounds. In addition, prepare to be blown right out of your socks by the super impressive b2b action featuring Ghostryder (Ghastly b2b Joyryde), Borgore b2b Riot Ten, Gettoblaster b2b Franklyn Watts, and many more. In true fashion, some of Atlanta's hottest local acts are ready to pump up the party including Sam WOLFE, Viv Castle, Otica, Exit 9, Reliquary, and the voice of Imagine, MJ Lee.
There's even going to be a gorgeous AIR2EARTH sunset set that is not to be missed by any Porter Robinson fan and be on the lookout for ZHU, the special guest for the weekend. Even the stage takeovers are looking mighty fine with mau5trap, WAKAAN, and Ophelia showing off what their artists do best while the Aqua Day Club Pool Party welcomes Kaskade and Adventure Club. And don't forget to grab your Thursday preparty ticket because Seven Lions, MitiS, Dimibo, Gem & Tauri, and Ironheart will be setting the tone for the rest of the weekend!
Tickets and payment plans for Imagine Music Festival 2022 are close to selling out so grab yours now via SeeTickets! Continue on for the full lineup and stay locked in with their socials as more artists will be revealed soon!
---
Imagine Music Festival 2022 – Lineup: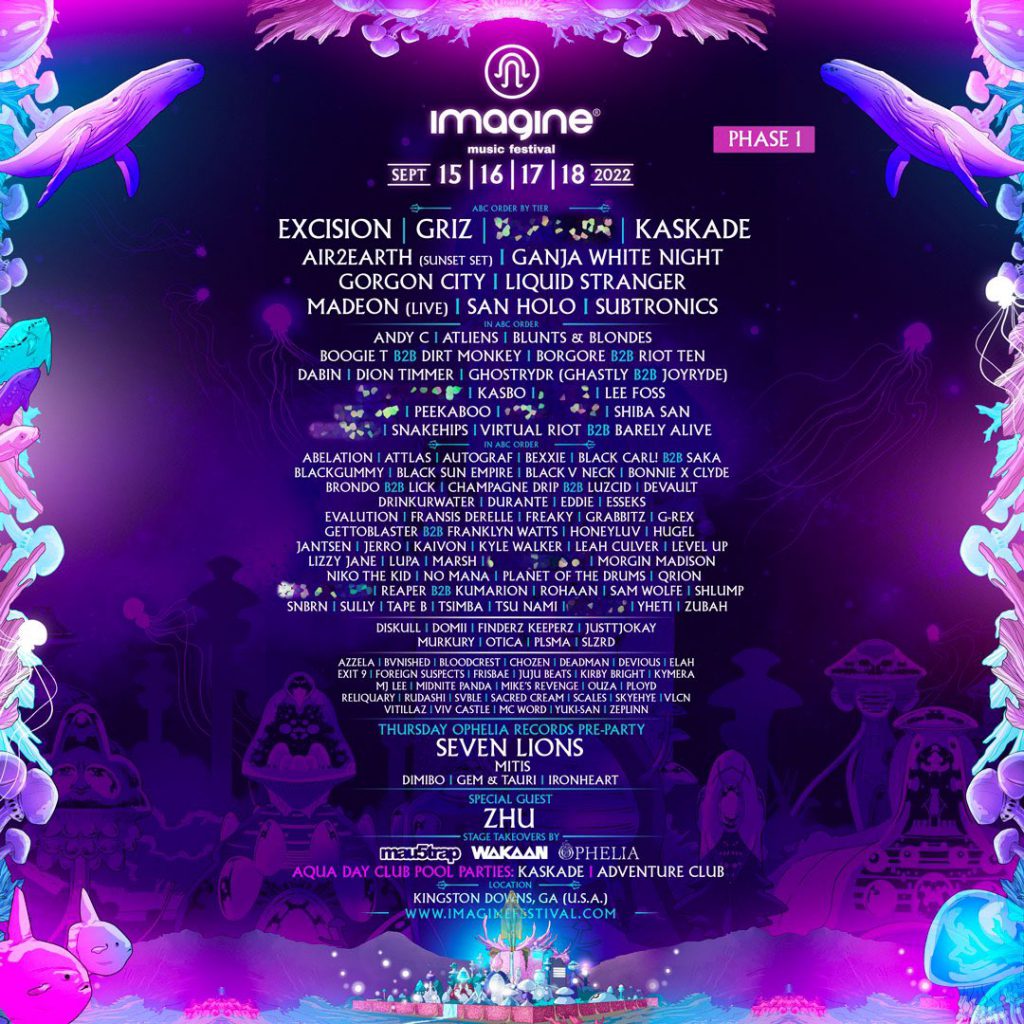 ---
Imagine Music Festival 2022 – Initial Lineup By Artist:
Abelation
AIR2EARTH (Sunset Set)
Andy C
Atliens
Attlas
Autograf
Azzela
Bexxie
Black Carl b2b Saka
Black Gummy
Black Sun Empire
Black v Neck
Bloodcrest
Blunts & Blondes
Bonnie x Clyde
Boogie T b2b Dirt Monkey
Borgore b2b Riot Ten
Brondo b2b Lick
BVNISHED
Champagne Drip b2b Luzcid
Chozen
Dabin
Devault
Deadman
Devious
Dion Timmer
Domii
Diskull
Drinkurwater
Durante
Eddie Esseks
Elah
Evaluation
Excision
Exit 9
Finderz Keeperz
Foreign Suspects
Fransis Derelle
Freaky
Frisbae
Ganja White Night
Gettoblaster b2b Franklin Watts
Ghostryder (Ghastly b2b Joyryde)
Gorgon City
Grabbits
Griz
G-Rex
Honeyluv
Hugel
Jantsen
Jerro
Juju Beats
Justtjokay
Kaivon
Kasbo
Kaskade
Kirby Bright
Kyle Walker
Kymera
Liquid Stranger
Leah Culver
Lee Foss
Level Up
Lizzy Jane
Lupa
Madeon (live)
Marsh
MC Word
Midnight Panda
Mike's Revenge
MJ Lee
Morgin Madison
Murkury
Niko The Kid
No Mana
Otica
Ouza
Peekaboo
Planet Of The Drums
Ployd
PLSMA
Qrion
Reaper b2b Kumarion
Reliquary
Rohaan
Rudashi
Sacred Cream
Sam WOLFE
San Holo
Scales
Shiba San
Shlump
SKYEHYE
SLZRD
Snakehips
SNBRN
Subtronics
Sully
SVBLE
Tape B
TSIMBA
Tsu Nami
Virtual Riot b2b Barely Alive
Vitillaz
Viv Castle
VLCN
Yheti
Yuki-San
Zeplinn
Zhu
Zubah
Thursday Pre-party Lineup by Artist:
Dimibo
Gem & Tauri
Ironheart
Mitis
Seven Lions
Aqua Dayclub Pool Party Lineup by Artist:
---
Connect with Imagine Music Festival on Social Media: