Up and coming psytrance duo Dimibo takes us through their past, plans for the Abraxis project, and what's next for them in 2020.
---
After quickly rising through the ranks of the psytrance scene in 2019, there's no doubt that Seattle-based duo Dimibo will continue to infect playlists and lineups in the new year. Made up of members, Loch Stimpson and Filip Pankovcin, these two artists have been stirring up the dancefloor with their psytrance beats and remixes.
It was back in 2013 when they first broke onto the scene after winning won Insomniac's Discovery Project contest with "Shangri La," that a more progressive, Anjuna-styled tune. Since then, they've dived deep into the realm of all things psy and have been featured in a number of Ophelia Records Showcases. Additionally, they've worked closely with Seven Lions, playing b2b sets with him while more recently developing a new project dubbed Abraxis.
When Abraxis was announced on the Dreamstate SoCal lineup this year it gained plenty of attention from those who were curious to see what the new project would bring. Those who attended the set were delighted with its dynamic nature and it quickly became one of the most talked-about performances of the weekend.
With a bright future ahead of the duo, we sat down with Dimibo before their first official Abraxis performance on the details on the branding, what's next for the duo, and plenty more. Take a listen to their guest mix on Group Therapy and read on for the full chat!
Stream Group Therapy 355 with Above & Beyond and Abraxis:
---
Congrats on Abraxis and for Dimibo's first trip to Dreamstate SoCal! Let's start off by taking a look at Abraxis, can you share how the collaborative project began?
Loch: First, we started doing back-to-back shows with Jeff over the past couple of years. We had such a good time playing together and wanted to keep doing that. The next logical step of the process was to make it its own group. Back-to-back is kind of a mouthful, so yeah – we're all just onboard to start something new.
Filip: Even before that, we worked on the "Paradox" remix with Jeff. We got into the studio together, trying to see what a hybrid of our sounds would sound like. He brought up that he was going to be remixing the "Paradox" by Excision, so we decided to make it into a psy remix. We started messed around a bit more in the studio until we were like "yeah, this could work out," and now we're here!
What do the references to "lectures" and the "Abraxis Institute" refer to? Does this add structure to the project?
F: It's world creation, I feel like what trance is missing in the US right now is something that people can really buy into – like a brand or a world that people can expect when they show up at a show. We really wanted to create a full experience for events that wasn't just to come and listen to some really cool music but you also come to an "Abraxis Lecture". It's something to talk about, something to totally buy into, something to fantasize about.
L: When you put it in that format and give it something other than like… everyone is listening to sets at a festival at the end of the day. But when you have the context of "this is a lecture" and we are trying to impart something more than just "listen to our music." There's a lot more opportunity for depth and engagement.
Recently, Abraxis released "Old Gods" before your debut at Dreamstate SoCal. Does this mean we could be seeing more releases from you all soon?
L: Definitely more Abraxis releases in the near future. If you check out out our guest mix from Group Therapy, last week there were a few IDs that we've got in there. "Night Rider" has been a big one, good responses to that. Look out for "Night Rider" and "Black Rainbow" on the release horizon sometime soon.
You first came together as Dimibo in Washington and have also won Insomniac's Discovery Project. Can you tell us about the origins of Dimibo and what you hope to bring to the psytrance genre?
F: Yeah, initially Loch and I met and we started working on a song and when we finished it won us a spot on the Discovery Project.
L: Back in 2013.
F: Yeah, back in 2013. It was all Anjuna style, progressive house/trance. Eventually, we started listening to psytrance, realizing the potential it has, and the creativity we can follow through on there. So we started making psytrance for the last few years and it worked out for us. It's amazing, it's been really difficult and challenging but it's definitely where we want to be.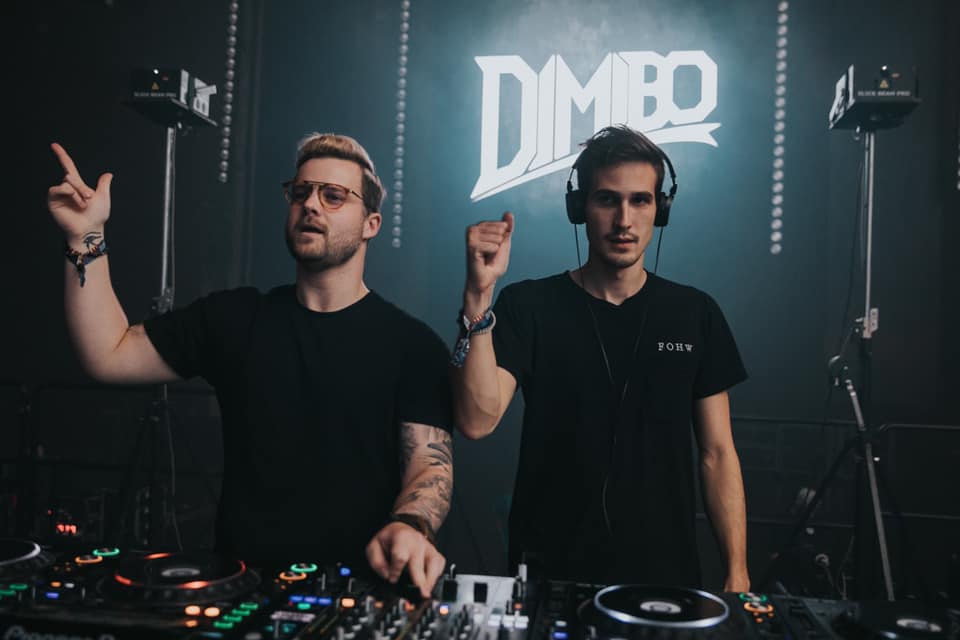 Over the last few years, we've witnessed the growth in the number of psytrance listeners in the US, why do you think the genre is finally catching on?
L: I think it's in the natural progression of the listener in electronic music, and the US just caught on later than the rest of the world. So you really have this mass bulk of listeners who just now have been listening to electronic music, or let's say trance music for three or four years, and are just now saying, "What else is out there in trance besides like Group Therapy radio kind of stuff?" And I think the longer you're into something, you kind of start looking for harder, faster stuff as you mature as a listener you're like "okay, what's this really intense sounding stuff?" you hear about, and you find new avenues and new genres in electronic music.
F: You become more open-minded to other sounds as well. You kind of figure out what this sound is about and start to grow off of it and realize there's something really cool going on here.
Speaking of music, not only has Dimibo made psytrance tracks, I heard your DnB remix of 'Island" and it blew me away. What other genres would you two like to tackle or experiment with next?
F: Yeah definitely, I think once we have more time on our hands – we've always thought about and toyed with the idea of having a secret drum n bass project. We have some liquid drum and bass songs that we have and we're really hoping to get those out there one day. Maybe release it under a new name and not tell anyone it's us, and see how that goes.
Who are some of your favorite Drum N Bass artists?
F: I personally love Ramses B and Seba. Those are two of my favorites.
L: Ramses B, he's an OG. I get down with like, Netsky. All sorts of stuff. Metrik.
Outside of working on Abraxis tracks, you have a remix coming out this month as well. 
L: "Lionhearted" for Gareth Emery is releasing this month. Eventually, we have a release date for "Sanctuary" too.
F: As well as many others!
More and more artists are talking about being "mentally" fit while doing shows and traveling. You had quite the rigorous schedule in October being booked for Freaknight in Seattle, Freaky Deaky in Houston, and Laserface Minneapolis. How does Dimibo stay "mentally fit"? 
L: It really helps to do this with a partner. We each went to different cities. Fil went to Houston, I went to Minneapolis for the shows. I can see how if you are on the road, by yourself a lot, it can really wear you down. I've been kicking it with this asshole. [Laughs] We've got each other's backs. It's really nice to have someone with you, especially in the studio. It gives you someone to bounce ideas off of. You never feel alone.
F: I think that because of the amount of mental health awareness in the community right now, it allows you to think ahead and identify bad behaviors or bad habits that could be snowballing into a bad place. Personally, I feel like I am very self-aware and can keep track of things before they go downhill.
With the end of the year coming closer, what is your favorite moment for 2019 and what do you hope to achieve in 2020?
F: I think tonight's going to be our favorite moment of 2019. [Both Laugh]
L: 2020, there's a lot of new works coming. We're excited to being Abraxis to a larger stage. To spread the word of the institute.
F: Got to launch the Abraxis institute.
Make sure to catch Dimibo at Seattle's The Underground on New Year's Eve to celebrate kick off 2020 in the best way possible. RSVP to the event on Facebook!
---
Connect with Dimibo on Social Media:
Facebook | Twitter | Instagram | SoundCloud