We caught up with Gem & Tauri after their set at Nocturnal Wonderland to get the scoop on their recent shows, new music, and more!
---
Gem & Tauri have become beloved members of the Ophelia Records family with their unique melodic house tunes that join the imprint's heft lineup of melodic dubstep, trance, future bass, and midtempo artists. The duo, composed of Emma Montalvo and Courtney Simmons, began just before the pandemic, but they've already released impressive tracks and made appearances during Seven Lions' livestreams like Visions.
Fast forward to the present day and Gem & Tauri are cooking up more tunes to incorporate into their liv, bringing their project to various venues and festivals across the United States. This year has seen them team up with Trivecta and Tyler Graves on "Hear My Call" while they've also put their spin on MitiS' tune with Bella Renee, "Back To Me." Additionally, they've dominated the decks at iconic venues such as Red Rocks and The Gorge while also recently playing Nocturnal Wonderland in SoCal.
After Gem & Tauri took the stage at Nocturnal last month, we jumped at the opportunity to catch up with the duo to discuss their performance, what drives their passions, and plenty more. Check out their remix of "Back To Me" below and read on for the full conversation!
Listen to MitiS – "Back To Me" (feat. Bella Renee) [Gem & Tauri Remix] on Spotify:
---
Hannah: Hi Emma and Courtney, thank you for taking the time to talk to us. It means a lot. What does it feel like to be performing on stage after such a long break without shows last year? 
Emma: Crazy. Honestly, we haven't been able to really experience this. We started before COVID, like barely before COVID and now we're just being thrown into the mix and I couldn't be more appreciative of the fans that come out to see us.
Courtney: It was interesting to warm up on camera for more people than we could ever want in a stadium. We're lucky to have Jeff's support and Ophelia and playing Visions really helped us warm up to what having an audience would be without actually physically having the energy of all that audience. So, it was a good start, and I'm super grateful for what it is now. 
H: Yeah, definitely.
Gustavo: And you guys just played the third edition of the Chronicles at the Gorge, Lost in Dreams in Vegas, Red Rocks, and this is your first time at Nocturnal as well. Tell us about your experience so far here at Nocturnal.
E: Well, Nocturnal is a festival that I've been going to for the last 15 years, and I have a long history with Glen Helen in general, and I just love this festival. I love the energy. I love all Insomniac festivals, but Nocturnal is very special and has a lot of amazing energy. And I'm so thankful that people showed up today and just had a good time and I'm thankful that we can bring some energy that people want to dance to. 
C: My first time here! And I just, I always get a little bit emotional when I see people pouring in for our sets because it just feels so good to have so much support. And yeah, it's a very cool festival. Excited to maybe come back you know?
G: And being your first time here, how is this the energy compared to all the other shows you guys have played?
E: I feel like when we play and we're jumping around, I feel like we connect with everyone, so the setting is so important. And I feel like we have experienced that great energy over the last three or four or maybe even five shows we played live, being our first year really playing live.
C: It's been intense, but so much fun. Our first few shows getting thrown into a big audience, I mean, I'm grateful, don't get me wrong, I'm so grateful, but getting thrown into Red Rocks and then the Gorge and like the most iconic festivals we could ever want to play. And I think this might be the eighth or ninth show we've played live, don't quote me on that. So every show is different and fun in its own way. But the energy here was amazing.
E: We feed off of everyone and I hope they feed off of us and I hope we can make that magical moment happen in one hour that we have for our set.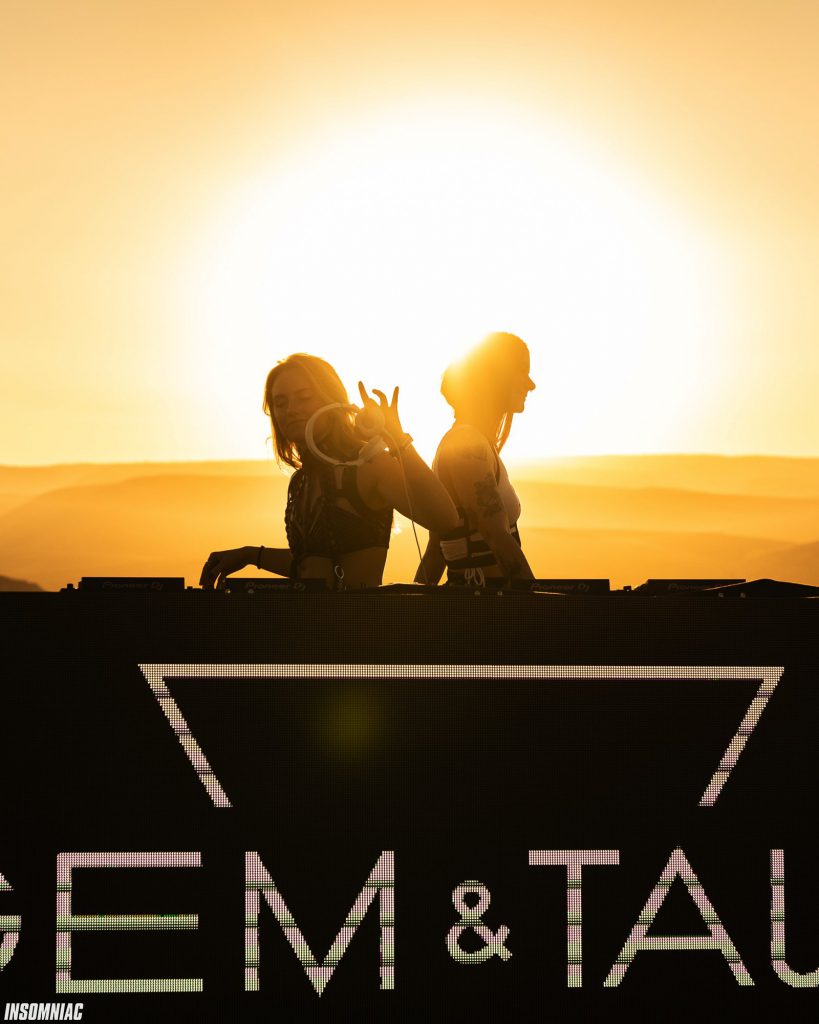 H: Speaking of all these shows you guys recently played, it definitely sounds like you have a very busy schedule. How do you find time to relax and recharge between shows? Do you have any favorite methods to unwind?
C: Well, I do have to meditate before the show because it is a lot. It's a lot for me to juggle things sometimes, but I absolutely love it. Our time at home with our animals and being in nature is a great reset.
E: I like to give myself the option to nap for four hours the day after the set. I love to just be like 'I'm gifting myself a four-hour nap today.' And that's the best thing I can give myself and I love it. You know the day after a big show, you just want to go home and just cuddle with your cat. My cat is my little bean and she's just the best nap friend ever. I love a good nap! 
H: Sometimes you just have to have a nap!
C: It's honestly a lot of work but it doesn't feel like work when you love it as much as we do.
G: Congrats on your latest remix with MitiS back to me. What was the process like in turning the future bass track into a more deep melodic house tune?
C: That was a lot of us sitting in the studio with Jeff and him engineering our ideas into actual physical reality, which is pretty cool to watch his process, because he's an amazing producer and super quick. I learned a lot because I've been learning production and Emma has been learning songwriting creation. It was a lot of fun. It kind of got us outside of our box a little bit to turn that into something else. And we had Kevin's (KANDY's)  help, too. He helped with the drop.
E: Yeah, we had to find a fine line of which song to choose from the album to make it work the way we wanted. I'm happy with how it turned out! I've been friends with Joe (MitiS) for a really long time. Jeff toured with him on a number of shows and Joe and we became really close. When he released his last album, I was chatting with him and he asked if we would remix one of his tracks. He believed in us to be able to do it so I felt really good about it and when we found 'Back to Me' and thought it would work well with our style and our groove, we brought in Kevin and we brought in Jeff and we sat in the studio and worked it out together. 
As we're learning production and as we're learning how to do this on our own, we are really appreciative of people like Kevin and people like Jeff, who are willing to work with us and show us the way they work so that we can learn the way they do things and then adapt our own sound to it.
H: You just killed your performance here on stage at the Sunken Garden, which is hosted by Ophelia all day. How has your experience been with Ophelia and what do you think sets this imprint apart from others in the industry?
E: I want to say that our experience with Ophelia has been nothing but magical. Everyone has been very accepting of us. They build us up and the guys in Ophelia are just so energetic and very supportive of us. Even though we're very new to the production realm, they've been so supportive of teaching us and helping us learn. We really want to be a part of the team and they've really helped us feel like we're part of the team. And it's very much a family vibe.
C: It's a good community. They're like that with everybody. The family keeps growing and we're lucky to be part of it. Especially with the house [music], you know. We're not exactly melodic dubstep, we're melodic house. I feel like it's really cool for all the guys to step in and support us and they're very welcoming.
G: And you mentioned it felt like a family. That's honestly the type of vibe that I got from your guys' livestreams, you guys were all just out there, just chilling, having fun doing what you guys love doing and that felt like a big family.
E: It's definitely fun when it's genuine. It is genuine and I hope people can feel that.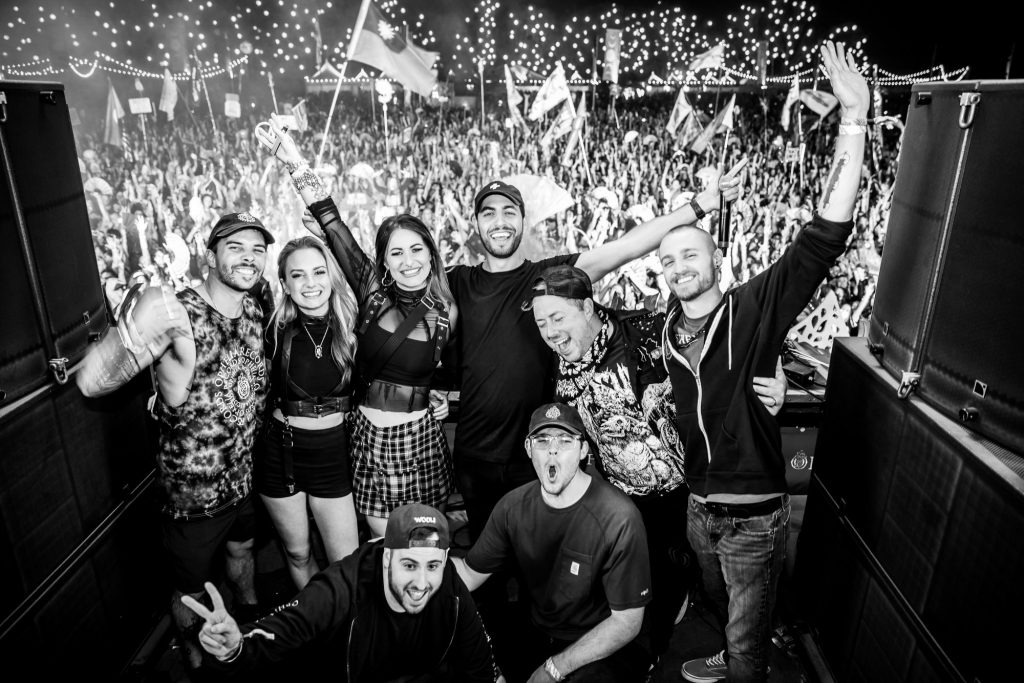 G: You've also collaborated with other artists like HALIENE on your debut EP. You've also come up with Trivecta on "Hear My Call." What are some other dream collabs you guys have?
C: We have so many dream collabs, Gorgon City is like my dream! 
E: Honestly Camelphat. Hey, Camelphat if you're listening, we love you! We would love to collab. We love working with Kelly, HALIENE. She's amazing. We also loved working with Sam, Trivecta. He's amazing, he's a really good friend of ours. Breaking out of the Ophelia squad and bringing more people in. Yeah, definitely Gorgon City, Camelphat, people like Spencer Brown, Eli & Fur, ARTBAT. We really have so many people we would love to collab with.
H: I'm sure one day! We have just two quick questions left. So you guys always have the best fashion, but it doesn't really come as a surprise considering you have your own Front of Housewife clothing line. We just wanted to know if we can expect another drop soon or any upcoming plans?
E: 100%! As Gem & Tauri grow, I do lose time as far as what I can put into Front of Housewife, which is sad but also not so sad because I have the Gem & Tauri thing going and I do like to style both of us and it is such a hobby of mine and I think that moving the Front of Housewife brand over to Gem & Tauri and making it more stylized and making it more fashionista situation, I feel good about bringing the style that I love to the stage. 
C: We plan for future fun merch releases as we have more time to invest in a clothing-type brand.
E: I don't want to put a ceiling on what we can do because we can do it all. As women, we can do it all.
C: I'm excited to bring more fashionable merch to the brand.
G: What can fans expect next from you guys? Any new music you're working on that you guys could share details about.
E: There is definitely music in the works that we can't share details about. But after working on "Hear My Call" with Tyler Graves, we definitely cultivated an amazing relationship with her. We loved working with her, we love her melodies, we love her voice, and hopefully, you guys will be able to hear more Tyler Graves on some Gem & Tauri tracks that are solo Gem & Tauri tracks because we've been working on that.
C: Yeah, we have definitely some cool stuff with her in the works specifically, but some other collabs too with some cool people that I'm excited for in the future. 
E: I won't name any names yet. 
H: Any album plans in the future?
C: Albums, albums are hard. It takes a lot of time to write that many songs, but we're hoping for another EP next year. Yeah, we're working on some stuff for sure.
E: Maybe a Gem & Tauri club tour!
C: Definitely some more fun shows, festivals and stuff. Throughout this whole year, we have the Pantheon tour planned and then next year, there's a lot of fun festivals that we have planned. So I'm excited for all of that.
---
Follow Gem & Tauri on Social Media:
Website | Facebook | Twitter | Instagram | SoundCloud | YouTube | Twitch