Imagine Music Festival will not move forward with their edition in 2021 due to a severe weather forecast on the horizon.
---
As festivals and events around the world continue to face cancelations due to COVID-19 concerns, Mother Nature also has thrown curveballs into the mix with severe weather as well. Major festivals like Bonnaroo were canceled earlier this month due to the fallout from Hurricane Ida, while one that did move forward, Elements, faced significant safety issues. Now, Imagine Music Festival has decided to cancel its edition this year at Chattahoochee Hills in Georgia due to a severe weather forecast on the horizon.
The remains of Hurricane Nicholas, which has recently been downgraded to a tropical depression, are currently rocking the Gulf Coast region, and Chattahoochee Hills is in the path of severe weather as well. Imagine Music Festival's public safety team and directors, as well as local authorities and meteorologists, have determined that it would be hazardous for the festival to move forward as planned. Those who remember the devastation that occurred during TomorrowWorld in 2015 know how bad storms can be to the region.
"The site has had a tremendous amount of land improvement over the years, not limited to, paved roads, extensive grading, water lines, and French drains throughout," the statement from Imagine Music Festival reads. "However, no amount of land improvements can withstand a hit from a hurricane or tropical storm and remain safe for staff to work and guests to attend." In an effort to help the region recover, Imagine Music Festival will also be releasing their resources to help disaster relief efforts in Louisiana and Texas.
Those who purchased tickets for Imagine Music Festival this year have the option to transfer their passes to 2022 or can request a refund. They do urge attendees to hold onto their tickets to guarantee price and availability as tickets are nearly sold out and camping is completely sold out. No details have surfaced yet about dates in 2022, so make sure to stay tuned to their social media channels for further updates.
Read the full statement from Imagine Music Festival: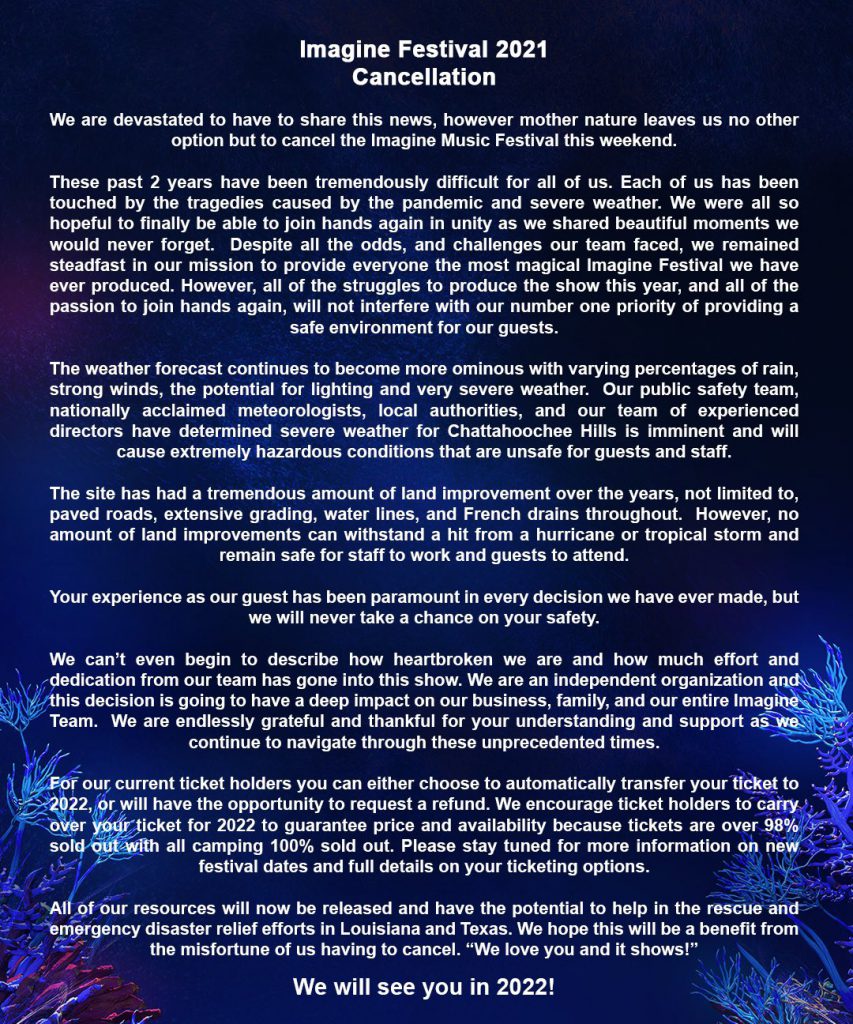 ---
Connect with Imagine Music Festival on Social Media: