Join us as we take a nostalgic dive into the history of Dirtybird Records to honor 15 years of trendsetting beats and fantastic shows.
---
In a world overflowing with electronic dance music productions, record labels ranging from itty-bitty to world-dominating behemoths, and genres that consistently evolve in order to keep up with our fleeting interests, there are a few establishments that shine brilliantly. Today we would like to pay homage to one of these establishments: Dirtybird Records.
Dirtybird has made their mark as a label that twisted house music into their own vision, resulting in quirky tech funk flair that has blasted genre specifics off into another dimension. It all began back in 2005, there was a man who had a vision of turning house music on its head. His name was Barclay Crenshaw, also known as Claude VonStroke, and what he would do for the genre and the industry for the next 15 years would be nothing short of spectacular. But first, we must rewind time to get a true understanding of how this all came to pass.
Dirtybird Records found its way into existence while Crenshaw was working on a special music project in San Francisco.
In order to learn about the ins and outs of the industry, Crenshaw invited DJ's from his hometown of Detroit who were playing in San Francisco to interview with him while he pieced together a documentary. Eventually, he hit a snag when it came to licensing the artists' music and ended up making his own tracks to go under their interviews – music that sounded similar, yet tweaked for personal effect. This was the driving force that unveiled the unique musical character traits of Claude VonStroke, a name chosen to throw playful shade at the serious attitude found in the minimal techno community.
It was during this fateful moment in time that Claude VonStroke brushed elbows with Justin Martin and Christian Martin, two names who have become synonymous with the brand. In fact, all it took was to mix and match the passions of these three visionaries, combined with the incomparable talents of Worthy, to create Dirtybird Records, one of the most eclectic labels to materialize in the house music scene.  
Continue below for a hand-curated playlist of some of our favorite tunes from the label as well as the most iconic Dirtybird tracks of the last 15 years, and read on as we dig into some more Dirtybird history!
Stream Dirtybird: 15 Years with the Flock on Spotify:
---
So, we have a label – but what about the music?  
For 15 years, Dirtybird has nurtured a platform for both established artists and up and comers like J. Worra, VNSSA, Steve Darko, and Dateless to push beyond the creative norm and become part of a brand new movement. In addition, the label has strived to explore outside the American bubble, inviting artists from across the globe to help build the brand with their fresh ideas and eclectic sounds.
Just take a look at the incredible talents from Brazil who have helped to make Dirtybird a worldwide name including Danny Kolk, Bruno Furlan, Ciszak, and DJ Glen. These guys remain in high demand and will always be fan favorites at live events as they know exactly how to level up the festive energy while making massive impressions on the release front. 
But let's not get ahead of ourselves. We must first look far back through Dirtybird's impressive history to find that the very first artists to release on the label were Claude VonStroke, Justin Martin, and Sammy D. The Southern Draw EP became a cornerstone, forever locked in history as the inaugural EP on a label with so much promise and possibility. 
With the first track complete, Claude realized the need for an iconic logo.
Keeping on track with the label name, it only made sense to stick with a theme, and as Claude dug into his history for inspiration, he remembered a drawing that he used to make his brother laugh. And so the very first Dirtybird logo was born (the bird) and wouldn't be changed into the lightning bolt cracked egg until 2015, two years after Claude initiated a surrealist project that invited artists to draw for the label. 
In 2006, Claude hit his next major milestone with the release of his very first album, Beware of the Bird. This album was stacked with the fun and funky, unleashing tracks like "Who's Afraid of Detroit", "The Whistler", and "Birdshit" into the airwaves.
It also set the precedent for future taste-makers on the label, and for a decade and a half, the industry was blessed with outrageous bodies of work including Hello Clouds by Justin Martin, Self Help by Walker & Royce, Mr. Good by Ardalan and so many more! This is just a small snippet of the incredible discography that Dirtybird has the honor of boasting.
In 2010, Dirtybird celebrated five years of growing success with a dance floor-approved compilation album.
5 Years of Dirtybird showed the expanding promise of the brand, featuring artists like Worthy, Riva Starr, and J. Phlip. Not only did it represent the first five years of incredibly unique musical vision but it also set the tone for trendsetting artists to jump in and let their freak flag fly. And three years later, Dirtybird Players came to fruition. 
This compilation allowed us to wrap our attention around a different batch of talent including Nick Olivetti, Kill Frenzy, and GoldFFinch. This album also laid the framework for future Dirtybird Players touring opportunities. And in 2014, after snatching the crown for 2013's Underground Label of the Year at the International Dance Music Awards during Winter Music Conference Miami, the first Dirtybird BBQ compilation arrived. 
Never being ones to stall out in the heat of productivity, the Dirtybird team kept their nose to the grindstone, celebrating their 10-year anniversary in style with yet another compilation dubbed Dirtybird 10. Some cool productions were included, and rightfully so because 10 years was certainly an extra special achievement. Tracks like "Robots Are Coool" by Eats Everything, "Function" by Justin Martin & Ardalan, and "Thump Bumper" by Sacha Robotti & Kevin Knapp instigate a beautiful feeling of nostalgia upon each and every listen.
For the next three years, Dirtybird continued to grow their following with a discography meant for both the dreamers and weirdos among us.  
From 2015 through 2018 Dirtybird went more unapologetically loco than ever before. It was during this era that sister label Dirtybird Select was born. In addition, tracks like "I Want" by Ciszak, "Walay (My Bae)" by Claude VonStroke, and "Crowd Control" by Fisher were destroying dancefloors across the globe and spinning parties into a frenzy!
2018 marked the release of Dirtybird's first-ever live mix album with Live in Detroit, recorded at Movement Detroit. This release was important to Claude as Detroit is his home city, so he took four months to pre-clear 150 tracks to take with him to the festival. His 2006 hit "Who's afraid of Detroit" was also remixed by Wyatt Marshall for the times and included in the compilation. 
Fast forward to 2020, and while this year has turned out to be pretty damn awful, Claude VonStroke began the new decade with the release of the Freaks & Beaks docuseries, album, and coffee table book. Of course, this was in light of Dirtybird's 15 year anniversary, rounding out their history with mind-warping style and unpretentious fun. And let's not forget the release of "I'm Solo" by Claude VonStroke, which will go down in history as our very own pandemic anthem.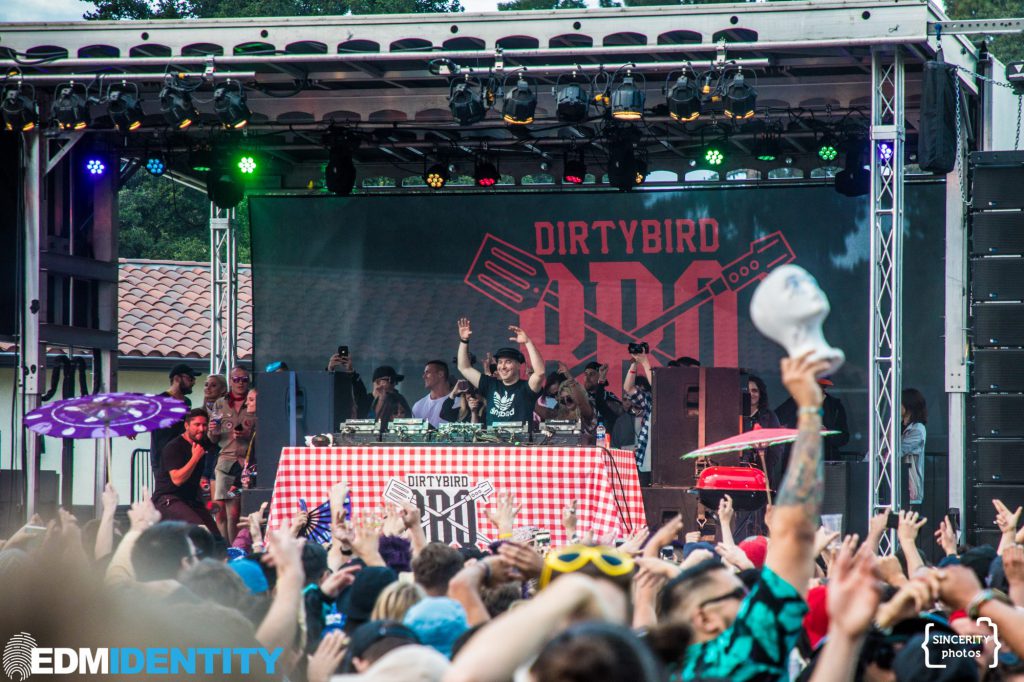 Dirtybird has even been an inspirational stepping stone for many artists to go on and develop their own labels.
While many artists continue to call Dirtybird home, there are some that have taken a fork in the road to expand their legacy while continuing to bring the people what they want. Justin Martin is the first to come to mind with his brand new What To Do label, with a focus on what fans like to describe as groove-heavy wonky bass. Or how about Christian Martin and Trippy Ass Technologies, a label that blends organic natural tones with extra-terrestrial approved musical expressions. Even Worthy has his own imprint called Anabatic Records, allowing him to experiment and expand his creative mind.
Dirtybird's culture has always revolved around personal expression and reaching for goals that may seem out of reach. With the emergence of these labels as well as others like Sacha Robotti's Slothacid, Shiba San's Basement Leak, Will Clarke's All We Have Is Now, and so many more, the Dirtybird legacy continues to expand as the aforementioned names will forever be connected with the brand.
These days, Dirtybird continues to give their fans what they most desire.
Just recently, the label launched Dirtybird Live for our daily escape from the chaos. This programming features multiple shows taking place seven days a week from some of our favorite Dirtybird beatmakers while allowing Claude to extend the family as he collects fan feedback for submitted demos. In fact, a must-attend is Fresh Or Fowl as listeners literally get to help curate Dirtybird's future sounds. 
What's more, Dirtybird has always been a huge fan of education and chasing dreams, so much so that they have established an equal opportunity scholarship at Beat Lab Acadamy for those who want to begin or further their music career. This is a six-month program where students learn all there is to know about writing and producing music! Pretty amazing, right? With a bright history in sound, all that's left to do is dream about the day we can be together once again with the flock.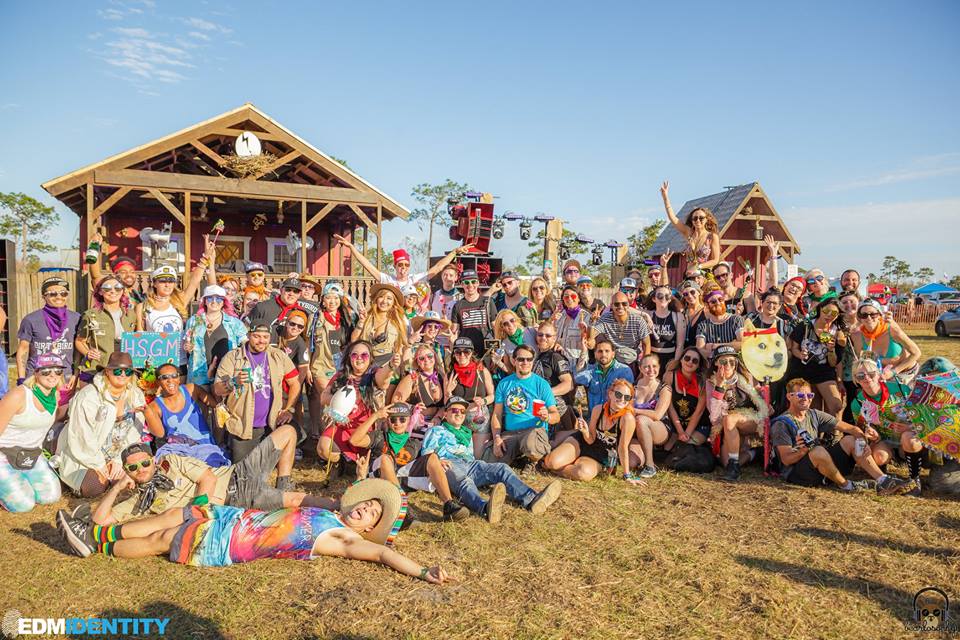 Speaking of the flock, we can't talk Dirtybird history without talking about Dirtybird Campout! 
Dirtybird has boasted multiple tours that include smaller events like Dirtybird Players and Dirtybird BBQ. They have even hosted their very own Dirtybird Players stage takeover in Belgium at Tomorrowland in 2019 while taking their sound down under to Australia and stopping by London and Paris for some flock-approved fun. That is just a snippet, as global reach is something that Dirtybird has always strived for.
But, it is the annual Dirtybird Campout that cannot be missed. For three days, fans of the wild and unconventional converge to shed every inhibition and share the dance floor with some of the most interesting and fun-loving human beings to ever grace our scene.
For the last five years, Dirtybird Campout has come to life with multiple areas and stages to get your groove on including The Birdhouse, Late Night Lodge, Bass Lodge, and Silent Disco while also supplying the laughs at The Bunkhouse for some sideways fun. Campout is an inclusive place where you can mingle and chat with your favorite DJs as you play a game of soccer or test your skills at archery. It's a place where once the main event ends, you can creep around the campground for some ultimate renegade fun. It's a place where summer camp meets the raucous underground.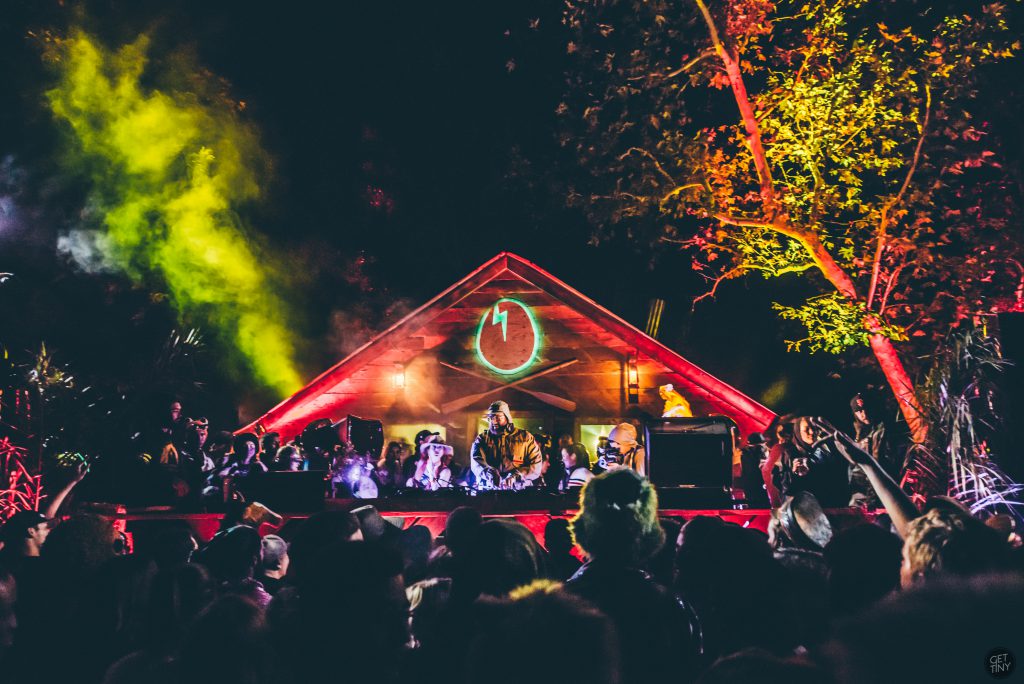 Dirtybird Campout West began in 2015 at Oak Canyon Park in Silverado, CA.
And so it began. The little festival with big dreams had finally come to fruition and as acts like Will Clarke, Sonny Fodera, and Justin Jay took music revelers on a journey, Claude VonStroke watched his dreams grow into something magical. Now it would simply be a matter of allowing his Campout vision to thrive as major changes would come quickly and remain a regular challenge for the team.
Campout stayed in Southern California for only two years before unearthing its foundation and moving north to the San Antonio Campground in Bradley, CA. This was a much-needed move because the footprint was just becoming a bit too large to comfortably continue at the original location. Then in 2018, the festival made yet another move, heading even further north up to the Modesto Reservoir Campgrounds. It was also during this year that their partnership with the Do Lab came to an end.  
Before the flock converged for the first time in Modesto, the crew flew over to a lush little spot known as Forever Florida for the inaugural Dirtybird Campout East!
Now, as I am sure most of you have heard, Dirtybird Campout East almost never happened. Due to a permit miscommunication, the shenanigans were put on hold for almost a day and a half. In festive fashion, it was the attendees, artists, volunteers, and workers that kept the spirit alive, staying positive and pumped the whole way through. When the music finally did come back on (thanks in part to Pitbull's team of lawyers), East would go down as one of the most lit festivals in Dirtybird history.
In addition to the usual games and activities, music and mayhem, East coasters received a brand new group of activities including Alligator Wrestling, Super Bowl party (the Superb Owl), pie-eating contest, and ax throwing. Attendees were even invited to take a behind the scenes tour of the reserve to take in the beautiful sights of the subtropical wetland while resting up for a wild night of house, techno, and bass.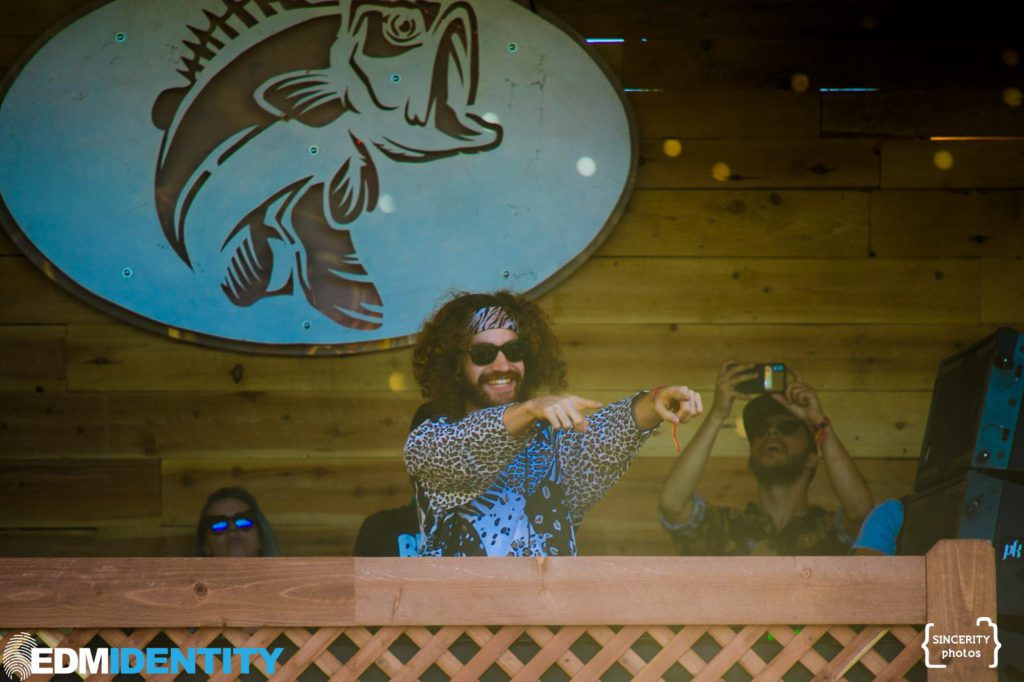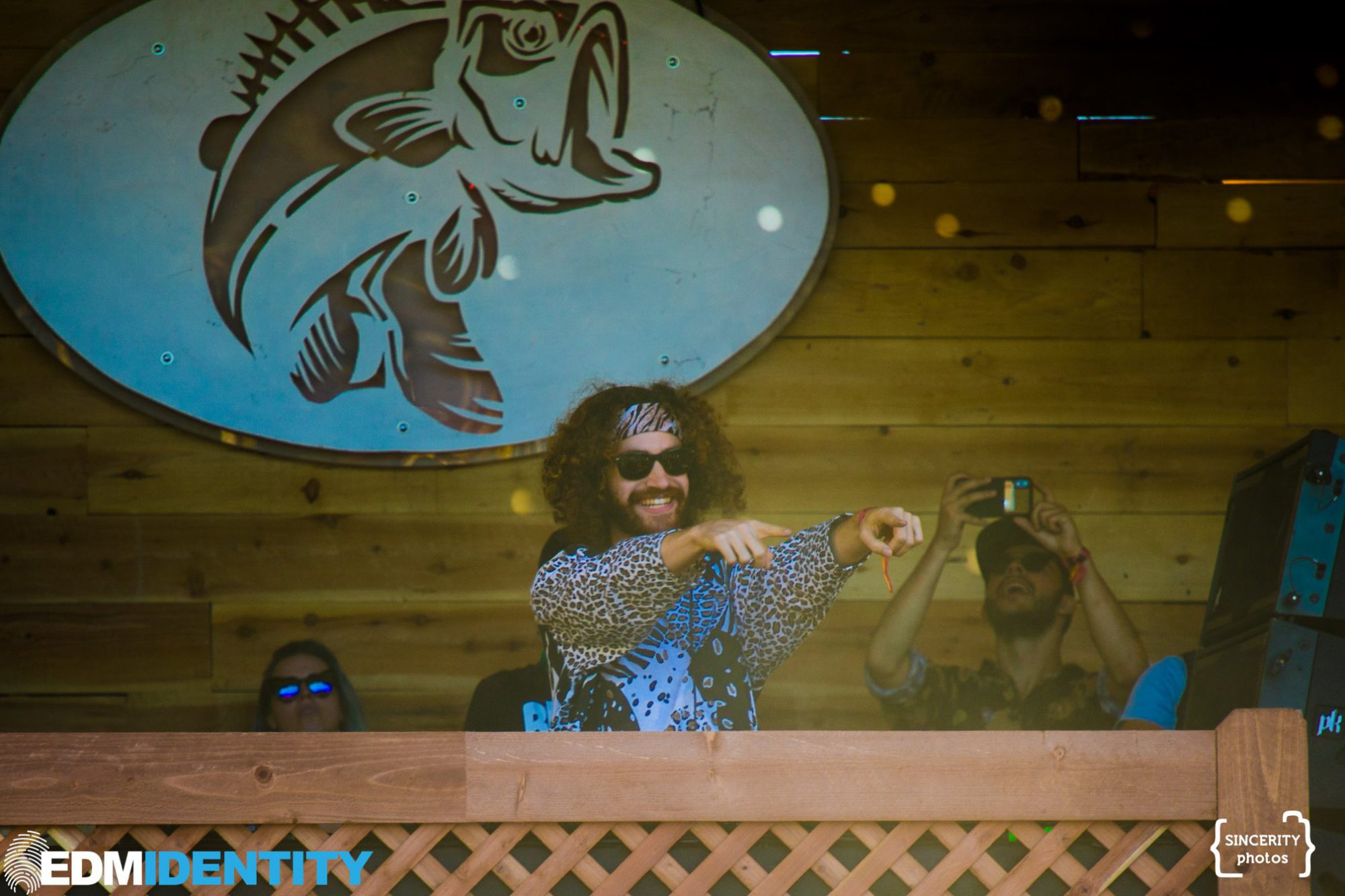 Even though 2018 took us on a wild rollercoaster ride of Dirtybird Campout firsts, tragedy struck the flock, hard. 
Just as the summer months were inspiring us to begin planning for the next event, one of our most beloved members of the Dirtybird family passed away. His name was Chris Wilson, better known as Grill$on. Grill$on had been around since Dirtybird's infancy, making sure that the flock was well fed as he stretched his skills behind the grill at multiple Dirtybird BBQ and Dirtybird Campout events. He was known for his infectious nature, welcoming anyone for a chat or a romp on the dance floor. We continue to miss him each and every day. 
Through tragedy comes an even stronger need for music therapy and Dirtybird came correct with an amazing Campout experience for their very first time at the Modesto Reservoir.  
This is the space that I believe Dirtybird will continue to gravitate to as they enhance their relationship with the local community and work toward perfecting our funky weekend escape. Throughout the years, artists like Ardalan, VNSSA, Walker & Royce, J. Phlip, Worthy, Sacha Robotti, Justin Jay, and The Martin Brothers have lit The Birdhouse and Bass Lodge on fire, making the two-stage festival concept rival some of the biggest events in the world. 
This year, Dirtybird was planning on throwing their first-ever Birdhouse Festival LA in Exposition Park, as well as Dirtybird CampINN in Orlando Florida, inspired in part by the desire to spread their beats from sea to shining sea and, in my opinion, to make up for a less than perfect Campout East. This festival was set to take place in September at the Avanti Palms Resort but has since been postponed to May of 2021 in light of the pandemic.
But have no fear, because Dirtybird is pulling out all the stops for the ultimate living room Campout experience with Dirtybird Couchout featuring more than 50 of our favorite artists with some incredible games and activities to boot. The event runs from October 2 through October 8 on Twitch. So, be there or be square!
Well folks, that's the history of Dirtybird Records in a nutshell.  
From their unyielding desire to put out music that raises eyebrows and flips the house genre upside down to their knack for putting on shows that combine true summer camp thrills with the artists of the future, Dirtybird Records is in a league of their own. What was born from humble beginnings is now celebrating 15 years in existence with no sign of slowing down. In fact, they are only growing bigger and better because of their unshakable love and dedication to the flock. Here's to 15 more years of success! 
---
Connect with Dirtybird on Social Media:
Website | Facebook | Twitter | Instagram | SoundCloud | YouTube