Dirtybird has unveiled an absolutely stacked lineup featuring 50+ artists for the week-long Dirtybird Couchout livestream event!
---
While members of the Dirtybird flock might not be heading to Modesto this year for the annual Dirtybird Campout, there is still something exciting to look forward too! For the first time in history, their signature vibes will be brought to you via Twitch with opening ceremonies beginning on Friday, October 2 at 12 pm PT and will run through to October 8. Yes, that's an entire week to let your freak flag fly and the lineup that they have in store for the very first Dirtybird Couchout is simply marvelous.
Featuring the talents of over 50 of our most beloved artists including Claude VonStroke, Ardalan, Walker & Royce, Matthew Dear, Steve Darko, and many more, the flock will be treated to sweet memories of Campouts past as we turn our living rooms into our very own interpretations of The Birdhouse and Bass Lodge. And of course, the crew would never want to turn away from the true Campout flair, so Couchout will include comedy skits, interactive games, and activities. Everything that we have come to love about our end of summer escape. You will even be able to rep your color team with colored bandana emotes!
In addition, Dirtybird has opened up an opportunity for you to join in on a virtual talent show where Claude will choose his favorite performers. So, make sure to register and then dig deep to amaze the masses with something funky, fresh, and fun! And, heads up all DJs because you have the chance to be added to the Couchout lineup and win two free tickets to the next Campout. You just have to flex your skills with a 30-60 Dirtybird Campout themed set submitted by video. Submissions for both the talent and DJ contest close on September 25 so make sure to get them in soon!
What's more? If you live in San Francisco or Los Angeles you can upgrade your Dirtybird Couchout experience with an Of The Night Party Package delivering the essentials for tie-dye, Great Bingo Revival, potato sack race, and 5k floaty race, in addition to food, drink, costumes, and decor. 10% of the proceeds benefit the Equal Justice Initiative and all orders are due by September 29. So, turn that quarantine frown upside down and get ready to shake what your mama gave you at Dirtybird Couchout. See you there my freaky friends!
Check out the full lineup for the Dirtybird Couchout livestream below beginning October 2 at 12 pm, pre-save your copy of the official Dirtybird Couchout Compilation, and make sure to follow Dirtybird on Twitch to know the moment they go live!
---
Dirtybird Couchout Lineup: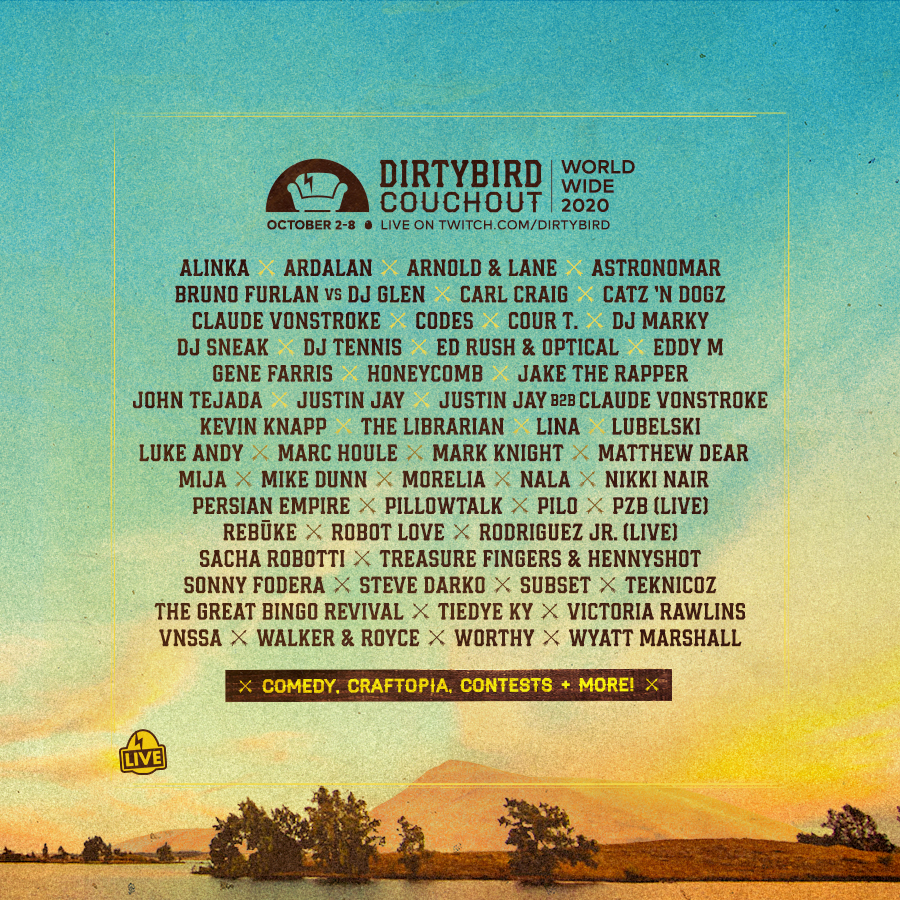 ---
Dirtybird Couchout Lineup by Artist:
Alinka
Ardalan
Arnold & Lane
Astronomar
Bruno Furlan vs DJ Glen
Carl Craig
Catz 'N Dogz
Claude VonStroke
Codes
Cour T.
DJ Marky
DJ Sneak
DJ Tennis
Ed Rush & Optical
Eddy M
Gene Farris
Honeycomb
Jake The Rapper
John Tejada
Justin Jay
Justin Jay b2b Claude VonStroke
Kevin Knapp
The Librarian
Lina
Lubelski
Luke Andy
Marc Houle
Mark Knight
Matthew Dear
Mija
Mike Dunn
Morelia
Nala
Nikki Nair
Persian Empire
Pillowtalk
Pilo
PZB (live)
Rebuke
Robot Love
Rodriguez Jr. (live)
Sacha Robotti
Treasure Fingers & Hennyshot
Sonny Fodera
Steve Darko
Subset
Teknicoz
The Great Bingo Revival
Tiedye Ky
Victoria Rawlins
VNSSA
Walker & Royce
Worthy
Wyatt Marshall
---
Connect with Dirtybird on Social Media:
Website | Facebook | Twitter | Instagram | SoundCloud | YouTube | Twitch