The funky fresh Dirtybird crew is set to turn up the volume with daily shows and weekly renegades with the announcement of Dirtybird Live!
---
Major news coming out of the Dirtybird camp today as we dig deep into the era of the livestream! For the past few months, Dirtybird has been broadcasting every Sunday night and as expected, the response has been massive. So, understanding the ongoing need to keep the music alive and because Dirtybird loves the flock more than anything, Dirtybird Live has arrived! Clear your schedule because this programming comes packed to the brim!
Ten shows, seven days a week. Yes, you read that right. All week long the Dirtybird family of beatmakers are set to turn you upside down and inside out with an array of talk shows, comedy skits, DJ sets, and interviews. Already, Claude VonStroke, Gene Farris, Steve Darko, Justin Jay, Worthy, Nala, and Subset have been locked in to spread the wacky vibes and you can expect all sorts of surprises along the way.
In addition, while we won't be making our way over to Modesto this year, we still get to experience one of our favorite things about Dirtybird Campout… the renegade parties! Tune in as the Dirtybird crew will be throwing rule-free RENEGADE shows throughout the week. Of course, these will be hitting the airwaves unannounced so be sure to set your notifications for whenever Dirtybird goes live on Twitch, YouTube, and Facebook! 
Have an idea for a show? Be sure to hit up Dirtybirdlive.tv for information on how to submit a fan-created show pilot! For further information regarding each show, continue on for the full schedule.
---
Dirtybird Live – Schedule: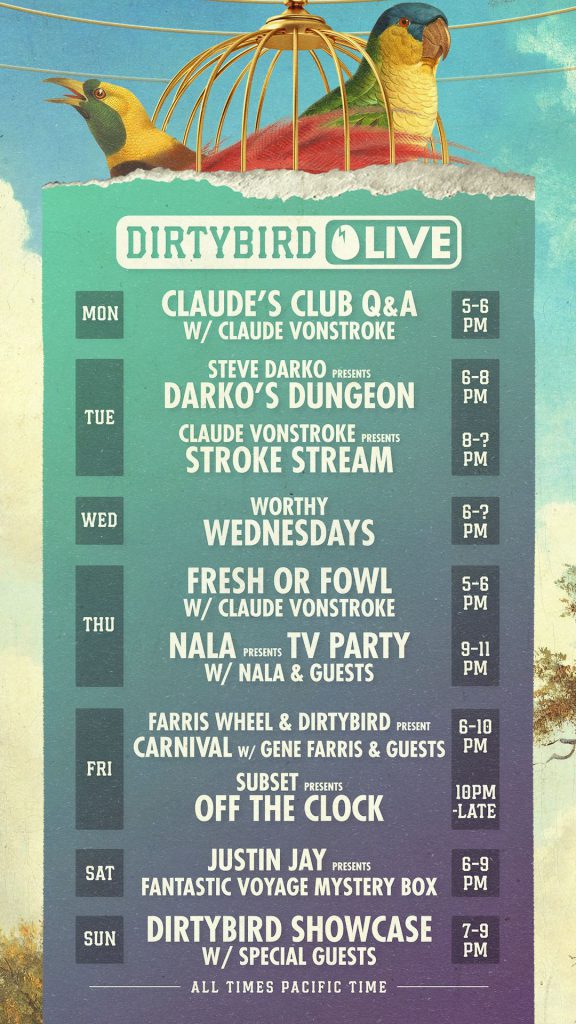 ---
Dirtybird Live – Schedule & Show Description:
Claude's Club Q&A  – Mondays 5-6pm (Talk + Music): Weekly "Ask ME Anything" format with Dirtybird Label Boss Claude VonStroke. Each week will focus on a topic.
Steve Darko presents Darko's Dungeon – Tuesdays 6-8pm (DJ Stream): One of Dirtybird's most prolific and talented producers brings you a Dj stream live from Boston, Mass with a theme straight out of "Tales From the Crypt."
Claude VonStroke presents Stroke Stream – Tuesdays 8-10pm (DJ Stream): The big bird spreads the word. Claude VonStroke takes to the decks for an open-ended set time featuring new label releases, classics, demos and everything in between.
Worthy Wednesdays – Wednesdays 6-9pm (DJ Stream): We're not Worthy! DJ stream with an original core Dirtybird member as he showcases his own label, Anabatic as well as throwing down an eclectic mix of bass-line heaters every week.
Fresh or Fowl with Claude VonStroke – Thursdays 5-6pm (Talk + Music): Take a journey through Claude VonStroke's actual vinyl collection. Claude cracks jokes and tells stories as he decides which vinyls he wants to keep (Fresh,) and which ones are getting ditched (Fowl.) The whole lighthearted experience takes place in VonStroke's home recording studio.
Nala presents TV party w/Special Guests – Thursdays 9-11pm (DJ Stream): The newest Dirtybird Player, Nala brings her VHS tape "TV Party" to the Dirtybird Live network. Every week she features a brand new guest DJ from the underground via a warehouse rave styled backdrop.
Farris Wheel & Dirtybird present Carnival – Fridays 6-10pm (DJ Stream): Chicago legend and long time friend of the flock, Gene Farris takes control of Dirtybird live with a 4-hour master session in DJ-ing. Every week features special guests and while bringing us the Carnival vibe of the amazing Farris Wheel Recordings.
Subset presents Off The Clock – Fridays 10pm-Late (DJ Stream): Anyone familiar with Twitch knows that Subset has been delivering the most user immersive and fun DJ experiences in the world. Long time friend of Claude VonStroke, Subset has always been the go-to after-party favorite on legendary events like Holy Ship. Come take a late-night trip with Subset!
Justin Jay presents Fantastic Voyage Mystery Box – Saturdays 6-8pm (DJ Stream + Anything Goes): Follow us on a mysterious trip through things like aquatic jazz, wild genre flipping DJ sets, and anything and everything you can possibly imagine that could happen on a stream. Justin Jay features his own Fantastic Voyage label mates to create a wildly diverse experience weekly.
Dirtybird Sunday Showcase – Sundays 7-9pm (DJ Stream): The flagship Dirtybird show features anyone and everyone who has ever graced the release schedule at Dirtybird Records. Expect sets from all your favorites from Ardalan to Walker & Royce to Cour T. This show features anyone who is part of the family.
RENEGADES – Any time any day: Born straight out of Dirtybird campout, this show has no rules and no predetermined air time. Anyone from the Dirtybird roster can call a renegade at any time and drop into the DB Live network.  Renegades keep fans on their toes and creates special unpredictable DJ streams.
---
Additional shows on the horizon:
Kevin Knapp presents PLUMP – Saturdays 2-5pm: Our old buddy Kev shows us how to cook and mix all the way from Berlin, Germany.  More Details TBA – Premieres mid-September
Lubelski & Wyatt Marshall present Modular Mondays – Time TBA: The guys from Percomaniacs get tweaky with the knobs on a live stream dedicated to modular synthesis. More details TBA – premieres in Sept.
Blakeshine presents  – Time and Title TBA: A hilarious play on the old MTV VJ personas, Blakeshine hosts, introducing music videos, and mini-films related to Dirtybird and others. – premiere TBA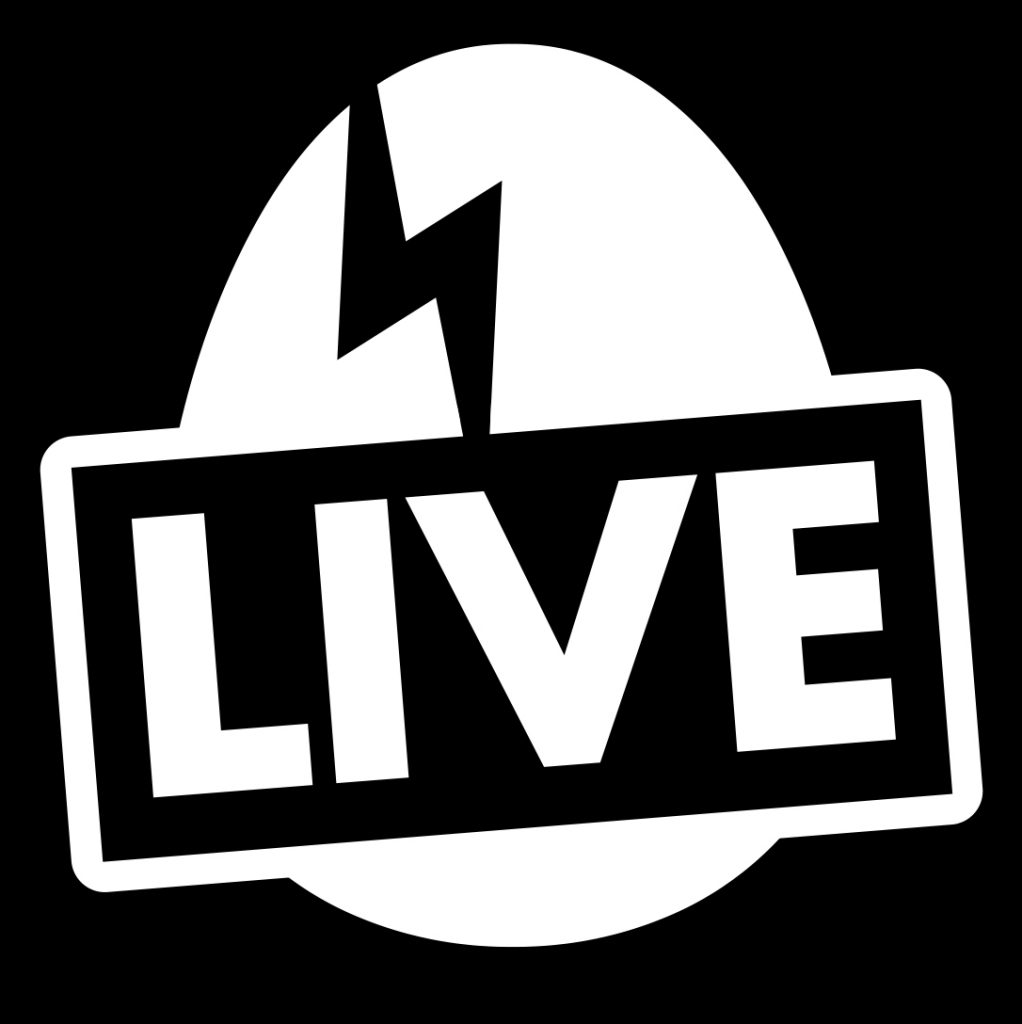 ---
Connect with Dirtybird on Social Media:
Website | Facebook | Twitter | Instagram | SoundCloud| YouTube | Twitch