Freaks & Beaks has arrived and it is filled to the brim with plenty of Dirtybird heart and soul from beloved artist Claude VonStroke!
---
For 15 years, Dirtybird Records has been taking their once basement brand straight to full-fledged industry domination that's impossible to ignore. From the bassier house grooves to the eccentric tech-house party anthems and mind-boggling techno tracks, the dance floor experience has allowed us to release the freak within. Today, the leader of the flock Claude VonStroke is ready to celebrate the labels 15th anniversary in style with the official unveiling of Freaks & Beaks!
The fourth artist album and sixth full-length project from Claude VonStroke, it's clear he really wanted this LP to stand out from the rest. So, besides creating a brand new docu-series and tour, he took this on and made it truly DIY.
When creating the album he explored new production tools, sample his children on multiple tracks, and developed over 130 ideas which he would snip down to the final 11. What he has come up with is an array of beats that weave a tale of who he is an artist and dreamer, delivering the festive insanity while keeping us on our toes.
Stream the full album below, purchase your copy on your favorite platform, and then read on for my take on Claude VonStroke's Freaks & Beaks!
Stream Freaks & Beaks on Spotify:
---
We just love it when Claude gets weird and wacky and for Freaks & Beaks, he doesn't hold anything back!
The first stand out track featuring Claude's wild side comes right after the intro. It is called "Freaks Don't Fail Me Now" and with insatiable drum kicks to kick things off, we are welcomed into the freaks carnival. This track epitomizes everything that Dirtybird stands for. And as the laser-like sound details pierce through the airwaves, my body becomes consumed with the type of energy that sends me into a full out giggle fest.
Already my mind has become consumed with trippy visuals inspired by the raucous character of Claude's unique take on the tech-house genre. It's as if his musical vision has been born from the most outlandish of dreams, running wild through his mind after countless nights of body-rocking insanity on the Dirtybird stage.
Take "Flubblebuddy" for a raw example of Claude's ability to take us far off into crazy town.
As the next shining star on the album, there is no way that a normal human brain could muster up something so otherworldly and wild. Between the creepy lyric line and alien-like sound structures, "Flubblebuddy" shines loud and proud as one of the most insane bodies of work that Claude has laid down in quite some time. In fact, I already know that when this track is unleashed during Dirtybird's upcoming live events, the crowd is going to become unglued!
Piggybacking off of that same sideways effect, "Frankie Goes To Bollywood" is an excellent portrayal of what it means to let go of all seriousness. It also continues to boost the excitement with drunken lyric lines and over the top melodic creativity that evolves and morphs into a frenzy of auditory oddities. With just one listen I feel incredibly inebriated, even as I sit here sober and wide-eyed.
Feeling like you need a track that will glue an infectious lyric line straight to your brain?
If you desire something that the voices in your head can sing along with, then look no further than "Waddaday"! There is no escaping the boundless funk as we are plucked out of consciousness and dropped into a rainforest of hilarity. This is a track that drips in Dirtybird tribal flair, upping the ante with a masculine vocal that refuses to stop playing over and over in my mind. It's silly, lighthearted, engaging, and wildly unpretentious. The many characteristics that have set Dirtybird apart from many other labels on the block.
Eventually, I fall upon a track that has been tested on the flock in previous months, "All My People In The House". Yet another example of catchy lyrical emphasis, I would be lying if I didn't say that this has Dirtybird anthem written all over it. It may not be the most vivid offering on the album but it is a track that calls for a unified reaction on the dance floor.
While many of the tracks on Freaks & Beaks focus on dance floor playtime, there are a few that show us a more serious side of the Dirtybird Kingpin. 
Tested on the masses as another early release ahead of the full album, "Youngblood," featuring Wyatt Marshall, lays the groundwork for our dive into cooler waters. Now being viewed as part of the full package, the tune makes a statement in regards to Claude's innate ability to jump from the quirky and outlandish straight into the chill zone. Finding mental solace with the reserved thump of deep earthy drum tones, Claude pulls back on the gas pedal while making room to focus on the sultry swag.
"Session A" is another great example of Claude's well-rounded musical expertise, as we begin to move into darker territories, making way for the shadow demons to come out and play. While this track does have quite a bit of festive edge, I can't help but get stuck on the billowing and consistent synth detail that breezes through the airwaves like a building storm. Slowly crescendoing and fierce in its delivery, "Session A" brings us deep into the heart of the underground.
Just when I think that this album could not get any more interesting, I come face to face with "These Notes In This Order" and "Alpine Arpline".
Jumping into the bass life, "These Notes In This Order" shows us just how dynamic breakbeats can be. With just enough pizzaz and a whole lot of serious urban swag, I imagine that this track will be the one to get the most earnest of dancers to bust out their best moves, instigating a dance battle of epic proportions. While I don't necessarily dig this style, there is something about the punchy rhythm that has my hips swinging in appreciation.
"Alpine Arpline" is a tune that I don't expect to hear on the dance floor. Instead, I believe it has been crafted solely for an intrapersonal reaction. Love it or hate it, it urges its listener to pay close attention. For me, I am drawn to the labored bass line as the disjointed synths inspire my eyebrows to raise in curiosity. There is something quite magical about "Alpine Arpline," yet it leaves me with so many unanswered questions. But, maybe that is exactly the point.
Enough seriousness for now. It is time to focus our attention on one of my favorite parts of this whole experience.
The final bonus track, "Birthday Messages" has tickled me pink! In honor of their 15th birthday, Claude has crafted a 12-minute outro that takes voicemail messages to the next level! In order to make "Birthday Messages" come to fruition, Claude VonStroke posted up a 1-800 number and asked fans to call and leave him some personal messages. Of course, his faithful followers jumped at the chance to be featured.
I cannot stop laughing as I listen to all the incredibly hilarious messages, broken up by a quirky beat that runs deep with Dirtybird character. It is a brilliant cap on an album that I feel will forever resonate as one of the most epic packages of body-rocking beats that Claude has ever produced! He truly poured every ounce of his soul into its development and with that… here's to 15 more years of Dirtybird insanity!
---
Claude VonStroke – Freaks & Beaks – Tracklist:
Warming Up the Bass Machines II
Freaks Don't Fail Me Now
Flubblebuddy
Youngblood (Feat. Wyatt Marshall)
Frankie Goes to Bollywood
Session A
Waddaday (Feat. Zombie Disco Squad)
These Notes In This Order
All My People In The House
Alpine Arpline
Birthday Messages (Bonus Track)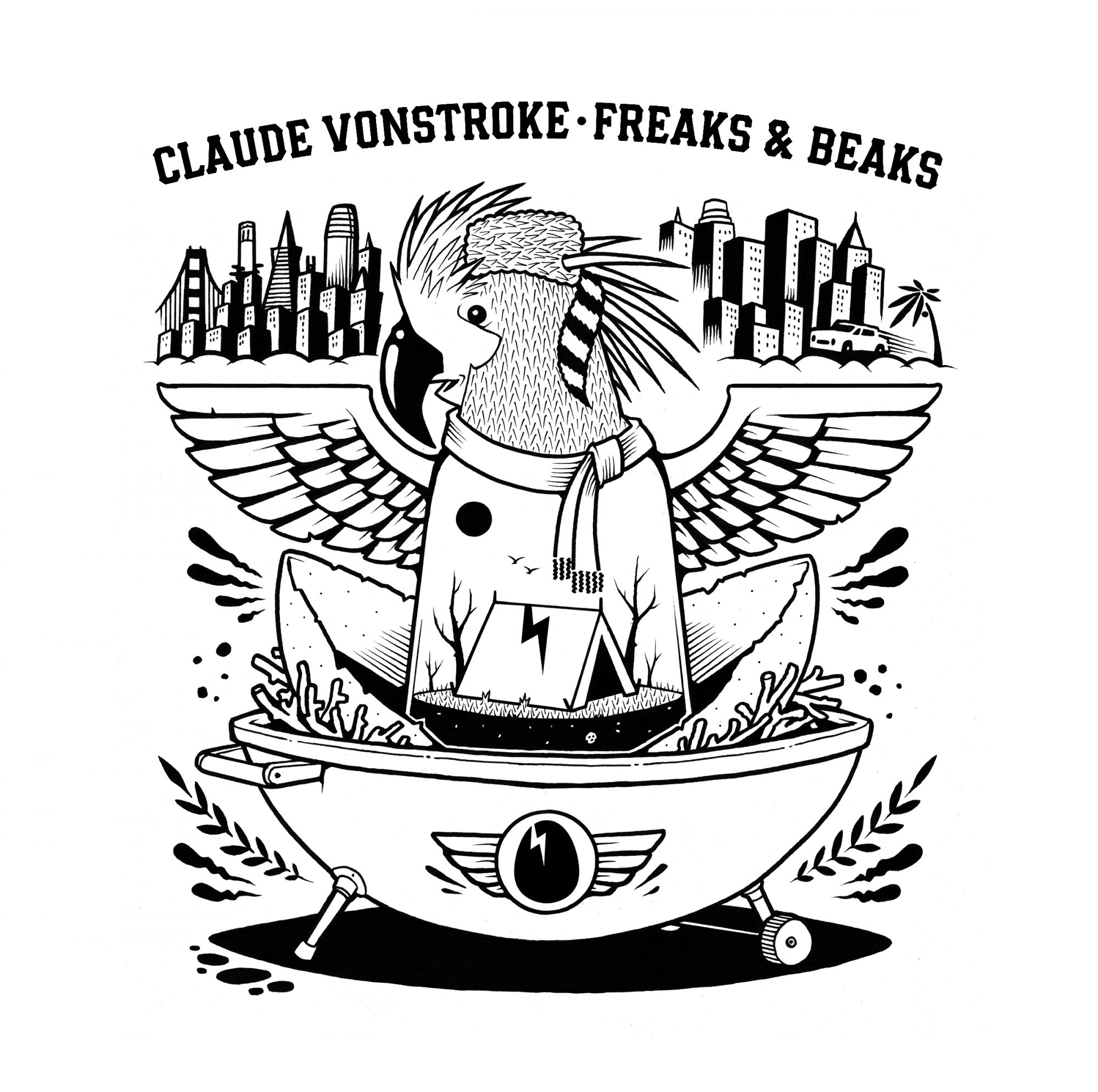 ---
Connect with Claude VonStroke on Social Media:
Website | Facebook | Twitter | Instagram | SoundCloud | YouTube