Zeds Dead was joined by Blanke, IMANU, DNMO, and more for their annual weekend-before-Christmas celebration, Deadbeats Chicago.
---
Fans of the multi-genre masterminds Zeds Dead are well aware that the duo has always loved Chicago, making this specific stop on the Deadbeats tour one that many Zeds Dead Family will travel to attend. Not only does the duo always put on some of their best sets in the Windy City, but two nights at the legendary Aragon Ballroom followed by club after-parties each night that feature rare sets easily make the trip worth it. Braving the cold weather, getting from the first venue to the second, and wondering what kind of sets Zeds Dead will throw down are all a part of the adventure that makes Deadbeats Chicago a chaotically wonderful weekend every year.
Zeds Dead jerseys, Christmas sweaters, and merch galore adorned every fan in attendance as their faithful fanbase excitedly made their return to the Aragon Ballroom. While this venue has had its issues in past years, such as long lines in freezing weather, rude staff and security, and general overcrowdedness, it was fairly smooth sailing this year. My group and I were pleasantly surprised to be greeted by smiling staff and no line as we entered the venue that offers fancy architecture and vintage grandeur.
HEYZ made his return to the Deadbeats Chicago weekend after his appearance playing direct support for one of the afters last year. This time he got to kick off the whole weekend in style with the opening set on Friday, where he threw down a set full of dubstep and drum and bass beats. Following HEYZ was a high-energy set from ROSSY, a queen of trap-style beats who's had a year full of successes playing stages everywhere from HARD Summer to Beyond Wonderland.
Deadbeats veteran and Zeds Dead collaborator DNMO never fails to show off his knack for blending genres, and he did just that in a well-rounded performance that locked the crowd's attention. In what was easily the best support set all of the first night, it was natural for him to include his remix of Zeds Dead's "Neck and Neck," a track that always puts fans in their feels. The crowd sang along in unison to make for a sweet moment that gave everyone chills.
Before they took the stage, it was time for Dirt Monkey, who was announced as direct support along with the set times. His set kept the energy alive in the Aragon Ballroom from start to finish before the lights went down and the crowd's anticipation of what was to come from Zeds Dead grew to an enormous size.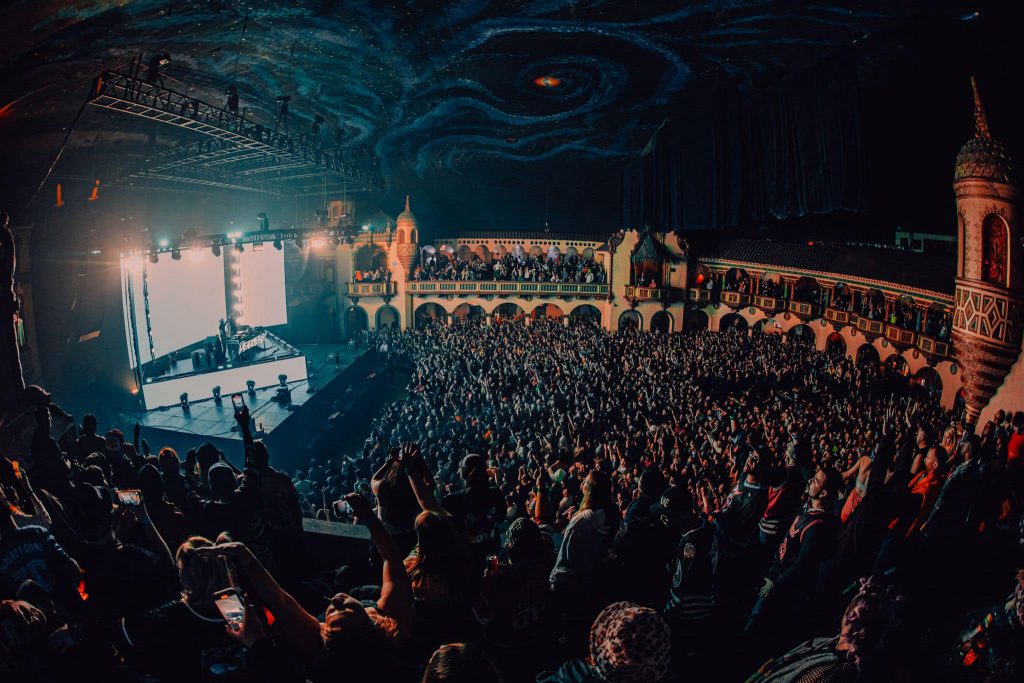 Zeds Dead kicked off their set with a bang by playing their iconic "Tarantino Opener."
It's usually a rare treat to hear this opener, which features the clip from Pulp Fiction that inspired the duo's namesake, but they've been doing it more often lately and including the actual movie clip for visuals as well. Something about the lights dimming to the faint "whose motorcycle is this" with the rest of the legendary conversation and engine revving noise that follows will make a Zeds Dead crowd go wild every time.
From there, Zeds Dead dropped a collaboration that they've rinsed nonstop since last year – the mainstage-ready "Ecstacy of Soul" with GRiZ, which was finally released earlier this month and kicked everything into gear. This night was house heavy and full of singalong classics like "Alive" and, of course, old favorites like "Lost You" and Gorgon City's remix of "Blame," which was a nice surprise after having heard the original version played countless times.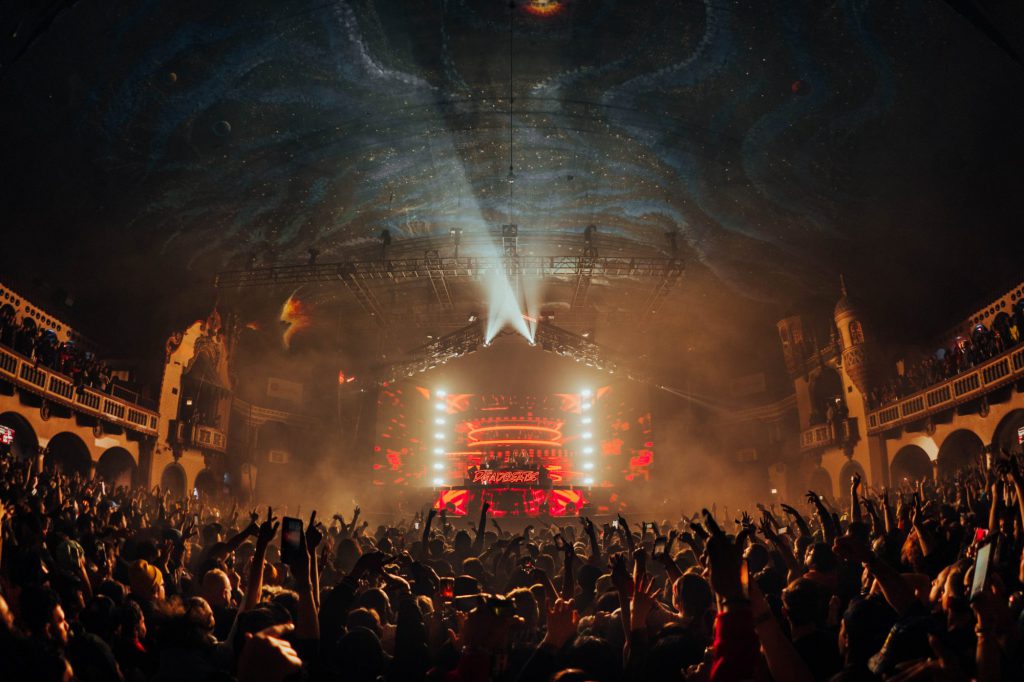 True Deadbeats Chicago veterans know you need to leave Aragon a bit early to avoid lines at the afters.
The afters, formally known as "Deadbeats After Dark," was held at Concord Music Hall this year. We left the Aragon so efficiently that we walked right into the venue and made it in time for the direct support set, which was an aggressive brostep performance from Effin that was a bit much for my own preference. I was bummed that we couldn't catch Sfam as they were playing while Zeds Dead was still playing at the Aragon Ballroom.
Zeds Dead blessed us with a throwback dubstep set for the Friday night after that was perfect as ever. After they opened up the set with Leo Cap's "All U Need," we got to hear some old dubstep dancefloor classics like "Night" by Benga and Coki and "Ginger Pubes" by Cookie Monsta. They even included some newer, currently popular tunes that have an old school sound, like a flip of Flowdan's "Welcome to London" and even Monty and Visages' recent tune "TEK" that has blown up and is being dropped in live sets everywhere since its recent release.
It wouldn't be a throwback set without the old Zeds Dead tracks that you won't hear anywhere else, and they delivered plenty like "Out For Blood," "Dark Side Dub," and a sick "Where Are You Now" moment where the whole crowd yelled the words together. A nostalgic "Flickers" closer with the crowd singing in unison once again was exactly what we needed to conclude a long night of music.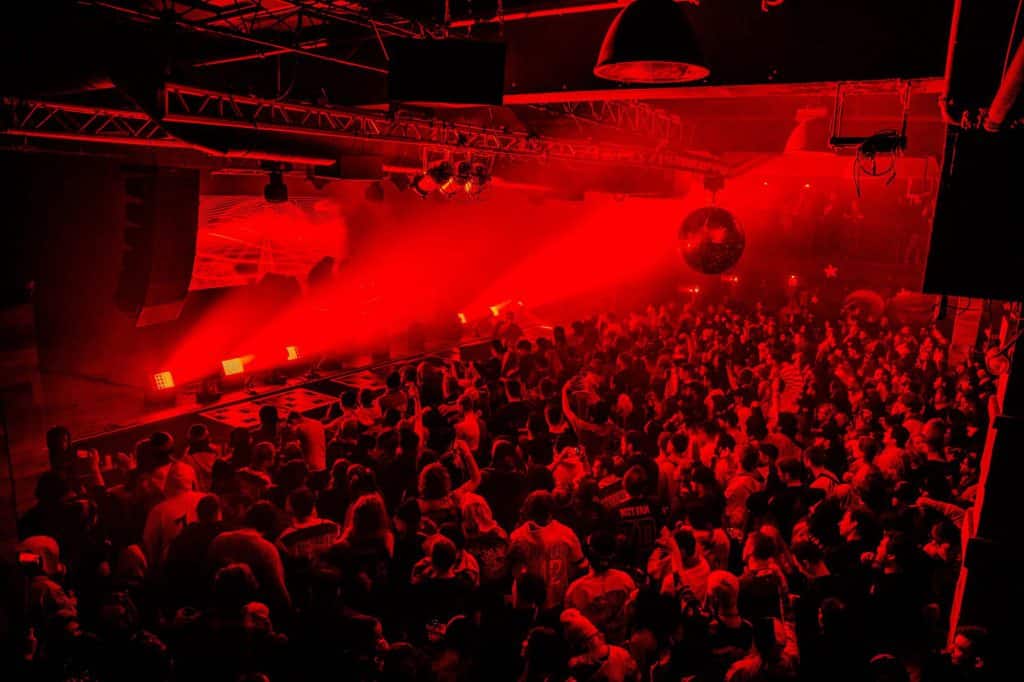 After a taste of the Deadbeats Chicago magic on Friday, we geared up to attend the sold-out Saturday night.
The excitement for the second night of Deadbeats Chicago is typically even higher than the first. Some schedule changes happened when SuperAve was faced with a delayed flight. While we were all looking forward to seeing his performance at the sold-out Aragon ballroom, he had to switch places with the first opener of the after-party, Twonski. This meant SuperAve had to take the slot when Zeds Dead would still be playing at the Aragon, making it impossible to catch his performance for many.
TINYKVT opened up the night with a performance featuring her own vocals with her DJing, followed by a vibey bass house set from Twonski. IMANU was next to keep the crowd on their toes with a set that started out with 140 dubstep and got a little weirder towards the end with garage and experimental tunes.
While Blanke has opened up for Deadbeats shows in the past, he brought his ÆON:MODE project this time around. I love this side project as it's strictly drum and bass, and catching it live was a treat. His set made you feel like you were a cartoon traveling through space and made for the perfect direct support to Zeds Dead's Saturday set.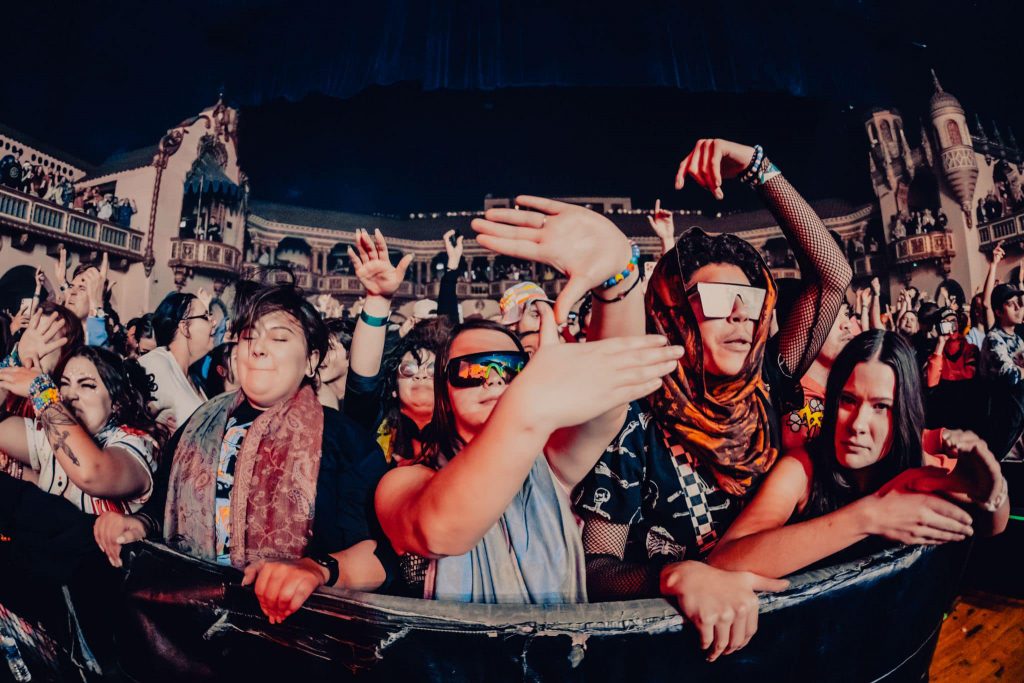 While Zeds Dead's set on Friday was a little more vibey with plenty of house music, things got a bit heavier on Saturday.
Zeds Dead dropped tracks like "RUFF" with Yookie and "Gassed Up" with Subtronics, along with another one of their unreleased collabs with the Cyclops Recordings label boss. My favorite moment of this set was easily when they slowed it down a bit for a stunning mashup of their Catching Z's stunner "Late Night Drive" with the vocals from The Beatles' "Oh! Darling" that made for a nice surprise.
Based on the direct support this night at Concord being a house set from One True God, we expected a house after-party set from Zeds Dead, or I was also hoping for a Catching Z's set full of downtempo beats. Everyone was stoked when it ended up being drum and bass, and I was happily surprised that they treated Chicago to a DnB after-party for two years in a row. Since they'd done it last year, I didn't expect we would get it, but I was so happy we got to hear their old track "Unduh Yuh Skirt," as well as one of my favorite drum and bass tunes ever, the Joe Ford remix of "Sentient" by Droptek.
Deadbeats Chicago continues to reign supreme for the members of Zeds Dead's evergrowing family.
As someone who has chased Zeds Dead for six years now, I have seen more sets than I can count. Although I no longer follow them around the country as much as I used to, Deadbeats Chicago is one show of theirs that I will always make a point to travel for because they've proved time and time again that they always put on some of their best performances in the Windy City.
With four adventures to Deadbeats Chicago and over 30 other sets from Zeds Dead under my belt, I can say this duo and the family they've created have given me core memories and friendships that will last a lifetime.
---
Follow Zeds Dead:
Facebook | Twitter | Instagram | SoundCloud | YouTube | Twitch
Follow Deadbeats:
Website | Facebook | Twitter | Instagram | SoundCloud | YouTube | Twitch