Blanke sat down to discuss his passion for drum and bass, the beginnings of his ÆON project, and his latest release, ÆON:TWO.
---
From melodic dubstep to glitch hop, Blanke is not one to stick precisely to a single genre. Hailing from Australia, this versatile artist has impressively released songs over the years on Deadbeats, Ophelia Records, Dim Mak, and mau5trap, to name a few. Last year saw Blanke add to his legacy by launching his latest project, ÆON, which centers around his exploration into the otherwordly tempos of drum and bass.
Blanke first showcased his ÆON:MODE concept at Rollin Festival in Australia and on a tour in New Zealand before bringing the project to the US for a special night hosted by Brownies & Lemonade. This year has only seen him expand the project further with sets at Deadrocks and Project Z, along with a forthcoming performance at Deadbeats Chicago this December as well.
On the release front, two chapters of the growing story have surfaced so far. ÆON:ONE arrived in June and put apocalyptic undertones on full display and set the tone for this project's contrast to his euphoric releases on Ophelia Records. The second installment, ÆON:TWO, landed earlier this month and features three new songs, "Another Planet," "Surface," and "Aurora." Each of these tracks integrates drum and bass to encapsulate the overwhelming nature of the vacuum of space and, at the same time, the immensely packed void as well.
After the release of ÆON:TWO, we jumped at the chance to sit down and chat with Blanke to discuss about the ins and outs of his musical process, a touch of his early days discovering drum and bass, and more. So listen to his latest release and read on for the full conversation.
Stream ÆON:TWO on Spotify:
---
Hi Blanke! You just had your newest release, ÆON:TWO, with tracks like "Surface," "Another Planet," and "Aurora." You kicked off the project last year, and you mentioned that drum and bass has always been integral to your life. What pushed you to release these two EPs after debuting the project with "Breathe" a year ago?
I've always loved drum and bass since I grabbed my brother's CDs when I was 14 and started rumbling through them. This Pendulum CD was part of that chunk. So it's always been something that I have grown to love and have wanted to do. I wanted to start doing it earlier in my career, but I found it to be way too technical, and when I tried, it was just a mess. 
It initially started with "Alchemy" on the Change & Decay EP with Deadbeats. That did well, especially in Australia, where it ended up becoming the most played song on Triple J National Radio, so it was from there that I started to feel like this DnB thing could be a thing. 
So I started rolling with it – and then I did "Breathe," which I sang on, funnily enough, for the first time. From there, I wanted to maybe make a thing out of this. I started writing more drum and bass demos, and my management and Harrison from Deadbeats were excited about this, and I was excited by all these new sounds and songs that I was creating – I was having a blast with writing this stuff. 
We decided how I wanted to portray this side brand that ended up being ÆON and that I wanted to do like a bunch of three-track EPs and have them labeled sequentially. "Breathe" came out as a single, and I thought that would be a good way to start and tie in the EP series. That song did really well; it's sitting over a million streams on its own at the moment. And then, ÆON:TWO came about through the other demos and songs that I'd written in that timeframe that I continuously built up. It's an ongoing project at this point.
That's cool. So you would say "Alchemy" and your remix of "Follow Me" were the launching points for the drum and bass project.
Yeah, sort of ÆON:MODE, which is my D&B-focused DJ set, was created for a festival in Brisbane, Australia, in early 2021, they wanted me to do a drum and bass set, and we didn't want it just to be branded as Blanke (Drum and Bass Set). The rest of the ÆON branding and release ideas really only came about around the time "Breathe" was created. Before that, it was still kind of a work in progress. The "Follow Me" remix was not intentionally drum and bass; it was a hybrid. It was that middle drop where I started getting a bit of attention from labels like UKF and other drum and bass artists. I was like, damn, people sort of catching on to it; this is pretty cool. So yeah, it's kind of started to run a bit from there.
Awesome. So how do you find a balance between the melodic bass side of Blanke and the ÆON project?
The way that I've done this allows me to split the two up because I thought that drum and bass was a little bit foreign, especially to people in the US. So having the ÆON brand gives people the expectation that this is what you're going to get – you're going to get drum and bass whenever I do this. Whereas I can keep the Blanke stuff separate and not alienate too many people because I feel like the drum bass stuff can be the love and hate thing at the moment between people. 
It was good to give it its own life and platform. And I can dedicate time to branding both and concentrate on what both look and feel like. They were two separate things; they had to kind of branch off from each other, so having them this way means that I can present them in the ways that make the most sense.
Yeah. That ties in perfectly with my next question. Many say that drum and bass is on the rise here in the US compared to other countries that have it more ingrained. Seeing as you've brought ÆON:MODE to Brownies and Lemonade, Deadrocks, and PROJECT Z – what are your thoughts on the rise of drum and bass and where it's going?
I'm pretty excited about it. I started doing a lot of these drum and bass sets back in Australia and New Zealand, which has a really good scene. New Zealand has one of the best drum and bass scenes in the world in terms of crowds, and they have the genre on their main radio stations. It is insane how ingrained in the culture it is over there. And it's super cool and fun to play over there because they just know everything and love to get around it. 
Bringing that over to America, I knew it would be difficult, and I knew that it hadn't been fully ingrained into the culture here yet. Some people are trying to spread awareness about it. Reaper is one of those guys in the US scene trying to bring it to our scene, Kumarion too. Then there are the Worship guys from the UK (Sub Focus, Dimension, Culture Shock, 1991) who are coming over and doing tours fairly regularly now as well, which is great. 
2020 was supposed to be the year DnB. [Laughs] But it's kind of taking time. But I feel it slowly but surely coming because I remember playing my Blanke sets and throwing in one or two drum and bass tunes, and the entire crowd would just go completely flat. I went from that to headlining the side stage in New York City at Brooklyn Mirage for the Deadbeats event. Having that room completely packed and having the vibe be immaculate the entire set was such a crazy moment for me. Seeing the change from making crowds flat to having almost like a New Zealand or an Australian crowd in front of me reacting in the same sorts of ways was exciting. 
So I see it coming through, there's a buzz, and there are definitely people enjoying it. I see it on Twitter all the time. Trendsetters and people are talking about it. It is an exciting time, and I feel like it's happening as we speak. I think it all requires the right moves and enough people talking about it to make it a valid thing in our scene. 
My big thing is to try and make it not a polarizing situation. At the moment, you either love or hate it, and I've always disliked that when it comes to genres because it doesn't make a lot of sense. When I first found drum and bass, it was with Pendulum, and I was listening to CDs like Metallica, Tool and Pearl Jam. Pendulum fit in with the more rock-y stuff that I was listening to, as well as the art rock and the prog metal. It didn't make any difference back then, so why should it make any difference now? It should be loved just like you would love house music compared to dubstep or whatever it might be. 
I'm excited for drum and bass to integrate fully here in the US.
For sure, and drum and bass never died. It's always been in the underground. It's always been somewhere. It's not a new genre in any sense of the word, which is a good thing.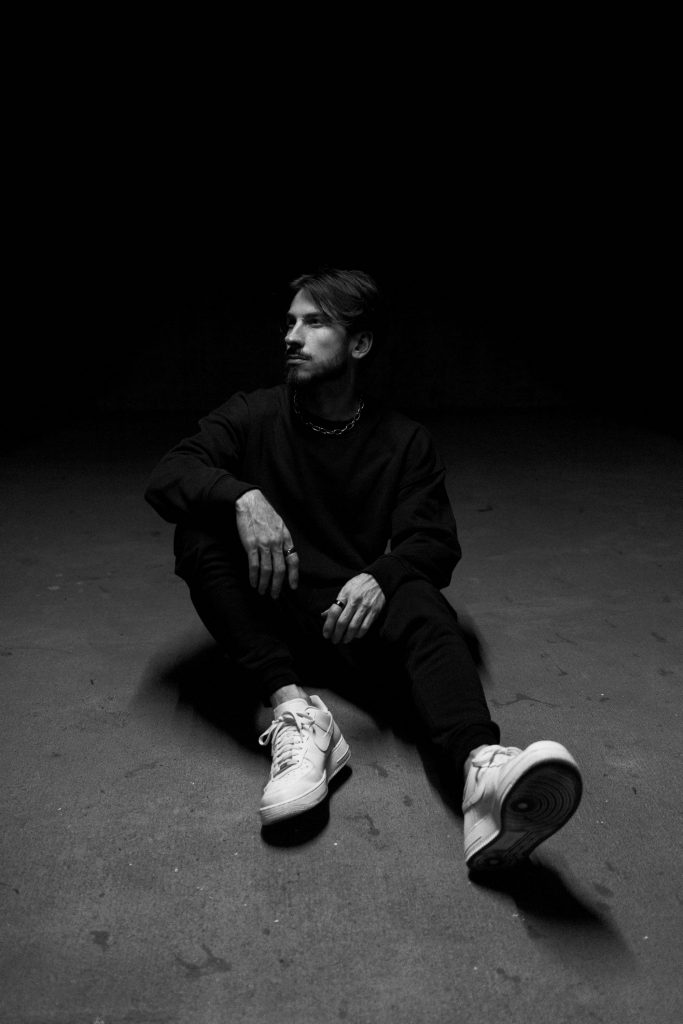 So, going back to your newest EP, you have some fantastic vocals in it, especially on "Surface" and "Another Planet." It's very apocalyptic and spacey. Where did you source those, or what was the inspiration behind using them?
Interesting. So for those, I had a couple of vocal samples that I ended up finding from War of the Worlds radio broadcasts from the '30s, I believe it was. It was like a movie, but they broadcast it through the radio. So they'd have people doing a dialogue off a script, and people would tune into the radio and think aliens were invading Earth because they wouldn't know what was happening. 
I found a couple of clips from there and got them re-spoken to make them a little bit more modern. I was able to use them, and they fit in with the spacey, galactic vibe that ÆON is. So I was just trying to keep in that realm and tell the story that way. But basically, the ÆON stuff is all space-oriented, and then the Blanke stuff is all Earth. 
I also just want to give a quick shout-out to the amazing vocal from Ruth Royall on "Aurora," she wasn't able to feature on it due to some conflicts in her release schedule, but she absolutely nailed it. We are going to work on more together for sure!
And then, with the production process between the two recent EPs, ÆON:ONE and ÆON:TWO, are you seeing those as chapters, or are those going to be separate entities altogether?
So that is kind of yet to be decided in a way. They are middle chapters at the moment. I have an idea and a plan as to how they will end and what the next phase will be. I want that to continue to be a little surprise at the moment. Just know that there will be more of them to come. But yeah, they're their own little chapters at the moment. 
That's cool; I'm excited! And finally, is there anything else you want to share with your fans about your ÆON project before we end?
Yeah. I think the biggest thing for me at the moment is just how grateful I am for the reception that this little side project is having. It's a different thing. It's different for people in the scene, and it's different from the music that I'm usually making. How people receive it in the way that they are, fans love and enjoy it the way that I was hoping, is really humbling. 
So I'm just very thankful that people are enjoying it and letting me and giving me the opportunity and space to create as freely and openly as I can. It's just so cathartic for me as an artist to have the space to do that and have permission from my fans to do certain things like this. So thank all of you for listening; there will be many more to come.
---
Follow Blanke on Social Media:
Website | Facebook | Twitter | Instagram | SoundCloud | YouTube