After debuting on Deadbeats with "Octavia," Rossy swung by to chat about the story behind the track, life on tour, and more!
---
Rossy has been honing her skills and cultivating her sound meticulously over the past few years. After a string of independent releases, she joined the ranks of RL Grime's Sable Valley label in 2020 with "Euphoria" and has been on a hot streak ever since. She followed up this track with "See Through" and "777" and also landed two massive tracks on the Sable Valley Summer Vol. 2 compilation.
Continuing her momentum of releases, Rossy makes her Deadbeats debut with "Octavia," a beautiful, emotion-fueled track that fans will love the minute they press play. One thing about her music is that every track she releases feels so unique and distinctive, you would be hard-pressed to find another artist that sounds like her. This lends a hand to Rossy being added as tour support this year to some massive artists such as RL Grime, Boombox Cartel, and Zeds Dead.
After the release of "Octavia" and hearing her on the latest Sable Valley compilation, we knew we had to chat with Rossy on how this new Deadbeats release came about, releasing on Sable Valley, tour life, and more. Check out the release on Spotify, download or stream it on your favorite platform, and read on for the conversation!
Stream Rossy – Octavia on Spotify:
---
Hey Rossy, thanks for chatting with us! Let's talk about your latest release, "Octavia". What's the story behind making this track and did it differ from your previous releases? 
Hello! It's so good to be chatting with you guys, thanks for having me. "Octavia" is really special to me. I was going through a pretty hard time in my life when I made this track. Before getting in the DAW, I something on Instagram being like "art is making beautiful things from all the pain I've gone through." That is the most perfect way I could describe the story behind this song. I took that hurt and made it into, in my opinion, a very beautiful song. I honestly get pretty emotional listening to it because I was so sad and now to look back and see my growth and where I am now is really incredible.
I am also just really proud of this track because I feel like it shows my growth with production and finding my place with my sound and just pushing myself to be better with each release. And, just learning how to give as much of myself as I can in music form to share with everyone. 
Since it dropped, we have been rinsing your two tracks "Reign" and "Shimmer" off the latest Sable Valley Summer Vol. 2 compilation. How did it feel returning back to the label with these two tracks? 
Well, first of all, thank you for rinsing the tracks, that makes me so stoked! Glad you guys dug them. It felt so good to be back with Sable! I am very proud and honored to come back with two songs. I was really really looking forward to those releases to show just a different side of my work that everyone will be seeing more of as time goes on. Very thankful to have Sable Valley believe in my music and me. 
Your mom recently sent you a text saying "I see everyone calls you the trap queen." How does it feel to have the community recognize and appreciate the music you create? 
Oh my goodness this is great my poor mom is just so confused wanting to understand. She is so cute. [Laughs] But truly it is really humbling. Since the day I got into electronic music, trap has always been my favorite, hands down. So, now to sit here and be recognized as that and called that – just truly no words. Makes me want to hug everyone. [Laughs] But really trap is doing really special things in the EDM community right now and I just promise to continue pushing that and hopefully making everyone stoked and happy and just want to dance and connect with me. If you angels are reading this, thank you, you make my world go round!
You recently mentioned on Twitter that you got fired from your day job from being gone too much. Now that making music is your day job, is there any added pressure that comes from that? 
Absolutely. Especially at first, I was like like "oh okay this is real real." But honestly, even more so, I just felt like it was the universe being like its okay, this is your time, go make it happen. So, that is the attitude I have taken on with this. There is no plan B, there is no other option and I'm not giving myself any other option. I love what I do more than anything so I am just using it as fuel to keep leveling myself up. 
You were added to RL Grime's Community Tour, Zed's Dead's Revival tour, and Boombox Cartel's Maquina tour this year alone. How does it feel to be touring again and with such high-profile names in the scene? 
I can not tell you how many times I have been driving in my car and my mind will randomly remind me of this and, I literally am not kidding you, just start screaming. I am beyond abundant that I get to do this with amazing artists like this. These are all artists that I have looked up to, been influenced by, and also saw when I was just a baby producer girl attending festivals. Before the pandemic I obviously played shows but nothing close to what I am doing now. Now, I'm traveling to cities I have never been to, to play music, with people like this?! Like are you kidding me? It might sound corny but literally feels like the best thing in the world. And, all of the artists and teams have also been so incredibly kind.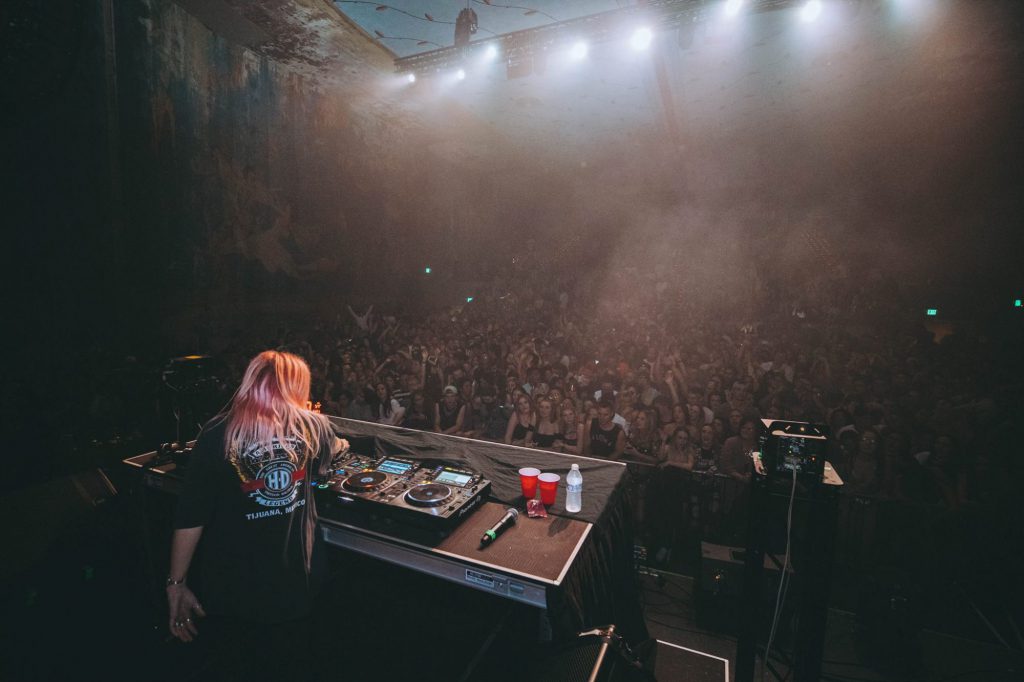 Speaking of touring, what's the hardest thing about tour life, and how do you practice self-care through all the chaos? 
I would say the hardest thing especially being a new touring artist is just learning how to take care of yourself in the best way you can for yourself. Because it is no sleep, it is go go go. So just learning like what you need to feel your best. For me, it is definitely sleeping any place I can, whenever I can. Like the other day, I could not check into my hotel yet and I just laid down and took a nap in the lobby and was like I live here now. [Laughs]
My other big one is trying to eat as healthy as you can which can be really hard on the road but your body will thank you so much for it. I also think just being honest with yourself and that it's okay to say no. Like "okay it would be really cool to see a site in a new city, but I can tell my body is really tired so, I will nap instead." So just saying no and taking a nap and knowing next time you can go see that thing, etc. so you can take care of yourself. It's easy to forget about mental health when you are excited, eager, and in go mode.
Your name is popping up on festival lineups everywhere. Let's name drop a few for our readers: Splash House, Lost In Dreams, Firefly Festival, Audiotistic, and BOO! What's the difference between playing festivals and venue shows? 
I feel like the biggest difference would be production size, crowd size, stage size, etc. But honestly for how it feels for me is any day is the best day when it's show day. I work my butt off to make sure every set I play is the best it can be. So it could be a venue or it could be a festival but I'm always going to give it my everything to make sure that everyone gets the best experience possible that is specially curated for them, and that set, and that day. 
What advice would you give 2017 Rossy, the rising producer who booked an opening gig for Krewella? 
Well, was not expecting to tear up on this interview. If I could tell 2017 Rossy anything it would be to never ever stop, to believe in yourself relentlessly, that you can do absolutely anything, and to always be kind. And definitely would say go kick some ass opening for Krewella. 
You've had quite the year so far, is there anything else you would like to accomplish before the end of 2021? 
Thank you very much! I absolutely do have some things I want to accomplish by the end of this year. Unfortunately, I cannot say what in detail. However, I will say there are a lot of ideas, goals, and aspirations I have had for a long time that are becoming a reality that I cannot wait to share. I also just want to continue to grow, push myself, and absolutely crush all the shows I have coming up. There is lots and lots to come!
Thank you again for taking the time to chat with us, it means a lot! Hope to catch a set from you soon. 
And thank you, guys! It's been awesome to chat some really really great questions! I hope you love "Octavia".
---
Connect with Rossy on Social Media:
Facebook | Twitter | Instagram | SoundCloud