Nicky Romero continues the celebration surrounding a decade of Protocol Recordings with the release of a limited edition vinyl box set.
---
It seems like just yesterday that Nicky Romero launched Protocol Recordings as his new home for his own releases and other artists in the scene. Flash forward to the present, and the imprint is now celebrating a decade of dominance with countless jaw-dropping tunes under its belt. The party was kicked into full gear earlier this year with special showcases during ADE and more, and now Nicky Romero is capping 2022 off with the release of a limited edition vinyl box set – 10 Years Of Protocol.
10 Years Of Protocol highlights 25 of the biggest hits that have graced the label over the past decade, and it's filled to the brim with major names in the scene. This includes Nicky Romero's massive collaborations with artists like Calvin Harris, NERVO, Deniz Koyu, Nile Rodgers, W&W, and David Guetta, as well as his solo track "Lighthouse." Other artists who have tracks featured in the collection include Tommy Trash and Wax Motif, Florian Picasso and Raiden, Volt & State, and Tim van Werd.
The three LPs which feature first-time vinyl pressings of these tunes aren't the only treat that comes with the 10 Years Of Protocol box set as found inside is a hardcover book that features artist quotes, photos, and background stories of each one as well. This run is limited to 500 copies, with the first 150 sold signed by Nicky Romero, so make sure you hop on grabbing your copy quickly, as they're sure to move fast.
Additionally, to spread some holiday cheer, Nicky Romero is giving away one of the box sets to a lucky fan. Enter their contest via Spotify for your chance to win before they draw the winner after the second week of January!
The 10 Years Of Protocol limited edition vinyl box set is available now via their official website. Don't forget to check out their newly-launched 24/7 live stream and give their remix EP a listen that celebrates some fresh takes on their most beloved tunes as well.
---
10 Years Of Protocol – Tracklist
LP #1:
A1 – Nicky Romero & NERVO – Like Home
A2 – Nicky Romero & Calvin Harris – Iron
A3 – Nicky Romero vs. Krewella – Legacy
A4 – Tritonal & Paris Blohm ft. Sterling Fox – Colors
B1 – Stadiumx & Taylr Renee – Howl At The Moon
B2 – Nicky Romero & Vicetone – Let Me Feel (ft. When We Are Wild)
B3 – Tommy Trash & Wax Motif – Hex
B4 – Blinders – Sirene
LP #2:
A1 – Deniz Koyu & Don Palm – Lift
A2 – Nicky Romero vs. Volt & State – Warriors
A3 – Nicky Romero – Lighthouse
A4 – Volt & State – Sandcastles
B1 – Nicky Romero & Nile Rodgers – Future Funk
B2 – Nicky Romero – Ready 2 Rumble
B3 – Florian Picasso & Raiden – Hanabi
B4 – Nicky Romero & Teamworx – Champion Sound
B5 – Thomas Gold & Kosling – Wildest Dream (ft. Matthew Steeper)
LP #3:
A1 – Nicky Romero & Deniz Koyu – Paradise (ft. Walk off the Earth)
A2 – Nicky Romero & Stadiumx ft. Sam Martin – Love You Forever
A3 – W&W vs. Nicky Romero – Ups & Downs
A4 – Marc Benjamin & Timmo Hendriks – Be Alright
B1 – Nicky Romero & David Guetta – Ring The Alarm
B2 – Nicky Romero, Mike Williams & Amba Shepherd – Dynamite
B3 – Tim van Werd – Same Three Words
B4 – Nicky Romero & GATTÜSO x Jared Lee – Afterglow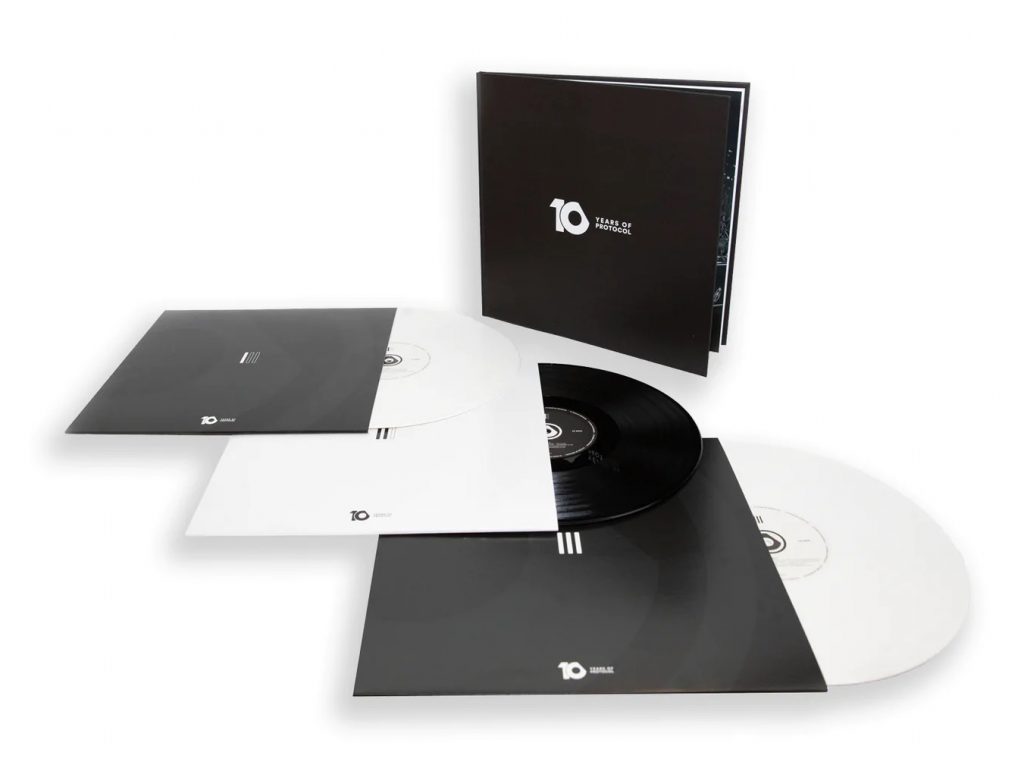 ---
Follow Nicky Romero:
Website | Facebook | Twitter | Instagram | SoundCloud | YouTube | Twitch
Follow Protocol Recordings:
Website | Facebook | Twitter | SoundCloud