GRiZ delivers a fresh offering of otherworldly bass sounds on the whopping seventh edition of his Bangerz EP series.
---
In the past couple of years, GRiZ has catapulted to the top of the scene with a plethora of unique performances, his signature blend of funk, dubstep, house, and his infectiously vibrant good vibes. Previous albums like Mad Liberation and the Good Will Prevail series offer his old-school, funk-fueled style, while newer hits with LSDREAM and CloZee showcase his newfound love of heavy, modernized bass.
One of the biggest leaps forward that GRiZ made came with his Bangerz series, which included his global hit "GRiZtronics" with Subtronics and other favorites like "Ice Cream" and "No Doubt." Each of these displays varying production styles that he brings to the scene, yet all retain the groovy essence and signature flair that the Detroit-based producer stays true to. Now, after taking nearly a two-year hiatus from the Bangerz era, GRiZ has kept the story pages turning with the seventh edition to throw into the funky mix.
Returning for the family affair are GRiZ fam favorites ProbCause and Chrishira Perrier, who have become essential to the GRiZ experience over the years by elevating his live shows with their insane vocal and lyrical talents. "Skydive" kicks everything off like you're jumping out of a plane with no parachute and soaring right into some super synchronized, impenetrable sustained bass that grooves in sync with ProbCause and Chrishira's flows.
Keeping the energy high, GRiZ delivers a solo track in the midst of the collection, "Laser Fire." This one has a super smooth, groove-heavy intro with its unexpected but extremely satisfying alternating basslines and even a touch of modern riddim influences. To close out this chapter, the final track, "MEGAZORD," explodes into some serious head-bopping beats with help from ProbCause and Chrishira, whose vocals carry the ebbs, flows, and flavors of sound into the most cinematic, astronomical drop the track offers. You can close your eyes and imagine some solid pyrotechnics being set off when listening to this tune.
Bangerz [7].Zip is not for the faint of heart but perfect to get you on your feet and synchronize to the signature groove GRiZ is paving. If you're itching to hear these fresh-off-the-press tracks live, fans can experience the one-of-a-kind live experience this winter at his beloved GRiZMAS show in Detroit. These next-level productions are something every music enthusiast should experience at least once, with the songs literally coming to life with the backdrop of rainbows and cheering crowds – the vibe is unmatched.
Follow GRiZ and his crew on socials, stream Bangerz [7].Zip on Spotify or your preferred platform, and let us know what you think of the tracks on Twitter!
Stream GRiZ – Bangerz [7].Zip on Spotify:
---
GRiZ- Bangerz [7].Zip – Tracklist:
Skydive (feat. Probcause and Chrishira Perrier)
Laser Fire
MEGAZORD (feat. Probcause and Chrishira Perrier)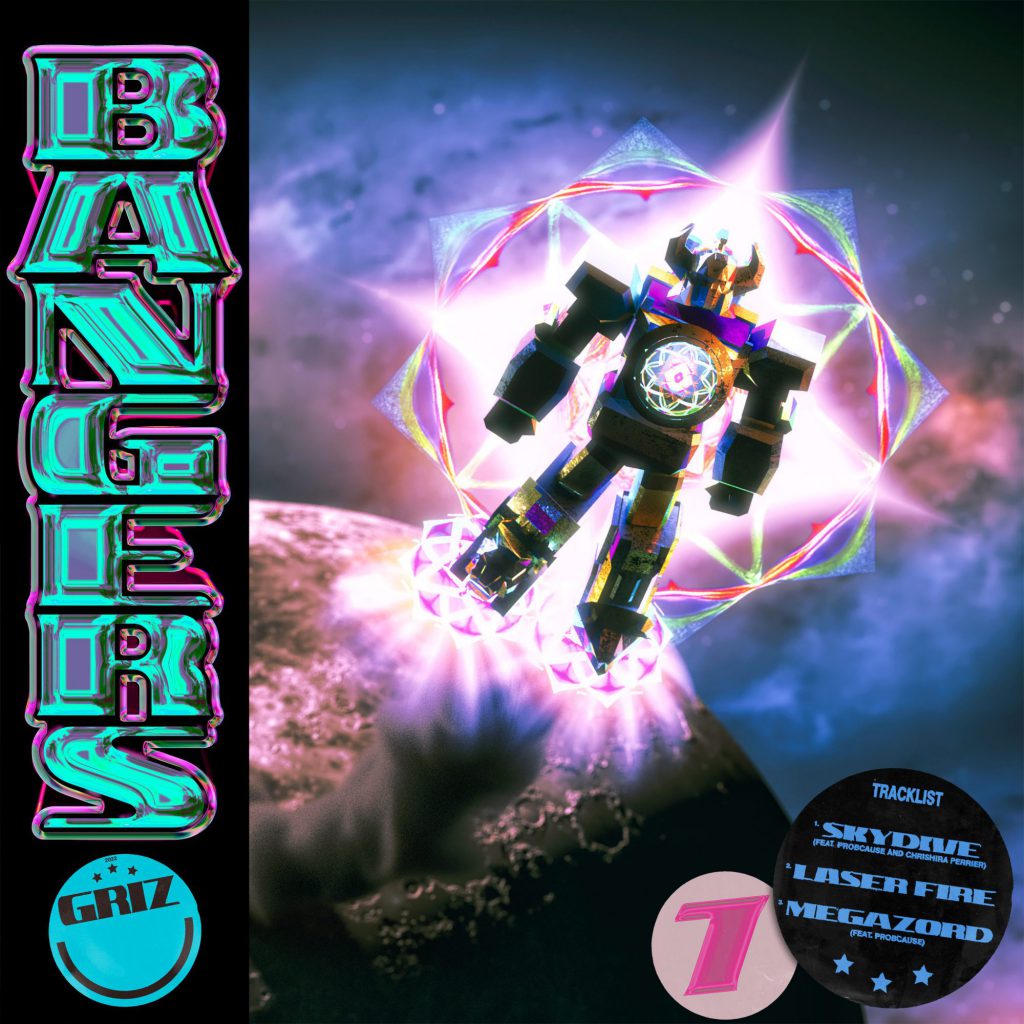 ---
Follow GRiZ on Social Media:
Website | Facebook | Twitter | Instagram | SoundCloud | YouTube | Twitch