IN / ROTATION continues to delight with diverse house flavors from future stars in the scene on the latest edition of Rotate!
---
Since first arriving on the scene, Insomniac Records' sublabel IN / ROTATION has become a home for a number of the eyebrow-raising stars of the future in the house and techno scene. As an extra nudge to help catapult careers, the Rotate series surfaced as a way for fans to get a taste of the latest sounds to grace the label. Now, after the four previous volumes lit up speakers with the sound of the underground, we can officially celebrate the arrival of Rotate Vol. 5!
This 13 track compilation features a wonderful blend of styles running the gamut from the classic, tech house, and bass house realms. The artists selected come packed with the talent needed to get you fired up and ready to let it all out on the dance floor. Lucati and House Divided are here to dish out the sideways vibe while Casmalia and Isenberg drop by to leave you feeling refreshed. MISS DRE and Left/Right's tunes are going to pull you deep down low as well, but that's just a snippet of what's to come!
In fact, no stone is left unturned on Rotate Vol. 5 where pure passion is what shines through on this compilation. With so many glorious soundscapes to choose from, you'll leave this listening experience smashing that follow button on the artists you may have been missing! This group of talent is not to be slept on, so without further ado, let's get into the music.
Purchase or listen to Rotate Vol. 5 on your favorite music platform, stream the full album below, and continue on for my personal take.
Stream IN / ROTATION – Rotate Vol. 5 on Spotify:
---
Get ready for some thrills before you board the house music rollercoaster ride on Rotate Vol. 5.
IN / ROTATION kicks off the party with a high-octane offering from Cloverdale & FWLR called "Old School." The track stays true to its name, pumping out a laser effect that brings me back to my early days of raving at the turn of the century. The vocals are full of masculine flavor which pushes this track to the next level. I can't think of a better way to kick off the journey than with a little dose of nostalgia.
Staying true to the interesting collection of styles that Rotate Vol. 5 has to offer, we quickly move into modern-day territory, opening the door to a trippy world full of silly moments saturated with a carefree attitude. Lucati's music always puts me in the mood to turn up, and with "Kol Me," the bouncy character has inspired a full-on living room twerk session. I am LIVING for this track.
Multi-talented San Diego-based artist Casmalia answers back with a smoldering chill session called "Talk To Me." This track not only makes me want to kick back with my favorite glass of wine, but it also fills me with a strong sense of power through the pristine vocal delivery. It's no wonder that labels like Insomniac, mau5trap, and My Techno Weighs A Ton have scooped her up. She delivers such a dynamic maturity through her music.
Rounding out the first pack of offerings, we land on FOULPLAY's "Let Me." FOULPLAY is an artist that knows exactly how to take life a little less seriously as he serves up the beats that make us lose all control! This one pings straight through the brain with sharp percussion elements, stylized laser accents, and a gritty recurring vocal clip that ties the insanity all together. Now I am fully primed to party until the sun comes up!
I hope you're ready because House Divided has arrived to turn it up a few more notches!
House Divided was just recently featured on Box Of Cats Litterbox 09 with the freakishly amazing "Customer Service," and before even hitting play on "Turn It Up," I already know that they are going to melt my face and get my endorphins riled up with a solid peak hour banger. It's all about the finite details: rowdy, ratchet, evolving, engaging, and above all else, festival-friendly.
Next on deck is Dallas' own Isenberg who brings along the sexy vibes with "Gotta Be." This tune makes me feel flush and love drunk as the lounge meets the underground. The result is an experience that inspires me to grab my partner and get down and dirty on the dance floor. Woven in between the hot and heavy moments, we find auditory details that seem lighter than air, and I find my mood lifting in its wake.
Keeping on the same trajectory, MISS DRE takes over control with "Shape A Thought." The first time I heard music by MISS DRE was when she was featured on Niles Shepard's track "Follow Me," released on Sacha Robotti's Slothacid imprint. I absolutely love her style, and she keeps me completely engaged with sensual low octave notes and ear-pleasing synth stabs. The growling attitude on this one makes the rest of the world seem to fade away around me.
Enter the bass and everything gets turned inside out.
Delivering their eclectic beats all the way from Australia, SODF teams up with Double Agent on "Come Over." This track marks a 180 flip if we compare it to the flavors we have experienced thus far. It's a moment that brings fresh clarity, reminding me of the phenomenal spread of talent on this album. The vocals are sweet like candy and work flawlessly with the wubby bassline. It's a party anthem through and through, keeping me young at heart as I sing along.
The bass house drive just keeps chugging along as Makla & JC Ordonez step in to make us "Drip." This track is the one to raise my eyebrow with experimental sounds that seem plucked from another dimension. It's edgy, full of life, and reeks of confidence. The lyrics inspire me to get dressed to the nines and gather up my friends for some bottle poppin' action at the club.
Then, Not The Father and Eric Mark collaborate on a tune that will draw anyone's attention.
The collaboration game is seriously lit on Rotate Vol. 5 and when Not The Father and Eric Mark step in to show off their skills, you better hold onto your hat. "Shake N' Bake" is out of control, inducing anyone who listens with pure elation. The vocal vibrations match perfectly with the accelerated tempo; I am left catching my breath as the mid-track shift sends me straight off into loony land! When a tune makes me feel this unhinged, that's a wrap. You have my undying devotion.
At this point, you might need to gather yourself, but Left/Right has other plans. "Change" keeps the energy burning hot like fire as he takes you to a deeper level. I find myself locked in a domain where the shadow-stricken melodic elements play tricks on my mind. It's a glorious feeling. There is so much weight to this track, but the lyrics help to loosen up the emotion. And the way the vocal rotates in and out of the dominant bassline is simply hypnotizing.
Next up is another fresh collaboration, this time from Event Horizon and Shahay who lift everyone with the eccentric sound of "Beat Rider." This track fills me with visions of festival-goers running around acting silly and free as the even-tempered beat urges us to find our personal groove. There are moments that are wildly unpretentious, yet there are others that make you want to slap on your bass face while you get your shuffle on.
We have reached the end and what better a way to close the show than with a melting pot of house styles.
Violet Park keeps it classic and sassy yet injects future-forward flair, culminating in a mic drop moment. "Need You" is the purest reflection of everything the Rotate series stands for. There is a flavor of house for everyone, so let's celebrate with Violet Park as she keeps the cowbell ringing and the funky rhythm pulsing through our veins.
Whether you go berserk for bass house, cuckoo for classic house, or tweak out for tech house, Rotate Vol. 5 is your one-stop-shop! I couldn't be more impressed with the motley crew of talent that IN / ROTATION has called up for this one. There's no way you will leave this journey unimpressed, and you can find me over here foaming at the mouth for the next edition of the series.
---
IN / ROTATION – Rotate Vol. 5 – Tracklist:
Cloverdale & FWLR – Old School
Lucati – Kol Me
Casmalia – Talk To Me
FOULPLAY – Let Me
House Divided – Turn It Up
Isenberg – Gotta Be
MISS DRE – Shape A Thought
SODF & Double Agent – Come Over
Makla & JC Ordonez – Drip
Not The Father & Eric Mark – Shake N' Bake
Left/Right – Change
Event Horizon & Shahay – Beat Rider
Violet Park – Need You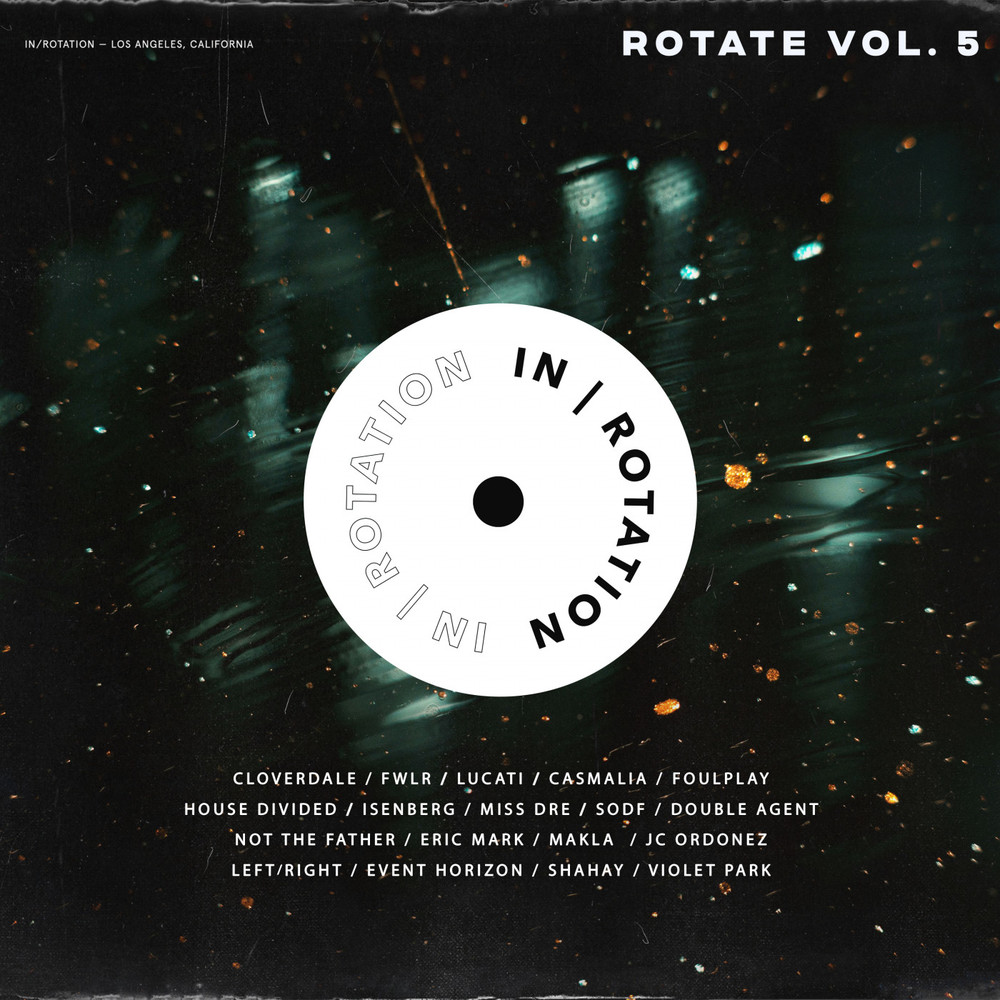 ---
Connect with IN / ROTATION on Social Media:
Facebook | Twitter | Instagram | SoundCloud