Don't let their name fool you, rising stars House Divided is bringing unity to dancefloors and rave caves near and far with their beats!
---
If you've been on the hunt for a fresh house duo to feast your ears on then look no further than House Divided. Originally hailing from the East Coast but now calling Los Angeles home, Sean Whittemore and Evan Judy have made some waves with their infectious style both in the studio and behind the decks. This year, House Divided has already gained some serious momentum with releases on labels like Country Club Disco and Box of Cats that have made house lovers move and groove.
And even in the face of a global pandemic, it seems as if there's nothing that can stop these two from continuing their ascent as they've transitioned from live shows to livestreams seamlessly. In fact, you can catch House Divided spin every other Sunday during their "At The Dinner Table" residency on our Twitch channel at 9pm PDT to get a dose of beats to end your weekend right.
Looking to gain some deeper insight into the story behind House Divided, their move to the West Coast, future releases, and how they've continued to dominate the decks, we had the chance to catch up with the duo for a chat. Check out the full conversation below and make sure to stream their guest mix that's filled to the brim with unreleased gems.
Stream EDMID Guest Mix 224 || House Divided on SoundCloud:
---
Hi Sean and Evan, thanks so much for taking the time to chat with us today. Let's start off by addressing the elephant in the room. How has life been for you guys during the quarantine and what effect has it had on your year?
[Both Laugh] Well what can we say? It's been a dramatic change from what we're used to, but we think that goes for just about everyone. The biggest drawback for us at first was definitely the cancellation and postponement of all of our shows back in March that we had been really looking forward to. That being said, it didn't take long for us to re-evaluate our game plan and double down on our work in the studio. It also broke us of our comfort zone in terms of finding new and creative ways to stay active in our social communities.
A number of artists, including yourselves, have shifted focus from live shows to those in the digital realm. What's your experience been like with these streams so far? Does it feel similar, at least, to performing in front of a crowd?
Well the truth of the matter is, there really isn't anything like performing in front of a crowd, and we really can't wait for the day when they allow venues and festivals to reopen. But being able to live-stream has been such a good way for us to stay in the game mentally and continue to have that connection with our fans in a performance setting.
One thing that's definitely cool and unique to streaming is the added benefit of being able to shout-out to individual fans during the performance in the group chat. It provides an extra personal touch and way of connecting with people that you wouldn't normally be able to do during a live performance.
When you're approaching these livestreams do you have a different type of curation for the tracks you plan to include in your sets? Is there more creative freedom behind the decks than a normal show?
One thing we have been able to do is rethink the way we start our sets off. Usually when we get on-stage we are just plugging in a usb and sort of being passed the "baton" from the artist before us, and just getting right into it. Since we now have the stage from start to finish we've been able to incorporate an intro that really sets the mood and dramatically builds up the energy before launching into the heavier stuff. We've actually been diggin the vibe it creates so much that it's something we'll probably be adding to our live performances when things reopen as a way to really set us apart from other acts.
While your streams have been fantastic, one of the big reasons we've been drawn to your sound has been the arsenal of quality releases you guys have been delivering like "Stay Dancin'." Can you walk us through what your production process looks like? Does this differ when you're remixing a tune?
It's hard to say at this point. We learn so much about production after each song we produce that we are constantly feeling the need to re-work songs we have already signed. It's a weird concept but it's the truth. With that being said, we almost always start with building a solid groove first whether it be a remix or not. The way we go about everything is that if you can play the drum rack alone and still feel the need to bop your head around, you've got yourself a great start. The rest is just filling in the blanks. 
We've heard through the grapevine that you have some stunners that are due up for release soon! Anything you can share about these upcoming releases that are in the pipeline?
We've actually been very busy over the last several months, stacking up a ton of unreleased material that we can't wait to share with the world. Our next release is a remix we did for JNZO that comes out on HoodPolitcs Records this Friday, June 17th. The week after that we have a collaborative EP we did with San Pacho set to release on Matroda's new label Terminal Underground. But probably our most anticipated release this summer is going to be our debut solo EP on Country Club Disco, which should be out sometime in July. We also have more coming out later in the year but I don't think we're at liberty to discuss those at the moment, haha.
What has it meant to get such great support from labels like Box of Cats and Country Club Disco as artists who are currently rising through the ranks?
Honestly, it's meant the world to us. Box of Cats was one of our dream labels and when we heard they were picking up 'Stay Dancin' we were beyond stoked. And we probably wouldn't be where we are today if it wasn't for Country Club Disco deciding to add 'Funk King' to their compilation last Summer. House Divided wasn't even three months old at that point, and it was on a whim that we decided to submit the track to their demo box. It was definitely a very key moment that really helped elevate us and set us on the path we're on today.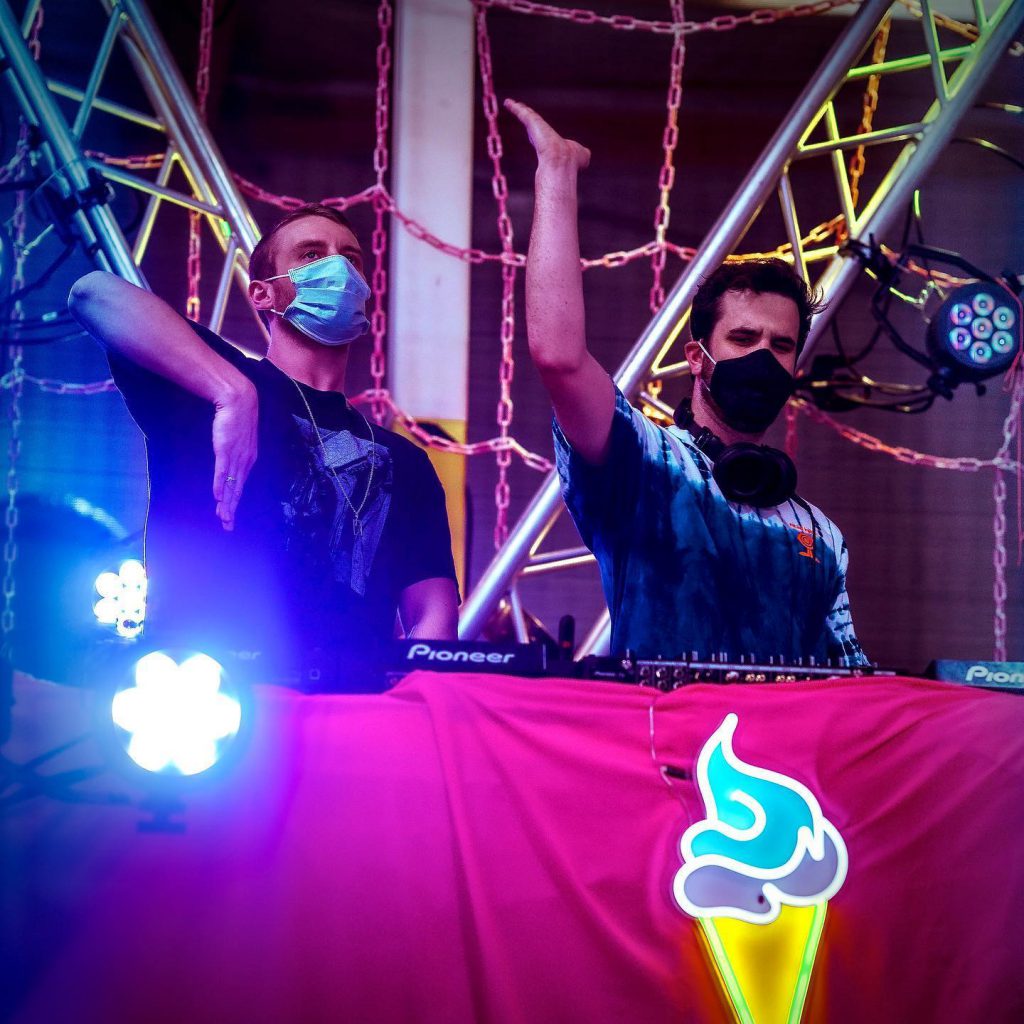 Let's dig into your history a bit. When did you both first discover a love for dance music and who were some of your biggest influences early on?
Sean: For me music has been part of my life since I can remember. My father has been a musician and audio technician his whole life and was an apprentice to Bob Moog in the late '60s building some of the first synthesizers ever made. He had me enrolled in music lessons from age of five, learning classical violin and piano which fostered in me a deep appreciation for music. This translated to dance music later in my life as I began to discover artists like Justice, Deadmau5, and Daft Punk. I became fascinated and hellbent on recreating the sounds they were making and knew this was something I wanted to do for the rest of my life.
Evan: Ever since I was about fourteen and had discovered Daft Punk, I constantly tried to make music in my head. I never took any music classes but I knew that what was in my head was something real. While working at Mcdonalds on a work permit I was able to save up enough money to buy Ableton Live and start teaching myself whatever I could. It's been about an eleven year journey since then and I've only grown more passionate and determined.
What brought you two together to become House Divided, and additionally, what led to your decision to move from the East Coast to the West Coast?
Up until this point we had both lived very different lives, but have always known music to be our ultimate calling. In the end we both realized for ourselves that the only way to grow as artists would be to move away from our comfort zones and explore new horizons. That's how we both ended up at Icon Collective in the fall of 2018. Most of the guys there were really into making Dubstep and heavy bass music, which naturally brought us together since we were literally the only two people in our class who made House Music.
After working with each other for a few months, we decided to form House Divided – a name that ties it all together: our different origins, the different styles of House we incorporate into our production, and the rough-and-tumble brotherly dynamic we share with each other behind the scenes.
As rising artists in the scene, what have been some of the biggest hurdles you've faced and had to overcome so far?
One of the most daunting things right off the bat has to be just realizing what an uphill battle you're facing from the get-go in order to be recognized in this industry. Trying to make yourself stand out in a sea of what has to be hundreds of thousands, if not millions of people trying to 'make it' can sometimes be intimidating.
For us, what we draw on is our pure love for music in general, the fact that we know we'll always be doing this no matter what and the fact that we're able to tap into that unadulterated motivation to always be learning, adapting and overcoming obstacles we encounter along the way.
Finally, many people are struggling with finding hope right now amidst the madness. Can you share an uplifting message for those who might be feeling down about the state of the world?
Our message to everyone can be summed up in one word: Perseverance. Especially in the face of everything going on the world today. When things get hard, when tomorrow is uncertain and things seem hopeless, you have to dig down deep and push harder. It's something we live by and have applied throughout our lives in countless situations to get us where we are today.
No one was ready for 2020, but we think this is a year of unprecedented opportunity to grow exponentially as individuals and as a family. There is always hope on the horizon, and it is only our unwavering endurance that will carry us there.
---
Follow House Divided on Social Media:
Facebook | Twitter | Instagram | SoundCloud | Twitch