Box Of Cats unleashed the latest offering of tracks in their Litterbox series so let's get weird as the stars of the future serve up some house!
---
Are you looking for the purr-fect way to kick your holiday shenanigans into full gear? Well, you have to look no further than what Box of Cats has curated on Litterbox 09! I'm not kitten around when I say that this compilation will allow you to unleash your inner zoomies as it features a phenomenal pedigree of talent from the tech house and bass house realm.
While it was Litterbox 08 that got us through some of the toughest times in quarantine, Litterbox 09 is here to help push us across the finish line as we say goodbye to a year stricken with challenges. With 22 tracks to dig your claws into, this is a compilation that will dazzle you with wacky inventiveness and buzz-worthy pizzaz. So who are some of the producers gifted with the task to get us moving and grooving?
First to pounce out and grab my attention are Ocean Roulette and House Divided, Danny Kolk, and Niles Shepard. These are three acts that have been taking the scene by storm and rising up the ranks with lightning speed. Then there are artists like Elternhouse, No Strings, Frivolous Jackson, and TommyV who come swooping in with some serious swagger and attitude. And how about Casmalia and Haelix who bring the heat with sass and class? This list is only a drop in the bucket when it comes to this sparkling compilation from the Box Of Cats family.
Get your paws on a copy of Litterbox 09 on your preferred platform, stream it below, and continue on for my take on some of my favorite tracks on the album!
Stream Box Of Cats Litterbox 09 on Spotify:
---
While Litterbox 09 is overflowing with festive dynamics and noteworthy energy I have decided to share the ones that lifted my listening experience to the next level!
First to make my eyebrows raise is House Divided and Ocean Roulette's "Customer Service." Looking for a catchy tune? This one will do the trick. It simply won't get out of my head and shook me as if I've been zapped by electricity. The freaky lyrics make me think of festival life and how insanely difficult it can be to get a darn text to send. It's such a relatable tune and I am living for the profoundly quirky details that make this track pop as one of the best on the compilation.
Canadian producer Joanna Magik is the second artist to send me into a rowdy tailspin with "Who's Your Babi." When those vibrant rises and falls intertwine with a tiny bit of tribal magic I feel a major dopamine release in my brain. It's filled with lowkey energy but is also saturated with effervescent character. This track may be the dark horse of the lot, but it would be wise to keep your eyes on this producer. I have a feeling she may one day rule the scene.
Now that I am warmed up and feeling loose as a goose, ZIOS pulls the swerve with the edgy vibes of "Mind Blank." This track explodes with cool kid undertones and it's easy to get lost in the soft, low octave growl. There is a sexiness to this track that makes me want to dip low and let go of all inhibitions. Maybe it's the vocalist chosen to set the mood or the crunchy synth accents that make me feel so twitterpated. Whatever it is, I am completely sold on what ZIOS is serving up.
The next two tracks make me feel a little bit tipsy as I reminisce about wild nights on the dance floor!
Already a name on everyone's lips is Vietnamese house producer Monotape and he graces Litterbox 09 with "Too Wavy," a track that makes me feel, well… wavy. But, that's exactly what he is supposed to do with a title like that. I appreciate the clear cut vision on this tune. It's reflective of the nights spent being debaucherous on the dancefloor after indulging in the fruits of the scene. You know, those moments where the world begins to spin but the music makes it impossible to stop dancing!
Then it's time to get my swag on and Green Tree is just the act to set me in the groove. "Got That Drip" picks up what "Too Wavy" had laid down, keeping me gloriously intoxicated from start to finish. One thing I love most about this track is that it swells with seriousness yet has a fantastic bounce to it. The solid bassline tries to keep me grounded while the drunk details allow me to get silly as I feel extra light on my feet. In essence, there is a brilliant balance between melodic temperature and rhythmic weight.
As Litterbox 09 continues, Box of Cats pushes the weird meter to full tilt with Giant, Danny Kolk and FeelGood, and Not Not.
I feel like it's time to pump up the energy and the first track to take me to heightened levels of beautiful insanity has to be none other than Giant's "Lasergun." There's something about those laser blasts that fill me with so much joy, and as Giant adds in super sexy vocals I just melt away from reality. Even though it lacks a bit of body, that's something that I adore about it. "Lasergun" gets to the point with some atmospheric sound waves, creepy carnival accents, and of course, those sharp synth lasers that will push ravers into a shuffle frenzy.
Now, when I saw the name Danny Kolk of Dirtybird fame on this compilation I was beyond excited because this is an artist who knows how to turn up the party. For his Litterbox 09 offering, Danny is joined by FeelGood, a producer who knows exactly what it takes to make us feel better than good! "We Stop In Time" burns with peak hour energy and connects me to my inner alien. The lyrics are outrageous and creepy and I can't help but look at my husband to utter the words with the same unsettling inflection and inspiring laughter, bringing smiles for the rest of the evening.
"Get Busy" by Not Not is yet another track with lyrics that encourage an unapologetic giggle fest. This may actually be the weirdest track of the compilation as it features chopped up notes and robotic lyric presentation. The only thing I can think of doing is busting out my best robot moves while the fierce sideways character keeps me begging for more. I am enthralled by tracks that make me scratch my head and "Get Busy" certainly delivers the strange vibe I was looking for.
For my final picks I have a craving to nose dive deep into the sounds of the witching hours.
Take a trip with me down deep into a subterranean realm where ALAFLOW unleashes the dark essence of "Lucid." And fair warning, this track may make you feel like you are literally experiencing a lucid dream. This tune is so real, yet so floaty and luminous, as it sends shockwaves through my soul as the note structures lay the groundwork for a sultry voice to pierce through the shadows. "Lucid" has such maturity to it. It's a pure gem that glistens with hypnotic style while pushing out some seriously hellish undertones.
Staying on a dark path, Wallace K makes his presence known with the bold dance floor fire starter, "Achin." What's so awesome about this track is the strong masculine voice that settles among billowing waves of sound and quick punches of hallow synth detail. This is the type of track that will seep into your brainwaves and take full control of your body. Quickly settling into a pocket of groove, I find my best dance moves are created under the guidance of Wallace K.
I am going to wrap up my choices with Kimba who brings the invigorating character of "Hopskotch." This track is included with this bunch because while it does have a fun little swirl to it, it also rages with underground heat. The magic happens on the top end with notes that bubble through my body, mind, and soul, keeping me engaged in a hypnotic fashion. The points of crescendo are EVERYTHING when it comes to this production and I feel like "Hopskotch" has the potential to be a major fan favorite on the festival front.
When all is said and done, Litterbox 09 inspired happy vibes to overwhelm my heart with hiss-terical sideways fun!
Listening to this compilation made me feel like a feline tripping on catnip, cruising around the house as I shake, shimmy, and wiggle to the funky beats. This compilation had me fully engaged from start to finish and it allowed me to raise my freak flag high and proud. Not once did I get distracted by outside forces or leave a track feeling unfulfilled and with that being said, I feel like this group of artists have what it takes to make 2021 a year full of house music insanity!
And that's what I truly love about the Box Of Cats imprint. They give creative minds a major platform to spread their auditory art throughout our colorful community, forever enhancing the scene by staying true to the blossoming talent who are the indispensable foundation of our industry. I'm already dreaming about what Litterbox 10 may bring!
---
Box Of Cats – Litterbox 09 – Tracklist:
MKJAY, Gorillowz – Disco Fever
Ocean Roulette, House Divided – Customer Service
Elternhouse – How Far Will You Pump
No Strings – Feel Alright
Joanna Magik – Who's Your Babi
Frivolous Jackson – The Street
ZIOS – Mind Blank
Haelix – On It
Monotape – Too Wavy
Green Tree – Got That Drip
D-Tek – I Don't
Casmalia – Fidelity
TommyV – Report To The Dancefloor (Feat. Domzi)
Giant – Lasergun
Danny Kolk, FeelGood – We Stop In Time
Not Not – Get Busy
NADDA – Eh, Woh Night
ALAFLOW – Lucid
Wallace K – Achin
Niles Shepard, Kasto – Man Overboard
Kzn – My Dive Man
Kimba – Hopskotch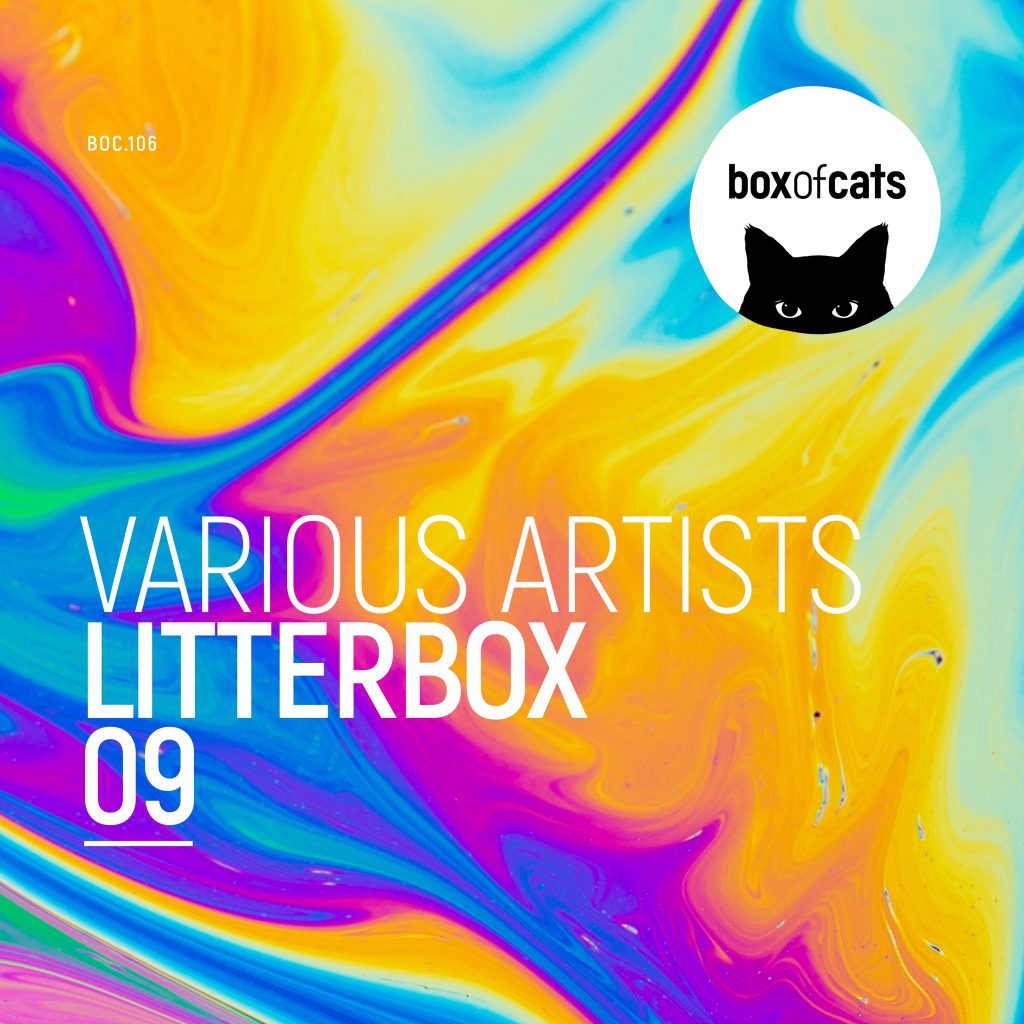 ---
Connect With Box Of Cats on Social Media:
Website | Facebook | Twitter | Instagram | SoundCloud