Although there were only small changes at the festival from last year, SnowGlobe still retained its spot as the ultimate New Year's experience in 2018!
---
There really is nothing dancing through the snow with your best friends, surrounded by stunning pine trees and a gorgeous sunset, feeling the brisk wind on your smile as Kaskade drops "Eyes" and everything is right in the world. This is just one of the hundreds of amazing moments that you'll experience at SnowGlobe, and each and every moment is as special as the last.
SnowGlobe has reigned as one of the top New Year's destinations for eight years now, pairing unbelievable lineups with their unmatched location in South Lake Tahoe, which has a whole slew of winter activities to offer on top of the festival itself. This year was no different, as massive artists like RL Grime, Eric Prydz, and Above & Beyond dazzled us with unbelievable sets to match the magical vibes of this winter utopia.
I was interested to see how this year's edition of SnowGlobe would turn out considering its recent acquisition by MTV. Other than the heated MTV Lounge that replaced the previous "No Name Bar," a huge increase in brand activations, and MTV logos everywhere you looked, there were few changes to the festival itself. The layout and stage designs were identical to past years, leaving little excitement exploring the festival in my initial walkthrough.
There was one thing that made this year exponentially better than the 2017 edition – snow!
Last year was warmer than normal and lacking the beautiful white snow that helps transform SnowGlobe into such a special festival, but not this year. Snow dumped in the weeks prior to the festival and Tahoe stayed icy cold, providing perfect conditions for SnowGlobe to stay true to its name.
This year, we decided to take full advantage of South Lake Tahoe by coming up a day early to hit the slopes, gamble at the casinos, and settle in before the festival. My group found a nice and cozy cabin complete with a pool table and hot tub (which was prime for pre-festival mimosas) within walking distance to the festival. Being able to walk to SnowGlobe was a huge advantage considering the difficulty and price of Ubers in the small city of South Lake Tahoe, especially on NYE. For anyone attending in the future, I definitely recommend looking into a cabin or hotel within a mile or so to the venue. It makes life so much easier!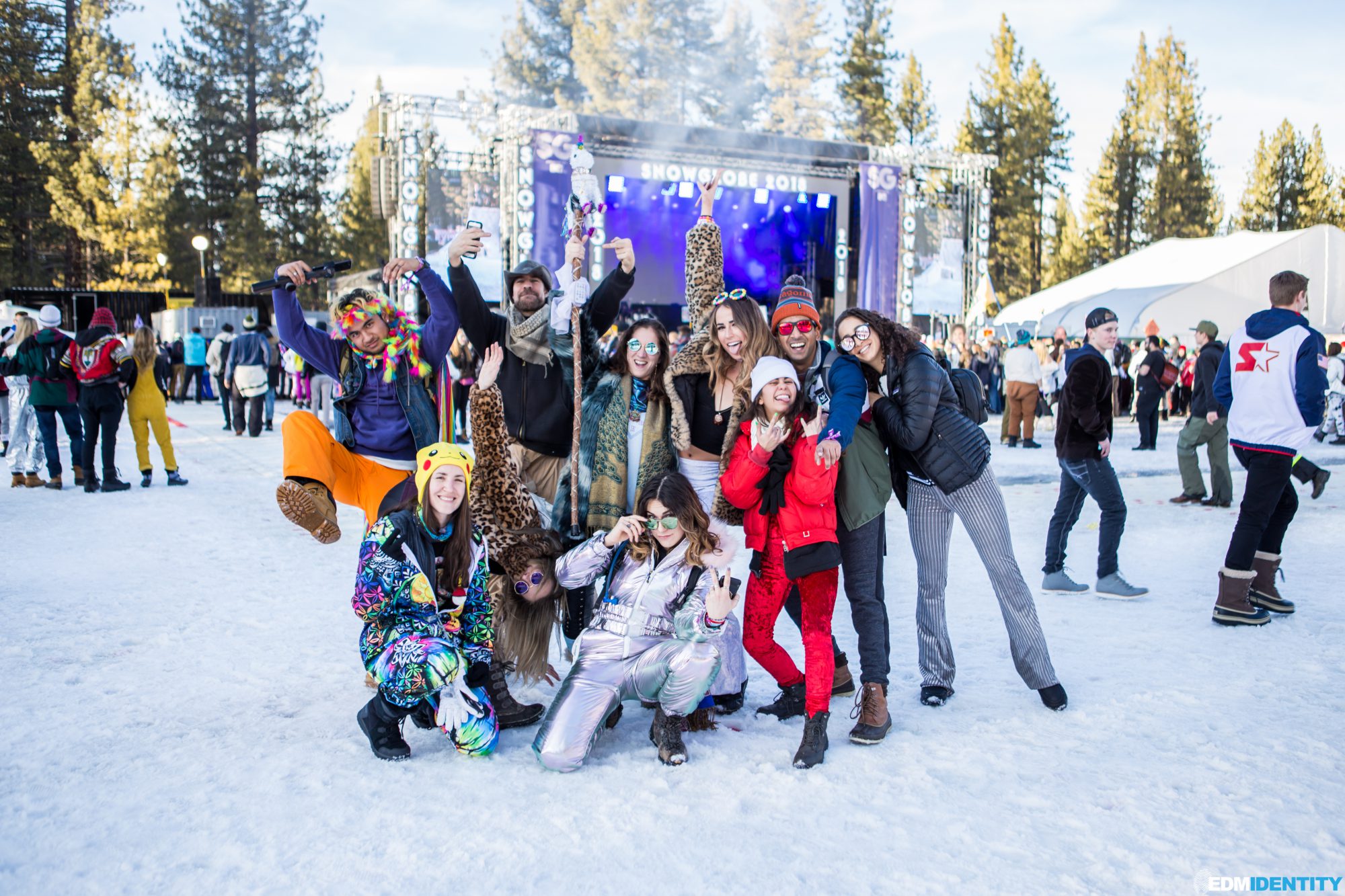 The first day of SnowGlobe brought much excitement due to highly anticipated sets from Kaskade, Eric Prydz, and Big Gigantic.
We ran into the festival around 3 PM with all of that exuberant first-day energy and kicked things off with bass artist Pax Impera, who was playing his debut set at the Sierra stage. While I liked his trippy, space bass set, it felt a little too similar to REZZ for me to fully enjoy. Hopefully, he'll continue to curate his sound into something more personal and different because I definitely saw promise in the up-and-coming artist.
With such massive names gracing the Main Stage throughout Day 1, we couldn't help ourselves but stay camped there for almost the entirety of the night. After raging at Pax Impera, it was already time for Kaskade to blow our minds during his sunset set so we hurried over to settle in and prepare to be amazed.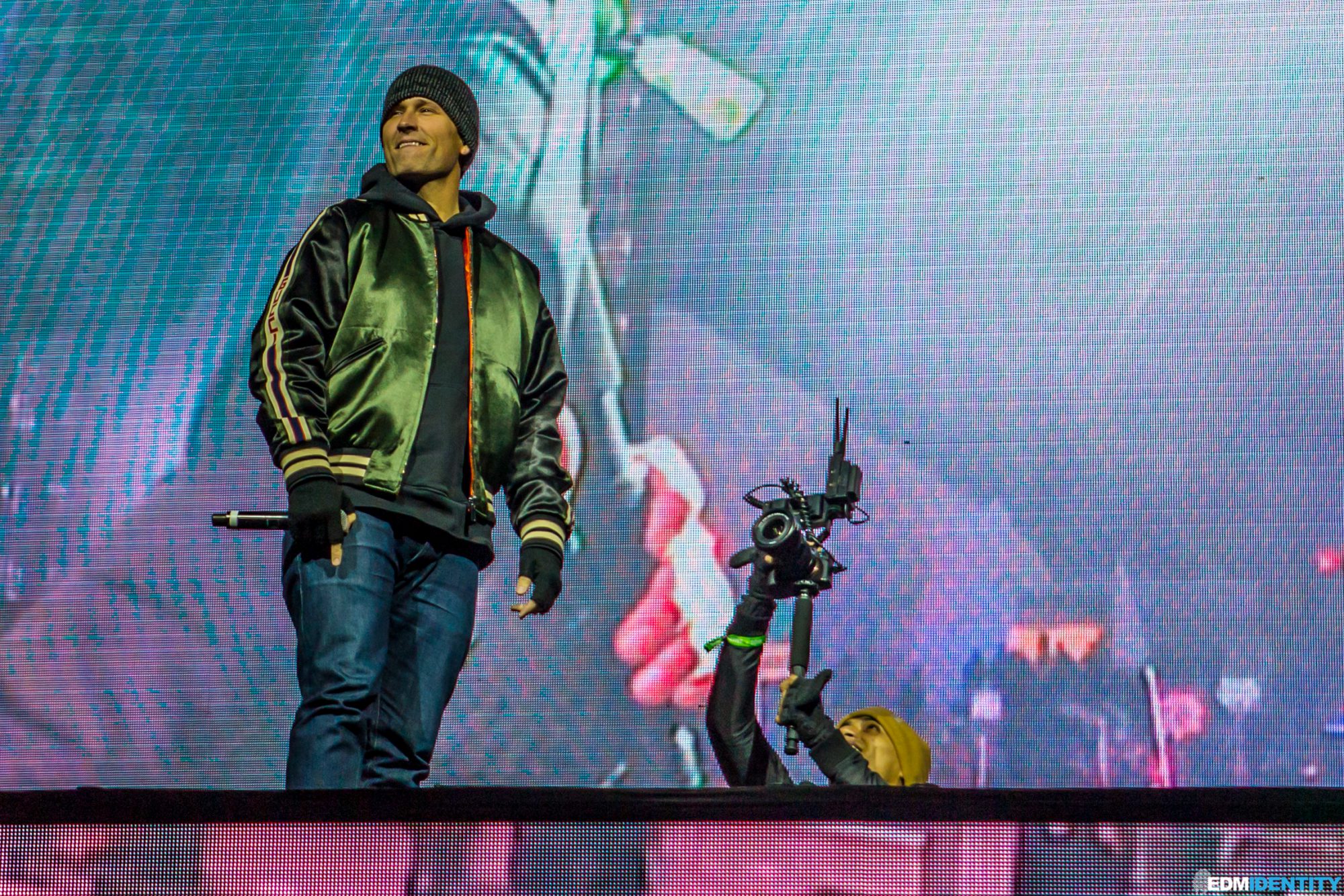 Opening with his catchy track "Fun," Kaskade got us nice and warmed up with tons of sexy house bangers before transitioning into his iconic, euphoric tracks like "Last Chance," "4 AM," and "We Don't Stop".
Kaskade holds a special place in my heart for introducing me to electronic music, producing lyrics and melodies that have brought me with happiness and solace for years, so this set was extra special for me. The best moment had to be when he dropped his "Language X Almost Back" edit that I first heard back at Sun Soaked this summer. My Porter Robinson-loving friends and I were in heaven, losing ourselves in the jubilant melody.
A tough set to follow up, but SnowGlobe had just the artists to do it. After some skiers and snowboarders wowed us on the Big Air slope adjacent to the Main Stage, funk and bass maestros Big Gigantic took the stage and took us on a wild journey of groovy jams and dubstep. The night was just getting started, as the absolute legend Eric Prydz ruled the decks next and took hold in our souls as only he knows how. He built his set slowly, minute by minute, with an expert selection of trance, techno, and progressive house until he unleashed true euphoria within all of us with his final track "Liberate."
We had a difficult choice ahead of ourselves next: REZZ or Anna Lunoe.
We decided to forgo Space Mom and head to the Igloo to get down with Anna Lunoe, and I couldn't have been happier with our decision. The minute we entered the Igloo the energy was palpable! Anna dropped banger after banger and kept the entire place bouncing til close. Her captivating stage presence and willingness to get up front and participate with the crowd really made the set such a special experience. She had us so engaged and hype that I forgot REZZ's name entirely.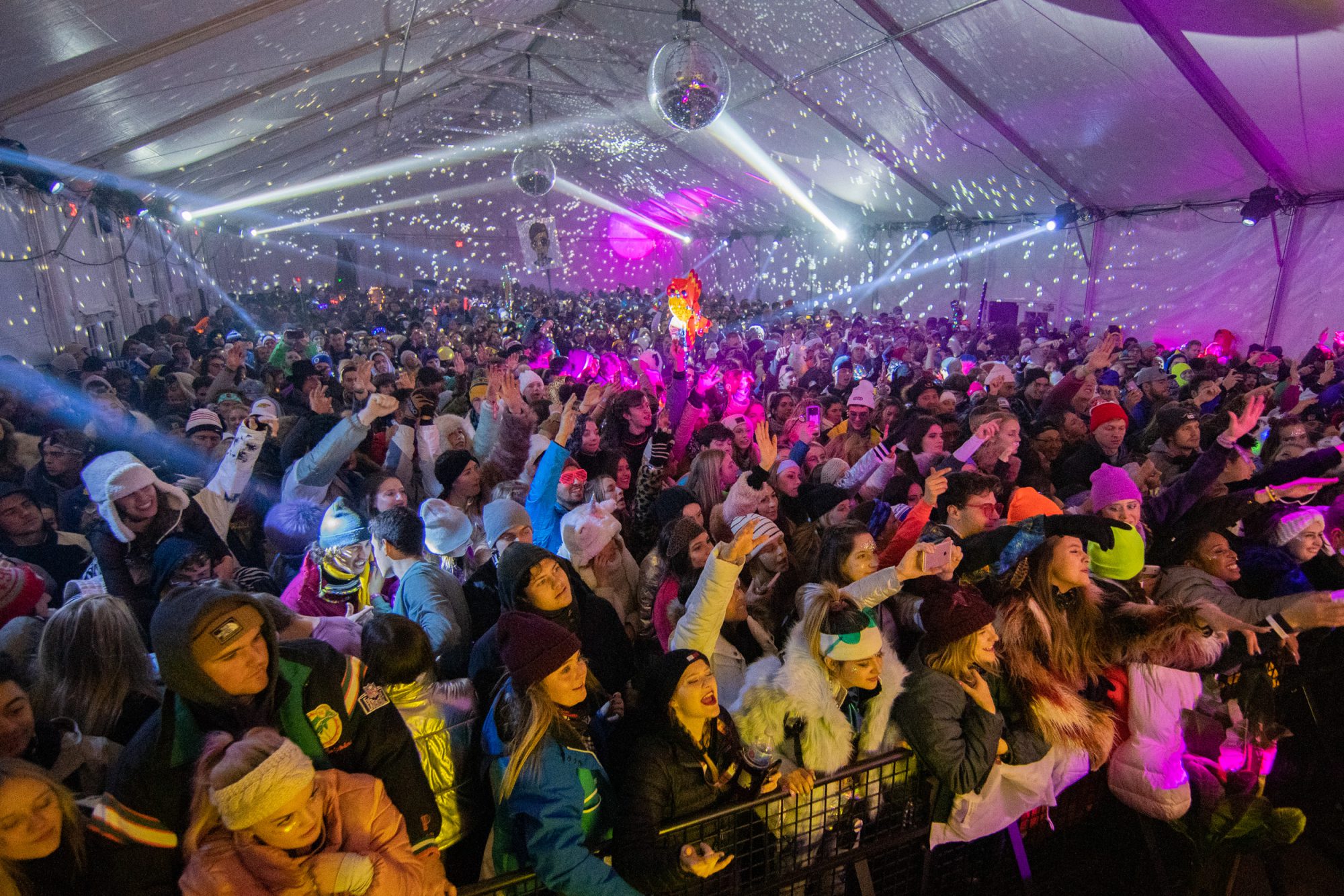 The second day brought an entirely new feel, as we spent most of our time getting down to house music in the Igloo with J. Worra, Sacha Robotti, and Chris Lake B2B Walker & Royce. 
We couldn't believe how many talented house artists were on the bill for Day 2, and each and every one of them totally blew us away in their own right. Walking in during Tyga's Main Stage set, I was hilariously taken back to high school with tracks like "Rack City" and "Faded." Not gonna lie, I kinda loved it.
We made it up to the Igloo just in time to catch the end of J. Worra, who proved her tech house prowess once again with an expertly crafted blend of her party pumping stylings like "YTO" and her remix of Kaskade's "Tight."
In a smooth transition, Sacha Robotti took over the Igloo and turned the place into a Dirtybird haven that we just couldn't leave. Disco balls lit up the tent as he dropped his signature enthralling basslines and hypnotic house beats.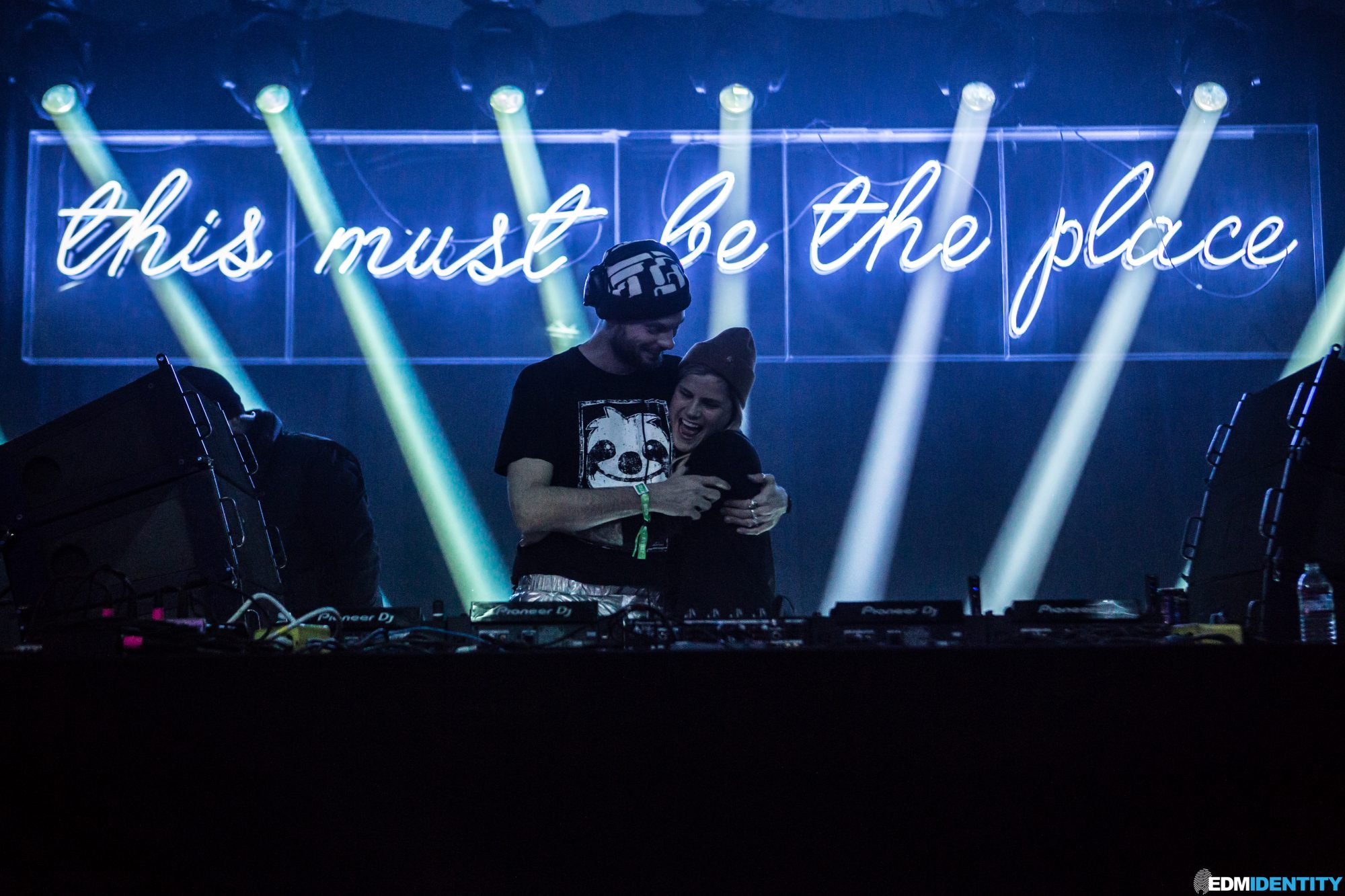 After getting lost in the Igloo portal for a few hours, we emerged from the sweaty and captivating tent to check out Brownies & Lemonade before heading to see the king: RL Grime. 
I'm always super hype on Brownies & Lemonade since having a blast at some of their parties in LA, so I dragged our group out of the Igloo to see what All-Stars they had in store for us this time. Wuki, Bauuer, JSTJR, and Hex Cougar all ended up B2B by the end of the set. Maybe I'm just not into their party trap sound anymore, but I didn't really enjoy B&L much this time around. Each mediocre drop and rap track mixed in just killed my vibe more and more.
Luckily, we had an absolutely mental RL Grime set incoming that completely wiped away any lingering B&L disappointment.
Considering my recent move away from trap music into more of the bass and house worlds, I was intrigued to see if RL Grime would still hold his title as one of my all-time favorite artists after this SnowGlobe set. And did he ever! Fresh off the release of his NOVA album, RL blended his latest tracks like "UCLA" and "Shrine" with his OG bangers like "Core" and "Tell Me" to create a truly mind-blowing set.
Even my friends who aren't the biggest RL fans couldn't believe their eyes as the king of festivals proved just why he is the ultimate festival set. He burnt the snowy wonderland to the ground with massive tracks like "Pressure" that filled the entire venue, creating a tangible unity in the crowd as we raged together. His transitions were seamless throughout, and as the set went on I was mind-boggled how he could be such a mastermind in both beautiful heart-wrenching melodies and unparalleled festival trap bangers.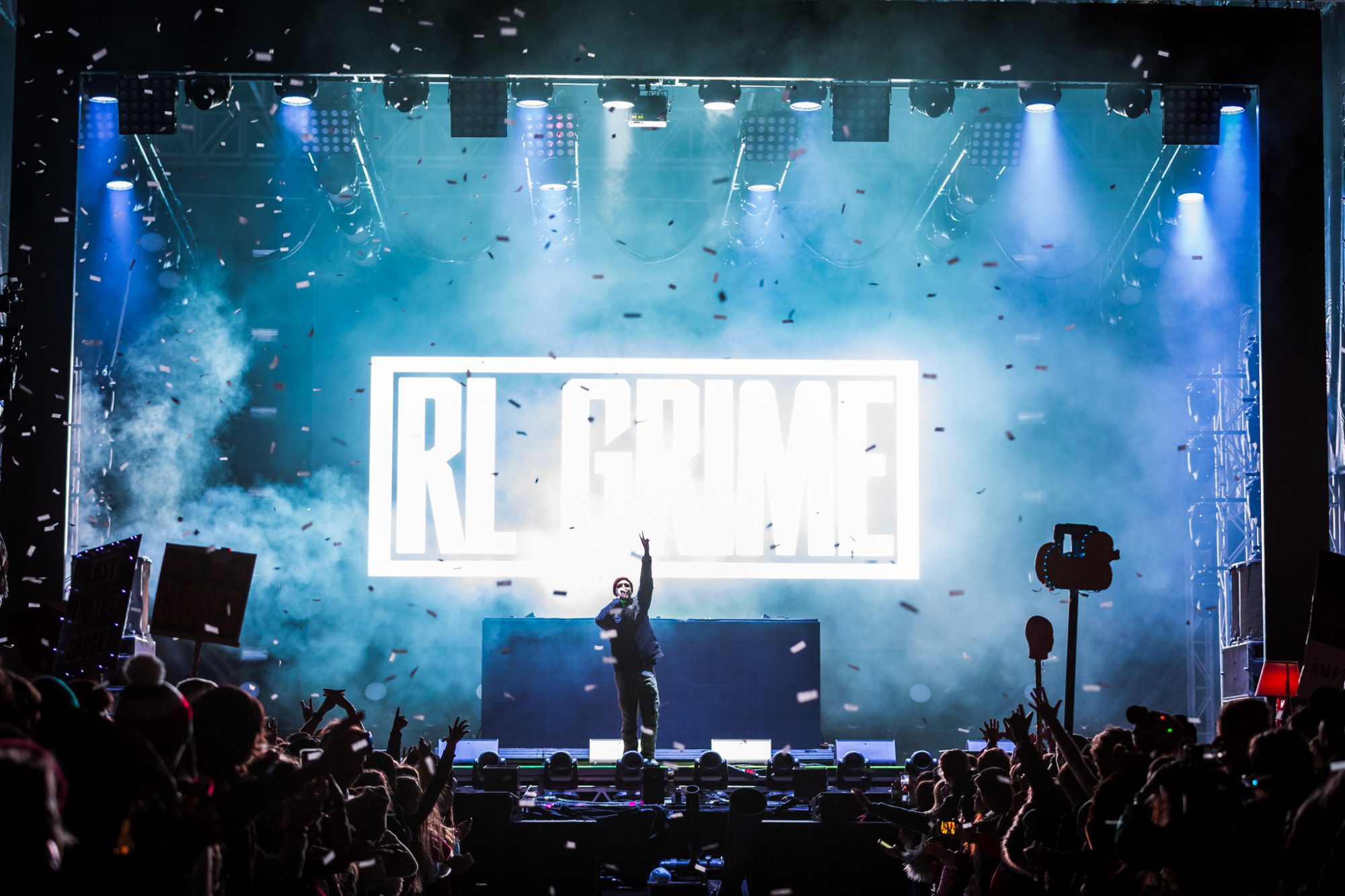 RL Grime finished off the set with a monumental rendition of his hit track "I Wanna Know" as pyro, confetti, and fireworks lit up the sky in the most epic fashion, leaving us all in complete awe.
My love and admiration for RL Grime were sustained tenfold. His edits, flow, and IDs in the set proved that he's so much more than just his old iconic trap bangers that originally made me a fan. Can't wait to see what's to come for this inconceivably talented artist.
The night just kept on getting better, as we ran through the snow to get in on the madness that was going down in the Igloo – Chris Lake B2B Walker & Royce. The place was jam-packed front to back, but we were determined and danced our way into the pit of people losing their minds to the best house music we'd heard all weekend. From their collaborative tracks "Drop Top" and "Close Your Eyes" to heaters from Anti Up's Hey Pablo EP, Chris Lake and Walker & Royce had the place wilding for the entire two-hour set.
At first, the packed nature of the Igloo was disconcerting, but we gave in and embraced the bodies up against us and the vibes that went along with it. We ripped off our layers and lost ourselves in the beats along with everyone else in that Igloo. Totems bounced, blow up animals flew in the air, and people lost their minds as these house masters curated the craziest party the entire three days of SnowGlobe. We begged them not to go as Chris Lake's "Turn Off the Lights" wrapped up the legendary B2B and an amazing Day 2 of SnowGlobe.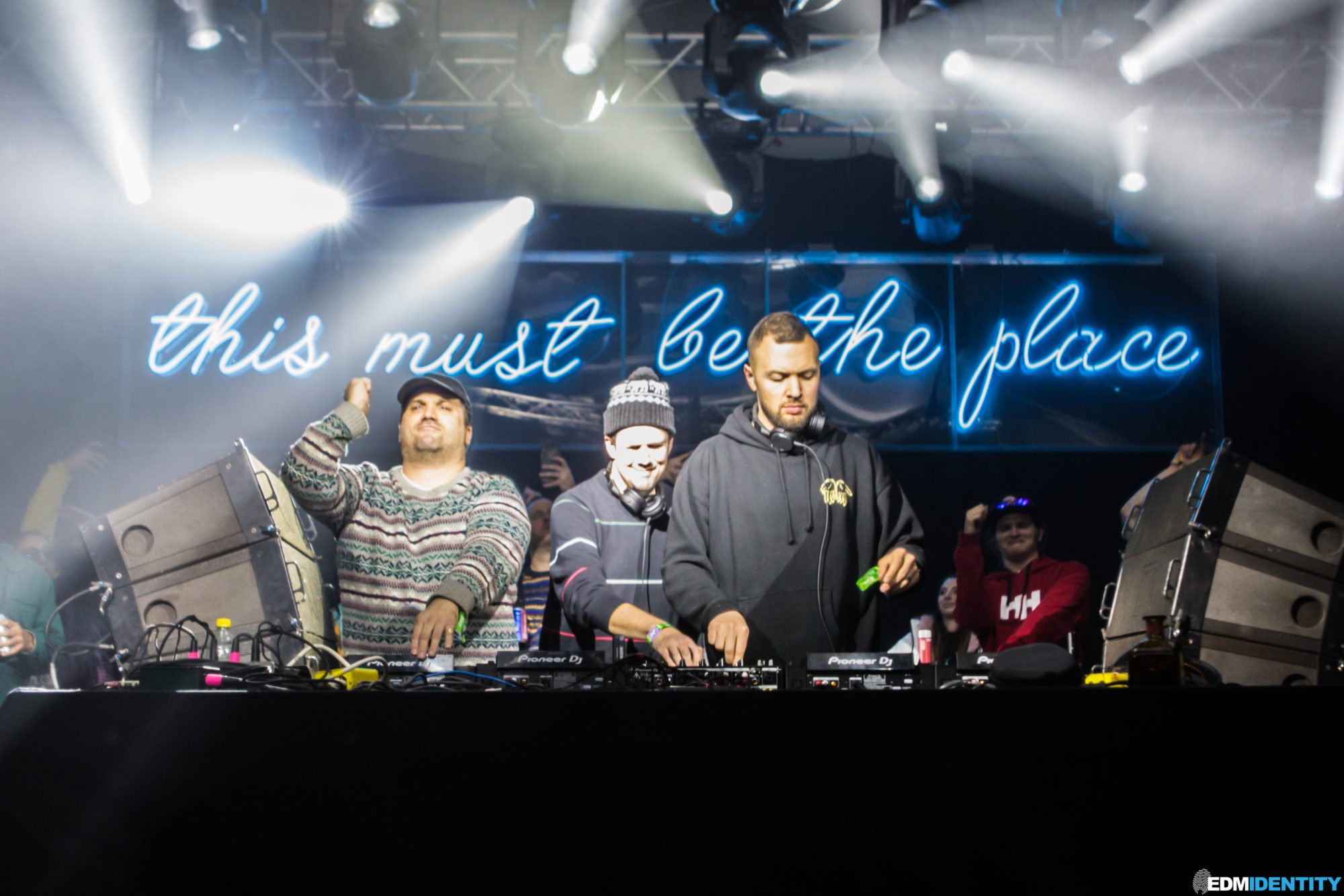 The third day was substantially colder, dropping to frigid temperatures under 10°F, but we braved the cold to experience some remarkable sets by Gorgon City, Above & Beyond, and AC Slater B2B Wax Motif. 
We hurried in to catch the second half of Cray, who brought some major energy to her set at the Sierra to kick off a stellar NYE. Even wearing significantly more layers this day compared to the last two, we were freezing from the minute we walked in. We broke out the hand warmers, got some drinks, and resolved to never stop dancing, and finally warmed up a few hours in.
The MTV Lounge and the Igloo were both insanely crowded all night with festival-goers hoping to find respite from the cold, which made things a bit miserable as you were either freezing outside or jam-packed inside. Luckily, we had NGHTMRE and Slander's B2B Gud Vibrations set to warm us up with some good old headbanging! While it wasn't my favorite Gud Vibrations set, they definitely brought some much-needed energy and bass music to heat up our night.
Things were really in full swing now as Gorgon City took over the Main Stage and brought some blissful funky house music to our night. They captivated us with endless club heaters and soulful piano house tracks from their new album Escape, getting us shuffling away in the snow despite the cold temperatures.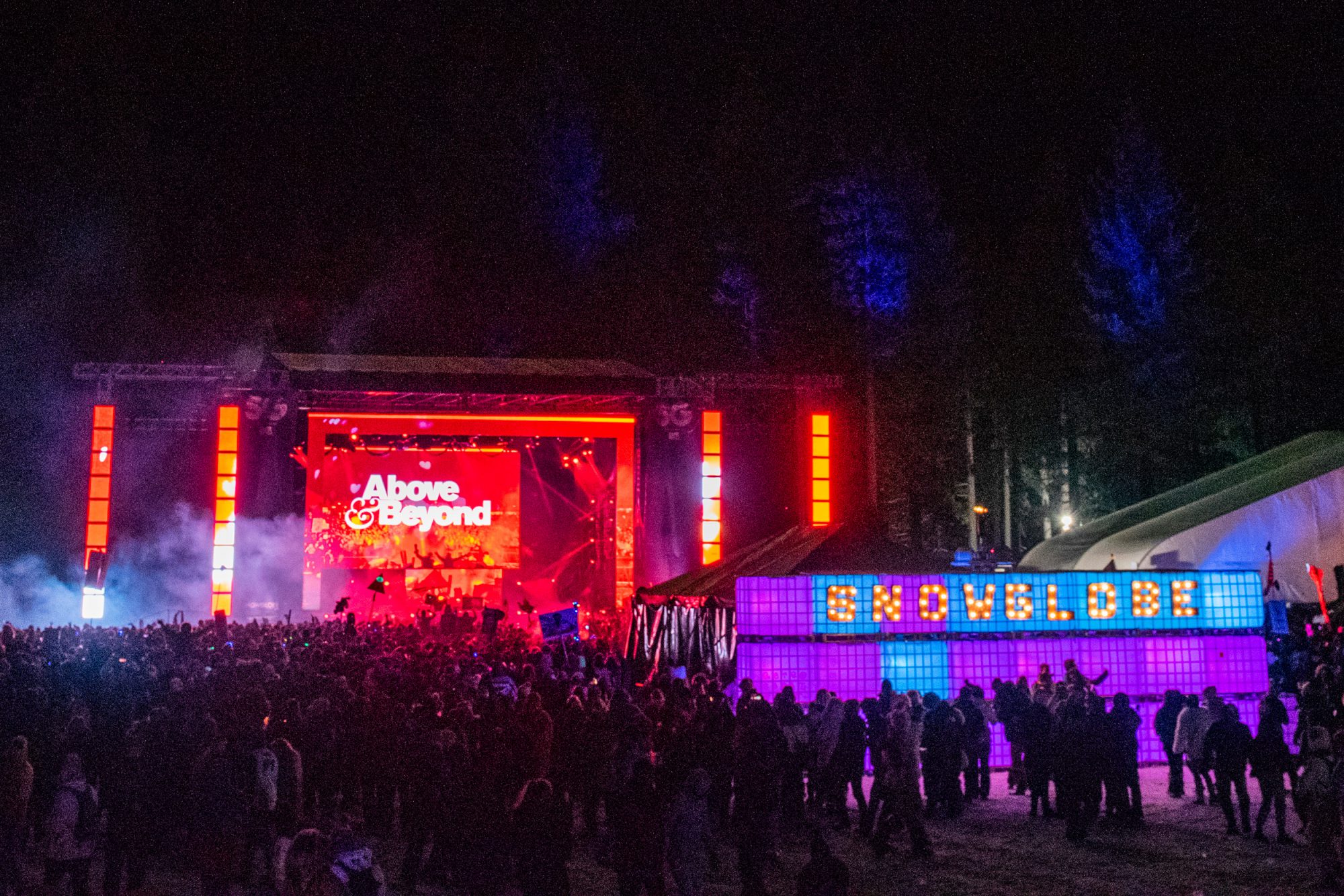 With midnight quickly approaching, it was finally time for Above & Beyond to ring in the New Year in the most magical fashion possible. 
It was such a breath of fresh air to hear the pumping beats of Above & Beyond blaring through the speakers, such a different sound than anything else I'd heard all weekend since Eric Prydz on Day 1. From beginning to end, the esteemed trio filled our souls with love, happiness, and peace through their euphoric progressive trance tracks like "Fly to New York" and "Sun and Moon."
As always, they typed up inspiring messages appearing over the visuals throughout the set, which spiritually guided us all through accepting the good and bad of 2018 and becoming our very best selves in 2019. The clock counted down 10, 9, 8 …. and they brought up some SnowGlobe attendees to push the button per tradition as the clock struck midnight. When the countdown reached 1, the button was pushed and the iconic "Blue Sky Action" drop filled our hearts as scores of fireworks blasted off in the sky for the most epic moment of the entire festival. We hugged, kissed, and celebrated the most breathtaking entrance into 2019.
4, 3, 2, 1…
Thanks @snowglobe! pic.twitter.com/Sa8eFs49qX

— Above & Beyond (@aboveandbeyond) January 2, 2019
When thinking back to that set I have nothing but the fondest memories.
I feel so lucky that our scene has such incredible fathers as Above & Beyond, who make music with such love that you feel inside you each and every listen. And I feel even luckier that I was able to experience such elation celebrating NYE with Above & Beyond and my very best friends at SnowGlobe.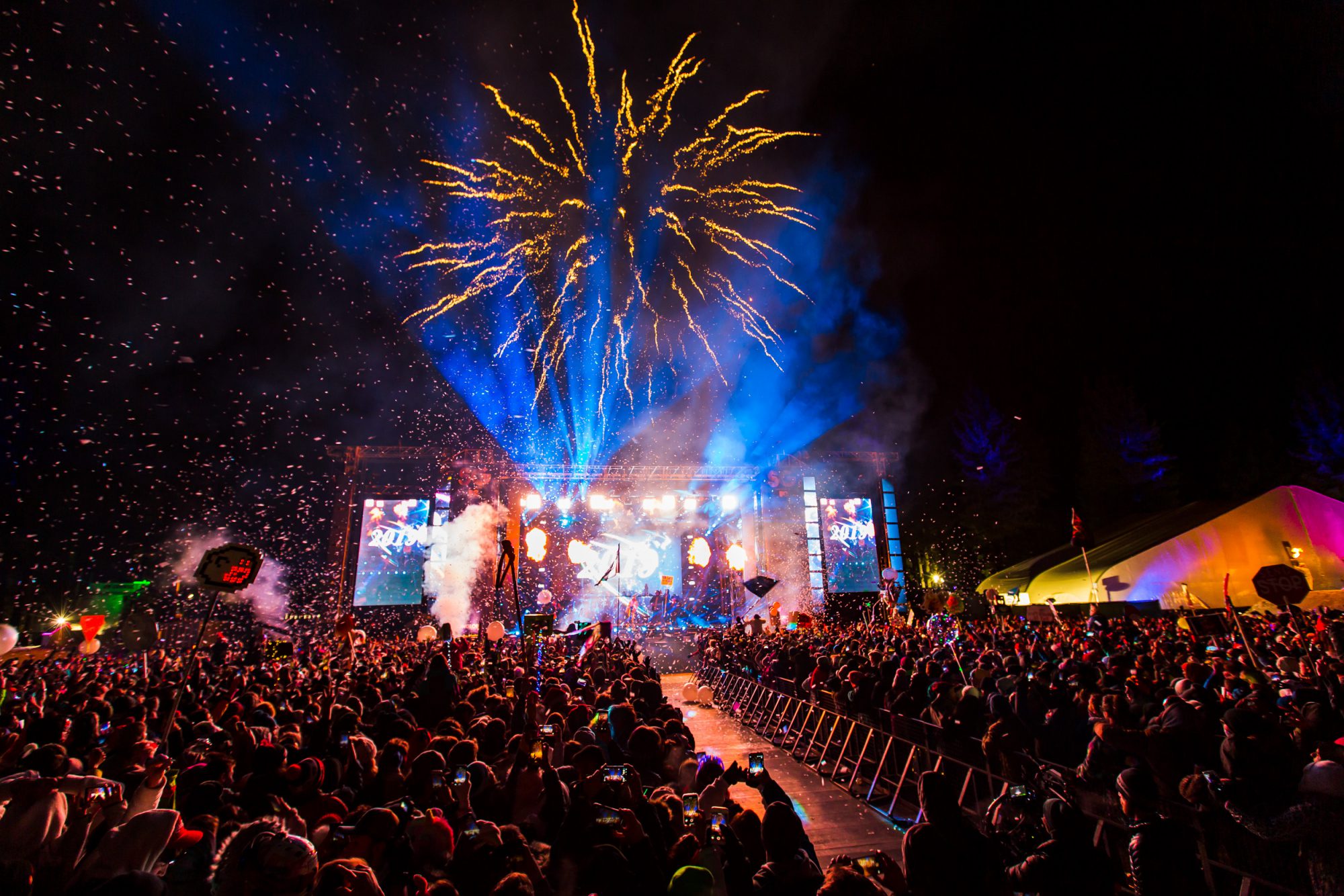 One last stop before the party was truly over: AC Slater B2B Wax Motif. 
As expected the Igloo was jam-packed once again, but when did that ever stop us! We jumped into the raging Night Bass party and danced our asses off for the very last time that weekend, getting all those last wiggles out. The place went absolutely wild as they closed out with Wax Motif's remix of AC Slater and Chris Lorenzo's dirty house banger "Fly Kicks."
Walking back to the cabin on the last night, I felt so filled with love, friendship, good vibes, and, of course, incredible music as I always do leaving SnowGlobe. Despite the largely stagnant production value from year to year, SnowGlobe makes up for it with their expertly curated lineups, unrivaled natural venue, and unique snowy vibes.
That being said, the festival has so much potential for growth in the coming years, especially considering their new financial backing by MTV.
I'd love to see new stage designs for the Sierra and Igloo next year; there are so many cool creative things that they could think up to complement the winter SnowGlobe theme.
The other improvement I'd love to see next year is the art. In past years we've seen some amazing interactive art installations placed at the center of the festival for all to enjoy, but this year that wasn't the case. The light up 'Sprouts' (pictured below) were placed by the entrance walkway and the 'Penumbra' pods were by the side entrance to the Igloo, two spots that unfortunately weren't frequented. Hoping next year the art is placed in more the center area of the festival where it can be fully appreciated!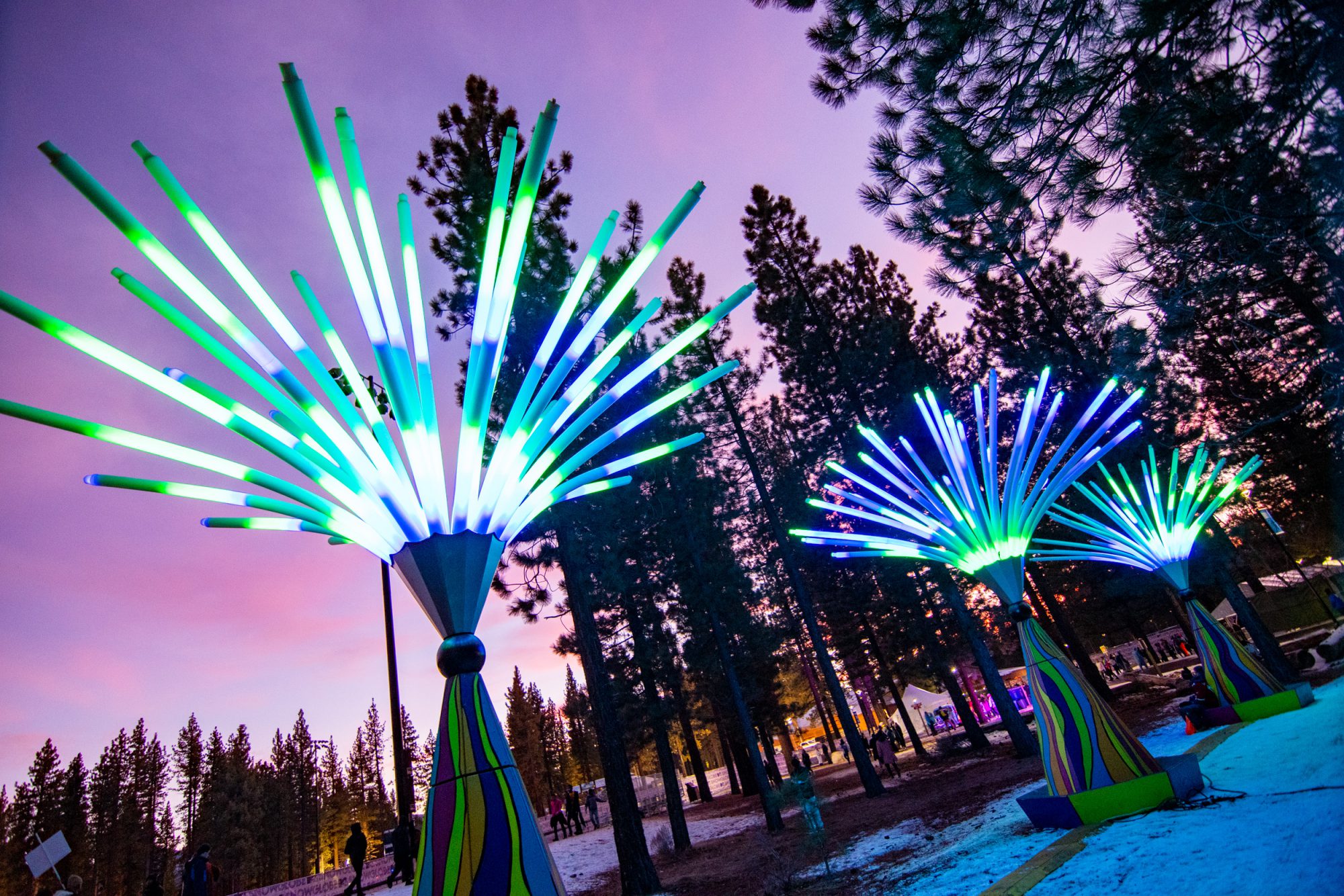 Lastly, the festival definitely needs to up its food game and fix some sound issues in the coming years.
There were only a few spots to grab some grub, and lines were often at least twenty minutes long making getting food undesirable for most. There were plentiful alcohol options, so maybe just switching out some of those vendors for food vendors would be helpful.
In regards to sound, I know there must be issues with loudness in South Lake Tahoe community, but there are some areas of the Main Stage and Sierra where the sound was very muted, leading to packed areas of the stage where the music was loud enough. Hopefully, SnowGlobe can work on creating more evenly distributed sound, possibly by adding more speakers for future editions.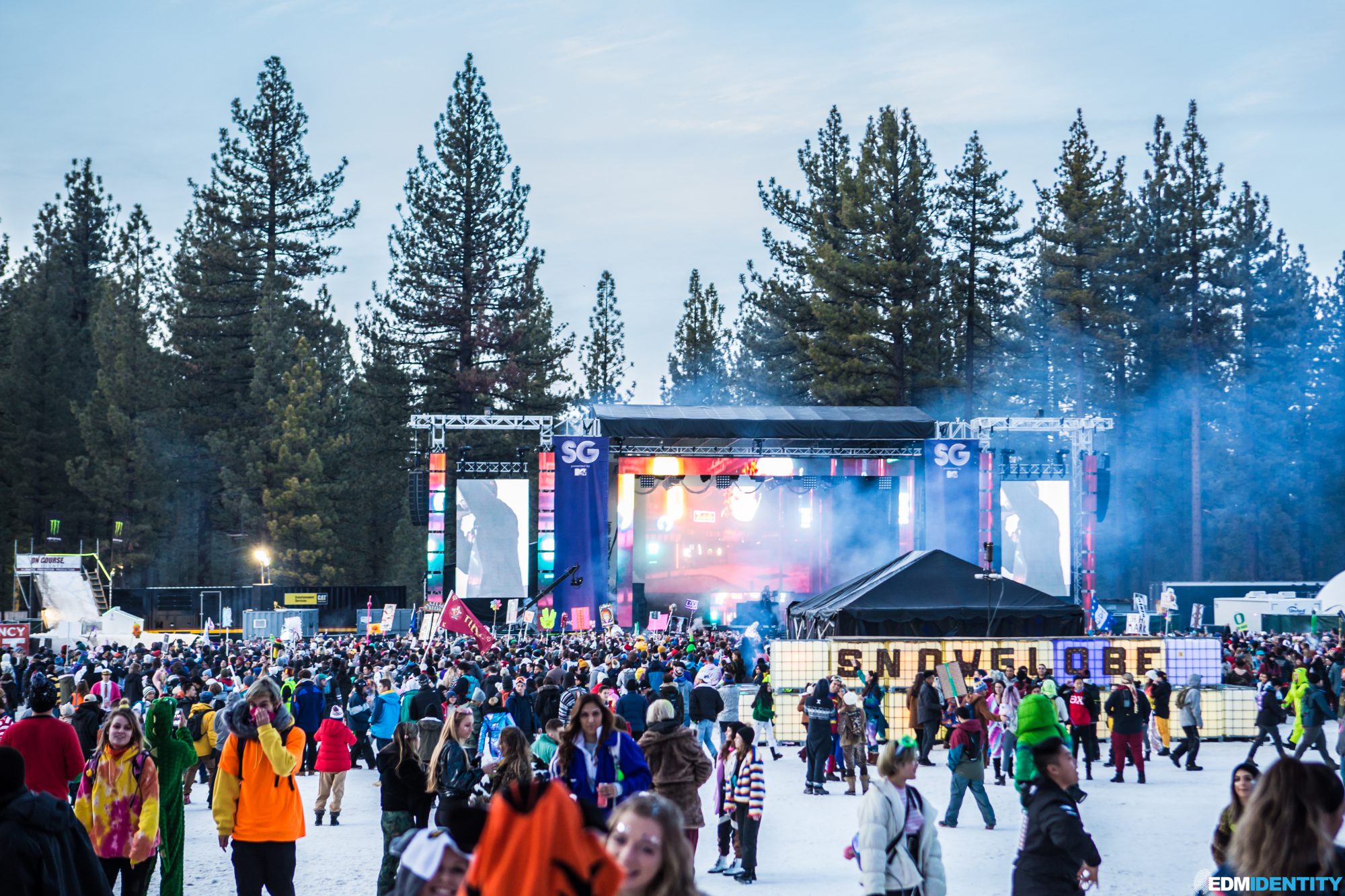 Regardless of these minor issues, I still stand by SnowGlobe as the best spot to celebrate NYE! 
The lineup was a dream and truly nothing beats South Lake Tahoe! On the logistics side, security was friendly and efficient, there were a good amount of portapotties, and the festival even offered some helpful, affordable transportation services up to Tahoe along with shuttles to and from the festival itself each night.
Most of all, SnowGlobe curates a truly special vibe that has brought me some of my fondest memories over the years. Four years and running, I just might have to go back for year five. Thanks for yet another unforgettable NYE experience SnowGlobe!
---
Connect with SnowGlobe on Social Media:
Website | Facebook | Instagram | Twitter | SoundCloud