The British legends showcased emotional excellence and rekindled my faith in the scene.
---
It had been years since I exited a New York City warehouse in the wee hours of a winter morning, mouth dry and body desperate for air. Honestly, I did not expect to ever do so again. Yet something about my awareness that Above & Beyond — the legendary British trance trio defined by their emotional combinations of poetic lyricism and heartwarming melody — would be stopping in Brooklyn during their short holiday tour left me powerless against my own intrigue.
For the Anjuna-family (that is, die-hard fans independent label Anjunabeats), Above & Beyond concerts are ritualistic obligations. Much like going to church on holidays or to playoff games for a favorite sports team, attendees know it's unlikely that something unordinary will happen. Many have even seen the routine dozens of times. Yet, they flock to venues anyway, innately obliged by their yearlong participation in the community. After so many hours spent tuned in to Group Therapy Radio, why be humble now? I understand this logic because I am one of them.
I was fourteen years old the first time I saw Above & Beyond.
It was at Electric Zoo, a staple coming-of-age festival on the east coast.
As I skipped across Randall's Island, dancing beneath the moonlit electric sky and surrounded by hyper-engaged peers, I became fully introduced to the cultish aura of trance family gatherings. Vastly different than most stereotypical main-stage crowds of the early 2010s, trance shows attract genuinely passionate fans who feel invested in favorite artists' success. Almost instantaneously, I decided that it was the sub-genre in which I belonged. Since then, I have seen Above & Beyond almost a dozen times, having followed the group to Chicago, Detroit and countless venues across the Big Apple.
Despite having recently moved past my obsession with dance music (sometime around The Chainsmokers' arrival, if memory serves me correctly), it's been impossible for me to abandon my adoration of Above & Beyond. Though I no longer monitor new releases with addicted intensity or consider flying across the globe solely for a concert, the fraternal embrace of the Anjuna-family still serves as a constant reminder for me that music is among the world's most powerful forces. While most other artists merely entertain, Paavo, Jono and Tony consistently prove that audible experiences can be spiritual too. So after years of hibernation from the scene, on the eve of 2019, I embarked on a pilgrimage to reconnect with my roots.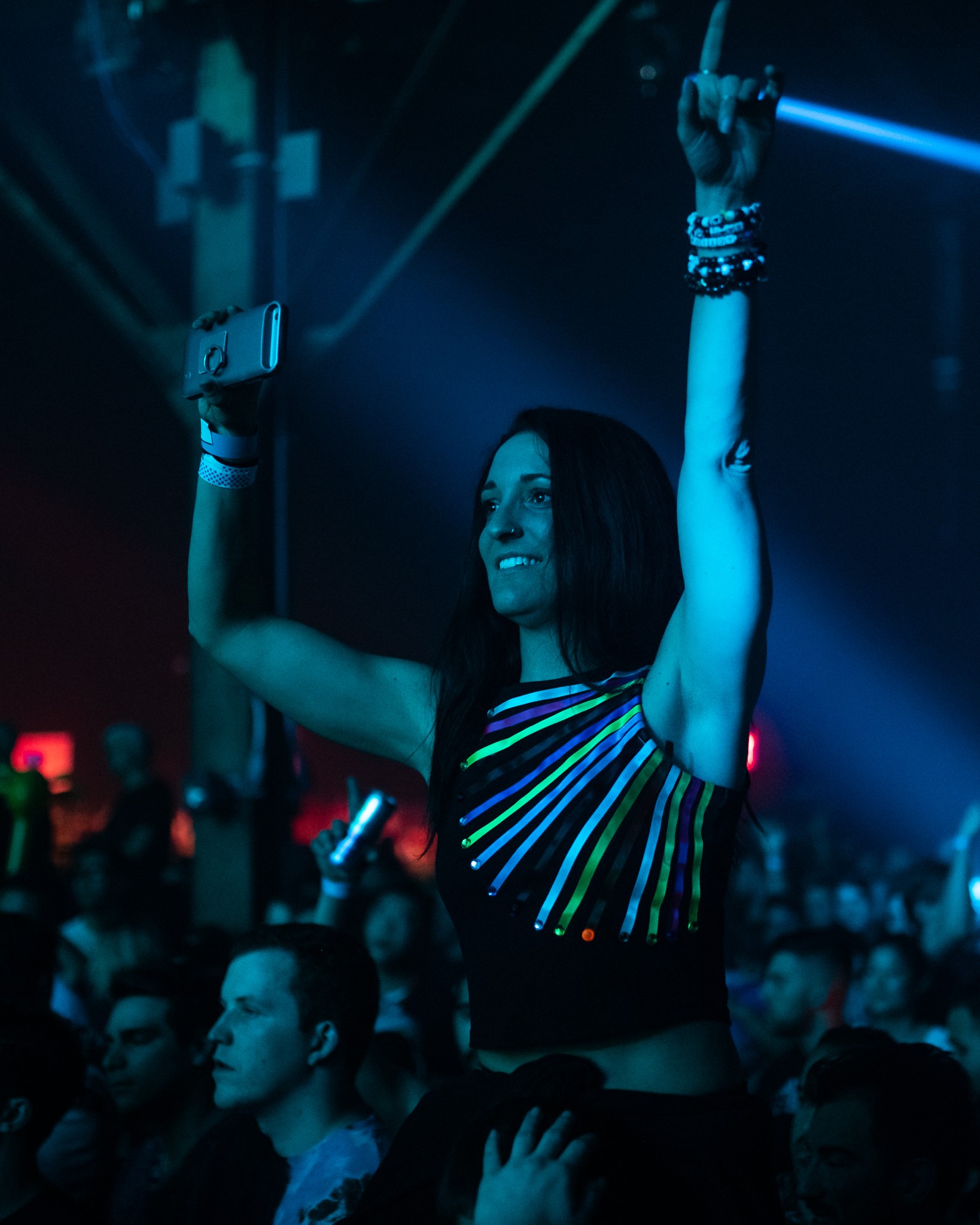 I arrived at Brooklyn's Avant Gardner venue shortly after doors opened and was among the first few attendees inside.
Throughout the first two hours, tri-state natives Lucid Noise kicked off the night while a notable crowd of their own fans waved branded flags. By the time Anjuna-affiliate Spencer Brown took the stage at 11 PM, the ballroom was already packed to its brim, artists' logos utterly inescapable. It's somewhat rare in the realm of dance music, but Above & Beyond sell merchandise at their shows and hundreds of fans show up already wearing it. More like a classic rock band than a quintessential club DJ, their logos themselves tend to comfort and excite. It's not uncommon for fans to have one tattooed.
Unsurprisingly, Spencer Brown's set was itself a headline-worthy ordeal for any trance fans who've been intently paying attention.
Brown released his stunning full-length LP, Illusion Of Perfection, earlier this year through Anjunabeats. Plus, his remix of Ilan Bluestone's "Will We Remain?" and single "Long Way From Home" were among the year's most impactful records, earning spots in countless artists' live sets and compilation albums. Brown played for ninety minutes, bouncing between nu-trance and deep house tracks as intently psychedelic, meme-inspired visuals looped in the background. By the time he walked off, the crowd was more than warmed up and the room was absolutely boiling with anticipation.
2018 was a landmark year for Above & Beyond as well: The group released their fourth album, Common Ground, in January, returning to their signature blend of boundless, melodic club music after an oddly sparse detour on the former We Are All We Need. They also toured their newly-staple acoustic show, recorded a live album, and premiered the lengthiest film of their career, Above & Beyond Acoustic — Giving Up The Day Job.
In this vein, the group's return to North America for a short New Years was more of an amicable victory lap than a necessary business venture. This mentality was reflected in their set, which extended well over the two hours, running until mere seconds before the venue's cut-off time.
Overall, the show was business as usual: Paavo and Jono opened with the intro mix of "Liquid Love" and typed out the intentionally deep messages that, by now, are familiar to any fan who's been to a gig.
Naturally, they played all the necessary new records: "Distorted Truth," "Is It Love?," "Happiness Amplified," "Always" and more. However, the group's rich history was seldom forgotten, with early-2000s tracks like "Alone Tonight" earning some of the night's most emphatic reactions.
Almost undeniably, the 2011 album Group Therapy produced the trio's most beloved modern anthems, so "Thing Called Love" and "Sun & Moon" catalyzed full emotional eruptions. Yet the most effective moment arrived during recent hit "Northern Soul," on which frequent collaborator Richard Bedford assures: "You can break my heart and crush my dreams, but you can never take my soul." As the crowd turned to a choir, screaming along to lyrics more so than dancing, I felt for the first time in a long time that Above & Beyond had created another classic.
I may never again be captivated by the electronic dance scene to the same extent as my underage, kandi-donning former self. However, I exited Avant Gardner on the 29th of December feeling like a prodigal son who had just returned home. The thing about the Anjuna-family is that once you're a part of it, your membership never ceases. Like a religious follower, you never stop understanding the big picture, even if you do sometimes doubt your own beliefs. All it takes one subtle reminder to bring you back. One small moment.
Life is made of small moments like those. 
---
Follow Above & Beyond on Social Media:
Website | Facebook | Twitter | Instagram | SoundCloud | YouTube