Finally, the moment we've all been waiting for… RL Grime's album NOVA is here!
---
Henry Steinway, better known as RL Grime, has finally graced us with his patiently awaited album NOVA. RL Grime consistently finds new ways to recreate the music scene as we know it and turn the heads of music lovers all over the world. NOVA will be his first album in four years, so this project has been in the works for quite some time, as his last album, VOID, was released in 2014.
All that hard work put into this album is clearly evident; NOVA features a wide variety of artists and solo tracks that range from infused with rap to engulfed by bass. RL Grime does an outstanding job of pouring his heart, soul, and talent into each song, start to finish. Each track takes you alongside the journey that he went through in creating this absolute masterpiece, and we can't wait for you to listen!
I first saw RL Grime at Coachella's Sahara Tent in 2016, and I must say that I was completely blown away.
When I reflect back on my memory of that set, words like "powerful" and "energy" come to mind. I remember thinking to myself, "everyone at Coachella has to be at this stage…" because the number of people who flooded the interior and exterior floorspace was something I couldn't wrap my head around. However, it wasn't unpleasant. Sure, we weren't in the best spot we had in mind, but it didn't matter – we could feel the same vibe as the people in the front.
Stream or download NOVA on your favorite platform and read on for my favorite tracks off of this stellar album!
Stream RL Grime – NOVA on Spotify:
---
Before I dive into a couple of my favorite tracks from the album, it's important to know the journey on which RL Grime embarked when creating it, both emotionally and spiritually.
He posted a very powerful portrait of himself on Facebook this morning with an even more powerful caption regarding the release of NOVA. Upon reading the caption, it made me gain such strong respect for the album and the emotions that linger among it:
---
"Feel Free" kick starts the album and its nature fully embodies the theme of NOVA.
Aside from tracks like, "Pressure", "Reims", and "Light Me Up" ft. Miguel and Julia Michaels which were dropped prior to the release of NOVA, "Feel Free" was the first song I listened to off the album. I mean, it is the FIRST track, but I knew from the start that it would be one of my favorites.
Sure enough at 1:00, my ears were blessed with the drop, a combined mixture of pure, sharp synths, eclectic drums and vibrant inhuman bass that acted as the final puzzle piece in a beautiful picture becoming clear to the eye. Not only is this my favorite track off the album, but it completely embodies the characterization that RL Grime assigned to it as a whole: the growth of a star that rises up and soars across the sky.
The perfect teaser for the album before it was released, "Pressure", literally sounds like the penetration of gravity.
I'm almost unable to put "Pressure" into words. I think the name itself does an incredible job of describing the song in one word and prefacing it in a way that drives you to create your own perception of the track. It starts off with a melody of dark, simple beats, then a vast array of sounds like horns and subtle male vocals emerge.
The suspense of this track keeps you hooked from start to finish, forcing me to imagine a scene of chaos in space where the stars' light fully surfaces and creates eternal brightness. I personally love tracks that are absolutely engulfed by bass, and "Pressure" fits that category on its surface but has a full story to offer if you use your creativity to imagine it.
Although not among the family of his newest songs, "Reims" perfectly fits the structure of NOVA as a layered piece of art.
I think a great way to describe the start of this track is by envisioning the quick flickering noises as flashing lights in the sky. A strong drum line comes in to create a platform for a subtle intro to the build-up. The beginning of the song sounds triumphant as if a great new discovery is about to be made or shared with the world. The soft build-up to the drop feels like your mind is gaining speed and entering a realm of colorful space.
This might sound overly descriptive, but I assure you that once you listen to "Reims" you will feel the emotion and overcoming of sadness that RL Grime experienced when taking hold of his ideas and bringing them to life with this one.
Among the many tracks featuring artists, "Shrine" ft. Freya Ridings embodies a magical combination of vocals and RL Grime's traditional ID sound.
With a subtle introduction accompanied by Riding's vocals, you can tell that this track was one that had an overwhelming amount of thought and emotion throughout the creative process of its being. Electronic music has found a number of ways to creatively incorporate vocals, yet it takes a true talent to be able to mesh them perfectly into a song while staying true to your sound and overarching goal.
RL Grime was able to successfully do this with "Shrine", as it moves you away from where you currently are and puts you in a spot that directly relates to that of one RL Grime was in for the past couple years. The lyrics explain the position he was in and the types of challenges he was faced with: "I can't play another hand, things didn't go to plan, I can't lose it all." You have to listen to "Shrine" for yourself to get the full effect, so check it out!
It seems that Miguel and RL Grime make for a great time, with the success of "Stay For It" and now "Light Me Up" ft. Miguel and Julia Michaels.
This track is a perfect example of RL Grime's ability to create music of such variety. Many artists have successful songs with amazing vocalists, and then seem almost afraid to create another with the same vocalist. With RL Grime, he took his success from his first song with Miguel and ran with it, which led to the birth of "Light Me Up".
It's impressive to see not only another great song including Miguel, but one that also incorporates another artist, Julia Michaels. The vocals in this track, yet again, fall completely in line with the struggles that RL Grime faced these past couple years. Some lyrics that exemplify his dedication to this track are truly relatable: "We forget that it's so easy to love when everything is good… Don't compare, 'cause every sea sees rain."
The song's vocals begin with Miguel's soothing and radiating voice, then later in the track comes Michaels, only to meet each other's voices along the way to create a perfect harmony. This track is definitely one that holds a lot of feels.

The energy you get from this album is the energy that was put into it, powerful and mesmerizing.
I am almost at a loss for words, simply because I feel so emotionally attached to NOVA and the incredible amount of tears, love, and thoughts that RL Grime intertwined into each track and project as a whole. I think that aside from praising an album because of the songs that complete it, it's important to research the artist and their story behind creating it.
I had been anxiously awaiting the release of the album because I am a dear fan of RL Grime and knew he hadn't released an album in four years. While listening to the album, literally five times through so far, I noticed that although each track is different, many of them have similarities close enough to complement one another, yet far enough to be distinguishable. For example, "Pressure" and "Feel Free" are completely different in their nature, however, the uplifting power of bass engraved in each one ties them together as if they were brother and sister.
All fifteen tracks took my breath away from beginning to end, even when I put them all on shuffle they somehow flowed together seamlessly to create a narrative – in and out-of-order.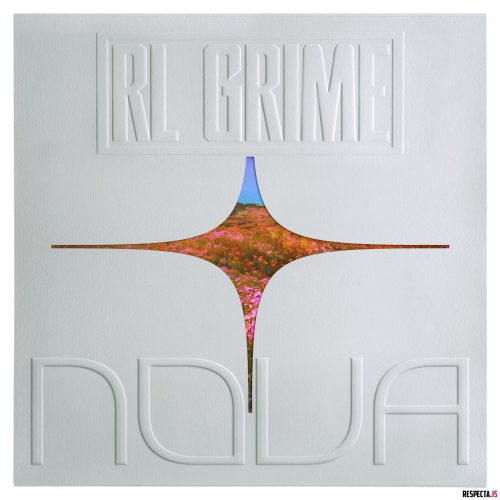 RL GRIME – NOVA – Tracklist:
Feel Free (4:12)
Shrine feat. Freya Ridings (4:44)
Light Me Up feat. Miguel & Julia Michaels (3:22)
Undo feat. Jeremih & Tory Lanez (3:29)
Take It Away feat. Ty Dolla $ign & TK Kraviz (3:57)
OMG feat. Joji & Chief Keef (3:19)
Shoulda (3:53)
Reims (3:55)
Pressure (3:29)
Era (4:10)
Run For Your Life (Interlude) (2:23)
I Wanna Know feat. Daya (3:27)
UCLA feat. 24hrs (3:12)
Rainer (4:06)
Atoms feat. Jeremy Zucker (3:49)
---
Follow RL Grime on Social Media:
Website | Facebook | Twitter | Instagram | SoundCloud | YouTube