After experiencing Kaskade play the most beautiful set with my feet in the sand, I'm convinced that life doesn't get any better! 
---
While I knew Sun Soaked was going to be amazing considering the multitude of Kaskade sets in store, I had no idea just how much fun I was going to have. All day long I smiled ear to ear, as artists like Felix Cartal and Cazzette spun feel-good tunes that perfectly complemented the stunning beachfront venue. With a sold-out 35,000 people strong, the support for Kaskade here on the West Coast was unbelievable as we all came together for the king of melodies.
As Sun Soaked was one of the few one-day events I've ever attended, I was interested to see how the venue was set up compared to a larger multi-day festival. While I was impressed by the stage production and various fun elements like giant beach balls, water hoses, and a massive water slide, there were a few crucial aspects like lack of water stations and beer tents that made the festival less enjoyable and somewhat unsafe.
We arrived a bit later than planned due to some heavy LA traffic, getting to the venue around 4:30 PM.
Parking was easy and a short walk from the venue, which was right along the boardwalk of Alamitos Beach in Long Beach, CA. Getting through security was swift, which was a big change according to friends who waited in unfortunately long lines last year at Sun Soaked. As we walked in, Kaskade's early Vinyl set was just finishing up as he spun some old classic house tracks.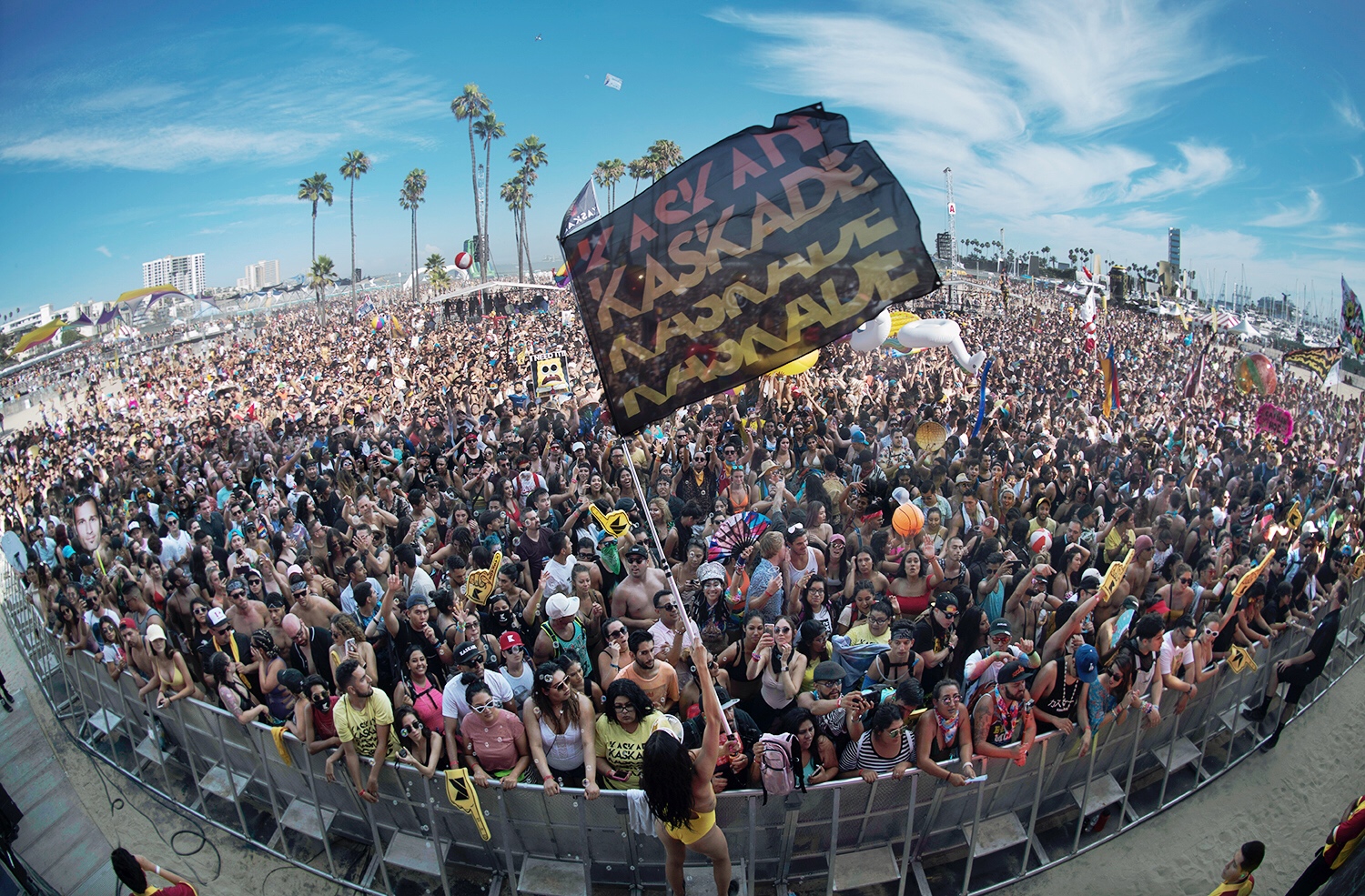 The entire venue was filled with cute beachy elements like trendy food trucks and colorful shaded areas, which lent to the overall feel-good vibe of the event. 
We walked around to check out the food options, which included a ton of cute food trucks and stands with everything from burritos and burgers to vegan veggie plates. In the middle of the venue were some shaded areas with picnic tables, which tons of people were crowded around to get some welcomed relief from the sun beating down hard. Across the way was a massive water slide – the biggest in North America according to Kaskade! People were shooting down that ginormous slide like bullets. It was hilarious to watch them all fly in the air as they reached the bottom.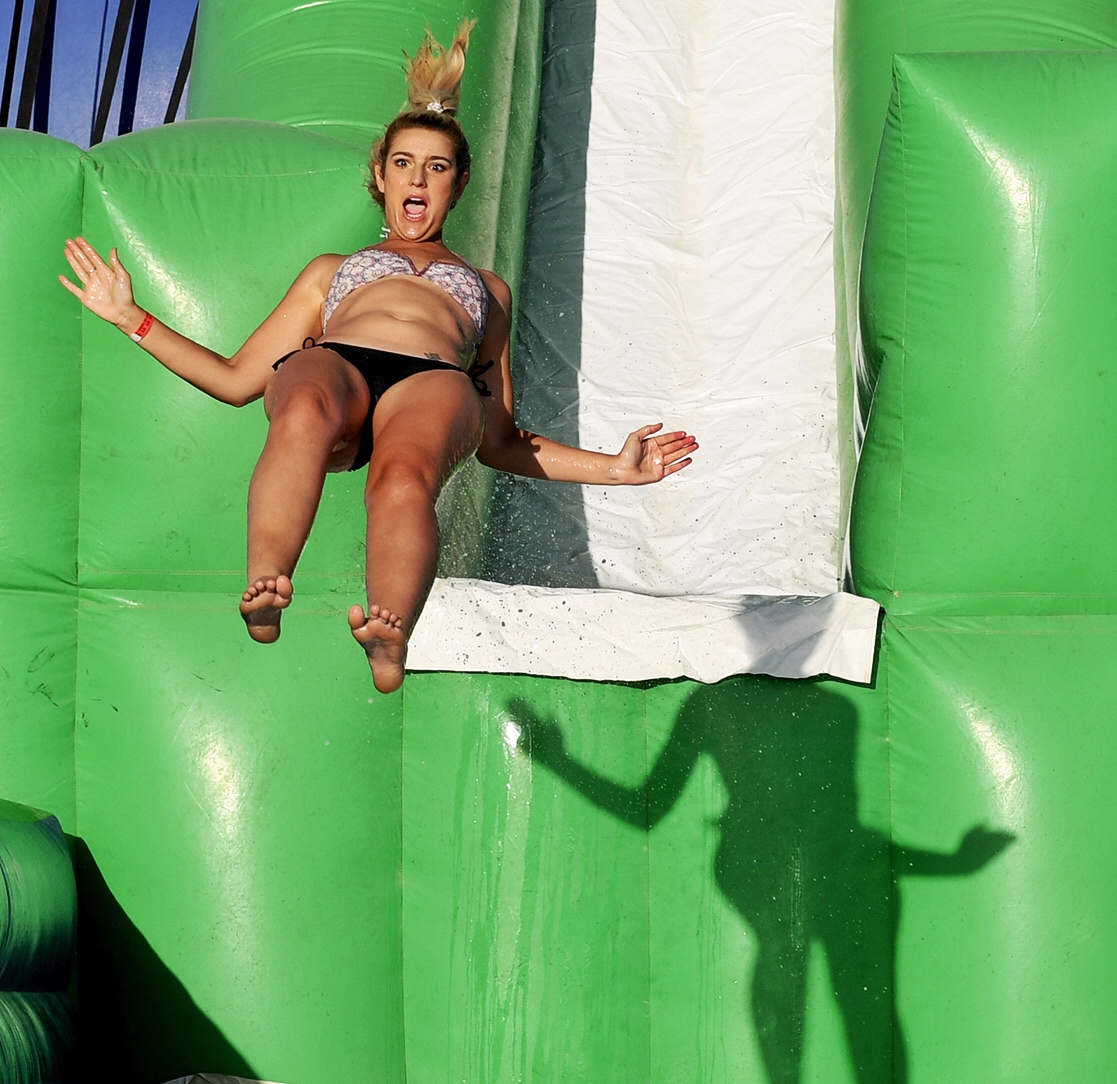 Where the planning went a bit wrong was in the clustering of water stations and port-a-potties, and the lack of beer tents.
All of the water stations were on one side of the venue and each only had a few faucets to manually fill up your water, causing the lines to get long and unorganized. Port-a-potties were all the way near the entrance, so we all had to avoid going to the bathroom unless it was absolutely necessary. I think the biggest problem for everyone I talked to was the insanely long wait time for drinks; we waited an entire hour to get one round and decided it wasn't worth missing the music to get another. Definitely a bummer for the attendees and a missed profit for the event.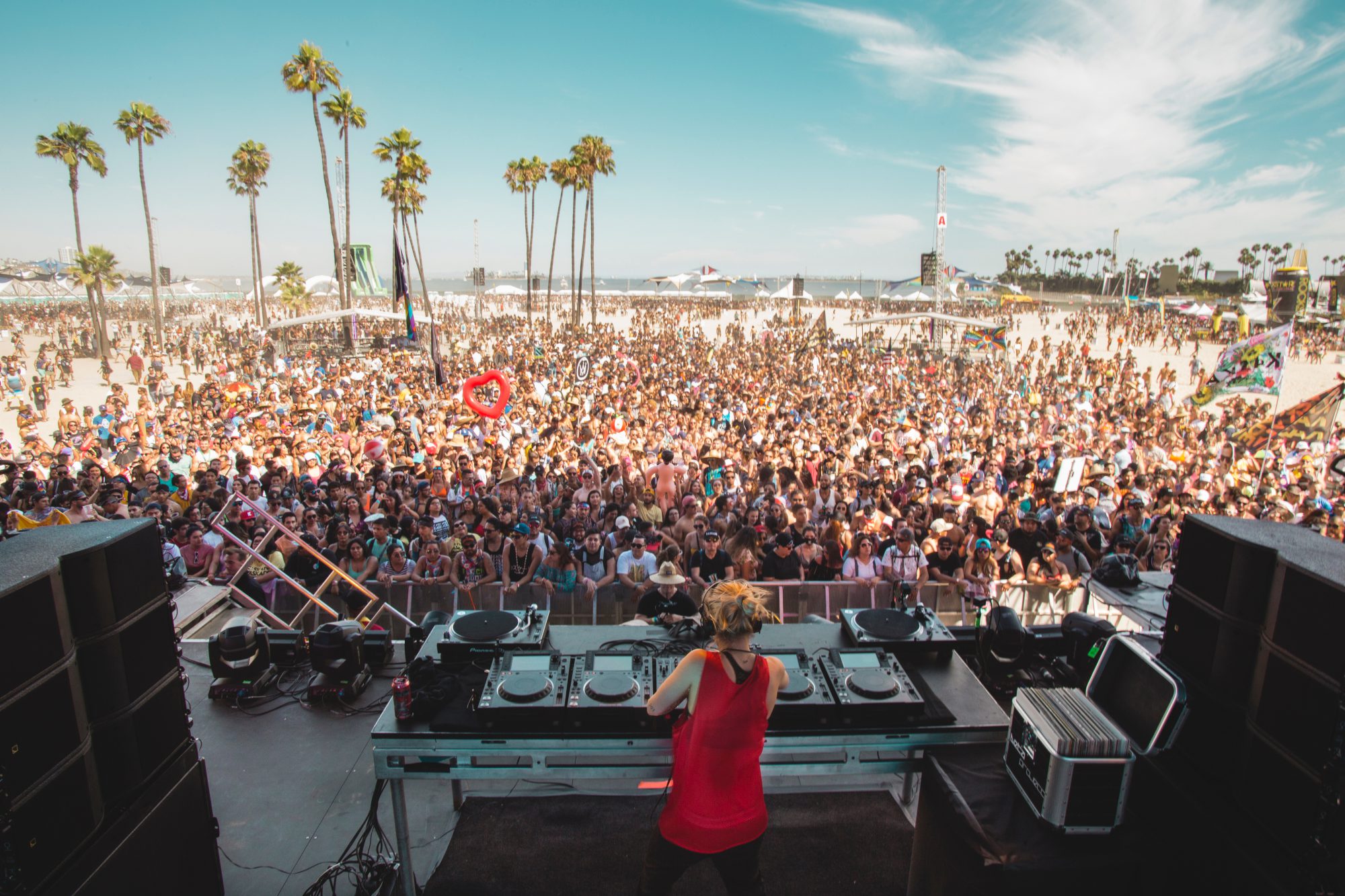 Logistics aside, it was still an incredible day of music, friends, dancing, and amazing vibes that I'll never forget.
Once we finally got our drinks, we headed into the crowd as Cazzette played out some groovy future house and lighthearted beats, setting a cheerful tone for the rest of the day. We danced and danced as Felix Cartal took the stage next, taking us to a higher place with some of the most soulful, mellow, sweet-sounding tunes like his tracks "Get What You Give" and "Fakin It".
Next up was Loud Luxury, who is a favorite of my college friends so I was pretty excited to check them out. Unfortunately, their set was a bit of a disappointment as they kept dropping almost every song into a very similar bouncy party drop that felt empty compared to all the other music we'd heard prior to their set.
They got me excited with iconic tracks from the likes of Avicii, deadmau5, and Daft Punk, only to bring it back to that same unfortunate drop. I was definitely bummed out by their set but tried to keep good energy up as I knew Kaskade was going to blow our minds in just a few short minutes.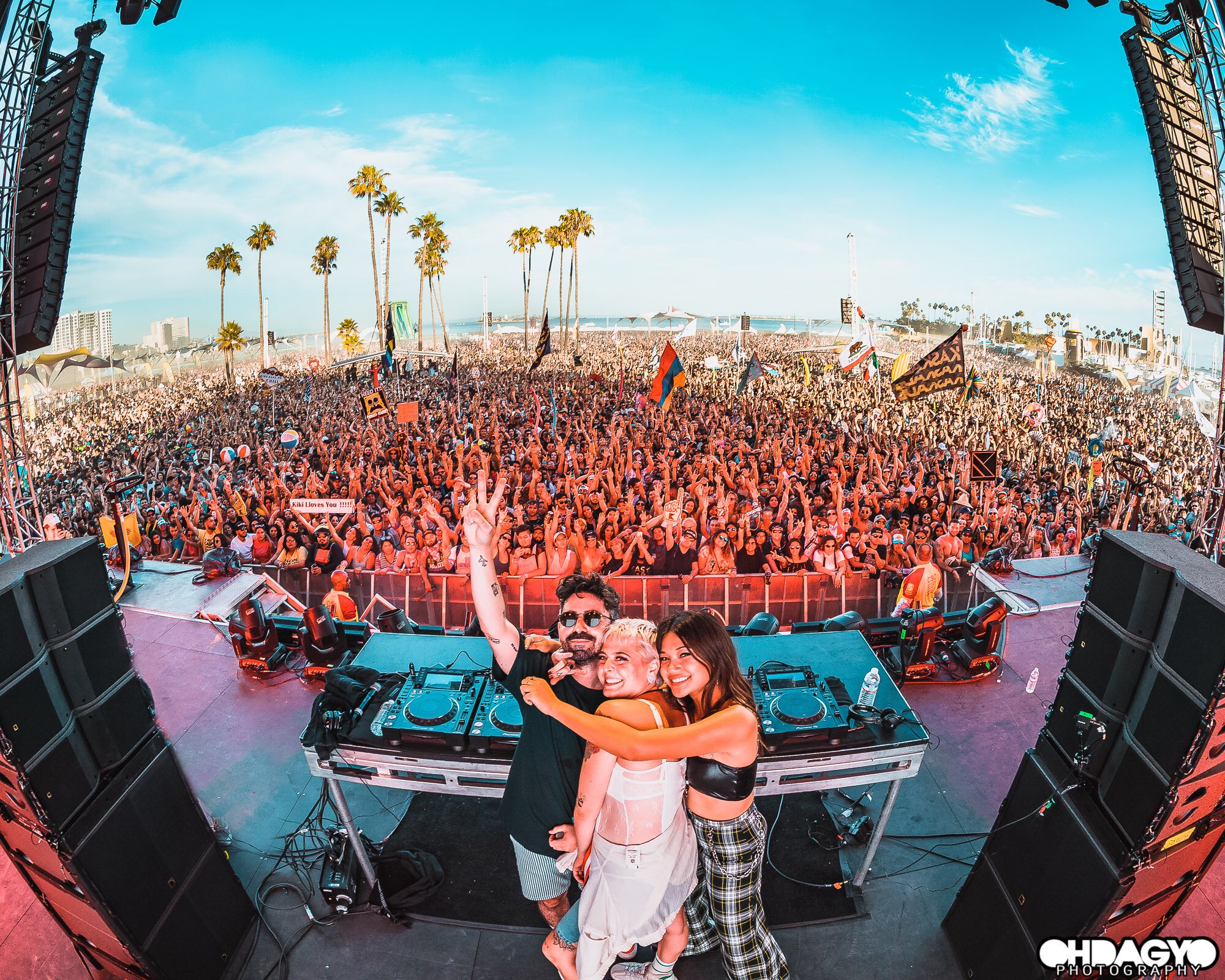 As the sun began to set, it was finally time for the main event – Kaskade!
We started to hear murmuring in the crowd and see people standing on their tippy toes to look towards some commotion going on in the middle of the crowd. "That's Kaskade!" people yelled, as a live video flashed onto the stage's big screens and everyone finally realized what was going on. Kaskade himself was in the middle of the crowd behind a giant sun, pushing through towards the stage – if that's not an entrance I don't know what is!
He kicked off his set with his absolutely amazing Sun Soaked remix of "Cold As Stone," one of my favorite tracks at the moment. I couldn't stop smiling – as the euphoric melody took hold I knew that we were in for one of the best sets of our lives! He didn't slow down, keeping the feels coming full force with his iconic track "Eyes" and then bringing us to tears with an overlay of Porter Robinson's "Language" and his "Almost Back" remix.
For the next two hours, Kaskade took us on a journey through his expansive discography – just when we thought he'd played all his hits, he threw us for a loop with another emotional classic.
On top of all the feels, he also got down and dirty with upbeat house tracks like his jam "FUN", getting us all moving and grooving along with the hilarious Mickey Mouse and cartoon Kaskade dancing visuals. He took us back years with timeless tracks like "Atmosphere" and "Last Chance" and even played his beloved slow and sexy track "Promise", which he rarely ever plays.
The stage production was unbelievable – my favorite moment when Kaskade stood on the booth as a wall of sparklers lit up behind him!
We even got a full-on firework show, almost five minutes long for the Sun Soaked grand finale. I'll never forget those moments holding my friends as we watched in awe at the beautiful fireworks up in the sky, as Kaskade dropped music touches the soul.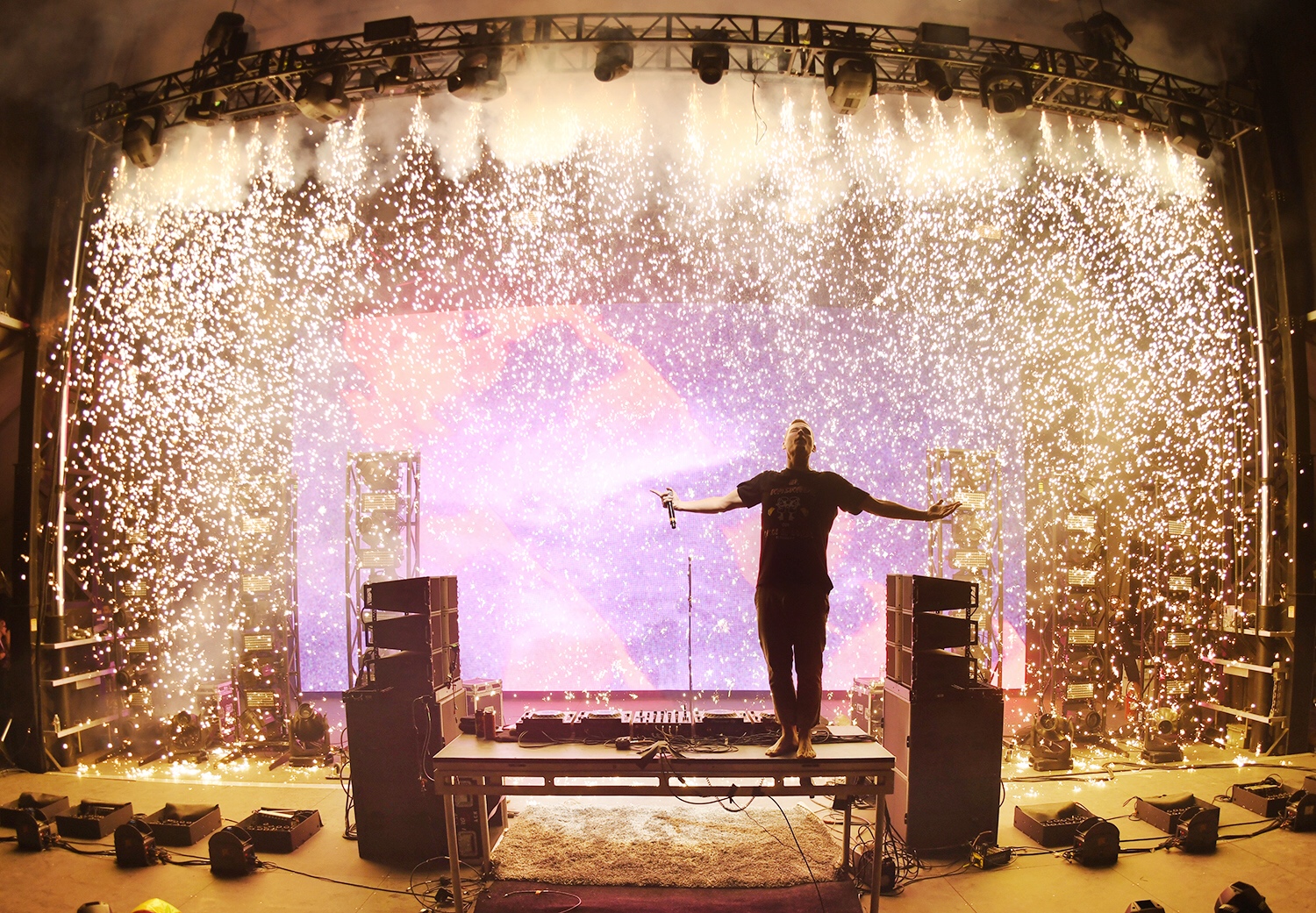 I left Sun Soaked feeling so blessed to have experienced such an amazing event, and in such awe at the caliber of Kaskade's set.
It reminded me once again why he's one of the fathers of our scene, there are very few artists who can make you feel the way Kaskade can. Despite some logistical problems with beer and water stations that will be easily fixed next year, the rest of the event was blissful. You better bet I'll be back at Sun Soaked 2019!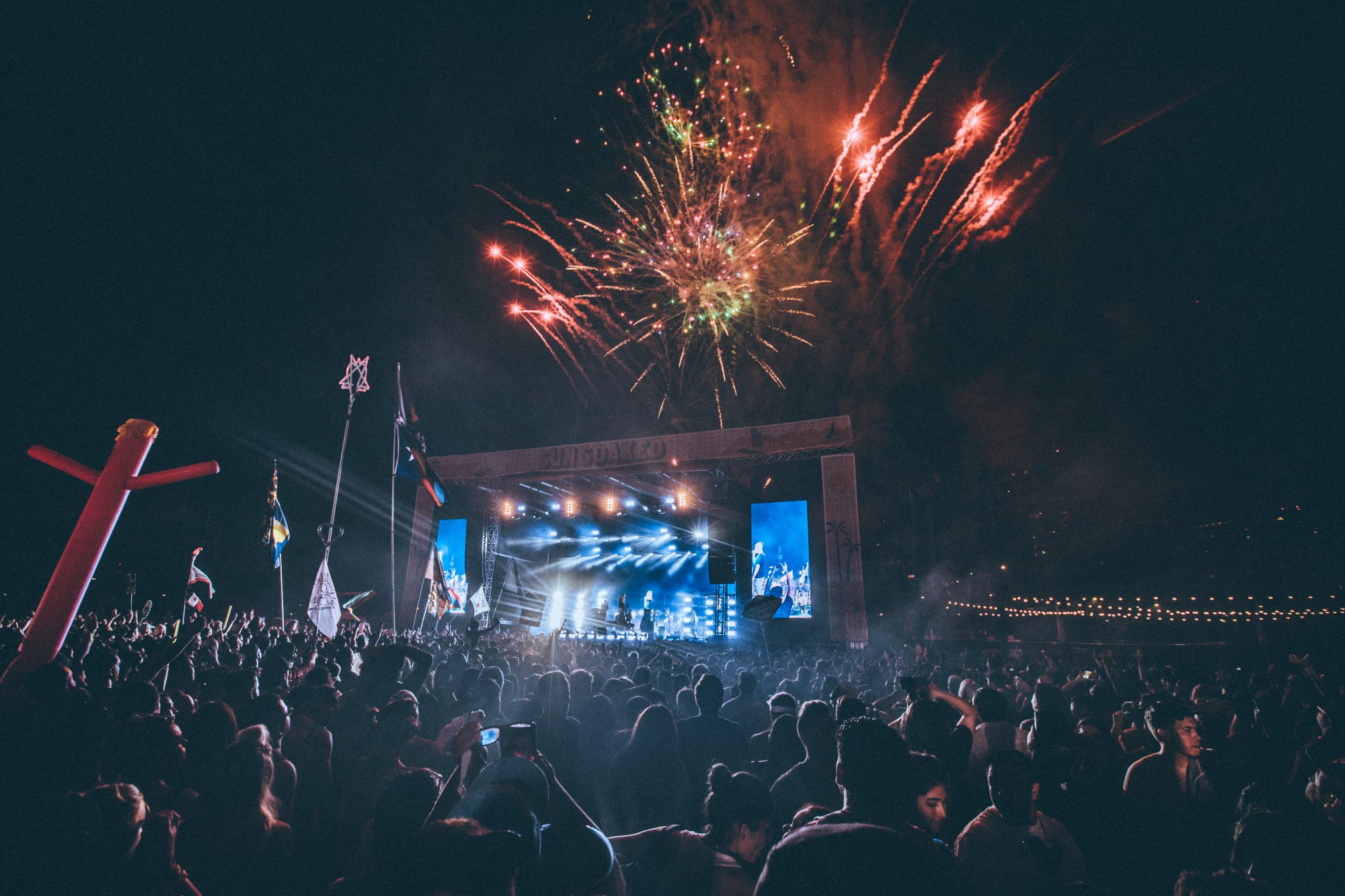 ---
Check Out the Sun Soaked 2018 After Movie on Facebook: 
---
Connect with Kaskade on Social Media: 
Website | Facebook | Twitter | Instagram | SoundCloud | YouTube