It was once again time for trance families to unite under the roof of San Francisco's Bill Graham Theater last month for Dreamstate SF 2017.
---
Dreamstate San Francisco continues to hold a special place in my heart as it was the first Dreamstate event I attended. I was beyond excited to once again link up with friends and trance families from all over the world last month. Dreamstate SF 2017 certainly did not disappoint and was an amazing experience full of class acts, amazing production, and good vibes.
The Ambiance
The ambiance was perfect for the two-day affair. My friends and I happened to stay at a hotel a short walking distance from the venue. At the hotel and on the surrounding streets, it was easy to tell that an amazing event was taking place. There were trance family shirts and kandi-lined arms everywhere you turned. It was a beautiful sight which added to my enthusiasm each night!
Something I loved about the event was how quick and easy it was to get in! Once the gates opened, attendees took a few steps to ID check, then they had baggage check right. Even when I brought my camelback and had pockets, I spent less than 5 minutes at each station. I appreciated being able to cruise through fairly quickly.
On that note, I do, however, wish that Insomniac would allow for gates to open before artists begin playing.
On night two, my friends and I were really looking forward to hearing Binary Finary's classic set in its entirety. Despite being in line about 1 hour before the opening act, we still missed some of the duo's set. It would be nice if gates opened 30 minutes before the first set. However, a positive that came out of this situation was that Stuart Matheson of BF came outside to thank fans, take pictures with them and sign vinyls!
I was transported onto an intergalactic space ship fully charged by trance once inside. The theme of the stage appeared to tie directly with the Dreamstate SoCal 2016 trailer. The Dreamstate SF 2017 spaceship-shaped stage was flanked by the usual Dreamstate dancer wearing white/silver, knee highs, bodysuits and bob wigs. These dancers alternated with acrobats in all white/silver, and performance artists wearing illuminated outfits jumping on trampolines.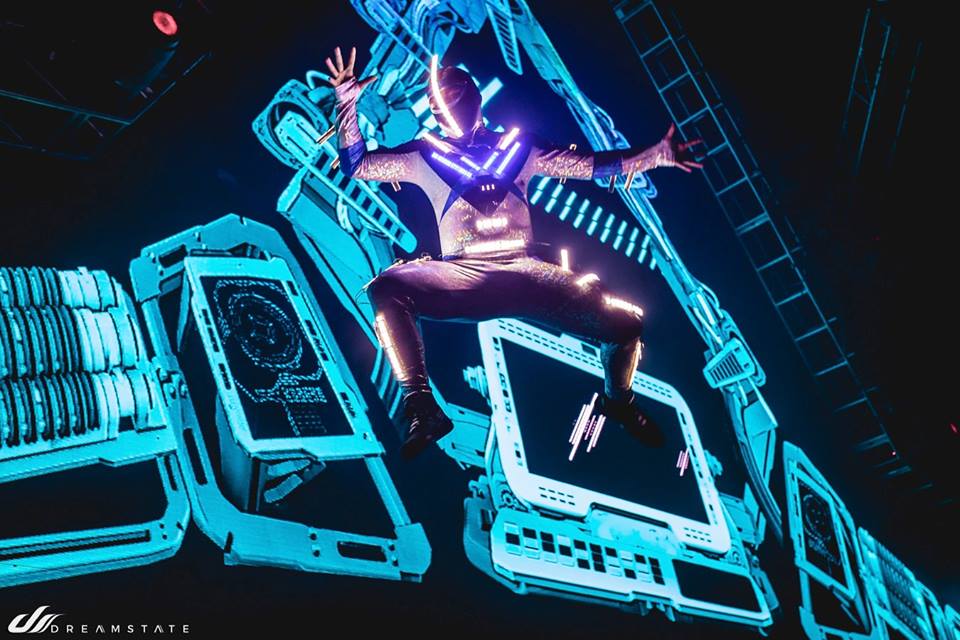 One interesting thing I also noticed, was the lack of totems at Dreamstate SF 2017.
I was looking forward to seeing some of the mainstay Dreamstate totems such as the Martian in the spaceship. However, I was surprised that none of them were there. Multiple attendees that showed up with totems were turned away as it turns out. Apparently, the totem rules Insomniac posted did not match the extremely strict venue rules. Interestingly enough, this was not an issue at the previous SF event. I will say, it was nice to have a clear view of the stages. However, the ambiance lacked a bit of flair without the totems. I especially feel bad for attendees that put a lot of hard work into the totems and who were blind sighted at the entrance.
Overall the ambiance on the dance floor was very positive. There were multiple shufflers, glovers and other flow artists lighting up the dance floor. It was fairly easy to move around and most people were respectful when floating through the crowd. The majority of the two nights the floor was never packed. The one time it occurred Vini Vici played and it seemed like everyone decided to storm the floor. Even then, it was still an overwhelmingly positive atmosphere.
The Music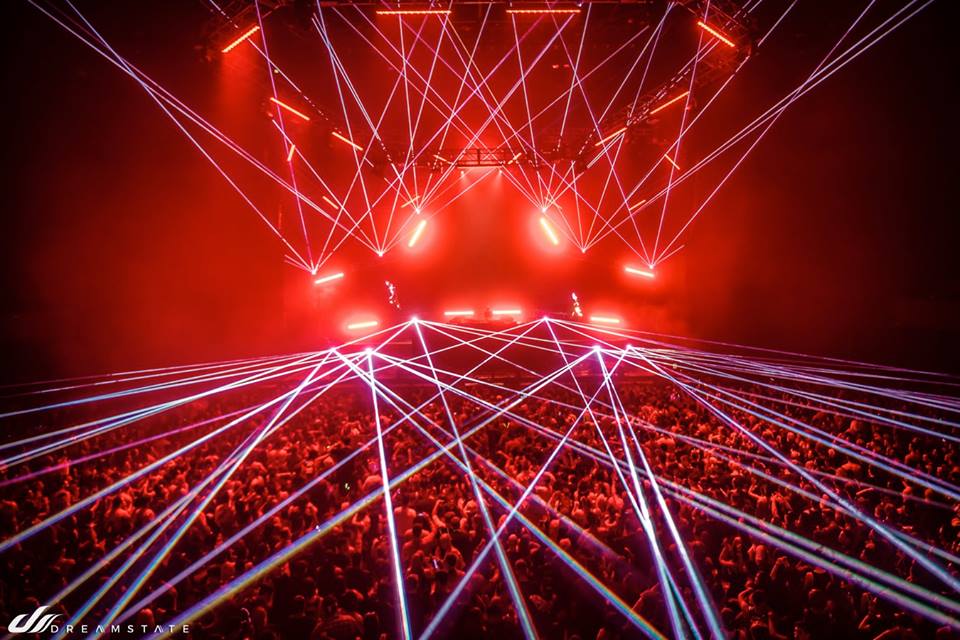 The music was on fire and I wouldn't have expected anything less. I was most looking forward to sets and artists I had never experienced such as Ferry Corsten's producer set, PureNRG and Markus Schulz presents Dakota. Overall, there was just so much great music to look forward to!.
Day 1 had some sets that were not my favorite and some that did not resonate well with the audience. Though Schulz's Dakota set was one of my highly anticipated of the night, I did not enjoy the set as much as I thought I would. I found it overwhelming with the narrations and dark imagery. The set also seemed rushed as Schulz only went through about 6 of the 9 skies. For these reasons, I feel as though I may have missed some of the overarching messages. At EDC, Schulz played a 90 min "The Nine Skies" set, therefore, attendees were able to view his entire message.
Overall, I would say that my favorite set of night one was Solarstone and Giuseppe Ottaviani's PureNRG. The two burst on the stage with synchronized drumming while holding LED drumsticks! They played in beautiful synchronicity while incorporating their own musical personalities. It was pure magical energy during that set and I'm happy I finally was able to see the collaboration.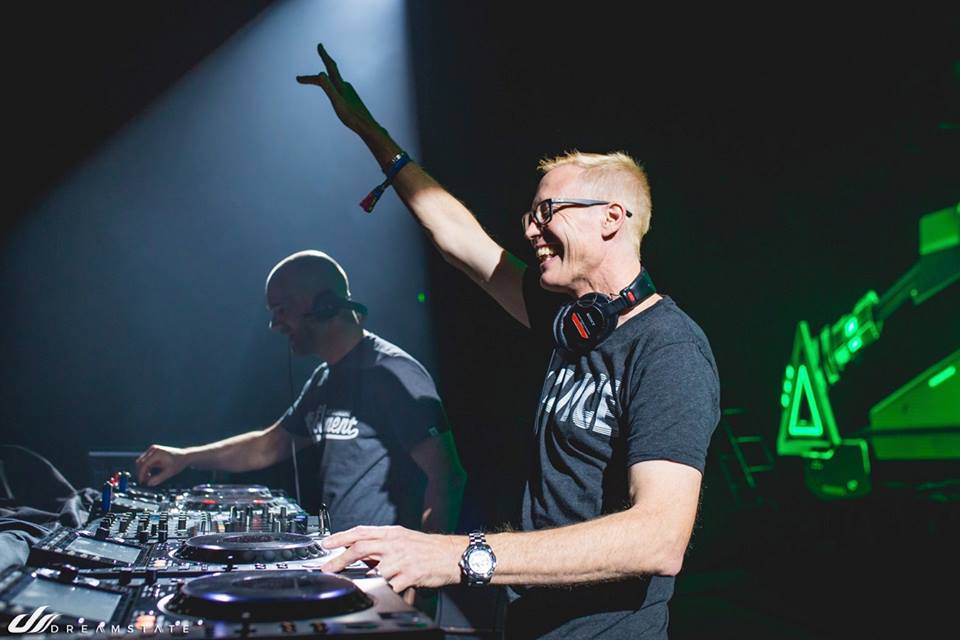 Between the two days, I would have to say that Day 2 was my overall favorite. There was something about the overall energy of the second that was absolutely alive the entire time.
Binary Finary had an amazing opening and they were followed by the always dynamic Fleming and Lawence. Christopher Lawrence and John 00 Fleming stayed true to those underground club feels and ended their act with a classy remix of Robert Miles's Children. Another personal favorite of mine was Ferry Corsten's producers set.Though I don't think it was advertised quite right as it felt more like a Blueprint set with a sprinkle of Gouryella and a dab of his other aliases. As I had been obsessively listening to the Blueprint album I loved being able to see the tracks come alive on stage. Lastly, as a Gareth Emery fan, I was happy that he closed out the night with an amazing set! However, I do agree with Lisa that it would have been more dynamic to have someone other than Emery close out yet another Dreamstate SF event.
Dreamstate SF 2017 proved to be another solid addition to the books for trance fans.
Dreamstate SF 2017 is another one for the books. This Dreamstate event will never be as massive as the flagship SoCal event, but it has so many perks associated with it. What the SF iteration of the festival lacks in size it makes up in intimacy.  Over 5,000 trance fans came together to enjoy one line up. There were no set conflicts, no issues with weather and with one stage, everyone felt the same love and enjoyed the same sights and sounds. I love that we all had a shared experience and I look forward to attending for my third time. Until then, I'll keep listening to the livesets on repeat!
---
Follow Dreamstate on Social Media:
Website | Facebook | Twitter | Instagram