How do you properly prepare for an 8-hour open-to-close set? That is the question I had to ask myself in the lead up to a massive set from Fleming & Lawrence at Avalon Hollywood…
---
For me, prepping takes the form of a midday nap, followed by a decent sized meal and a cup of coffee. That night, I wanted make sure that there was no reason why I wouldn't make it through the epic journey. In reality I know myself, once I hear the beats and feel the vibes, the ambiance will propel and entice me and the night will move so quickly that I wouldn't have time to think about being tired. With the high energy and deep dark sounds I had heard from Fleming & Lawrence in the past, I already knew what to expect and was beyond excited to attend. I also brought along my friend who does not usually listening to electronic music but was open and willing to give it a go.
Would you like to learn more about Fleming and his views on trance? Check out our interview with him HERE!
Eager for the night to begin, we arrived a bit before 10pm and were there when Avalon began letting people into the venue precisely at 10:01. We were surrounded by fans whose excitement were clearly palpable as you could see the anticipation on their faces. When we were finally inside our ears were invited in by the sounds of chill music that progressive got deeper throughout the hour. As we were some of the first to enter, the dance floor was not full yet, it was the calm before the storm. Fleming & Lawrence were seen high above the crowd amidst a backdrop of psychedelic graphics, alternating with California-specific imagery such as the Hollywood sign of light up freeways. I loved when the two images would merge to produce a psychedelic image of LA, a perfect synonym for what the night would bring.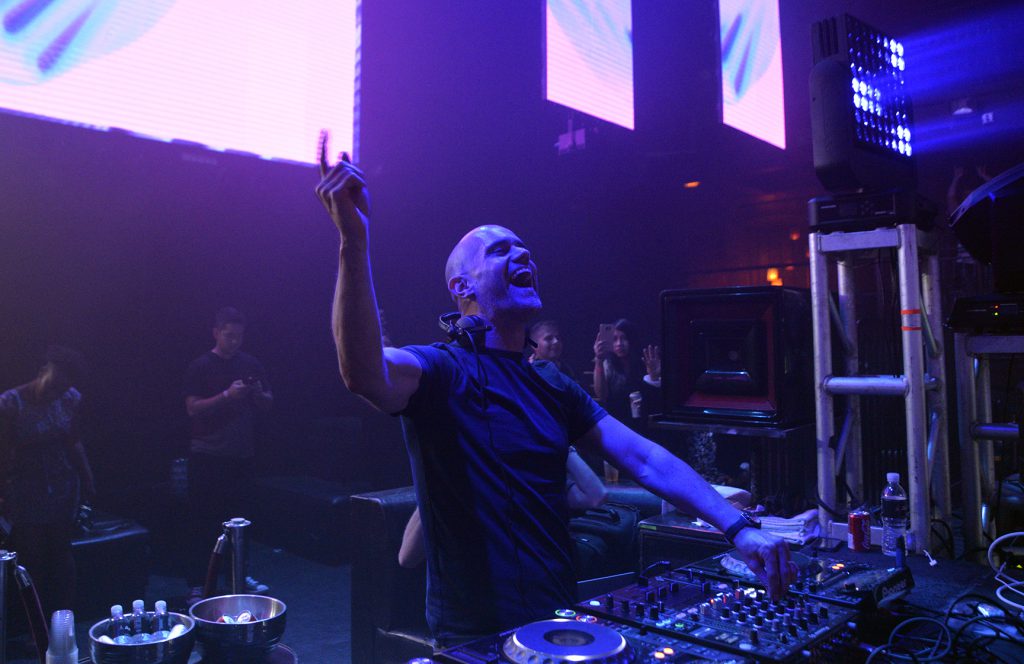 At 10:50pm Fleming was dominating the decks and the venue was beginning to fill up. Even though the stage area of Avalon is notoriously cold, both artists removed their jackets early in the night as the energy of the set was bringing the heat. As Fleming played his deep tech and psy tracks, Lawrence stood close by, entranced by his friend's beats, only looking away when fans came by to interact with him. When Fleming was on stand-by he too would be in the corner of the stage and dutifully tending to his music library. He was less social than Christopher, as he was very clearly in the zone; his headphones often stayed on and he appeared to be closely following Chris's journey, carefully planning the next destination.
Right around 12:30am, the onslaught of psytrance began. Lawrence was the catalyst and as he gracefully gave the reigns to Fleming the balcony began to fill. As Fleming was amplifying the already hard and fast beats, Lawrence would sit back and groove to his partner's music, often times tapping his leg or raising his arms in delight and support. The only point that I saw Lawrence leave the stage area was when he ran to grab a Trance Family Los Angeles flag for himself and Fleming to sign. Otherwise they both stayed on stage and supported each other.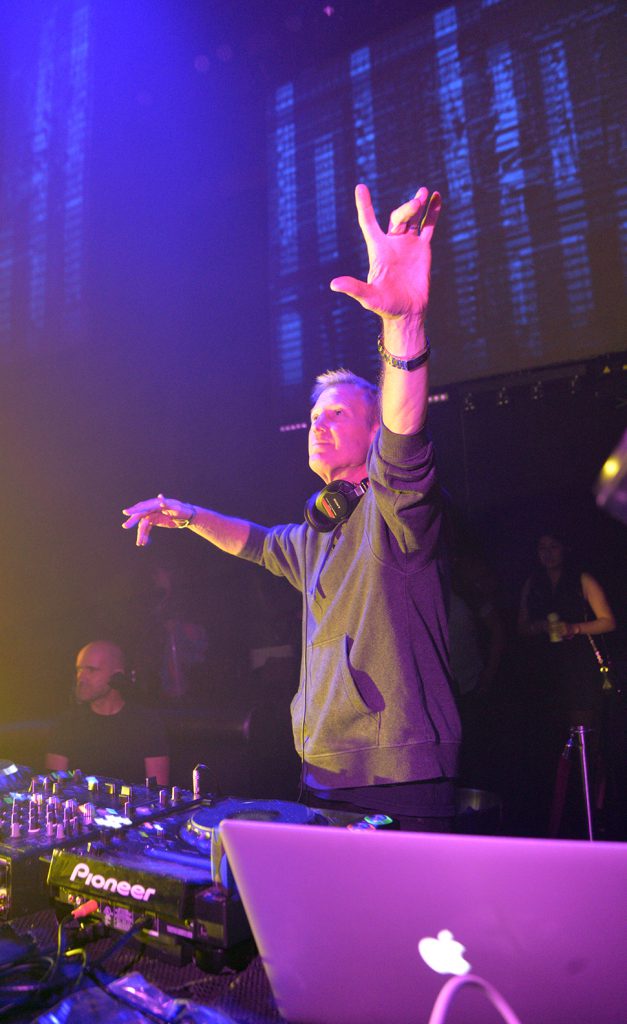 Some of my favorite points were when Fleming & Lawrence switched.
In general, when artists switch the contrast between the sounds and styles is clear. Yet that night, John's high-tempo songs perfectly matched the beat and tempo of Chris's deep more underground sounds; the flow between the two styles matched perfectly. If you were not watching, at times it would be difficult to pinpoint when the switch occurred because it was effortless and well-timed. So masterfully with each switch the audience was carefully guided in a new direction.
John 00 Fleming spoke about his connection with Christopher Lawrence in our interview with him at Dreamstate SF 2016, HERE!
I expected the switches to be perfectly timed in that they would each play for one hour at a time. Perhaps this is how it usually occurs, but this night was not the case. At times, they each would play longer or shorter than before while remaining perfectly in tune and knowing just when the other was coming to a close. It never felt forced and seemed completely natural for them to be playing together.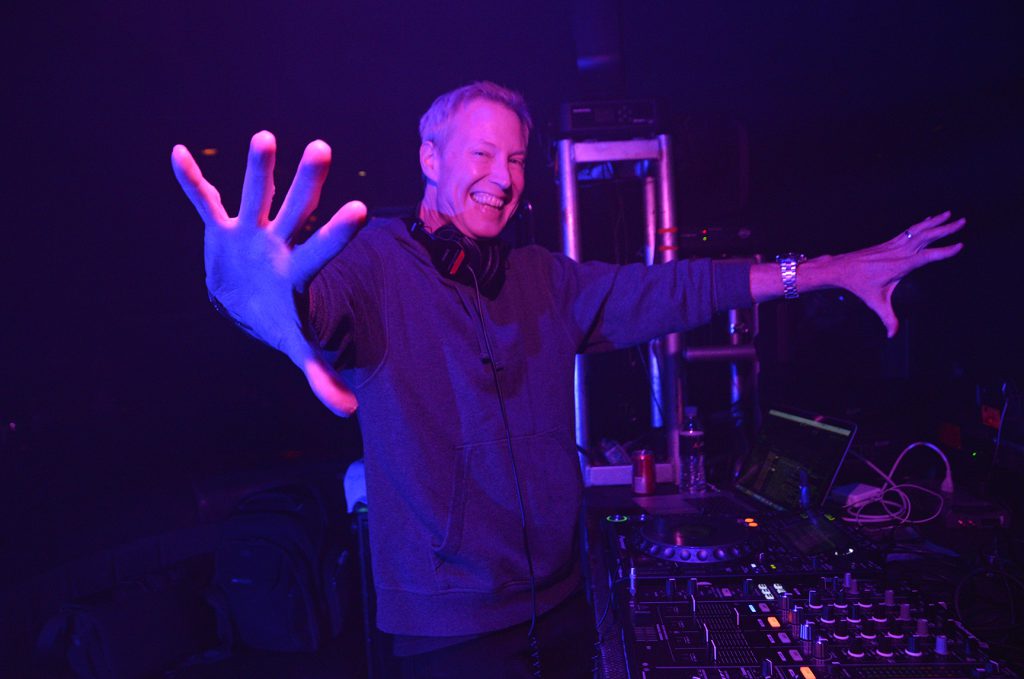 Whether they were on or off the deck, I felt as though I could clearly see the personalities of the artists, or at least the personalities they were conveying that night. When Fleming came on he was initially calm but would get darker and mix techno with psytrance over time, with the lights often remaining stagnate. When it was Lawrence's turn, the beats were fierce, the lights were erratic and the colors displayed were vibrant.
Unfortunately, around 2am my friend began feeling ill and it didn't seem that she would make it through the night. Instead of staying and finishing the second half of the night, I left with her to make sure she was okay. I'm sad to have missed out on the rest of the epic night, but always happy to be there for a friend in need. It makes me look forward to the next time I can catch Fleming & Lawrence too!
To me, much of dance music and this culture is about the bond you make and the relationships you build. Taking that into consideration, the best part about the set wasn't necessarily the music but the clear relationship between these two legendary artists. They would banter, dance around one another, laugh and influence one another's sound all the while supporting each other, and navigating this journey together.  What the audience saw was real love and friendship that embodied the true meaning of PLUR. Later on in the week I would learn just how deep their bonds go.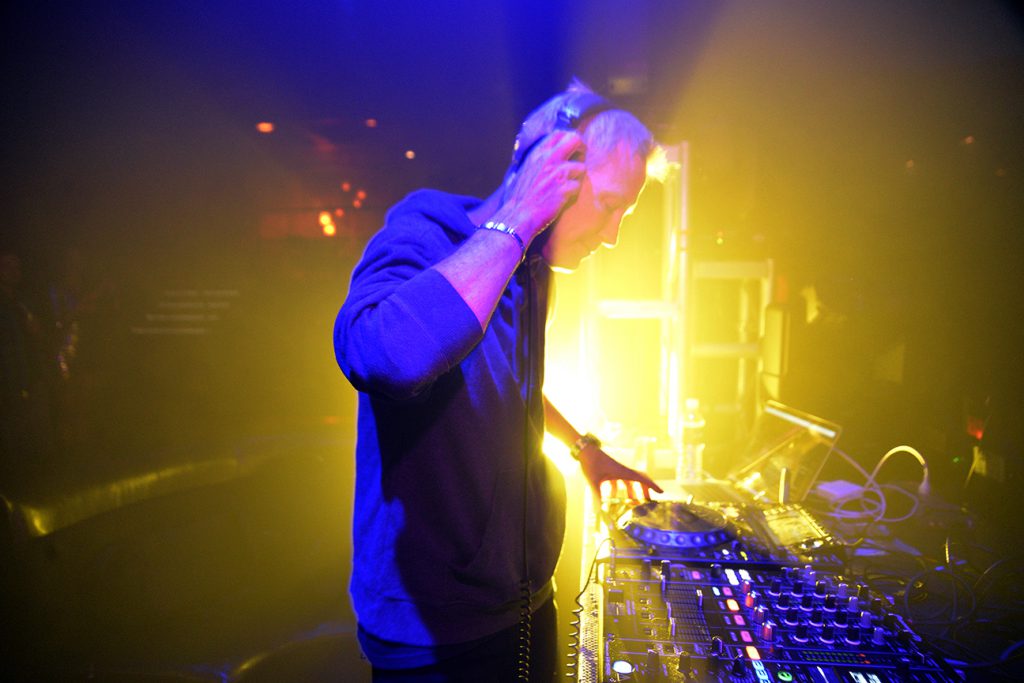 As noted earlier, I was surprised at how the timing was paced but chalked it up to this being my first time attending a Fleming & Lawrence open to close set. However, there was more to this than anticipated. That night, right before the event Fleming was informed of his mother's passing. Instead of canceling the night, he played on, not sharing the news with anyone, not even Lawrence, until after the set was over. He poured himself into the music and let the tempo, beat, and flow reflect his inner emotions. At that point I realized why there was more tech than I expected and why there was some discordance in the timing.  He described it as such:
On Saturday night my world changed forever upon getting the news of my mum passing away. She had been unwell for such a long time it was a mixture of grief but huge sense of relief that the pain was taken away and she was in peace.

She was always very proud of me and my career, she knows I constantly travel and a final wish of hers was for me not to come home upon the news but to continue and play on for her. I got the news one hour before I played at Avalon in LA on Saturday, I didn't tell anyone but let this all out when playing, even Christopher noticed some powerful moments while we played that made sense to him once I told him after the show.

– John 00 Fleming
As I said earlier, the night was about more than music, it was about friendship, support and love. In reaction to hearing about his partner's struggle, Christopher Lawrence penned a post as well:
I can't begin to explain what a privilege it is to have John 00 Fleming as best friend and DJ partner. I have never met someone with as much integrity behind the decks and in everyday life….

At Avalon that night he played the most powerful set I've ever heard from him. We have played many sets together but this one stood out from the others. There was a particularly intense part when John had played pounding techno and the crowd was loving it. I went up to him to tell him how much I was digging it when he suddenly made the dance floor erupt with an incredible emotional melody. It was only the next day when John told me of his mother's passing that he said the powerful techno set followed by the euphoric release was when he had thought of his mother. It made that intense part of his set all the more special and explained the raw emotional rollercoaster his sets had been throughout the night.

– Christopher Lawrence
In Lawrence's post you can feel the reverence, respect and overall love they share for one another. To me and based on this singular experience, this is what a F&L set is about. I do hope to one day attend an 8-hour set in full but that night, myself and those in attendance, were taken on a journey that was both magical and emotional. The EDM Identity team sends out condolences to Fleming.
A special thank you to photographer Michael Tullberg, for allowing us to use his photographs in our review. If you would like to learn more about the history of electronic music through the lens of a legendary event photographer, check out interview with him HERE as well as his book DANCEFLOOR THUNDERSTORM: Land Of The Free, Home Of The Rave.
---
Follow John 00 Fleming on Social Media:
Website | Facebook | Twitter | SoundCloud | Instagram
Follow Christopher Lawrence on Social Media:
Website | Facebook | Twitter | SoundCloud | Instagram
Follow Michael Tullberg and "DANCEFLOOR THUNDERSTORM" on Social Media: