Dreamstate San Francisco marked its second year with an impressive lineup and world class production.
---
With EDC Las Vegas 2017 just around the corner, Insomniac held Dreamstate San Francisco 2017 last month featuring two nights of trance played by some of the best in the scene. Attendees were treated to special performances of Markus Schulz's Dakota, Ferry Corsten's Blueprint, and Paul Oakenfold's Generations. Along with the music, Dreamstate SF had world class production at Bill Graham complete with lasers and amazing acrobatic performers.
Day One featured amazing artists such as Ben Nicky, Pure NRG, Markus Schulz, and Paul van Dyk.
Due to construction happening at SFO, I arrived later than anticipated to the great city of San Francisco. Security for the event was professional and organized with their ID checkpoint, bag searches, pat downs, and ticket scanning. I never had to wait longer than 10 minutes before getting inside the venue for either day.
Just as I was walking through the doors, Menno de Jong's set caught my attention. His tech-trance and uplifting track selections set the mood for the event for me and wish I had shown up earlier to see his set. Luckily, there is a recording of it on our Dreamstate SF 2017 Liveset list. Once de Jong finished, Ben Nicky was up next – a must see on my list. Nicky opened his set with Porter Robinson's "Fellow Feeling", which felt out of place to play at the beginning of a Dreamstate set. His set, unfortunately, quickly turned into an hour long mini mix and became my least favorite set of both days.
PureNRG's set followed Nicky's and reset the atmosphere of the event. If you didn't know already, PureNRG is a collaborative partnership between Giuseppe Ottaviani and Solarstone. From the visuals to the song selection, the atmosphere felt ethereal and transcendent. Other than their special remix of Red Hot Chili Pepper's "Otherside", we hardly heard any vocals during their set. Liquid Ace, the b2b set by Liquid Soul and Ace Ventura came on stage next after PureNRG, featuring psytrance selections putting the sound system to the test. Their set attracted attendees to the floor ready to dance.
Paul Oakenfold's Generations set came up next and was billed as his Generations show. I watched it from the front of the stage getting a chance to see Oakenfold decide which vinyl to play for the night. His set didn't have a narrated story like some of the other concept shows, but it did feature classic hits, such as Lost Tribe's "Gamemaster".
When Oakenfold finished, several Markus Schulz fans donned in their favorite artist's shirts moved into the crowd eager to see the premier of Dakota Presents the Nine Skies. His set opened with "Mota-Mota" alongside a slew of army related visuals, which you can read about in our recent interview with Schulz. The visuals and narration in the set were perhaps too long as I felt it was distracting from the music. Sadly, Schulz was unable to complete all nine skies due to the time constraint at Dreamstate SF. Hopefully his set at EDC Las Vegas will be long enough for a full showing of each sky.
As soon as Schulz's set ended, Paul van Dyk was ready to close out with as much uplifting music as possible. The energy in the room shifted with Paul van Dyk playing a great closing set complete with all of us singing along to his hit "I Don't Deserve You." After, everyone exited Bill Graham quickly to rest up for day two.
Despite the yin-yang in energy of day one, day two at Dreamstate SF had endless energetic sets from open to close. 
With missing almost two sets the day before, I lined up for day two at 4PM with every intention of being there from open to close. Lots of like-minded people showed up early as well, which prompted security to ask everyone to have IDs and tickets out minutes before the event started. I shared my excitement of seeing Binary Finary with others in line while we waited. Despite Binary Finary getting opening slot of the event, they did not play a warm-up set. Binary Finary dove right into their treasure trove of classic tracks they've remixed over the years, from Mauro Picotto's "Komodo" to Oceanlab's "Satellite", to set the bar high for the night.
Up next was Fleming and Lawrence, who kept the high energy going. They had strong song selections along with closing out their set with a remix of Robert Miles' "Children." Following the duo was Bryan Kearney, who definitely brought the "Kearnage" into his set. The level of energy and intensity in Kearney's set felt way too early to be played. No wonder Kearney fans can help but cheer," Bryan, Bryan, Bryan Fucking Kearney." After Kearney was Vini Vici, who the minute started playing brought an onslaught of fans to the Bill Graham floor. Suddenly, the floor was packed with Vini Vici fans dancing hard and enjoying the laser light show. For myself, it got to a point where the psytrance tracks started sounding all the same.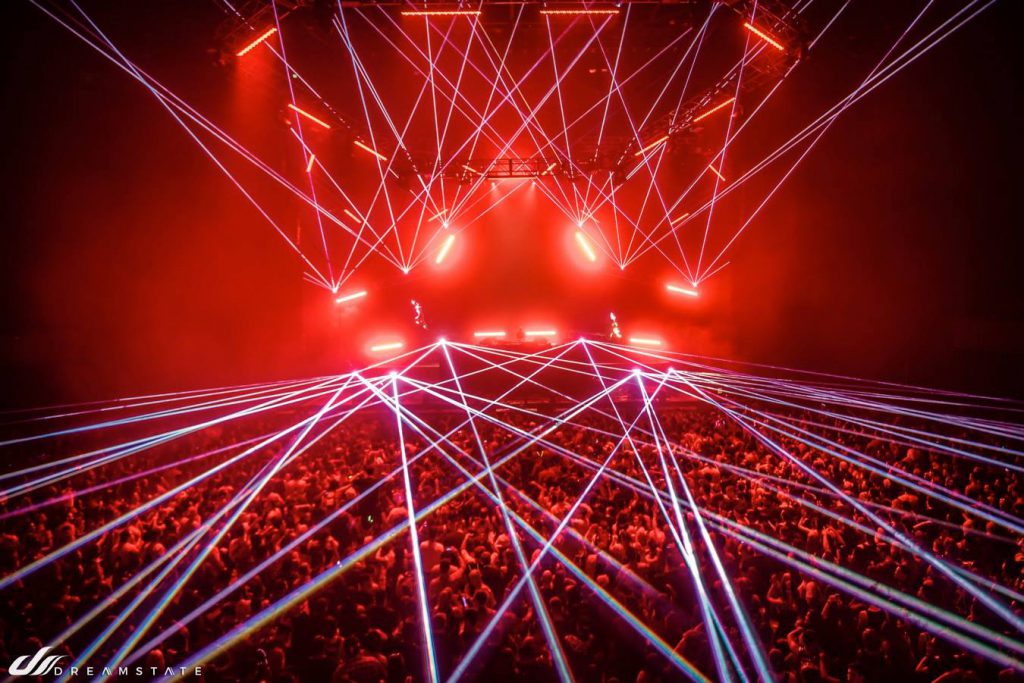 After taking a brief break to check out the venue, I returned to Astrix opening his set with several new tracks. For psytrance fans, this was another great set following Vini Vici. His last song was a mashup of his song "The Old Monsters." As if to give a shout out to the trance community, the song was followed by a disembodied voice saying, "Unity."
After two back-to-back psytrance heavy sets, John O'Callaghan started up on the decks and reset the music for the night. O'Callaghan played a perfect set for me that night in terms of production, music, and energy. O'Callaghan's song selection was a perfect balance of what you could want in a trance set: a little of the artist's music, a few remixes, and music from other artists that fit well in an hour set. Next up, Ferry Corsten's Producer's Set started with the narrative track, "Reception" and we got more of what felt like a Blueprint album set than a Producer's Set. I was a fan of the album, but I was hoping for a more unique set from Corsten playing tracks from his various collaborations or aliases.
With just one more artist left to play, I had mixed feelings about seeing Gareth Emery who also closed out Dreamstate SF last year. Questioning whether his set would be any good, Emery did not disappoint and started off with his newest remix, Equador's "Bones of Man." His own energy on stage helps fuels his song selections to keep the crowd energized. Say what you will about his set not being 100% trance, Emery always brings the energy and the crowds feed off it.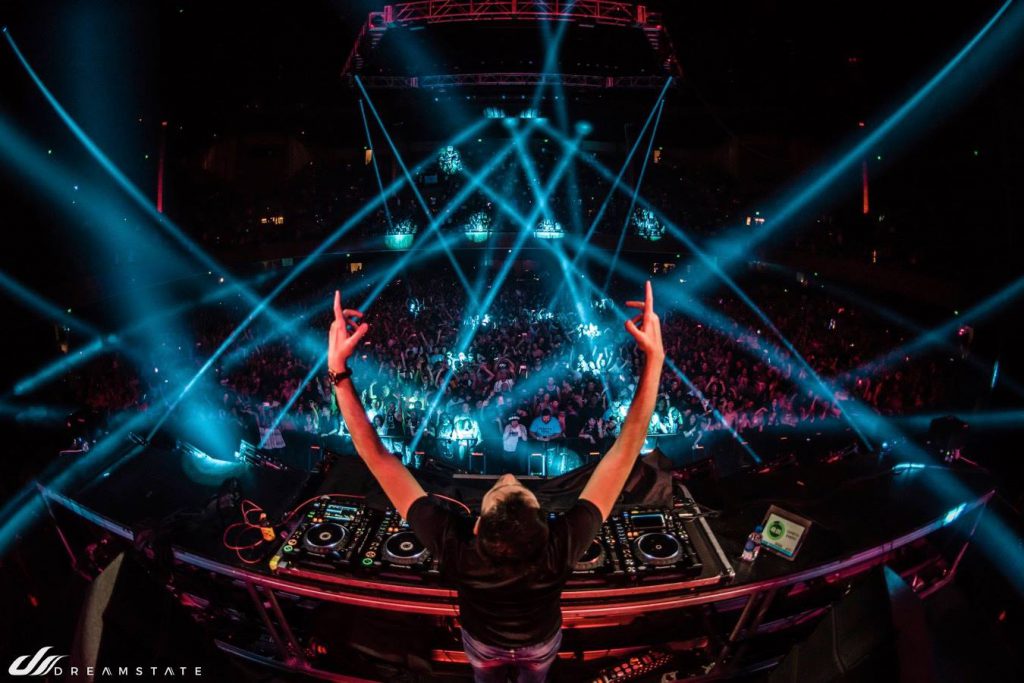 Dreamstate SF at the Bill Graham was a perfect place for die-hard trance fans and those new to the genre to come together for two magical nights of music.
The Bill Graham is one of the only venues in San Francisco that hosts major Insomniac events and Dreamstate SF's one stage setup allows attendees to enjoy every artist on the lineup. However, the lineup this year should have mixed it up a bit compared to last year, especially by choosing a new closer for the event.
As for the venue itself, the bathrooms were constantly kept clean and there were a few filtered water bottle refill stations on each floor. Both Insomniac Dreamstate merchandise booths offered stylish shirts, hoodies, and hats originally debuted at Dreamstate SoCal last November. The menu for food was surprisingly diverse and fairly priced as patrons could purchase nachos, sliders, hot dogs, candy, and more. I enjoyed the hummus and veggies before getting back to the floor to see Astrix on night two. I did feel like the ADA section was placed too far away from the stage to be enjoyable as it was set up on the far right of the stage and near a wall. Lastly, the strict no totem policy meant I could see the stage without any obstructions, but this meant several attendees who put time and effort into creating totems were turned away initially.
Overall, the event never felt too crowded and the PLUR vibes were there for both nights. For a two day event, Dreamstate SF continues to be a fantastic value and journey through trance that differs just enough from its sister event, Dreamstate SoCal.