Member of Binary Finary, Stuart Matheson, discusses the evolution of trance, the pressure of the music industry, "1998", and more!
---
Trance is one of the most powerful genres in the electronic world. It has the power to capture the attention of listeners, build them up with powerful melodies and break them down into tears. Overall, trance is about the journey. Trance has been around since the late 80s and continues to grow both artistically and in the size of its connoisseurs. Binary Finary is one of the earliest trance groups to have graced the decks. The group came about in 1998 and originally consisted of Stuart Matheson and Matt Laws. This duo was responsible for amazingly euphoric sounds, including one of their biggest hits, "1998". This seminal track continues to live on in trance sets as it heads to its 20th anniversary.
The Binary Finary team has altered slightly over the years, with Australian DJ, Sasha Vatoff being added by Matheson in 2009, but the ethos to create meaningful and emotive music has stayed the same. The team recently played an amazing classics set at Dreamstate SoCal followed by an awe-inspiring performance at Dreamstate San Francisco. We caught up with Stuart Matheson of Binary Finary at Dreamstate San Francisco to talk about today's trance scene, the legacy of "1998", and more.
Stream Binary Finary Live at Dreamstate SF 2017 on SoundCloud:
---
Binary Finary's presence has had a serious impact on trance scene over the years. What has been your favorite part about this journey as artists?
All of it!. The journey itself has been incredible. There have been some serious lows, but that just makes the highs that much more special.
With something that's so personal, in writing and producing music, it really does make the emotion of it so strong. We feel humbled and honoured that we are still able to play our tracks out to this day, and still able to perform out. We are truly lucky.
Your classic trance anthem "1998" has its 20th anniversary coming up. How do you feel the Trance genre has changed in the past two decades?
What a question…
For us, trance hasn't changed. It's still driven by solid melody and driving basslines. Generally, commercialism wrecked it after the 2000's and it never really recovered. Artists who were writing trance music and performing it suddenly didn't want to call their music trance music.
The word 'trance' became a dirty word. I can't count the number of times I heard on everyday radio people saying the one main genre of music they hated was trance. It was like it was fashionable and trendy to bag it out. So strange.
The ones who count, the real purveyors of the sound kept to their roots and they have our total respect. The ones that went off to EDM and whatever else, are welcome to stay there. It would seem trance has become a bit more trendy these days, so it's interesting to see these people come back. It's based on money and commercialism, so when I say interesting, I'm just being as polite as possible…
Whatever happens to the genre in the next few years we will keep to what we like and what we do. Not really interested in the "what's trendy" merry-go-round.
Have you felt pressure to deliver another anthem track like "1998"?
There was pressure yes. We realised pretty early on that the track was special and that it would likely be very difficult to even come close to creating something like that. It was the right track at the right time, so to re-create that would have been impossible.
The follow-ups to "1998" weren't really in the same league and there were some personal problems in the setup of Binary Finary which really stopped things progressing the way we wanted. The one thing I keep going back to as the defining point for me personally was that when I changed the mindset of producing and creating music from something that needs to be played out, to just writing for the fun and excitement of it, the pressure disappeared and the music became easier to write.
We write all sorts of styles of music, I have over 600 tracks sitting around on various hard disks in various genres. Some of them are utterly shit house, but there was meaning in it and some of it was a stepping stone to other tracks.
We write trance music the way we'd like to listen to it. We have immense fun writing it, and it's been that way for a while now.
Some artists have a love/hate relationship with their most well loved or career defining songs. Have you gotten tired of playing "1998" out over the years?
That's such a good question. Being honest, yes and no. It's difficult because there is some expectation to play the track, and we don't want to disappoint, at the same time we love the feedback that comes from it.
I realised playing at Dreamstate SF that the version of "1998" we chose wasn't probably the right one, it went on a bit too long, so I'll be working on a cut-down version that will sit within the set better. It will be the one we use in our sets exclusively. Already have some ideas flowing for it. 
Sasha is usually the face of Binary Finary behind the decks. What led to you (Stuart) joining Sasha for Dreamstate SF this year?
I couldn't turn the event down. It was just too big a draw card to miss out. The passion for writing and playing music has never disappeared, however becoming a father to 3 kids and needing to provide for them has made travelling and playing out a lower priority.
I was questioning whether I was doing the right thing coming to Dreamstate SF and whether it was selfish of me, leaving the family behind. I had a lot of time on the various flights to mull this over. It was telling that when my wife Helen sent me a picture of Oliver, my newest born 5-month-old boy, watching the live stream we put on our Facebook page, I felt proud, to be able to show him to always dream big, to be able to show him, and my two girls that dreams can come true.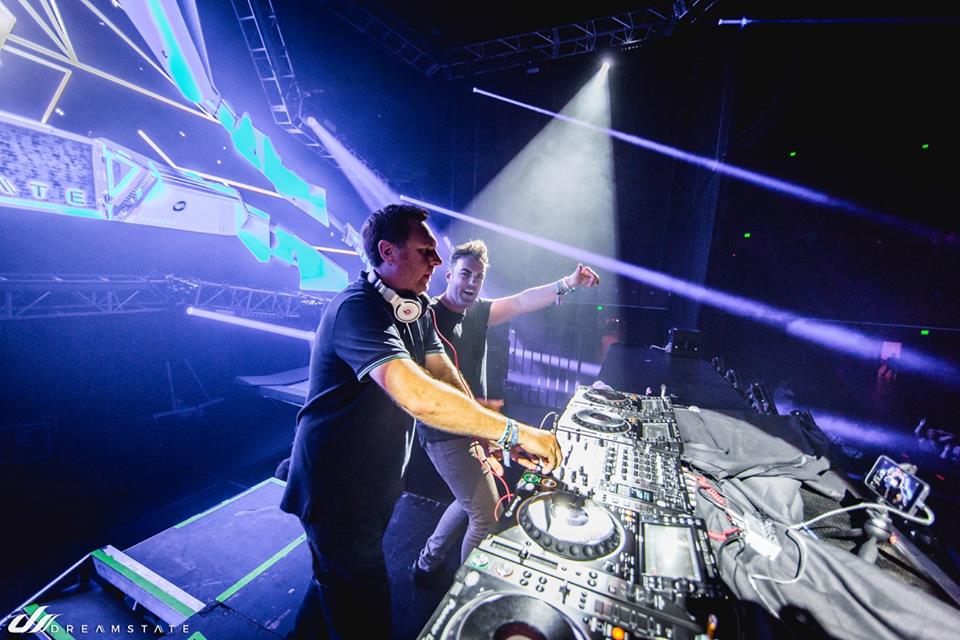 Seeing Binary Finary on the lineup for Dreamstate SoCal 2016 & Dreamstate SF 2017 was a dream come true for many fans. What were those experiences like, and how do they compare to trance events in Europe?
There is a really beautiful and lovely feeling around the trance scene in the USA. It was very telling to see it in San Francisco. It reminded me of how the scene was in the UK in the mid 90's. Everyone there for the music, united by it and sharing the experience together. All ego's set aside, promoters working together, to the benefit of the scene in general.
That's the biggest thing to take away from the Dreamstate SF experience. It was just wonderful. The production for the event was utterly amazing. I've not witnessed anything like this before. From the quality of the sound (high power without ringing your ears) to the incredible visuals, the moving lighting rig… It really was next level stuff.
You spun a vinyl set to bring in the New Year. What place do you feel vinyl has in the current electronic music scene?
This is a good question and a chance to actually put the record straight. We as Binary Finary had never played a vinyl DJ set until quite recently. The reason Binary Finary exists is because we were focused on utilising technology to create music, and we would play this out via live sets, using dat, midi and hardware, indeed the whole name Binary Finary was chosen was because at its core we were pushing 0's and 1's around as Binary arithmetic in the workstations and hardware we were using.
The only time we really played with vinyl was a wind down from writing and creating music, playing for ourselves in small groups late at night, annoying the neighbours.
The reason for answering the question like this is because I see a lot of people speaking to us about the old days and the days of playing out with vinyl etc. didn't ever happen with us. It wasn't something we wanted to do at the time. Rather than play others music, we decided to write out own and play that out. That same ethos still drives what we do today.
I'm not sure where vinyl sits in the grand scheme of things. It's not something we are actively pursuing, although it is nice to get the technics out and have a mix every now and then. I can understand it coming back, seeing as there has been a resurgence in that old sound. Probably a bit of shock having to carry around a record bag rather than a USB stick!
Is there a chance we will see the Binary Finary Live Project return again in future shows?
It is something we have talked about, and it could possibly make an appearance. It takes a lot of work prior to the events to make it happen, so it would need some serious planning to get it right. There is much newer technology available to get this working now, than when we did this in 2010/2011, so I'm confident we could make it really good.
It's always a big high to perform a live set. So much can go wrong, and sometimes does mid-set, so to come out the other side having delivered something that the clubbers loved is a really amazing feeling.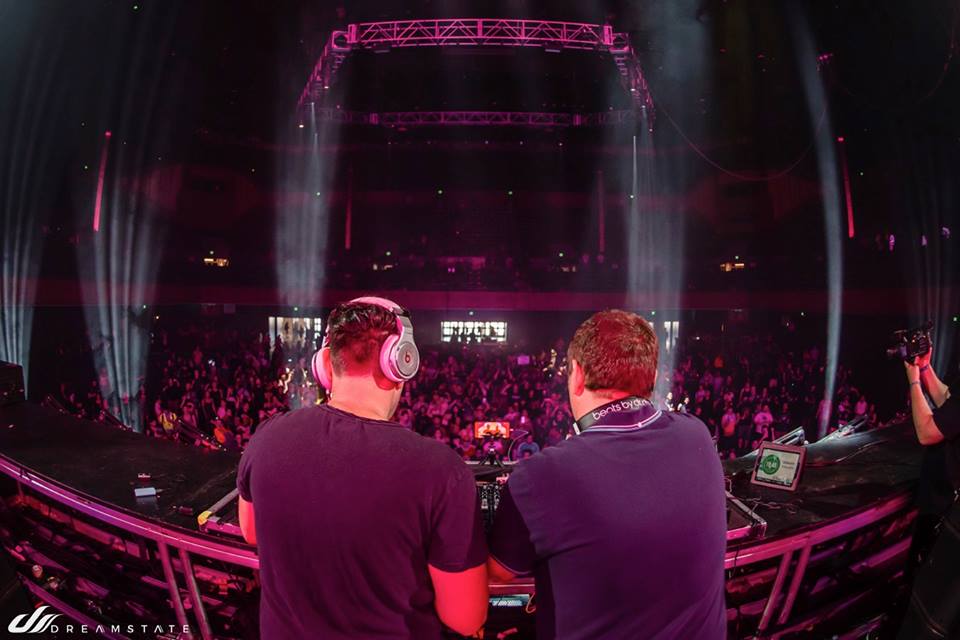 Earlier in our conversation and in our time at Dreamstate, you mentioned your children. Do you plan on touring more this year? If so, how do you balance family and friends and work?
Yes, I do plan on more touring, although they'll probably be flying in and out events, rather than a solid tour. The balance of everything always changes. I'd like to say I've got a handle on that, but I'd be lying haha. My first priority is always to the family, so I'll just take it gig by gig.
I would say though, that after this experience, I'll be back more often than not. As mentioned before, the passion for the music never dies, and being able to perform it out is just mind-blowing, plus really I think our whole ethos towards playing has changed over the years. We do it for the fun of it and the experience
Finally, do you have any messages you'd like to send to your fans around the world?
As ever, we always really appreciate the support we receive. It is humbling to be welcomed like we are at events around the world. To play our tracks out is just the most amazing experience and it wouldn't be anything without you.
---
Connect with Binary Finary on Social Media:
Facebook | Twitter | SoundCloud | Website | YouTube